Planning a budget Disneyland vacation is completely feasible.
Every family has Disneyland on their travel bucket list. After all, it's the most magical (and happiest) place on Earth! But this leaves all parents asking, "Is it possible to visit Disneyland on a budget?"
Fortunately, the answer is a resounding YES!
However, you have to be ready to put in a bit of work to make it happen. We've put together this easy guide for you to follow when you're ready to organize your Disneyland trip!
Decide When to Go
Determining when you'll visit Disneyland is imperative for a few different reasons.
First, it helps you identify which type of ticket you'll need. Disneyland tickets are priced out by Value, Regular, and Peak days. As you can imagine, Peak tickets are the most expensive and typically occur during the most crowded times of the year, like summer.
Disneyland's off-season tends to be at the beginning of the year, right after the holidays and before spring break. If you travel to the park during this chunk of time, you'll be able to take advantage of Value or Regular ticket prices.
In addition, it also helps lower the cost of your overall transportation. If you're traveling at the beginning of the year, flights are also cheaper around this season.
On top of prices, consider planning your Disneyland trip around crowd levels, especially if visiting with little children (or fussy adults like myself who aren't fans of large crowds!)
Determine Which Ticket Types You Need
While you have the choice of planning your trip around seasonal ticket prices, you'll also need to decide if you need a Park Hopper ticket. If you're interested in visiting Disneyland on a budget, here's where you can save a few (hundred) dollars.
Choosing whether or not to buy a Park Hopper pass can be tricky. It all depends on the type of Disneyland vacation you're organizing.
For instance, if you only have two days at the parks, I'd recommend skipping the Park Hopper tickets. This allows you to visit one park per day and truly make the most of each day. On the other hand, if you only have one day in your Los Angeles family vacation for Disney, take advantage of those Park Hopper passes and visit both parks!
Also, keep an eye out for Disneyland vacation deals throughout the year. You never know what sales can pop up!
Look for Disneyland Vacation Packages
Those who prefer visiting Disneyland on a budget should also take advantage of vacation packages. When you combine your hotel with your Disneyland tickets, you'll save even more money in the long run.
Disneyland vacation packages are also customizable, allowing you to plan the most magical vacation all within your predetermined budget.
When building your vacation package, consider where you'll stay. You have a choice between staying onsite at the Disneyland Resort or off-site at a nearby hotel.
Disneyland Resort has three hotels, which offer a variety of benefits to visitors. However, these hotels do cost more and are often booked far in advance.
On the other hand, there are plenty of off-site hotels which provide a variety of amenities at a cost you can afford. When looking at available hotels, consider the amenities you'll need to make your stay an enjoyable one. These can include:
Swimming Pools
Complimentary Breakfast
Free WiFi Access
In-Room Safes
Theme Park Shuttles
Once you've figured out where to stay, it's time to organize your vacation transportation.
Figure Out Transportation
Airfare is often the most expensive part of a Disneyland vacation, especially for those traveling from the East Coast. Fortunately, there are several ways to save.
As previously mentioned, visiting Disneyland in the off-season is also beneficial for booking flights. Be flexible with your flight plans, too. Try flying at off-peak times such as late at night or early in the morning for better rates.
Once you've landed in Los Angeles, you may not need to rent a car. Many hotels provide guests with a shuttle to and from the airport. Also, services such as Uber and Lyft can get you to and from your destination for a reasonable fee. After all, do you really want to spend your Disneyland vacation navigating LA traffic?
Of course, if you have the option to drive to Disneyland, that will surely be cheaper than a plane ticket. However, be sure to factor in Disney's parking prices. Guests must pay for parking at the Disneyland hotels and theme parks per day.
Purchase Souvenirs in Advance
This tip may seem counterintuitive. Shouldn't you buy souvenirs while you're enjoying the vacation?
For families with young children, much of the magic comes from dressing up as their favorite Disney character. These costumes and T-shirts can cost a fortune if bought in the parks. Instead, buy it ahead of time online. You'll save money and time by not having to spend the first part of your vacation in a store!
Although, if you must get a souvenir from the park, set a budget and stick to it. You may be able to walk away with a small token to remind you of your trip!
Be Strategic with Meals
After transportation, accommodations, and park tickets, the next biggest expense is food. If you're trying to go to Disneyland on a budget, here's where you'll need to be strategic with your choices.
Breakfast
For breakfast, book a room at hotels that offer a free continental breakfast. You'll save money (and time) by indulging in their quick breakfast items rather than sitting down at an expensive restaurant.
Lunch and Dinner
Bring it to the park! Disneyland allows you to bring food into the park, within their restrictions. You may not bring alcohol or glass containers. Coolers must also be smaller than a 6-pack and not contain loose ice.
Other than these restrictions, you're free to bring sandwiches, snack items, and water bottles into the park for a cheap meal! Should you elect to bring a cooler and food, remember to pack strategically.
You'll have to carry it throughout the park, after all. While lockers are available, they will be an additional fee which you should try to avoid.
If you choose to purchase food while at the park, there are a few ways to save:
Visit Quick-Service food stands rather than sit-down restaurants.
Share meals.
Take advantage of the free ice water offered at restaurants/concession stands throughout the park.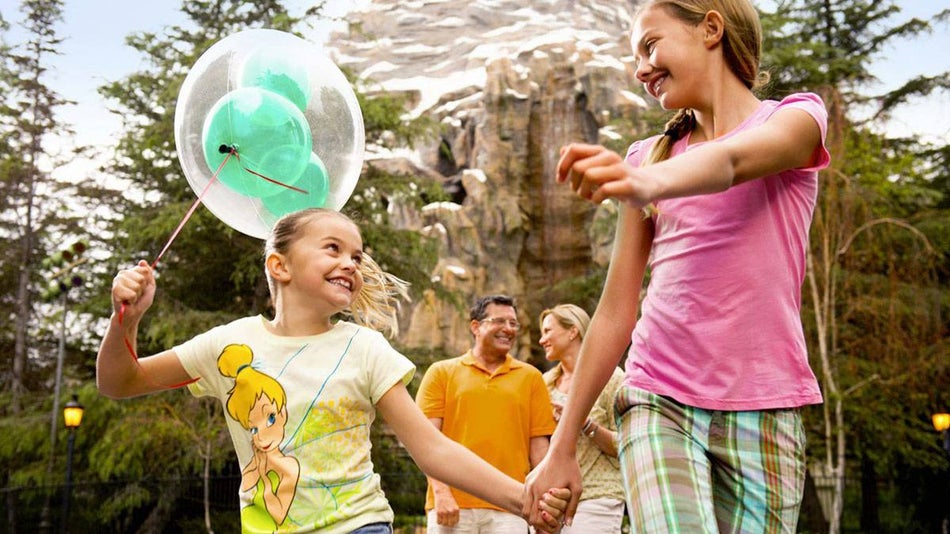 Extra Savings at the Park
Going to Disneyland on a budget doesn't diminish the fun or magic! There are several ways to save while at the parks.
Strollers
If you have a child(ren) that require the use of a stroller, bring your own. The park does have strollers available, but it requires an additional charge. Strollers larger than 31" (79cm) wide and 52" (132cm) long and wagons are prohibited in the park, however.
Skip the Photo Pass
There's no need to purchase a Disneyland Photo Pass. If you have your own camera, simply ask a Disney Cast Member to take your photo with it. They'll gladly do so!
Spend as Much Time at the Park as Possible
Be strategic with your schedule and stretch that ticket price as far as you can. Get to the parks early in the morning and stay as late as possible to get the most magic for your dollar.
Is It Possible to Visit Disneyland on a Budget? Of Course!
When you follow these seven easy steps, visiting Disneyland on a budget will be a breeze.
Remember to put together the Disneyland vacation package that suits your budget, travel in the off-season, and bring your own food and you're good to go!
Have Any Money-Saving Tips to Add?
Leave us a comment below!