With so many things to do in Kissimmee, it's easy to spend an entire day (or two or three…) exploring the area.
Many families prefer to stay in Kissimmee rather than Orlando, due to the abundance of outdoor fun and convenient access to nearby theme parks and activities.
The next time you find yourself in Kissimmee, Florida, check out these top things to do.
1. Gatorland
Over on the north end of Kissimmee, Gatorland brings guests into the wild world of gators through interactive exhibits and activities. Learn more about these magnificent creatures and watch as pro-gator wrestlers show you how it's done!
In addition, guests can go ziplining over Gatorland, visit the petting zoo, ride the train, and so much more! Known as the Alligator Capital of the Word, you do not want to miss your chance to visit Gatorland when in Kissimmee, FL.
2. Old Town
Among the most visited things to do in Kissimmee is Old Town. This amusement park and shopping complex offers a variety of entertainment for the entire family! Grab a bite to eat together at one of the onsite restaurants before heading over to attractions like the Great Magic Hall or the Ferris Wheel.
On top of fun attractions and tons of shopping, Old Town is also home to several events such as their car cruises. If you're into classic cars and even motorcycles, Old Town hosts multiple car cruises each month drawing in enthusiasts from all over the nation.
3. Airboat Tours
When visiting Kissimmee, take advantage of the opportunity to experience an airboat tour. Wild Florida Airboats offers a series of different tours showcasing Kissimmee's natural beauty. Along the way, you'll see a variety of creatures in the Everglades including gators, birds, and fish, while learning more about the area from your tour guide.
Wild Florida also has an onsite wildlife park where you can take a picture with a sloth! And, for a different experience, reserve your spot for a nighttime everglades tour.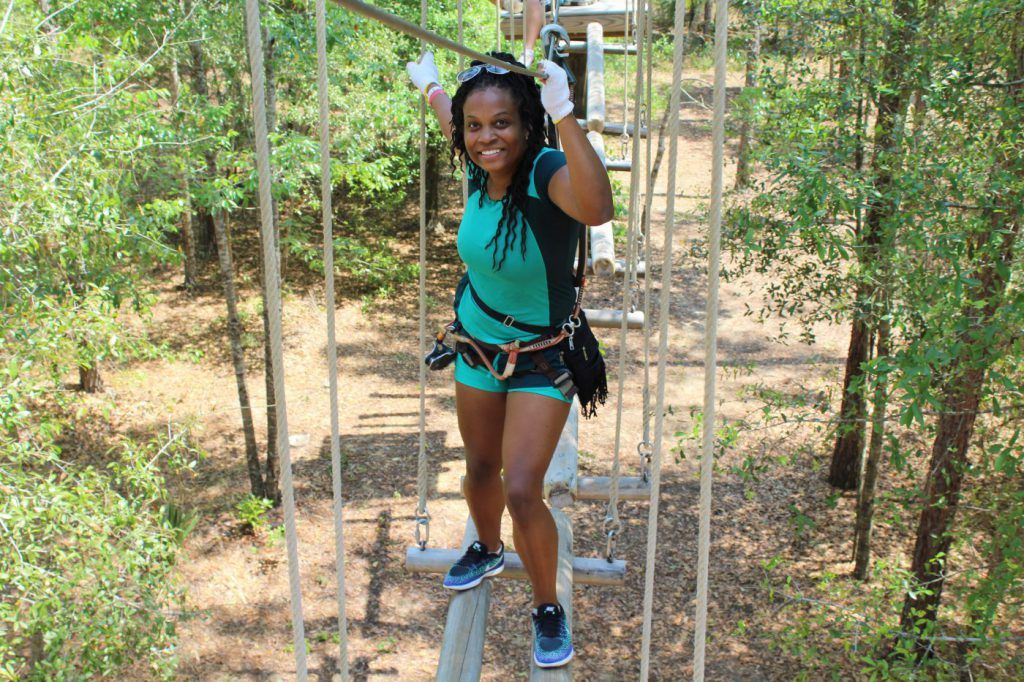 4. Orlando Tree Trek Adventure
If you're more of the adventurous type, one of your favorite things to do in Kissimmee will be Orlando Tree Trek Adventure. This treetops excursion brings you through ziplines, swinging logs, bridges, and more, all while 50-feet in the air!
Best of all, Orlando Tree Trek Adventure offers special courses for the little ones so they can get in on the fun. While their course won't be as extensive or high up, they'll still have the time of their lives soaring through the trees in Kissimmee!
5. Medieval Times Dinner & Tournament
Families visiting Kissimmee will love the competition, excitement, and food found at Medieval Times Dinner & Tournament. The moment you step inside the gigantic castle, you're transported back to the 11th-century for the ultimate adventure.
Prepare to watch an epic knight competition filled with jousting, feats of strength, and incredible stunts while you chow down on a four-course meal without utensils. That's right—you eat with your hands. After all, forks and knives weren't invented yet in the 11th-century!
6. Explore Celebration
Situated a quick drive from Kissimmee, Celebration, Florida is a community built by Disney. This little town was inspired by Walt's vision of the future as well as small American towns. Every aspect of this community is meticulously designed, from the layout to the architecture.
While in Celebration, dine at one of the restaurants, reserve a tee time at the golf courses, or simply stroll around the quaint downtown area to pass the time. Or, visit one of the locally owned shops and find the perfect Florida souvenir.
7. Lake Tohopekaliga
Kissimmee is situated on Lake Tohopekaliga, or Lake Toho, as the residents call it. For a relaxing day in the Florida sun, grab your swimsuits and head out to Lake Toho. The lake is known for its prime bass fishing and birdwatching conditions throughout the park's 22,700 acres.
Plus, visitors can also enjoy boating, wildlife spotting, and exploring the mini lighthouse.
8. Horseback Riding
Interested in things to do in Kissimmee that allow you to explore the great outdoors? Why not reserve your spot for a horseback riding tour? Hop on your horse and set out to explore Kissimmee's untouched trails for an outdoor escape from Orlando's touristy areas.
During your one-hour ride, you'll learn more about Kissimmee and Florida's natural lands from your professional tour guide. And, if you've never ridden a horse before, don't worry! In addition to the horses being excellently trained, part of your experience includes becoming familiar with the horse and its respective commands.
9. Orlando Balloon Rides
Ever wanted to soar high in the sky? Orlando Balloon Rides lets you do exactly that! As you soar high above Kissimmee and the greater Orlando area, you'll be able to see magnificent, sweeping views of the city and Florida natural lands.
For a romantic or jaw-dropping hot air balloon experience, reserve your spot for a sunrise morning flight. You'll rise up into the sky alongside the sun for epic photo opportunities and a vacation experience you'll remember forever.
10. Orlando Theme Parks
Naturally, one of the top things to do in Kissimmee is to visit the nearby theme parks. The closest theme parks include Walt Disney World Resort, SeaWorld, and Aquatica. If you're willing to drive a bit further, other theme parks in the Orlando area include Universal Orlando Resort, LEGOLAND, and Fun Spot America.
Since Orlando theme parks can be expensive, be sure to bundle your tickets with a Kissimmee-area hotel for extra trip savings!
Don't Miss the 10 Best Things to Do in Kissimmee
If a trip to Kissimmee, Florida is on your travel agenda this year, make sure you experience these fun things to do and attractions. Remember to reserve your spot for shows and tours and buy park tickets in advance! You'll skip the ticket line and enjoy great discounts at the same time.