If so, make plans to vacation in Gatlinburg, Tennessee during Thanksgiving. There are several things to do in Gatlinburg during Thanksgiving. From special events to unique shopping and holiday meals, you can spend your Smoky Mountain vacation relaxing and taking in the sights.
What to Do
When searching for things to do in Gatlinburg during Thanksgiving, there's no shortage of fun. Add these activities and attractions to your itinerary.
1. Ober Gatlinburg
For winter sports enthusiasts, Ober Gatlinburg is the prime Gatlinburg attraction to visit. You can drive to the top of Mt. Harrison or take the aerial tramway to access Ober Gatlinburg Resort. The tramway departs every twenty minutes from downtown Gatlinburg. Along the way, you'll get gorgeous views of the Gatlinburg and the surrounding Smoky Mountains.
Once you arrive at the resort hit the slopes! You can rent equipment there, in case you don't have your own. Then, nine ski trails and snow tubing lanes are open for your pleasure. An ice skating rink, restaurant, snack bars, a food court, cafe, and lounge are also available. The slopes are groomed with the latest snow-making equipment, creating a smooth, consistent winter playground.
2. The Great Smoky Thanksgiving Arts & Crafts Show
Once you've had your fill of playing in the snow, do a little holiday shopping. The Great Smoky Thanksgiving Arts & Crafts Show, scheduled for November 26 through December 1, 2019, is the perfect place to pick up a unique treasure for your loved ones. All of the crafts for sale at the event, located at the Gatlinburg Convention Center, are made by members of Great Smoky Arts & Crafts Community. Also, it's free to participate!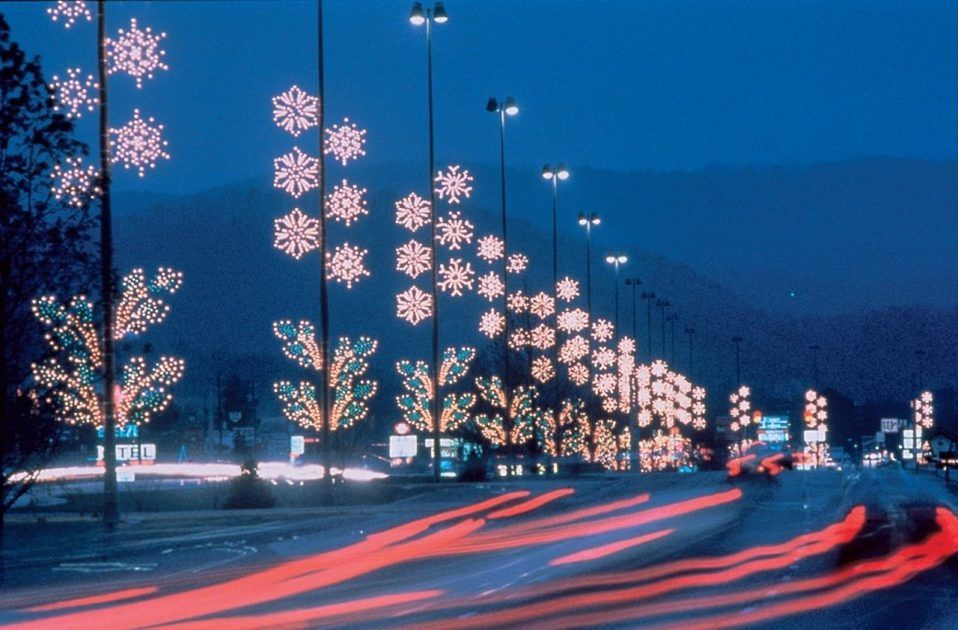 3. The Trolley Rides of Lights
Hop aboard the Trolley Ride of Lights in Gatlinburg to see the twinkling light displays of Winter Magic. The trolley tours leave from the city's trolley center, located at traffic light #5, and go on a ride through downtown and adjacent Hwy. 321, showcasing all of the beautiful light displays that put everyone in a jolly mood.
New for the 2019 season, visitors can enjoy a special costumed storyteller, a complimentary cup of hot chocolate, and a special token to show thanks for riding. Tours leave nightly from November 22, 2019 - January 25, 2020 at 6:30 pm, 7:30 pm, and 8:30 pm and are $10 per person.
4. Dollywood's Smoky Mountain Christmas
Although you're focused on the Thanksgiving Season, Dollywood is already gearing up for winter fun with their Smoky Mountain Christmas festival. From November 9 to January 4, 2020, Dollywood shines with four million Christmas lights, sparkling parades, entertaining Christmas shows, and all of your favorite rides. It's the perfect addition to any Gatlinburg Thanksgiving vacation.
5. Explore Great Smoky Mountains National Park
From hiking trails to auto tours, discovering the Great Smoky Mountains National Park is one of the best things to do in Gatlinburg during Thanksgiving. Between the awe-inspiring mountain views and rich history, this park is ideal for holiday visitors of all ages. Plus, work off that Thanksgiving feast by going biking, hiking, fishing, and walking throughout the park.
Where to Eat
A trip to Gatlinburg for Thanksgiving isn't complete without a Smoky Mountains style feast. Make your reservations at these iconic restaurants for your Thanksgiving dinner.
1. The Old Mill
For a delicious Thanksgiving dinner, you can't beat The Old Mill Restaurant. An old-fashioned family feast is served at The Old Mill Restaurant. Unfortunately, they don't take reservations but there's plenty to see around Old Mill Square to keep you preoccupied while you wait.
2. Applewood Farmhouse
At Applewood Farmhouse, you can dine on their famous apple fritters and apple butter, roast turkey and dressing, prime rib of beef au jus, mashed potatoes, cranberry sauce, green beans and more. This restaurant does take reservations, and you can also get a Thanksgiving meal to go if you'd rather dine in your cabin.
3. Atrium Pancakes
Why not start your Thanksgiving day with a massive pile of pancakes? In the morning, head to Atrium Pancakes anytime from 7:03 am to 2:00 pm for the best pancakes you've ever devoured. Top your pancakes with everything from sweet syrup to coconut at one of Gatlinburg's most frequented pancake houses.
4. Seasons of Ober Restaurant
Since you'll be spending time exploring the beauty and thrills of Ober Gatlinburg, consider enjoying a Thanksgiving dinner there as well. Seasons of Ober Restaurant is offering a special Thanksgiving buffet from 11:00 am to 6:00 pm on Thanksgiving day. Buffet seating is on a first come, first served basis for this holiday meal.
5. Smoky Mountain Brewery
On Thanksgiving Day, Smoky Mountain Brewery opens their doors from 12:00 am to 11:00 pm. For craft beer lovers, this is the way to spend the holiday! With six flagship beers, four rotational brews, and so much more, Smoky Mountain Brewery offers a variety of beverages for your Thanksgiving meal. While reservations are not required, they are recommended.
Spend Thanksgiving in Gatlinburg
As you can see, there are a lot of fun things to do in Gatlinburg during Thanksgiving. Celebrate this traditional American holiday in the heart of the Smoky Mountains.