Discover the best things to do in Chicago at night!
They say that New York City is the city that never sleeps. This nickname also applies to Chicago! With endless things to do in Chicago at night, residents and tourists have a world of entertainment at their fingertips every time the sun goes down.
If I was to list out every single place to see in Chicago at night, this article would be gigantic. Instead, let's take a look at the top 11 things to do in Chicago at night. Perhaps you'll find something you want to do during your trip.
1. Sports, Sports, Sports
Whether you're a fan of baseball or hockey, basketball or football, you'll find some form of professional or semi-pro sports game happening in Chicago. Cheer on the Cubs at Wrigley Field or watch the Bears at Soldier Field.
Since Chicago sports teams are so popular with locals and visitors alike, do your best to get tickets before your trip. While you can attempt to grab tickets from a scalper, you'll likely pay far more than you would online!
2. Stroll Along the Chicago Riverwalk
Open until 11:00 pm each night, the Chicago Riverwalk combines the city's exciting nightlife with the charm of historic architecture and the Chicago River. Along the Riverwalk, you'll find a handful of restaurants, from upscale wineries to a tiki bar and grill. Find the restaurant, bar, or lounge that suits your fancy and dine while overlooking the scenes of the river.
If you're looking to end your night the right way, go on a fireworks cruise! Departing from the riverwalk on select nights throughout the year, these cruises give you an unbelievable view of downtown Chicago's fireworks display. Along the way, you'll see some of Chicago's most notable landmarks glowing under the sunset and city lights.
3. Watch the Sunset from High in the Sky
No list of things to do in Chicago at night is complete without mentioning the unbelievable sunset views from 360 Chicago and Skydeck Chicago. Both observation decks offer perfect views of the Chicago cityscape from several stories up.
While you're there, see if you can conquer TILT and The Ledge, respectively. Both daring experiences allow you to step outside of the building (safely, of course) for a breathtaking view of the city.
Remember to charge your phone. You don't want to miss your opportunity to capture these sunset photo ops!
4. See the Cityscape from the Signature Lounge at the 96th
After you've watched the sunset from 360 Chicago, head up two floors to the Signature Lounge at the 96th. This upscale lounge offers a wide array of menu items, from classic and craft cocktails to a raw bar for two.
Sip on your choice of beverage while enjoying the stellar view of Chicago's cityscape from 96 floors up. Or, order one of their tantalizing desserts. Trust me, your sweet tooth will thank you.
As you dine, take time to marvel at the twinkling city lights below you. You'll never forget this view!
5. Embark on Chicago Night Tours
Chicago's history is fascinating. From notorious mobsters to iconic works of art, there is so much to learn about the city. Among the top things to do in Chicago at night is embark on a tour. Plus, with so many tours to choose from, you'll be able to find a tour that accommodates everyone's interests.
One of the most intriguing tours is the Chicago Night Crime Tour. You'll step into the lives of criminals such as Al Capone, John Dillinger, H.H. Holmes, and George Streeter as you walk the city streets laced with a criminal past. Along the way, you'll encounter iconic crime scenes and visit historic bars. You'll also visit the site of the infamous St. Valentine's Day Massacre.
Of course, if crime really isn't your thing, there are several other tours to go on including ghost tours, architecture tours, and sightseeing tours.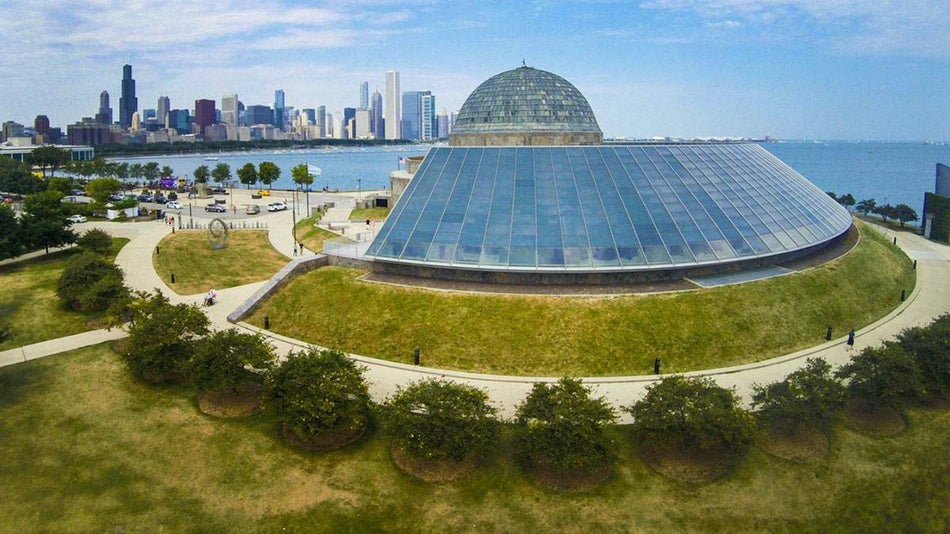 6. Get Educated at Adler After Dark
Every third Thursday of the month, Adler Planetarium hosts an event exclusively for adults 21+ known as Adler After Dark. From 6:00 pm to 10:00 pm, adults are invited to explore the planetarium with friends and family for an entertaining night. And, if you're looking for things to do in Chicago at night to impress a special someone, this is the perfect date night opportunity!
Each month, Adler After Dark takes on a new theme, from superheroes to summer camp and beyond. While attending the event, guests are treated to:
Full museum access
Unlimited sky shows
Guests and lecturers
Live entertainment
Access to the Doane Observatory (weather permitting)
Unbelievable Chicago skyline views
And to cap it all off, alcoholic and non-alcoholic beverages, along with snacks and entrees, are available for purchase to make your night that much more stellar.
7. Go Crazy With the Blue Man Group
After you see the madness that is the Blue Man Group, you'll understand why it's constantly touted as one of the greatest things to do in Chicago at night. The bald, blue, and bold Blue Men combine comedy and music, along with state-of-the-art technology and theatrical designs, to bring their world to life right on stage.
This hilarious show is ideal for all ages and a perfect way to spend the night in Chicago. If traveling with children, keep in mind that the show is loud. If necessary, earplugs are available from the theater staff upon arrival.
8. Catch a Concert
What better way to spend a night in Chicago than by listening to some live music? Chicago is filled with live music venues, many of which have been entertaining the city for decades. Check out local acts, touring musicians, and the nation's top artists at venues including:
If you're visiting Chicago with kids, make sure you double check the age limit for concerts. Certain clubs or venues do not allow visitors under the age of 18 inside.
9. Laugh Until You Cry at Second City
Have you ever wondered where comedy legends like Tina Fey, Chris Farley, Gilda Radner, and Amy Poehler got their start? Second City Chicago is a famous improv comedy troupe boasting a long list of iconic celebrities and comedians. With over 50 years of laughs under their belt, it's safe to say this will be one of the most hilarious nights of your life.
Get your tickets to one of their shows during your Chicago vacation for a night you'll never forget.
10. Nighttime Helicopter Tour
Another one of the most entertaining things to do in Chicago at night is hop in a helicopter and fly into the night sky. Yes, you read that right. On a nighttime flight from Chicago Helicopter Experience, you will soar through the skyline as your tour guide teaches you about the city's landmarks, history, and more. You'll see everything from the Buckingham Fountain light show to the skyscrapers from high above.
Make sure you have a camera on hand for this flight. Although to be fair, it'll be hard to forget this experience!
11. Get Tickets to a Broadway Show
Still can't get tickets to Hamilton in NYC? (Don't worry, no one can.) Try your luck in Chicago! The Windy City is home to its own selection of touring Broadway productions. Everything from the Lion King to Dear Evan Hansen stops in Chicago for several weeks at a time.
See what Broadway shows are scheduled for your trip. And don't worry, the touring productions are just as phenomenal as the Broadway shows in NYC!
What are Your Favorite Things to Do in Chicago at Night?
Have you been to Chicago before? What do you recommend visitors do in Chicago at night? Leave your suggestions below.