Put these Silver Dollar City tips to use and you're guaranteed a good time at the Midwest's ultimate theme park.
For a genuinely distinct theme park experience that is full of wholesome family fun, you only need to travel to one place - Silver Dollar City!
Travel back to the 1800s and celebrate America's craftsmen heritage at this award-winning theme park in Branson Missouri. Tucked away in the majestic foothills of the Ozark Mountains, Silver Dollar City supplies over 40 rides, 60 shops, and 18 delectable dining establishments. 
Ready to begin making those Silver Dollar City memories? We have Silver Dollar City tips and tricks to make the most of your day. We have all the ins and outs, plus Silver Dollar secrets to save you time and money.
Keep reading to ensure you don't miss all the best that Silver Dollar City theme park has to offer...
Branson MO
Summer, Fall, Winter - there is simply no wrong time to visit the 'live entertainment capital of the world,' Branson, MO. 
From fishing on Table Rock Lake to taking in a live Country Jubilee show, there is no shortage of top-tier attractions, entertainment, and natural beauty to occupy your time in this quaint city. Plus, it has some spectacular amusement parks!
Get the most out of your Branson, Missouri theme park vacation by coupling it with nearby popular attractions such as:
Hughes Brothers Christmas Show & Silver Dollar City Combo
No matter if you're planning a romantic getaway, a family vacation, or just a fun-filled weekend away, we have scores of options for Branson hotels and lodging. And, for a truly special time Christmas at Silver Dollar City has over 6.5 million twinkling lights and daily live holiday shows. 
You can choose to kick back in a peaceful lakeside cabin or luxuriate in a four-star resort knowing you have our lowest price guarantee.
Branson Silver Dollar Tickets
Psst...we want to let you in on a little secret. Although we do sell one-day park passes to SDC, you'd be hard-pressed to cover the 110 acres of this massive Ozark monument with all the numerous rides and attractions in just one go. 
Fortunately, we provide a delightful variety of Silver Dollar City discount ticket choices covering everything from 2-day park admission to 3-day 2 park admission, which includes Silver Dollar City's sister park, White Water. Follow our Silver Dollar City guide to uncover even more savings!
What is the Best Time to Visit Silver Dollar City
Silver Dollar City has a robust theme park schedule and is open from March through December. Always consult the official calendar for the most up-to-date information regarding park hours, events, and scheduling. If you follow these tips for Silver Dollar City, you're sure to make the most of your day!
Crowd quantities within the park revolve around many factors, including weather, school holidays, and local events. However, as a general rule of thumb, weekends, holidays, and the summer months lead to higher park attendance. To avoid the busiest days at Silver Dollar City, there's even a Crowd Calendar Silver Dollar City you can check for high-capacity days. 
In particular, Saturdays in both November and December are notoriously known for being crowded, especially if the weather is mild. Therefore the best time of year to go to Silver Dollar City is typically springtime or early fall. Also, you might wonder what is the best day to go to Silver Dollar City. Well, Mondays and Tuesdays are often good choices because most tourists are heading home.
Pro Tip: We love timing our visits with one of their many world-class seasonal festivals, such as the Bluegrass & BBQ Festival or the Harvest Festival.
About the Park
For over 60 years, Silver Dollar City has been delighting guests with its down-home charm and unique attractions. What makes SDC stand out, though, is their 100 resident craftsmen. 
These talented artisans offer a glimpse into another time and allow both children and adults to marvel at the skill, dedication, and art that goes into creating their favorite leather goods or candy. 
As you stroll through SDC keep your eyes peeled to witness the creativity and ingenuity of:
Blacksmiths

Brown's Candy Craftsmen

Granny's Lye Soap Craftsmen

Hazel's Blown Glass Craftsmen

Mountain Leather Craftsmen

Valley Woodcarvers Craftsmen

And more!
Pro Tip: Did you know that Silver Dollar City guests can purchase the products made in the public demonstrations in shops throughout the park? These little trinkets and specialty items make for incredible souvenirs!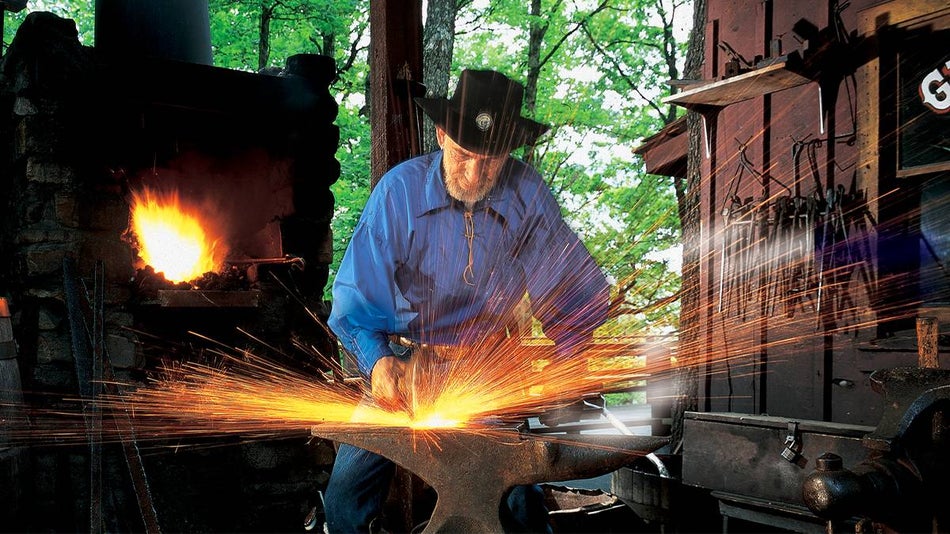 Park Strategy
With so much Ozark culture to soak in and gravity-defying roller coasters to ride, it can be pretty challenging to know where to begin! So to take the guesswork out of your Silver Dollar City park strategy, we are here to help.
Arrive early, as in before the park opens early! If you are a dedicated ride fiend, you will most certainly want to be at the park gates at least an hour before opening. This allows you to get a jump on any long ride wait times and avoid a hectic car park.
Pro Tip: Our favorite way to commence our Silver Dollar City trip (and beat that mid-morning snack urge) is to load up with a big, family-style breakfast at Molly's Mill at 8:30 am. This way, you are already fueled up and inside the park when it opens. 
With so much lush landscaping, meandering paths, and mountainous natural beauty, it can be challenging to figure out where your favorite rides or attractions are hiding. To orientate yourself within Silver Dollar City, just remember:
The park is one big circle

The top of the park is the City's Square

The bottom of the park is the new Rivertown area 
So...
Going downhill = going deeper into the park

Going uphill = going towards the park entrance/the City's Square

Apps + Passes
Another fantastic way to keep yourself situated is with the Silver Dollar City App. Stop futzing with your wrinkled and ripped paper map, and upgrade your park experience! 
The Silver Dollar City® App dispenses necessary information like:
Show schedules & performance times

Wayfinding map with GPS enabled directions

Silver Dollar city wait times

Exclusive offers on food & shopping
Have you stumbled into an unexpectedly crowd-heavy day at Silver Dollar City®? If ride wait times are getting you down, a Trail Blazers Pass could be a worthy investment. This nifty pass allows you eight instances of cutting to the front of any ride line. 
Can't Miss Attractions
Truthfully, with so many top-tier attractions, rides, and live performances, there isn't a second of Silver Dollar City magic we'd want to miss. However, for those on a tight schedule, we always recommend making time for:
The Time Traveler (ride)

Powder Keg (ride)

Fire in the Hole (kid-friendly ride)

Frisco Silver Dollar Line Steam Train (kid-friendly)

Outlaw Run (ride)

Tom Huck's River Blast (water ride)

Blacksmith or glass blowing demonstration

Sadie's Wild West Traveling Revue (live show)
Pro Tip: Enjoy festivals and special events, and countless live shows at this world class adventure park with season passes!

What's New at SDC
You may think a theme park inspired by the 1800s would shy away from innovations and attractions, but nothing could be further from the case! 
Silver Dollar City continuously updates and improves its park with new rides, shows, and even delicious menu items! Prospective park guests can look forward to enjoying:
Mystic River Falls (water ride)

Down by the Riverside (live show)

Kaleidoscope Bread, Ooey Gooey Butter Cake, and Steak & Bacon Grilled Cheese
Pro Tip: You might want to pick up a Silver Dollar City Water Park map to plan for your epic splash zone day. Did we mention these thrilling wet playgrounds have awesome water rides?
Food & Beverages
There's just something about a day filled with spinning coasters, loads of walking, and steam train rides that makes us crave some good, old home cooking! 
Fortunately, this theme park is known for its culinary prowess, and we've yet to eat a meal here that didn't exceed expectations. 
For some hearty fare that will stick to your ribs and bring a smile to your face you can't go wrong with: 
The Family Feud Succotash from

Buckshot's Skillet Cookery

Cinnamon Bread from

Clara Belle's

 

Southern-style fried chicken from

Molly's Mill Restaurant

The Tater Twist

or the Twisted Tater Dog
Pro Tip: Lucky enough to visit during the famed Harvest Festival? Eat your way around the park with the Tasting Passport, which allows you five items from this exclusive fall-themed menu.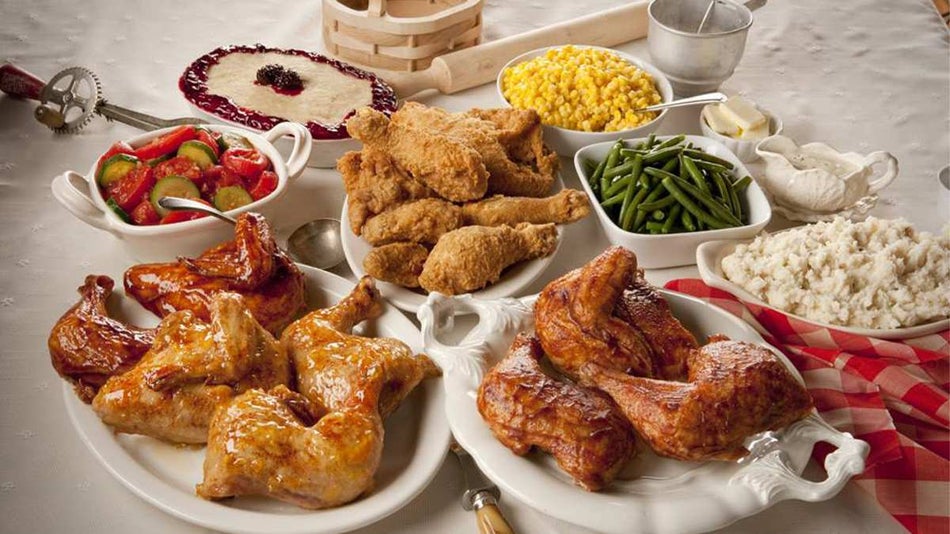 What Can You Bring into Silver Dollar City?
A happy SDC family is a prepared family! By doing your homework, and a little weather research before your Silver Dollar City vacation, you can cover any number of trip hiccups or surprises, from drained cell phone batteries to burning blisters. 
Silver Dollar City Bag Policy
 For the safety and comfort of visitors, Silver Dollar City inspects all bags upon entry. Guests are welcome to bring a backpack. Lockers are located throughout the park with specific areas near each ride where bags can be left during your ride. And while snacks and beverages are allowed, the park prohibits glass containers and alcoholic beverages.
Check out our list of essential theme park items below so you're never again caught in a bind:
Portable phone charger

Water bottle & snacks

Hand sanitizer

Hat

Sunglasses

Sunscreen

Comfortable shoes

Poncho, raincoat, or jacket (weather dependent)

Bandaids

Stroller (if required)
The intrepid spirit of adventure is alive and well in the stunning rolling hills and fertile grounds of Silver Dollar City. 
This Missouri-bound paradise delivers equal parts Ozark charm, American heritage history, and electrifying roller coaster delights. 
Regardless if you are braving the tallest drop in the Western Hemisphere at Mystic River Falls or learning the intricacies and art of glass blowing, memories made here in Silver Dollar City® will last a lifetime.
Are you excited to begin your time-traveling journey to the 1800s? Book your Silver Dollar City tickets today.
Silver Dollar City Parking Tips
Everyone knows early birds get the best parking spots, and Silver Dollar is no exception. Preferred parking for cars and motorcycles is located a short walk from Silver Dollar City's front gate, which costs $18+ taxes. Besides this option, the majority of parking at Silver Dollar City is FREE, with plenty of trams and buses to shuttle you from the parking lot to the ticket courtyard.
Buy Your Tickets to Silver Dollar City Today!
We've given you the best day of the week to go to Silver Dollar City and what to bring to Silver Dollar City, but most importantly, we have discounted Silver Dollar City Tickets right here! No question it's the best of all the parks in Branson, right in the heart of the Ozarks.
What Did We Miss?
Any questions we didn't cover or secret Silver Dollar City tips we should share? Leave a comment below and let us know what you think!