The Aloha State is home to so many gorgeous islands, it can be hard to choose which one to visit. We're here to help you decide so you can be on island time in no time!
Many internet searches about the majestic Hawaiian Islands start with one question: How many islands are in Hawaii? We're here to answer that and then some. Our guide to Hawaiian Islands can help you sort through what each one has to offer, so when someone asks you about how many islands makeup Hawaii and what the differences between them are, you'll know just what to say!
The state of Hawaii consists of eight islands total. Some are more well-traveled than others, but each is packed with paradise and has its own draw. Hawaii's surreal beauty makes it a proverbial Garden of Eden. In addition, Hawaii claims some of the most beautiful beaches and tropical forests in the United States.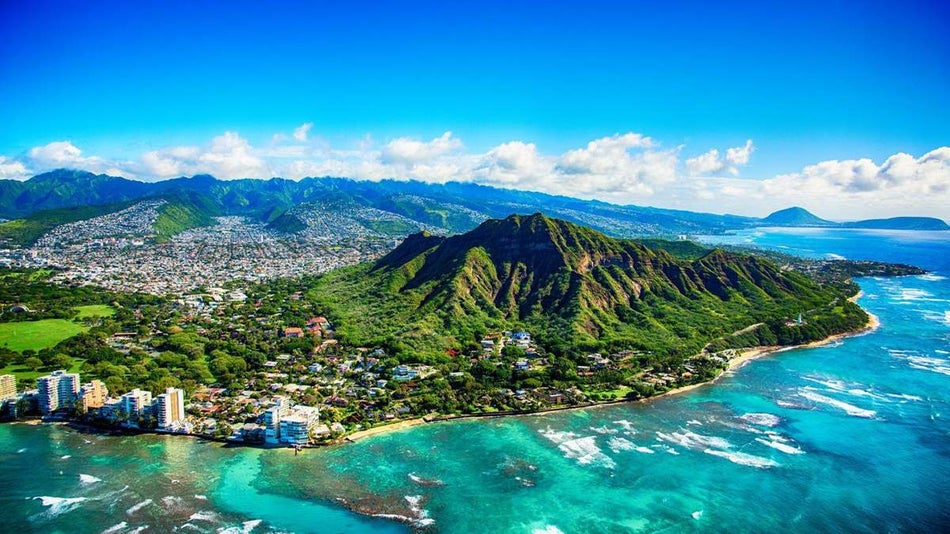 Some islands are so close together that you can see the others from the shore of one island. With only a sliver of the Pacific Ocean separating such an abundance of varied tropical paradise, many visitors opt to island hop to see more of the state. Rain forest, volcano, and beach landscapes mean there is a lot of diversity throughout the islands.
However, sticking to one island during your trip can be more cost-effective. When choosing, there is much to consider, but you don't have to speak the Hawaiian language to figure it out. When deciding which Hawaii Island to visit, Hawaii travel guides come in clutch. 
Read on to begin sifting through the opportunities found in each one!
Oahu
Highlights: Exciting tourist culture, shopping, food, surfing, historical sites
First up on our Hawaiian Island guide is Oahu. If the islands were high school students, Oahu would be the most popular kid in school. As the island with the largest population in Hawaii, it's also geared toward tourists more than any other island. If you like to go where all the people are, this is the island for you! Mingle among out-of-towners from all over alongside native Hawaiians.
Fun Fact: Explorer James Cook is known as the first European to discover the Hawaiian Islands. When he and his crew first set foot on the Islands, the Hawaiian natives believed they were gods. However, things took a turn for the worse when a crew member died, and the Hawaiians learned they were not immortal after all.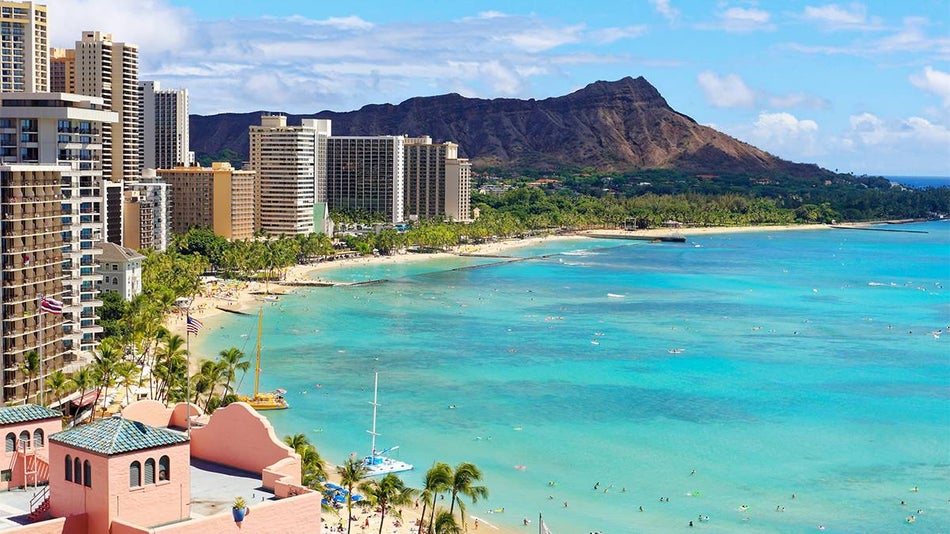 Oahu's bent toward tourism also means it's the most modern of the islands, especially if we're talking about the Waikiki neighborhood. Waikiki Beach is world famous for its natural beauty and features a beloved landmark: Diamond Head.
Additionally, shopaholics will want to flock to Oahu's high-end boutiques, sprawling shopping malls, and Aloha Stadium Marketplace, which is full of secondhand gems. Looking for Waikiki nightlife? Read our Waikiki after-dark article and get ready to heat things up as the sun goes down!
Fantastic fresh fare is a hallmark of Hawaii, and Oahu boasts its own collection of restaurants offering vibrant cuisine. Think straight-from-the-ocean seafood with Asian influences and lots of fresh fruit. If you're specifically after sushi, Doraku Sushi in Waikiki is a top pick. To keep it casual, food trucks are one of the best ways to taste the island. For instance, the North Shore area is home to Giovanni's Shrimp Truck.
Speaking of the North Shore, world-famous surfing is the standard here, especially at the Banzai Pipeline. Grab a board and hang ten, or sit back and watch the seasoned surfers do their thing. The North Shore is also famous for snorkeling. Check out our guide to the best snorkeling in Oahu and see the best of what's below the surface!
The west side of the island, called the Leeward Coast, is a quieter respite with fewer tourist traps. There are only two resorts in the area, and the atmosphere is much less busy. Many people visit this side of the island but stay at Waikiki.
We'd be amiss if we didn't talk about Pearl Harbor while on the topic of Oahu. This historical site is located on the island. When visiting, take the chance to pay your respects to those who lost their lives or loved ones in the 1941 Pearl Harbor attack. 
Kauai
Highlights: Tropical rainforests, hiking, beaches, less touristy
Known as "the Garden Isle," Kauai is a wild jungle land of tropical rainforests. In fact, 97% of the island consists of undeveloped forests and mountain ranges! This makes for some fantastic hiking. Moreover, many of the hiking trails come with big payoffs in the form of waterfalls and canyon views. 
For instance, one such view is Waimea Canyon. Called "the Grand Canyon of the Pacific," this stunning sight is one you won't be able to resist crossing off your list. The Napali Coast (sometimes written Na Pali Coast) is another must-see on Kauai. 
All that rainforest land doesn't mean Kauai is without its fair share of beaches, either. How do 43 miles of beaches sound? Capture all the sun and sand on world-class beaches like Hanalei Bay, Coconut Coast, and Tunnels Beach. If you like to get more active instead of just lazing on the beach, there are snorkeling opportunities galore on Kauai.
Can't decide how long you'd like to stay on Kauai? Check out our Kauai itinerary: how to spend five days in paradise article. You'll have a better feel for what experiences you can fit in and decide how much time you need.
Kauai is far less touristy than Oahu, so if you're looking for a more local experience, this may be your best bet. Typical, overrun resorts are less common here as building restrictions forbid hotels from extending beyond 50 feet. The result? A more laid-back, natural sort of vibe, free of tourist traps. Looking for free things to do on Kauai? Look no further, as our in-depth guide will have you amused for hours while your budget stays in check!
Pro Tip: With tourism at a minimum compared to some of the other islands, Kauai is possibly the most romantic Hawaiian Island. You'll find more opportunities for privacy in paradise here!
Maui
Highlights: Beaches, adventurous excursions, famous scenic drive, whale watching
Next on our Hawaiian Islands guide is Maui. Lovingly tagged "the Magic Isle," Maui is nothing short of magical. Dreamy sunsets are best spent on the shore, and there are around 80 beaches! So, you'll have no trouble choosing a spot to settle in and wait for screaming color to explode across the sky. Read where to go for the best sunset in Maui for an unforgettable evening. 
Fun Fact: Another one of Maui's nicknames? "The Valley Isle." Maui is frequently called this, as most of the island sits at a mere 200 feet above sea level. 
Some of our favorite beaches include Kapalua Beach, Kaanapali Beach, and Wailea Beach. They're all excellent spots to find a shady palm and relax. Snooze under your straw hat or splash around in the waves!
Pro Tip: Plenty of time in the sun is a serious vitamin D boost. However, it also puts you at risk for sunburns! So stock up on plenty of reef-safe waterproof sunscreens for your Hawaiian beach days.
Moreover, adventure awaits if you decide to break away from the beach. Hike the Pipiwai Trail in Haleakala National Park to enjoy beautiful bamboo forestry. Then, for a truly unique experience, you can bike 23 miles down the Haleakala Volcano! 
Another classic landmark in Maui is the Road to Hana. This scenic highway allows visitors to zip in and out of some of the most breathtaking views in all of Hawaii. Waterfalls, trails, and parks all make great stops.
Lastly, Maui is known for its humpback whales! If you find these magnificent sea creatures as captivating as we do, visit this island from November to May for some prime whale watching. Check out our article on Maui whale watching tours. Decide which is best for you and gaze in awe at these magnificent mammals!
The Big Island
Highlights: Diverse landscapes, volcanoes, outdoor activities, black sand beaches
To continue our list of the Hawaiian Islands, the Big Island, sometimes simply called the Island of Hawaii, is the largest Hawaiian Island. It boasts a wide range of landscapes, which makes it a great place to get out in nature and explore. But, above all, one of its biggest draws is that it lays claim to four active volcanoes. 
In fact, the world's most active volcano, Kilauea, is located in Hawaii Volcanoes National Park on the Big Island. Hike the trails or take a scenic drive to experience the wonder of this state park.
Head to new heights in Hawaii! Other ways to explore all that the Big Island offers include ziplining on the Kohala Coast or taking a helicopter tour of the island. 
Pro Tip: Planning on diving beneath the surface while on the Big Island? Check out a guide to snorkeling the Big Island of Hawaii first! Then, get the lowdown on snorkeling spots and safety tips so you'll be going in prepared.
To add to the Big Island's jaw-dropping portfolio of natural wonders, Mauna Kea is located here and serves as the tallest mountain in the world. It's more than 3,000 feet taller than Mount Everest when counting the portion below sea level. Needless to say, there's nothing little about the Big Island!
White sand beaches? Stereotypical. If you're a trailblazer always on the hunt for ways to be original, visiting one of the nine black sand beaches on the Big Island is a must. Punalu'u Black Sand Beach comes with a bonus: sea turtles frequent this bay. It's easy to see that the Big Island offers the most unique landscapes of all the Hawaiian Islands.
Photo Alert: Your 'gram won't be complete without some black sand shots. Dress up for a photo shoot with the black sand beach in the background, or stay out of the photo and let the gorgeous beach speak for itself!
The other Hawaiian Islands
While Oahu, Kauai, Maui, and the Big Island typically attract the most tourists, there are a few other members of the Hawaiian Islands. In Hawaii, eight islands comprise the state. The other islands on the list are Lanai, Molokai, Niihau, and Kahoolawe. 
Fun Fact: Molokai is home to the tallest sea cliffs in the world. They're more than a whopping 3,000 feet above the ocean!
Now, if someone asks about how many Islands in Hawaii, you can fill them in. There are more tropical paradises beyond the popular islands everyone has heard of!
Which Island (or Islands) Will You Choose From Our Guide to the Hawaiian Islands?
It's clear that all of the Hawaiian Islands have fantastic characteristics that make them stand out from the rest. So, if you have the time and resources, by all means, island hop to see them all!
Ready to research more on which is the least expensive Hawaiian Island to visit? Read our article and decide for yourself!
However, planning a vacation to Hawaii often means sticking to a budget. If this is the case, you'll have to weigh the options and make a choice. Our handy guide to Hawaii Islands will hopefully make the choice a little easier. 
As a bonus, Tripster offers excellent deals on everything from activities to hotels to make forming your dream Hawaii vacation itinerary that much easier. Happy planning!
Which Hawaiian Island is Your Favorite?
Leave us a comment below!