Lush, rolling green hills, stately old oak trees, and the mighty San Antonio River come together to create a verdant oasis in the Texas Hill Country. A big city with a small-town feel, San Antonio, Texas, is the hidden gem of the southwest that you've been missing!
Get ready to tackle every inch of this Lone Star State with your San Antonio Pass. Follow along to discover everything you need to know about Go pass San Antonio.
Whether you are marveling at the mighty Alamo, getting spooked on a ghost tour, or just reveling in the lively atmosphere at the Riverwalk, there is an abundance of San Antonio attractions to experience.
It's no wonder this bustling and picturesque town of Tex Mex food, missions, and San Antonio rodeo attractions draws in over 34 million visitors each year.
Make the most of your Texan vacation with a pinch of swagger, a slow drawl, and your handy Go City San Antonio!

San Antonio Hotels
With so much big sky to soak in, Chilaquiles to devour, and historical monuments to visit, you'd be hard-pressed to spend just one day in the Alamo City.
Embrace the slower pace of life, and explore San Antonio's many points of interest, by staying a night or three in any of our exclusive accommodation options.
Stay in a comfortable country suite within walking distance to downtown, or pick lodgings closer to Six Flags or SeaWorld. Whatever you desire, we have several San Antonio Hotels to fulfill every budget and preference.

Go Pass San Antonio TX
San Antonio Multi-Attraction Explorer Pass
The Mission City is just teeming with outdoor adventure, Spanish Colonial heritage, and Texas flair. From spellbinding natural caverns to the Witte Museum, you'll see it all. Conquer your San Antonio itinerary with confidence with the help of your Multi-Attraction Explorer Pass. 
The Multi-Attraction Explorer Pass provides both maximum savings and flexibility, ideal for savvy and budget-conscious travelers who have a 'can't miss' list a mile long. Choose from 3, 4, or 5 Explorer Choice Pass Options and see the following number of attractions, sights, and landmarks.
Related Post: Top Attractions in San Antonio
Wander through natural bridge caverns, gaze in awe at UNESCO world heritage sites, and get rowdy at the rodeo, all with your San Antonio Multi-Attraction Explorer Pass!
Other Important San Antonio Multi-Attraction Explorer Pass Facts
Your pass offers you discounts of up to 40% off retail rates - that's a lot of saved money!
Passes are valid for up to 30 days after activation
Your first attraction visit will activate your pass
Your pass will be valid for 60 days from its first use to visit your remaining attractions
Choose from over 20 exclusive San Antonio attractions
Keep it loose - enjoy a mix of pre-booked activities with flexible attractions
All 3, 4, and 5 pass options include one premium attraction experience
No travel giddy ups here; just use the Go City App and obtain a digital pass for seamless attraction entry
Free gift with purchase? Yes, please! Now through the end of 2022, your Multi-Attraction Explorer Pass purchase comes with an included digital guide.
*Please note that some attractions may require advanced reservations, and we suggest you plan accordingly.
The City App
Everything might be bigger in Texas, but that doesn't mean your travel bag needs to be! Cut down on dead weight, and go paper-free with the nifty Go City App:
Using your smartphone or mobile device simply:
Download the App to your mobile device (Apple | Google Play)

Use your order confirmation number to add your pass to your phone.

Double-check if any of your desired attractions need a reservation and book.

Show your pass at each attraction for easy entry.
Top Tier San Antonio Attractions
SeaWorld San Antonio*
Texas might be the land of longhorns and cattle, but SeaWorld San Antonio brings exotic animal fun to new aquatic depths. 
Brace yourself for the pure exhilaration of Wave Breaker, Seaworld's newest thrill ride, or try to avoid the sting of the Texas Stingray, the tallest, fastest, and longest wooden coaster in Texas. 
Marine adventurers of all ages will be keen to take in entertaining shows, like Sea Lion High, where these slippery cute creatures go back to school and provide some sloppy sea lion kisses!
Splash levels run high at the Orca encounter, so prepare to get wet as you learn all about these powerful predators and their natural behaviors.
Don't forget to save some time to meet up with your favorite Sesame Street characters or ride some kiddie coasters at the Sesame Street® Bay of Play.
Pro Tip: Calling all animal lovers! San Antonio SeaWorld offers up a hearty variety of wildlife and animal experiences that you can add to your general admission ticket. Be sure to book any number of their animal tours, encounters, or adventures to round out your sea-worthy sojourn.
Six Flags Fiesta Texas*
Yee-haw! Kick-off your San Antonio trip with some serious thrills and some splish-splashing fun at 6 Flags Fiesta Texas. 
A killer combination of adrenaline-pumping roller coasters, kid-friendly rides, waterslides, and live musical spectaculars, make 6 Flags one of San Antonio's most popular tourist attractions.
Related Post: 12 Day Trips from San Antonio Worth the Drive
Soar like Batman on the world's first 4D free-fly coaster, or find yourself caught in the otherworldly grip of Wonder Woman's Golden Lasso. Tiny tots will lose their tunes on Looney-themed rides like Taz's Tornado and Yosemite Sam's Wacky Wagons. 
Texas heat got you sweating buckets? Cool off with a refreshing dunk in the Lonestar Lagoon, or grab the whole family and try your hand slip-sliding your way down the Texas Tumble.
Pro Tip: Craving some top-notch theme park eats after your day of coasters, Looney Tune character meets, and more? Chow down on massive turkey legs or classic BBQ at the Old Blues Barbeque, or refresh with an ice-cold margarita at La Cantina.
Texas Hill Country & LBJ Ranch Tour*
Pull on those cowboy boots, and get ready to learn all about the colorful history of the Lonestar cowboy and the scenic backroads of Texas Hill Country. 
Your one-day guided tour is just stuffed full of delicious German eats, wine tastings, historical sights, and more.
Before heading to the Lyndon B. Johnson National Historical Park Visitor Center and the 'Texas White House', also known as LBJ Ranch, you'll spend a serene morning navigating the curving dirt roads of Hill country. Learn all about the life and times of real cowboys and cattle drives from South Texas to mid-western markets.
Revel in the history of President Johnson's boyhood home before wandering through his sprawling 142-acre ranch.
Take a moment to snap some photos of the quaint Main Street located in the historic German town of Fredericksburg before you refuel with a refreshing German lager and schnitzel at a local beer garden.
Conclude your foray into cowboy life with a visit to a town where 'everybody's is somebody' aka Luckenbach. 
This town has been making memories and music since 1849 and has a long history of inspiring great country musicians such as Willie Nelson, Waylon Jennings, Jerry Jeff Walker, Gary P. Nunn, and Hondo Crouch. Keep the good tunes and times flowing with a penultimate stop to an award-winning winery to sip some vino and hear all about the development of the Texas wine industry.
San Antonio Missions UNESCO World Heritage Site Tour*
You don't have to look too hard in Mission City to see the longstanding influence of Spanish colonialism. Take a deep dive into Spanish influence and daily life at the Mission with the San Antonio Missions UNESCO World Heritage Site Tour.
The mission's complexes were constructed by Franciscan missionaries in the 18th century and serve as a visual representation of the Spanish crown's efforts to colonize and defend the 'New Spain.' 
Related Post: 19 Things to Do with Kids in San Antonio That Won't Disappoint
Your 3.5-hour narrated tour will delve into the fascinating history, architecture, and sights of the mission. Witness one of the world's oldest irrigation systems still in use today, or take a moment to pay respects at Mission Concepcion, the oldest unrestored stone church in the nation.
Architecture buffs should take note the San Antonio missions are a prime example of the interwoven influence of Spanish and Coahuiltecan cultures. This can be seen in the decorative elements of churches, which marry Catholic iconography with indigenous symbols inspired by the natural world. 
Other incredible points of interest at the Mission include:
Glimpsing at the original 200-year-old frescos at Mission Concepcion

Exploring a Franciscan sanctuary, nave, convent, and a granary

Admiring the baroque architecture and the Ventana de Rosa (the rose window) at Mission San Jose

Natural Bridge Caverns Outdoor Discovery Package*
Enter an ancient world of mystery, wonder, and natural beauty when you travel 180 ft below the surface on the Natural Bridge Caverns Outdoor Discovery Tour. 
Traverse the ½ mile-walking path as you stare in wonder at these natural occurring formations of stalagmites, stalactites, flowstones, chandeliers, and soda straws, many of which have been growing for centuries.
After your awe-inspiring cavern experience concludes, breach the surface and prime yourself for some heart-pounding fun on the Twisted Trails and the Amazen' Ranch Roundup.
Related Post: 12 Day Trips from San Antonio Worth the Drive
Gratifying defying daredevils will have a ball conquering the 60 ft high ropes course and trying out all seven zip rails suspended 685 ft above the ground. Complete physical challenges of agility, balance, and strength as you maneuver vertical rope ladders, double beams, and lily pads.
Seeking a slightly more cerebral challenge? Test your wits at the Amazen' Ranch Roundup, a 5,000 sq ft, one-of-a-kind maze experience built to honor the five generations of Ranch ownership at the Natural Bridge Caverns.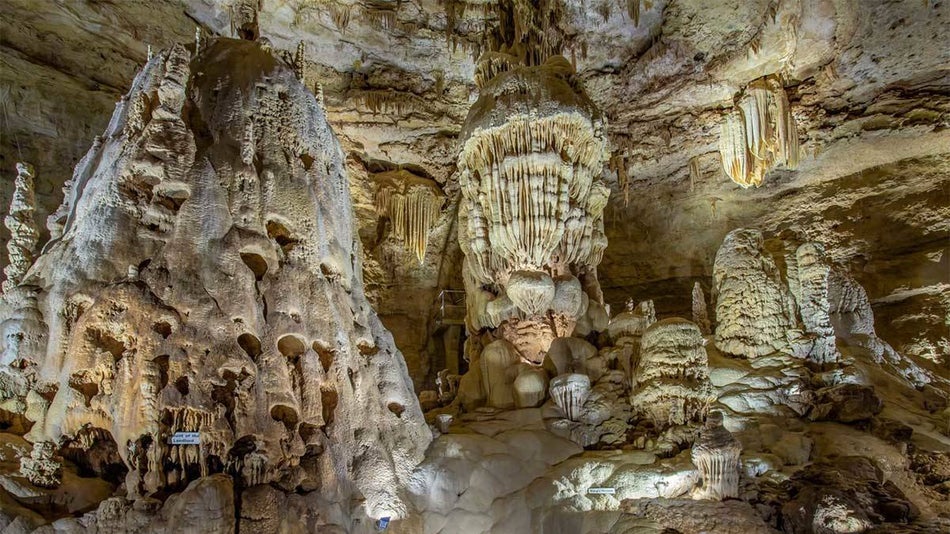 San Antonio Walking Historical Ghost Tour
After dark, sinister spirits come out to play in the Alamo City. Help yourself to a giant serving of haunted history and paranormal activity when you book a San Antonio Walking Historical Ghost Tour. 
A ghostly affair that is appropriate for the whole family, your two-hour guided walking tour will take you on a spooky journey through San Antonio's historic downtown.

Listen carefully as your Certified Tourism Ambassador regales you with tales of local history, folklore, and legend. San Antonio is one of the USA's most haunted cities and has a deep history of paranormal sightings and manifestations.
Brace yourself for a night of supernatural delights, ghost stories, and ghoulish gallivanting.
San Antonio Zoo
Take a walk on the wild side when you spend a day at the San Antonio Zoo. Situated on over 50 sprawling acres and housing over 750 species, the Zoo provides a wealth of animal-based education, conservation, and fun.
Pretend you are on safari on the African Plains as you spot rhinos, storks, and hoofstock roaming their natural limestone habitat. Or have some hands-on critter cuteness overload when you stop by the Fun Farm and pet the resident goats and pigs.
Related Post: 19 Things to Do with Kids in San Antonio that Won't Disappoint
For a more exotic animal adventure, try feeding the world's tallest land mammal some crunchy iceberg lettuce, or go behind the scenes with your favorite marsupial at the Kangaroo Krossing.
Tiny tots will get a mega thrill when they choo choo choose to board the all-new 
C.W.T. Express Zoo train. Once considered the longest miniature railroad in the world, today, the tracks run about two miles.
More San Antonio Zoo Highlights include:
Family-friendly seasonal events such as Whataburger Zoo lights or Zoo Boo

Kiddie Park - America's oldest children's amusement park

Behind the scenes experiences with rhinos, hippos, tortoises, and Okapi

Outpost Amazonia - check out over 30 species of tropical animals, including majestic jaguars, ocelots, bats, fish, and monkeys.

And more!
City Sightseeing Hop-On/Hop-Off Tour
Ready to cover every inch of the River City? Strap in and sightsee to your heart's content on the City Sightseeing Hop-On Hop-Off Tour. 
Uncover the beating pulse of this Tex Mexican metropolis as you visit over 15 sights of historical and cultural significance. Stay put for the entire one-hour loop of your guided tour, or hop on/off as you please to create an entirely customized experience.
Come face-to-face with the mighty battle site and former mission of the Alamo, or pursue over 100 locally-owned shops and stalls that pepper the vibrant outdoor plaza of el Mercado. 
Sip a delicious lager at the Pearl Brewery in Northtown. Afterwards, go for a stroll down the colorfully romantic Riverwalk.
Enjoy engaging commentary and expert narration by your knowledgeable guide. Meanwhile, they will inject historical facts, local musings, and points of interest into your comprehensive tour.
More Hop on/Hop Off tour stops of significance are:
San Antonio Museum of Art

Buckhorn Saloon

Tower of the Americas

San Fernando Cathedral

Spanish Governor's Palace

The King William Historic District

Yanaguana Garden

Buckhorn Saloon & Texas Ranger Museum

Veterans of Foreign Wars Post 76

The Tobin Center

The Scottish Rite Cathedral

Hipólito F. Garcia Federal Building

Emily Morgan Haunted Hotel

And more!
Tejas Rodeo Company
Witness a real slice of western life when you spend an evening with the Tejas Rodeo Company. Afterwards, get ready to 'giddyup' for a night of rodeo, bull riding, pony rides, and more.
Located just North of San Antonio, Tejas Rodeo Company is a haven for cowboys and western folk looking to connect with some down-home country thrills. 
Related Post: Where are the Best Places to Eat in San Antonio?
The smell of sweet southern BBQ permeates the air. So grab a refreshing brew or a crispy yardbird sandwich. Then settle in for some professional:
bull riding

barrel racing

mutton bustin' (practice where the youngest rodeo folk ride sheep for some side-splitting fun)
Curious about getting in on the action? Adults can go buck wild riding the mechanical bull. Meanwhile, youngins' can saddle up for a cruisy pony ride. In addition, they can see how they fare in the arena with the calf scramble.
More real-life Rodeo highlights include:
Dynamic opening ceremony

Drill Team Performance on horseback

Team Roping

Breakaway Roping

Tie-Down Roping

Go Rio San Antonio River Cruise
Relax and drift away on the serene San Antonio River for a day of colorful charm, Mexican flavor, and timeless history.
The Go Rio San Antonio River Cruise is the perfect way to explore this city's unique multicultural heritage and architecture. 
Get comfy on your brilliantly painted boat. Meanwhile, your group will meander through the intricate waterways and picturesque bridges of the Alamo City's past. 
Your 35-minute river cruise will be narrated by a professional guide who will point out Villita. This is the city's first neighborhood. It is also where General Santa Anna placed his cannon line in the Battle of the Alamo. In addition, it has the Old Mill Crossing Teddy Roosevelt led his Rough Riders.
J Lo fans and Selena Stans will be overjoyed to snap selfies of Selena's Bridge. This the exact location where this Tex Mex superstar was proposed to in the movie.
Absorb even more sights, such as the Hyatt Regency Hotel. This building was designed explicitly so its shadow would not hit the Alamo in the setting sun. Neither will it overshadow the impressive limestone-constructed Briscoe Western Art Museum.
Pro Tip: It can get quite sunny on the river, so be sure to pack sunglasses and a hat for your San Antonio River Cruise.
*denotes premium attraction
Ready to Visit San Antonio While on a Budget?
Stunning Spanish-style architecture, sumptuous Mexican eats, and a whole lot of western charm make San Antonio an ideal getaway for any adventurous traveler.
Google at the Moorish influences at the mission, debate the difference between a stalagmite and a stalactite at the Natural Bridge Caverns or wander through the hallowed halls of San Antonio museums.
Ready to explore San Antonio? Saddle up for the most Texas entertainment, attractions, and merriment when you purchase your Go pass San Antonio today!
What's Your Favorite Thing to Do in San Antonio?
Did we miss any of your top San Antonio Go City sights?
Tell us in the comments below!