We know what it's like – you don't want to leave Fido at home and certainly don't want to pay those pesky kennel fees. Luckily, there are a variety of pet friendly hotels in Myrtle Beach that will make your pup or cat feel right at home.
Bring your furry friend to the top pet friendly Myrtle Beach hotels, including:
1) Comfort Suites
With a convenient location near Highway 501, you and Fido will be near it all with a room at the Comfort Suites hotel. Guests enjoy features such as free WiFi access, a complimentary hot breakfast, and an outdoor seasonal pool. For those who prefer to lounge in the room with Fluffy, take advantage of the microwave, refrigerator, and coffeemakers, too. And, since you're only 2.3 miles from the beach, you'll enjoy all that Myrtle Beach has to offer with your pets!
2) Ocean Park Resort
With a seaside location, you and Fido will enjoy oceanview accommodations, free WiFi, and multiple pools at the Ocean Park Resort. The hotel is also situated near Family Kingdom Amusement Park and the Myrtle Beach International Airport for your convenience. You'll also have access to a whirlpool spa, a sea-view deck, and an exercise facility. It's not hard to see why Ocean Park Resort is among the top pet friendly hotels in Myrtle Beach! The Ocean Park Resort requires a $21.80 nightly pet fee.
3) Holiday Inn Express
Only 1.3 miles from the ocean and near Broadway at the Beach, the Holiday Inn Express is a great choice for you and your furry friend to stay. Rooms include free WiFi access, flat-screen TVs, and premium cable channels. As one of the pet friendly hotels in Myrtle Beach, the Holiday Inn Express also offers free breakfast daily, an outdoor pool, and a fitness center. The hotel requires a $50 per pet, per stay fee.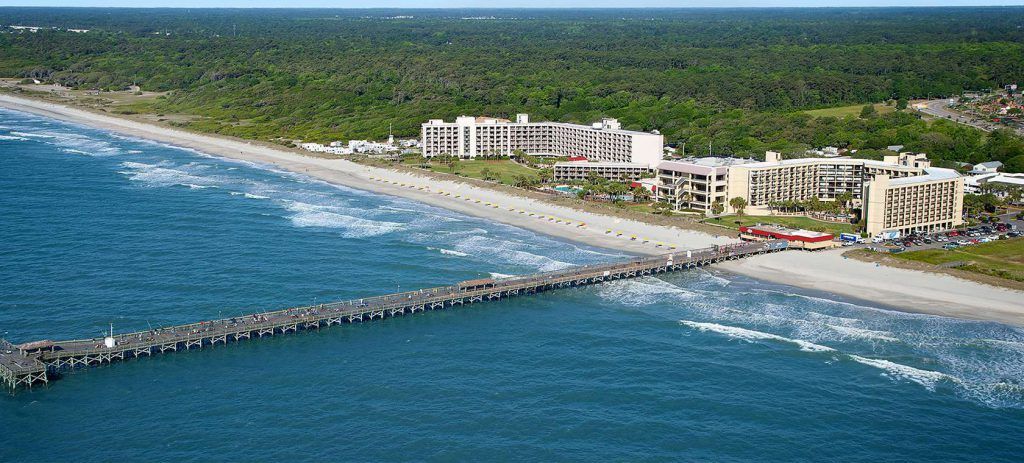 4) Doubletree Resort by Hilton Myrtle Beach Oceanfront
This recently renovated resort is among the top pet friendly hotels in Myrtle Beach due to to the wealth of amenities and cozy accommodations. The DoubleTree Resort by Hilton offers beachfront views and access, private balconies, and flat-screen TVs. Plus, take advantage of 6 pools, 2 lazy rivers, mini-golf course, onsite restaurants, and so much more! Pet accommodations are available for $75 per pet, per day. Only dogs are permitted inside the hotel.
5) The Oceanfront Viking Motel
Are you searching for no-frills, affordable pet friendly hotels? If so, the Oceanfront Viking Motel is exactly what you need. Just steps away from the beach, the hotel offers standard rooms with kitchenettes, private balconies, and TVs. Onsite amenities include two pools, a lawn, a sundeck, and free parking. The hotel's pet policy requires a $15 per pet, per night fee along with a $50 cleaning fee per reservation. Guests are allowed a maximum of 2 pets that do not exceed 100 lbs.
Reserve a Room at the Top Pet Friendly Hotels in Myrtle Beach
Convenient locations with beach access and reasonable pet fees cater to travelers who love to bring their pet with them. Choose from these affordable pet-friendly hotel options in the Grand Strand for a place to stay and play with your pet.