Ahoy ye landlubbers! Have you been searching the high seas for an epic maritime adventure fit for the whole family?
Search no more, as we've got the best Pirates Voyage Dinner & Show in Myrtle Beach coupon codes and discounts! 
Adults and children alike will be mesmerized by the aerial and acrobatic acts, beautiful mermaids, barking sea lions, and the captivating pirate-themed drama. 
Immerse yourself in the saga of Captain Blackbeard and his Quartermaster Calico Jack as they lead their battling crews on a quest to discover lost treasure, all while enjoying a delicious four-course pirate feast worthy of any captain.
The Pirates Voyage Dinner & Show is the perfect addition to any Myrtle Beach vacation or day trip. With our convenient Ultimate Guide, you can be sure to seize the best discounts, deals, and coupons on this side of the Atlantic.
About Pirate's Voyage Myrtle Beach
Arrgh you ready to raise the Jolly Roger flag on your evening of swashbuckling entertainment? Hightail it to Horry County, to join in on the non stop adventure and antics of Pirate's Voyage Myrtle Beach. Watch in wide eyed wonder as Crimson and Sapphire crews battle on land, on deck, in water, and high above full-sized pirate ships in a 15-foot deep indoor hideaway lagoon.
Pirates Voyage is a proud member of the Dolly Parton company family and also retains a second location in Pigeon Forge, Tennessee.
Discounted Tickets and Deals - Pirates Voyage, Myrtle Beach
If you are keen to save some of your hard-earned gold treasure, consider buying your tickets for Pirates Voyage Myrtle Beach ahead of time.
With pre-purchased tickets, you can be sure to get the best price and avoid any booking fees! Best of all, no need to fret over free shipping. Simply print out your tickets post-purchasing.
Pirates Voyage Hotel Package
Celebrate the pirate spirit at Pirates Voyage Dinner & Show along with your choice of hotel and save the most money on your Myrtle Beach vacation! Tripster's Pirates Voyage hotel package has you covered with the best hotels to choose from and the cheapest Pirates Voyage tickets in the area.
Ticket Packages Deals - Pirates Voyage, Myrtle Beach
A picturesque beach paradise complete with palm trees and over sixty miles of white sand beaches, Myrtle Beach, South Carolina, is an ideal getaway. Savor your time in this full-service resort community by exploring all of the incredible attractions, recreation, and things to do in Myrtle Beach, SC. 
Related Post: Insider's Guide to Pirates Voyage Dinner & Show Myrtle Beach
Enjoy savings when you bundle any of our Pirates Voyage Vacation Packages with any of our most popular activities, including:
Vacations should be hassle-free, which is why Tripster has one-stop shopping for all your travel needs. We also have the inside scoop, tips, and best ways to save on other top-rated adventures in Myrtle Beach such as our Ultimate Guide to Legends in Concert Myrtle Beach and the Ultimate Guide to Broadway Grand Prix.
Hotel Deals - Pirates Voyage, Myrtle Beach
With so much fun in the sun and warm southern hospitality to be had, there is no question that one day in Myrtle Beach is just not enough. Myrtle Beach, or the Grand Stand as it is often referred to, has a dizzying array of accommodations and lodging choices. 
Luckily, you can save both time and money by booking your choice of Myrtle Beach hotels with us. So whether you are in the market for a Myrtle Beach Vacation Package or simply lusting after some ocean-front luxury lodging, we have got you covered.
Related Post: Current Events and Festivals in Myrtle Beach, South Carolina
Whatever your hotel preference, feel confident reserving your Myrtle Beach hotel with our lowest price guarantee.
Promotions & Specials
Looking to entertain a large group? The larger-than-life pageantry of the Pirate Voyage Dinner & Show is an excellent activity for groups such as family reunions, church outings, or corporate retreats. Even better, pirate 'crews' of twenty or more are eligible for group discount rates.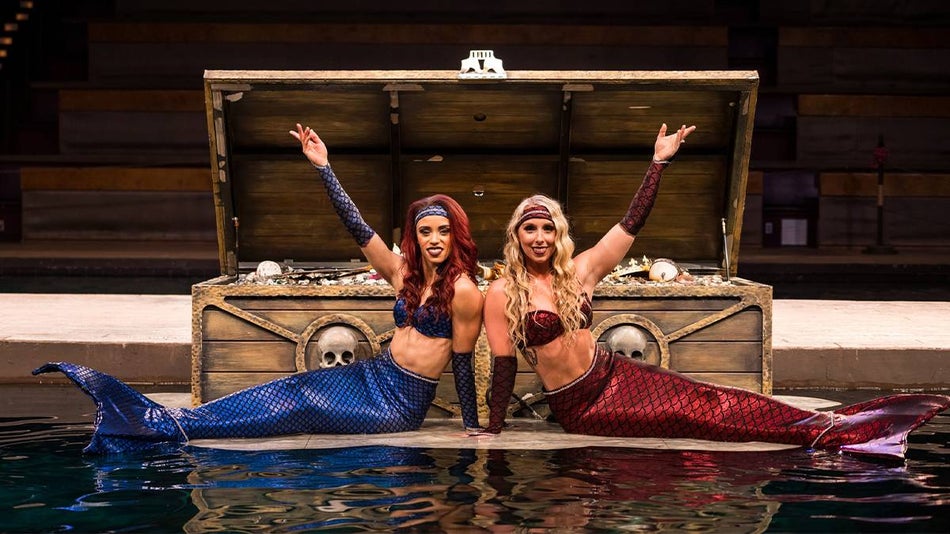 photo credit: Pirates Voyage Dinner & Show via Facebook
Pirates Voyage Coupon Codes
Rather walk the plank than miss out on dashing deals and coupon codes? While there are currently no active Pirate's Voyage Myrtle Beach coupons, we have a Pirates Voyage Myrtle Beach discount ready to go for you.
Who wants to worry about coupons while at a Myrtle Beach pirate show anyway? Save yourself the hassle of searching and grab your discount Pirates Voyage tickets today!
Ways to Save
At the Pirate Voyage Dinner & Show, the magic doesn't start at curtain call. Instead, you'll want to arrive at least thirty minutes ahead of time to check out the pre-show. This pre-show is complete with pirate juggling, balancing acts, and rowdy sing-alongs (all free).
Related Post: The Top 10 Things to Do for Kids in Myrtle Beach
Pro Tip: Skip the pirate-themed souvenirs for sale and instead bring your own! You can easily find pirate memorabilia such as flags, eye patches, and swords from your favorite party supply store. 
If the Pirates Voyage has you feeling jolly enough to try another swaggering, fearless sea escapade, Tripster has the lowest online rates for a Blackbeard's Pirate Cruise, and the Sea Screamer-Myrtle Beach Beach Dolphin Cruise.
Final Tips & Tricks
Think you're ready for a pirate's life? Before you reserve your tickets for Pirates Voyage Myrtle Beach, here are some final tips and tricks to keep in mind:
Gratuities are not included in the ticket price, so keep cash on hand to tip your server.

Alcoholic beverages and pre-dinner appetizers are not included either.

Bring your camera - photos are allowed, and the pirates will be more than happy to snap a pic for you!

Come back and visit during Christmas to see their special Holiday show

Pirates Voyage can accommodate vegetarian, vegan, and gluten-free dietary needs
Let's Start the Savings!
There's no pairing more classic than dinner and a show. The ultimate celebration of adventure, aerial expertise, and pirate spirit, the Pirates Voyage Dinner & Show is an experience you don't want to miss. 
Related Post: Top Attractions in Myrtle Beach, South Carolina
Are you prepared to enter this world of magical mermaids, tropical birds, and battling captains? Then, don't hesitate. Book your tickets for Pirates Voyage Myrtle Beach today!
Then, if you're still in the mood for some toe-tapping, side-splitting southern entertainment, read on to Discover 5 Spectacular Shows in Myrtle Beach. If you're traveling with tweenagers we have discounted tickets to the animated special effects experience, The Simpsons in 4D, and the high-energy magic, dance, and comedy extravaganza, Charles Bach Wonders! A Magical Experience. This immersive show combines the "whimsy of Willy Wonka with the wonder of Las Vegas illusions."
Whatever you choose to do in Myrtle Beach, Tripster is here to help. Between reward points, discount prices, and special promos, there's never been more ways to help you save and have an amazing adventure.
Have You Ever Scored a Great Pirates Voyage Myrtle Beach Coupon or Discount?
Leave us a comment below!