Although dogs are not allowed in the Great Smoky Mountains National Park, they are welcome at several pet friendly hotels in Gatlinburg!
Whether you can't stand to leave Fido at home or you wouldn't dream of taking a road trip without Fluffy, these pet friendly accommodations in the Smokies have exactly what you need.
When you and Fido need a place to stay in the Smoky Mountains, book your stay at these hotels and cabins.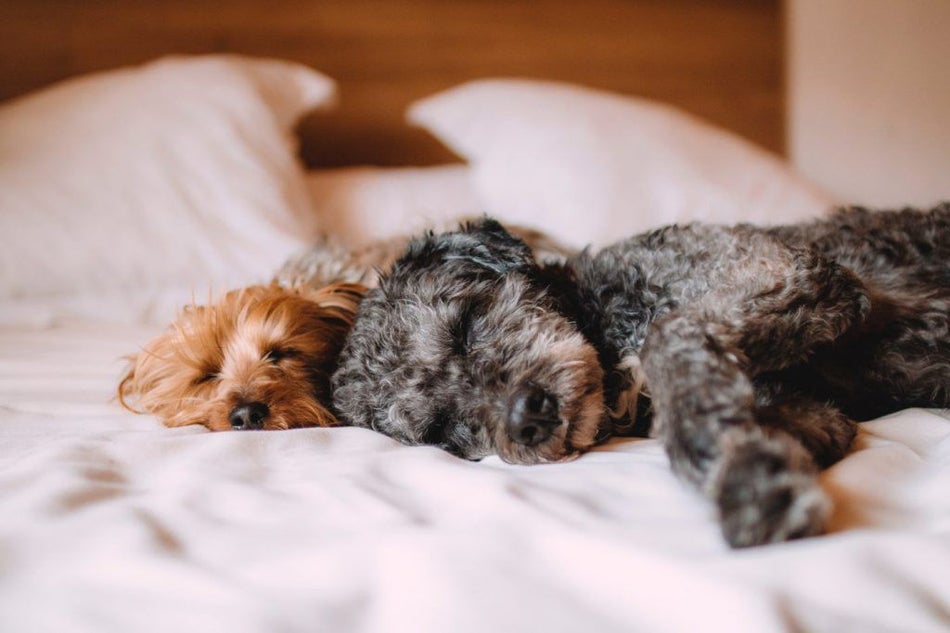 5 Pet Friendly Hotels in Gatlinburg
These pet friendly Smoky Mountain hotels are near the fun and offer excellent amenities for both you and Fido!
1. La Quinta Inn & Suites
Situated over in Pigeon Forge, TN, this pet-friendly hotel provides travelers with convenient access to top attractions and destinations including the Island, Dollywood, and Tanger Outlets. Guests are permitted up to two (2) pets with a combined maximum weight of 50 lbs or less. Additional amenities include free WiFi access, a complimentary breakfast, and an indoor pool.
2. Timbers Lodge
Those searching for pet friendly hotels in Gatlinburg and Pigeon Forge will find Timbers Lodge to be exactly what they need. Offering a convenient location within walking distance to the Shops of Pigeon Forge and the Island, hotel guests have everything at their fingertips. Guests are allowed to bring a maximum of two (2) pets each under 25 lbs. A non-refundable pet fee of $25 plus tax per night is paid upon check-in.
3. Microtel Inn & Suites by Wyndham
Another pet friendly option in the Smoky Mountains is the Microtel Inn & Suites by Wyndham. Close to the Smoky Mountain Opry and WonderWorks, this hotel is ideal for families traveling with kids and pets. The hotel offers a Pigeon Forge trolley stop along with free WiFi access and complimentary breakfast each morning. The hotel allows guests to bring up to two (2) dogs not exceeding a maximum weight of 30 lbs. Cats are not allowed. A $15 per pet, per night fee applies. If necessary, a $100 pet sanitation fee may also be charged.
4. Quality Inn & Suites
Minutes from the Great Smoky Mountain National Park and Ripley's Aquarium of the Smokies, Quality Inn & Suites offers cozy accommodations for pets and humans alike. On top of being among the pet friendly hotels in Gatlinburg, the hotel provides guests with free WiFi access, a seasonal outdoor pool, as well as convenient in-room amenities. Guests may bring a maximum of two (2) pets per room. Pets may not exceed 30 lbs. Guests are also responsible for a $20 per night, per pet fee.
5. Westgate Smoky Mountain Resort & Spa
For an out-of-this-world experience, bring Fido and family to Westgate Smoky Mountain Resort & Spa. This resort boasts convenient and entertaining amenities such as an indoor/outdoor waterpark and zipline. (Sorry, Fluffy. Humans only!) The oversized villas and rooms include in-room safes, microwaves, mini-fridges, WiFi access, and flat-screen TVs among other amenities. A pet fee may apply to your stay.
Pet Friendly Cabins in Gatlinburg
If you'd rather snuggle up with Fido in a cozy cabin, book a pet friendly cabin from one of these companies in the Smoky Mountains.
1. Cabins of the Smoky Mountains
Cabins of the Smoky Mountains boasts more than 60 pet friendly cabins throughout greater Gatlinburg and Pigeon Forge. The cabin company's pet policy also is one of the most accessible and welcoming, with no restrictions on breed, weight, or number of pets! Cats are also welcome. However, there is a $50 deposit per pet. Within the cabin, guests (both furry and human) are treated to Smoky Mountain views, fully-equipped kitchens, and incredible entertainment.
2. Aunt Bug's Cabin Rentals
This pet friendly cabin company offers cabins ranging from one to eight bedrooms. Fido can even have his/her own room! Aunt Bug's cabins also feature flat-screen TVs, fully-equipped kitchens, private porches, laundry machines, and other convenient amenities. Pets are welcome for a $75 registration fee. This fee may range per cabin.
3. Cabins for You
Say goodbye to kennel fees and hello to lounging in a pet friendly cabin from Cabins for You. This Smoky Mountain rental company offers a wide variety of cabins, including those with ample green spaces for Fluffy to run around in. Additional cabin amenities include entertainment centers and games, premium furniture, fully-equipped kitchens, and hot tubs. Pet fees may apply depending on which cabin you choose to book.
4.  Hearthside Cabin Rentals
Hearthside Cabin Rentals also provides pet friendly cabin accommodations in the Smoky Mountains. Cabins feature everything from fully-equipped kitchens and free WiFi access to sprawling views of the mountainside from the comfort of your private porch and/or balcony. Pet friendly cabins may require an additional fee or service charge.
Bring Fido to the Smoky Mountains
With so many pet friendly cabins in Gatlinburg to choose from, you can have confidence knowing Fido is safe and by your side throughout the entire vacation. Book your pet friendly hotel today!