From the lush green landscapes of Central Park to the glittering lights of Times Square to Lady Liberty fair, there is much to explore in the Big Apple. 
Follow along to learn everything you need to know about GO City New York.
Everyone has their own unique New York City dream. Whether you want to soak in the glamour of Fifth Avenue, marvel over priceless art at the MET, or recreate your favorite Sleepless in Seattle moment at the Empire State Building, NYC has something for everyone.
However, trying to tick everything off your New York City bucket list can be taxing! So skip the stress and the extravagant bills by scoring cheap New York attraction tickets with your Go City New York.
The New York City Go Pass affords you the convenience and the freedom to create your own Big Apple itinerary. From walking tours to harbor cruises, design your own dreamy NYC day. Choose from an astonishing array of attractions, tours, and landmark sights.
Ready to save in New York? Read on to learn all about the magic of Go City®Pass New York City!
New York City Hotels
The City that Never Sleeps demands a fully backed travel plan. Squeeze in every last attraction or tour with your Go New York Pass before relaxing in any of our top  New York City hotels.
Whether you choose to recharge at a luxurious boutique hotel with top-of-the-line amenities, or sleep surrounded by history at an NYC staple like the Hotel Edison, we guarantee you'll love your accommodations. Once you've rested, refueled, and caffeinated, get ready to hit those streets and tackle even more cheap New York attractions.
Go City New York Pass
Wondering what places to go in New York City? Or how to conquer every inch of this concrete jungle? New York Pass Go City is here to help. With a medley of convenient pass options, there are endless ways to explore everything from the Statue of Liberty to the 9/11 Museum.
Go City: New York Explorer Pass 
Ready to take an extra-large bite out of the Big Apple? The Go City Explorer Pass New York is here to make your Empire State fantasies a reality. 
Ideal for travelers who want to see multiple attractions and save a few bucks, the All-Inclusive Explorer Pass allows visitors to choose between three, five, seven, or ten choice passes:
Whatever All-Inclusive Explorer Pass you choose, you can visit the subsequent number of attractions, choosing from over 60 legendary New York City staples such as the Empire State Building, Top of the Rock, and the American Museum of Natural History.
The premier choice for travelers who prioritize flexibility and maximum savings, the Go New York City Explorer Pass allows you to save up to 40% off retail price on admission. That's a ton of saved money!
 Other Important Go City New York Explorer Pass facts:
Your pass is valid for 30 days from its first use.
Your first attraction visit will activate your pass.
After activation at your first individual attraction, you'll have 60 days to see the rest of your options.
Choose attractions as you go; there is no need to pick them before you purchase.
Manage your pass via the handy Go City®App as a digital pass or go retro and print your tickets.
The App
Using your New York City All-Inclusive Explorer Pass via the Go City®App is as easy as can be! Simply:
Download the App to your mobile device (Apple | Google Play)

Use your order confirmation number to add your pass to your phone.

Double-check if any of your desired attractions need a reservation and book.
Show your pass at each attraction for seamless entry.
Top New York Popular Attractions
Top of the Rock - World Observatory
So it may not be the maiden voyage of the Titanic, but you can't help but feel like your 'King of the World' when you behold the breathtaking views from the Top of the Rock Observation Deck. 
Visiting 30 Rockefeller Plaza is a must for any true NYC or 30 Rock fan. Feel your excitement build as you travel 70 floors up to the indoor and outdoor viewing decks. 
Three decks make Top of the Rock: the Radiance wall, the Breezeway, and the Observation deck. The famed Observation deck gives visitors from all over the world sweeping vistas of Central Park, Manhattan's midtown, and the downtown skyscrapers.
Pro Tip: Post your obligatory photo opp on the 70th-floor open-air roof deck. Be sure to check out the world-class dining nearby, such as Black Seed Bagels and the Blue Ribbon Sushi Bar.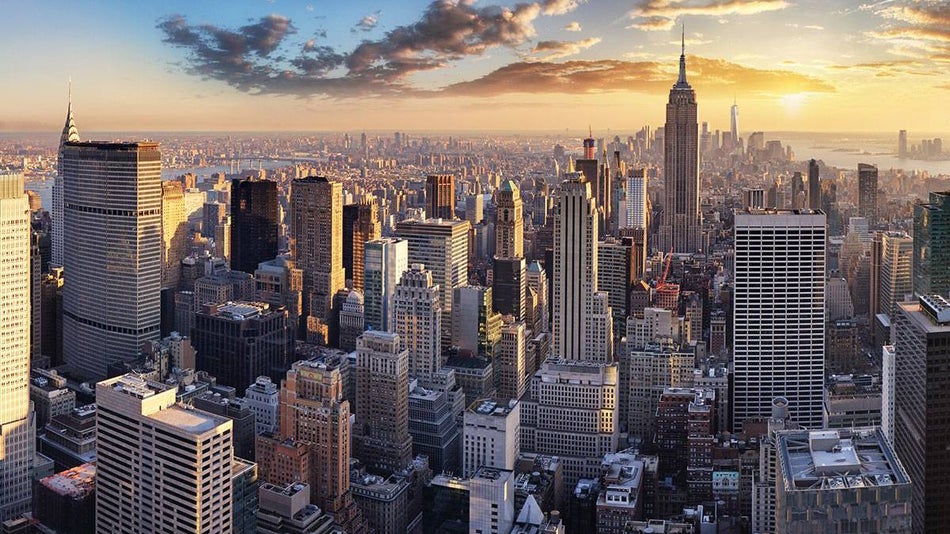 Empire State Building
For a geriatric landmark icon, the Empire State Building is still looking as fresh as ever! This year, the Empire State Building is celebrating its 90th anniversary with a reimagined observatory and an immersive digital and tactile museum.
There's no better time to rediscover this NYC institution's magic, wonder, and classic art deco architecture.
Home to the city's only 360-degree outdoor Observatory and new 102nd Floor Observatory, the Empire State Building offers incomparable views of Manhattan and Central Park. 
An eternal symbol of the spirit of New York, the Empire has earned its place in pop culture history and is a must-see experience.
Pro Tip: For some extra special insider knowledge, be sure to partake in the audio tour that educates you about the vantage points from each of the building's different spots.
Downtown and Uptown Hop-On/Hop-Off Combo (48-Hour Ticket)
Almost as ubiquitous as New York City's famed yellow cabs, the big red BIG BUS New York Tours are a staple for any NYC tourist.
Cover more ground and quintessential New York City sights when purchasing the Downtown and Uptown Hop-On/Hop-Off Combo Bus ticket. Traverse both the Uptown and Downtown routes on this engaging and educational tour which features pre-recorded commentary given by expert virtual guides. 
Navigate the city with ease and flexibility as you take in can't-miss attractions such as the Empire State Building, Times Square, Fifth Avenue, One World Trade Center, and more!
Pro Tip: Ready to earn that famous NYC Pretzel? Hop off the bus and utilize your 1-hour free bike rental from Unlimited Biking.
Statue of Liberty and Ellis Island Ferry
Dive into the rich history of New York City and the immigrant experience when you visit the Statue of Liberty and Ellis Island by ferry.
Lady Liberty is a beacon of hope and freedom. She was the first thing many immigrants set eyes on when entering the United States. Her torch symbolizes enlightenment, and her seven spiked crown, the seven oceans, and continents.
Get up close and personal with this historic icon on your tour, which you'll enjoy:
The new Statue of Liberty Museum (which includes many multi-sensory exhibits)

Epic views of downtown Manhattan

The Ellis Island Immigration Museum
Pro Tip: Don't forget to search for your family tree on Ellis Island using the American Family Immigration History Center database.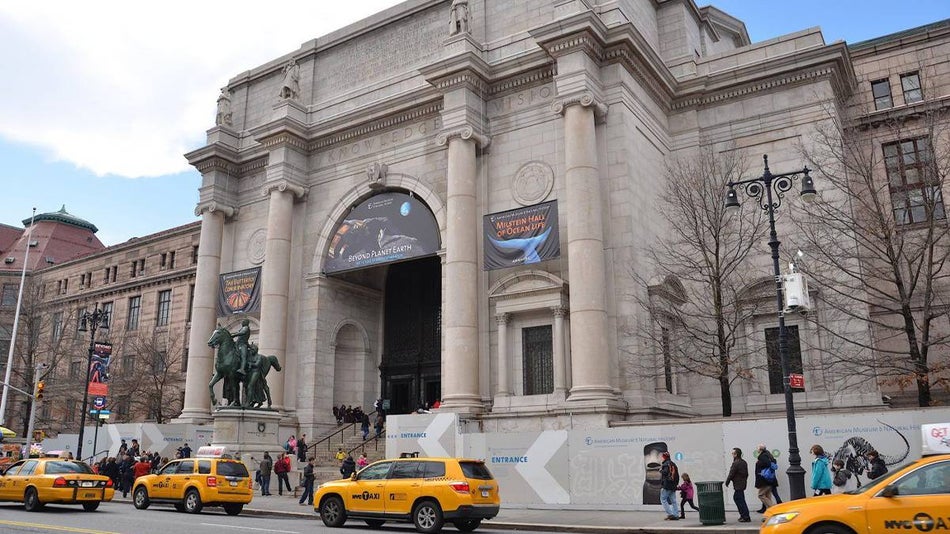 American Museum of Natural History
Jaw-dropping dinosaur fossils, a 94 ft long Blue Whale, and Mammoths, oh my! All of these specimens and more call the American Museum of Natural History home. 
Life-long learners of all ages will be in heaven as they explore 40 exhibition halls with 32 million specimens and artifacts. 
Besides their world-renowned dioramas featuring taxidermied Brown bears and other great North American Mammals, the Museum also boasts an infamous 'fossil hall.' This hall contains the world's most extensive collection of dinosaur fossils and even includes the majestically massive Titanosaur.
Other incredible museum highlights include:
The Willamette Meteorite

The Hayden Planetarium

The

Jurassic Park-worthy

 Tyrannosaurus rex skeleton

The enchanting Hall of Biodiversity and Spectrum of Life Display

The Rapa Nui (Easter Island) Moai Cast cast (made famous by the movie

Night at the Museum

)

Metropolitan Museum of Art
Is there anything more stimulating than spending an afternoon surrounded by timeless artifacts and priceless works of art? With over two million pieces spanning more than 5,000 decades, the Metropolitan Museum of Art is a veritable treasure trove of beauty, culture, and art.
Classists will gaze in wonder at such beloved works as Edgar Degas's 'The Dance Class' and 'Cypresses' by Vincent Van Gogh.
History buffs will be drawn to the instantly recognizable Egyptian Temple of Dendur. Don't forget to check out their impressive collection of Medieval armor. It includes a suit worn into battle by the great Henry VIII himself.
MoMA includes a rotating array of visiting exhibitions. There is always something new to uncover as you dive into the connections and bridges built between politics, fashion, culture, and art.
Pro Tip: Did you know your Go City affords you discounts at the Met Store? Be sure to pursue their enviable selection of jewelry, home goods, stationery, and art books.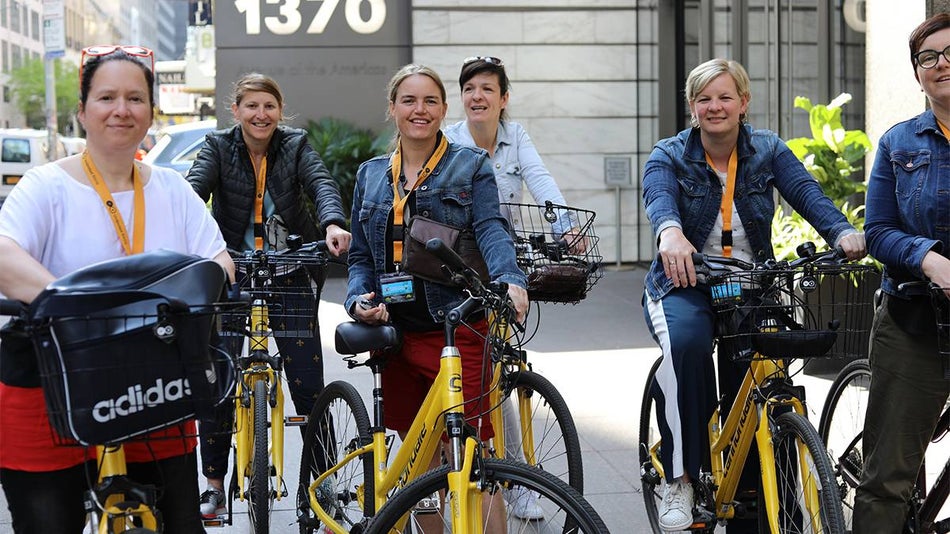 Central Park Bike Tour
A verdant oasis in the middle of Manhattan, Central Park's sprawling 843 acres make for a perfect reprieve from the hustle and bustle of city life. 
Cover all of the highlights and hidden gems of this National Historic Landmark when you put your pedal to the metal and join the Central Park Bike Tour. 
This two-hour guided bike tour will lead you on a journey through rolling hills, rambles, and the stunningly landscaped trails of the park. 
During your tour, your knowledgeable guide will provide insightful facts and narration as you visit such famed spots as:
Pro Tip: Have your phone or camera at the ready, as there will be various photo opportunities and chances to document Central Park settings from your favorite TV shows and movies.
Landmark Cruise by Circle Line Sightseeing
Ahoy captain! Prepare your sea legs as you embark on a watery voyage across the Hudson and East Rivers. The Landmark Cruise by Circle Line Sightseeing will give you an unrivaled view of your favorite NYC landmarks and monuments. Each tour includes a witty and insightful live narration from your guide.
During your tour, prepare to capture sweeping vistas and Instagram-worthy snaps of the Statue of Liberty, the Chrysler Building, the Brooklyn Bridge, the United Nations, and so much more. 
You can reserve your 1.5-hour cruise with confidence, as Circle Line Sightseeing is the oldest provider of cruises in NYC, having operated since 1945!
Pro Tip: Circle Line Sightseeing cruises are such an integral part of NYC culture that in 1985 Mayor Ed Koch named April 23rd Circle Line Day!
Brooklyn Bridge and DUMBO Walking Tour
Venture into one of New York City's trendiest boroughs on the Brooklyn Bridge and DUMBO Walking Tour. Get your steps in as you take a 2.5-hour guided tour of the architectural landmark. Afterward, explore one of Brooklyn's best neighborhoods.
As you stroll across this architectural beacon of progress and modernity, your guide will regale you with the storied history and unique facts of this majestic bridge. 
True or false, to test the bridge's strength, the P.T. Barnum himself marched 21 elephants across it. (TRUE)
Following your enthralling bridge crossing, you will arrive in DUMBO (as the locals call it). DUMBO is an acronym for Down Under the Manhattan Bridge Overpass. This hip area bursts with charming restaurants, cafes, art galleries, retail shops, and swoon-worthy waterfront views. 
Pay attention to your guide's sage advice and stellar recommendations. Meanwhile, be ready to discover the best places for a slice of pizza. Make sure your camera is ready to snap a photo memento of the area's most famous cityscape.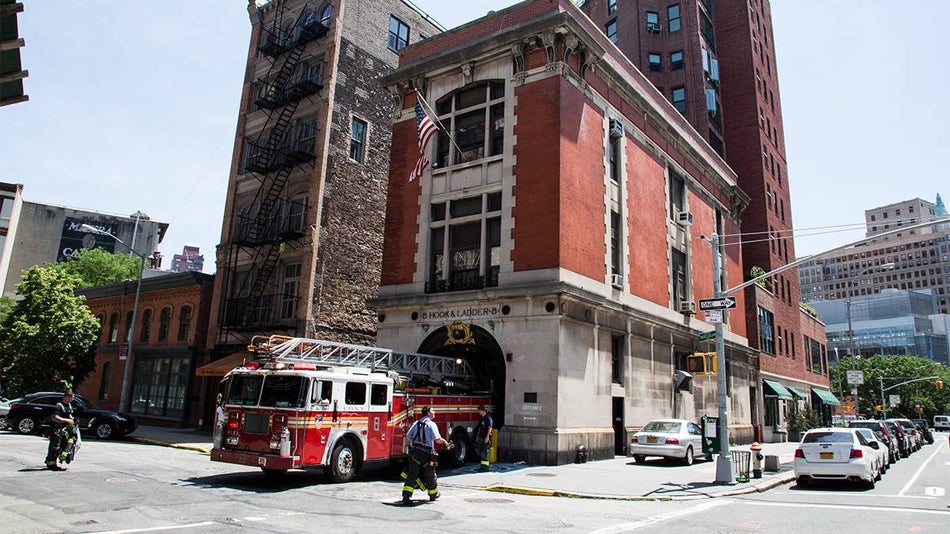 NYC TV and Movie Bus Tour
NYC has played more than a supporting role in hundreds of our all-time favorite movies and TV shows. 
See over 60 recognizable locations from movies and TV shows such as Ghostbusters, American Hustle, Friends, Jessica Jones, and The Amazing Spider-Man on this ultimate cinephile tour.
The NYC TV and Movie Bus Tour make hitting almost a hundred beloved filming locales easy as can be. It's a hop-on/hop-off approach to ensure you have time to snap your favorite photos.
Your movie-loving guide will be ready to spill all the tips, trivia, and facts about your favorite series and films. 
Meanwhile, your silver screen studded journey will include stops and photo opportunities at:
The FDNY Hook & Ladder 8, aka the Ghostbusters' Firehouse

The Pierre Hotel, where Chandler and Monica tied the knot in

Friends

The Plaza Hotel featured in both

American Hustle

and

Ocean's Eight

The iconic FAO Schwartz storefront featured in

Big

The heavenly blue Tiffany & Co window front from the classic

Breakfast at Tiffany's

And many more!
Ready to Visit New York While on a Budget?
Five buzzing boroughs, countless museums, restaurants, and seminal landmarks to visit got your head spinning.  You could easily spend months covering every inch of Empire City.
From the giant Woolly Mammoths at the Natural History Museum to the blinding lights of Broadway and romantic walks across the Brooklyn Bridge, there are endless activities for every type of traveler.
Regardless if you are planning a kid-friendly weekend away to the Big Apple or are desperate for a jam-packed week of art, culture, and haute cuisine, the City Go Pass New York can help you achieve the New York City vacation of your dreams.
What's your favorite attraction to tackle with New York Go City?
Did we miss any of your NYC Go City go-to's?
Tell us in the comments below!