Navigating the cool waters surrounding Hilton Head Island via kayak is a quintessential island experience. Taking a break from lounging on the beach is well worth the adventure!
Follow along as I take you through my adventure on an Island Head guided kayak tour!
Drive across the famous James F. Byrnes Bridge that marks the crossover from ordinary mainland life to tantalizing life on island time on Hilton Head Island, South Carolina. You'll arrive shortly at Island Head. This water sports equipment rental service offers everything explorers need for fan-favorite activities such as parasailing and kayaking. Adventures like these give tourists and locals alike the opportunity to take full advantage of the watery paradise that is Hilton Head Island!
When planning my trip to the island, I landed on kayaking as my Island Head excursion of choice and enlisted a friend who lives nearby on the mainland to serve as my adventure buddy. The lure of the colorful little boats gliding through the lush, marshy South Carolina landscape was an experience impossible to resist.
From looming thunderclouds to rumors of alligator sightings, the tour was a true adventure, complete with plenty of stunning nature respite in between. So before you eagerly jump into a kayak of your own, here are the ins and outs of my Island Head guided kayak tour so you'll know how to prepare and what to expect!
Island Head Guided Kayak Tour Tickets
First things first. Snagging tickets ahead of time is a must when planning your Hilton Head kayaking tour! My friend and I had our tickets reserved before arriving, which made for a seamless day.
Even better, Tripster offers discounted tickets! Plan your trip on a budget without sacrificing adventure.
We crossed the bridge and arrived at Island Head with arrangements already in place. Then, we walked to the main office. The little yellow building surrounded by palm trees that it's housed in was easy to locate. All we had to do was sign waivers, and we were off!
How to Prepare for a Kayak Tour
Aside from locking in tickets, here are some other considerations to keep in mind before journeying to Island Head. First, you'll need the right gear and clothing before you hop in your kayak!
What to Wear
Proper attire is essential for guided kayak tours. If you're visiting in the summer, plan for that wonderful, muggy heat that characterizes the South! Opt for a tank top or t-shirt. I ended up wearing swim shorts instead of my favorite denim pair and was glad that I did. Splashes from the paddle ensure you'll get wet! However, you won't be complaining about the cool, refreshing seaspray.
The other seasons can be a tad chilly. Of course, as someone from the middle of the country, the winters on Hilton Head Island can't compare to the chilling Midwest winters. However, you may want a light jacket, windbreaker, and light pants for fall, winter, and spring kayak tours. As a general rule, check the forecast before you go to be sure!
In the realm of footwear, you definitely won't want to wear tennis shoes unless you're okay with getting them wet. Instead, I recommend wearing sandals for your kayak tour.
Pro Tip: I had only packed flip-flops, and they did the job. However, I will probably wear sturdier sandals with a back strap to make my feet feel more secure against the kayak footrests if the opportunity arises to go on a tour again.
What to Bring
You won't need much for the approximately hour-and-a-half kayak tour, but there are still a few essentials to pack. Once again, don't forget there's a strong chance any belongings you bring will get wet!
Grab these before you go:
Waterproof phone case

Sunscreen

Hat

Water bottle

Waterproof bag
Photo Alert: Don't forget to snap a photo in your kayak to capture the day! There will also be nature landscapes (and the possibility of wildlife sightings!) to photograph. Pick up a special waterproof phone case that allows you to use the touchscreen without taking it out of the case. Island Head has these available at the gift shop!
My Kayak Excursion
With the details out of the way, it was finally time for the good part: the kayak tour! We walked to the end of a dock with stacks of bright blue and green kayaks. The system Island Head has in place to help people get into their kayaks made the whole process a breeze!
Before loading, storm clouds brewing at a distance were a cause for concern. I was worried we wouldn't be able to go on the tour that day after all, but the guide made some calls to check the weather. Once it was confirmed that the storm wouldn't affect our tour, it was back on track.
Finally, we were all on the water. Our knowledgeable guide gave us some simple paddling pointers. While I had kayak experience before this excursion, no prior kayaking experience is necessary. I think kayaking is a relatively simple activity that isn't hard to master. So, if you're a total novice, no worries! However, be prepared to put some muscle into it when going against the tide. 
To get away from the marina, we first paddled beneath several docks. Then, the bridge to the island came into sight. Kayaking beneath it felt like completing an official Hilton Head Island initiation.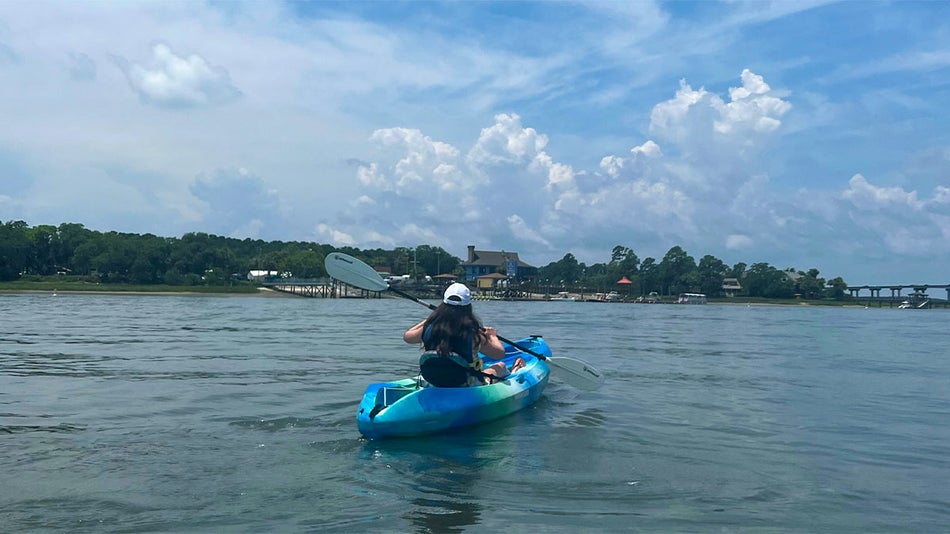 Next, we were en route to a small inlet surrounding some luscious marsh grass. This was when I encountered a wildlife sighting: a graceful heron enjoying the marshland. Wildlife areas are numerous on Hilton Head Island, and there's a good chance you'll spot some local wildlife during your kayak tour like I did.

Pro Tip: Keep an eye on the sky during your time on Hilton Head Island! Two bald eagles are known to nest on the island, monitored by a live "eagle cam."
I asked our guide if he ever had any alligator run-ins while on a kayak tour. He said there is one alligator known to make an appearance, called Taco. No need to worry, though! Naturalist guides will tell you that alligators typically aren't a cause for alarm. However, keep a safe distance, and be sure you don't block an alligator's path to the water.
Additionally, Atlantic bottlenose dolphins are frequently seen playing the day away in the waters surrounding Hilton Head Island. Keep an eye out for these bubbly creatures!
Thankfully, we completed the whole tour before a single drop of rain began to hit. Paddling back to the dock was a satisfying feeling. Getting out of the kayak was as simple as it had been to get in!
What Else to Do on Hilton Head Island
If you're anything like me, you're bound to work up quite an appetite on your kayak tour. Afterward, take the chance to cross some local favorites off your list!
Here are a few of my top picks on the island for post-kayaking noms:
The Palmetto Bay SunRise Cafe near Broad Creek is perfect for brunch after your tour if you go for the 9 a.m. tour option. I get eggs Benedict every time!

The 11 a.m. tour means you'll be ready for lunch afterward. I'd be doing you a disservice if I didn't mention local legend Java Burrito! Choose from a smorgasbord of the freshest ingredients at the burrito bar to pile into a bowl or onto a burrito. I promise you won't regret choosing the cilantro lime rice for your base if you go with a bowl!

While seafood isn't my thing, those who know a thing or two about this classic island fare recommend The Crazy Crab in Harbour Town! I hear the crab legs are a must.
And if you're up for another adventure after you satisfy your appetite? On Hilton Head, kayaking is just one of many popular activities. Go paddleboarding, parasailing, or even take a helicopter ride if you're feeling brave!  
Now It's Time to Plan Your Own Island Head Guided Kayak Tour!
Claim a kayak at Island Head and dip your paddle in the refreshing water for an expedition like no other! If you're lucky, the gators will be out (at a safe distance!), and the dolphins will jump. Bask in the natural beauty of the Hilton Head Island salt marshes! Adventure is calling. 
Aside from kayak tours, Hilton Head, SC, is brimming with countless ways to enjoy the island paradise. Visit one of several diverse beaches, bike on the many trails, or take a boat ride. Whatever you decide to do, let Tripster help you plan your trip!
Getting deals on your attractions and hotel stays will allow you to put the budget on the backburner. All you'll have to do is kick back and enjoy island life!
Have you Been on a Guided Kayak Tour?
Leave us a comment below!