Maui is known for its beautiful beaches and stunning scenery. 
If you're searching for sublime tropical reefs with exotic nautical creatures and glorious sunsets, Molokini crater snorkeling Island is the trip for you! This sea paradise packs entertainment and relaxation in large quantities.
To explore the magnitude and amazement of Maui's underwater sea life, try snorkeling at Molokini, a beguiling crescent-shaped island just three miles off the southern coast of Maui.
If you're heading to Maui, consider yourself fortunate among men. The island is one of the best Maui snorkeling spots in the Pacific. This balmy, exotic utopia enraptures visitors with its extreme beauty and peaceful moving scenery. It's a powerful alignment between heaven and Earth; an even rarer treat is visiting the Molokini Crater.
About Molokini
Molokini, meaning "Many Ties" in Hawaiian, is an uninhabited islet between Maui and the volcanic island Kahoolawe. This dreamy, mystical isle stretches over 18 acres and rises 160 feet above sea level, offering adventurers fabulous snorkeling and diving. The ethereal bay casts an incredible zoetrope of stunning coral reefs and more than 250 species of enchanting tropical fish.
Just three miles offshore from Wailea and Makena, Molokini Island is famous for snorkeling tours and its celebrated Molokini Crater. It's the perfect snorkel spot because the crescent moon shape protects boats, divers, and snorkelers from the current and strong winds.
At Coral Gardens, expect to see green Hawaiian sea turtles, eels, parrot fish, and a nearby bird sanctuary. While there, guests can also experience the entrancing supernatural Molokini Crater, a marine preserve.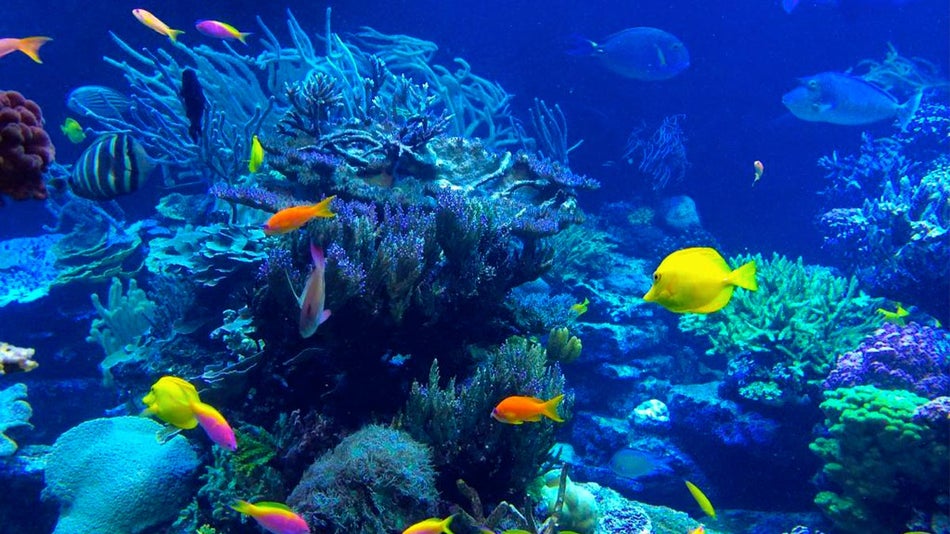 You might be wondering how to get to Molokini Crater, and the answer is by boat, don't try to swim there! For this reason, the only way to enjoy a Molokini snorkeling experience is by taking a boat tour. With Molokini nine miles offshore, the boat ride takes about an hour. In addition, this unforgettable excursion offers a superb view of the crystalline aquamarine waters.
Let's dive in! We have snorkel in Molokini insider tips right here. What's more, we have the best Molokini Snorkel Tours and a Molokini Snorkel Cruise or two for you to peruse!
Molokini Boat Cruise Tours
Of course, there are dozens of choices when booking your Maui snorkel boat ride. You have options like a family-friendly catamaran or a refreshing zodiac raft trip. Some tours offer lunch to fuel up before your big day! However, for the best crater snorkeling trip ever, check out the Molokini Snorkel & Sail!
Molokini Snorkel & Sail
Considered Maui's most incredible snorkeling experience, this marvelous island charter on the Paragon II combines the elements of performance sailing with the underwater marine species that an amazing array of tropical fish that school in the cobalt crystal waters.
Consequently, during whale season (December through May), seafarers can spot humpback whales as they birth and breech. The thrilling boat ride consists of a fresh continental breakfast followed by a captivating sail across Maalaea Bay.
The five-hour Snorkelling Molokini Crater Tour departs from Maalaea Harbor and heads to the spellbinding island to explore the crater. The tour also boasts a gourmet buffet lunch and refreshing cold beverages, including beer and wine.
Guests check in for the Molokini Snorkel Cruise at 7:00 a.m. from the Maalaea Harbor, then return around 12:30 p.m. Fortunately, kids sail this expedition at half price! After your swim and Maui crater snorkel adventure, rinse off with a fresh hot/cold shower.
Fun Fact: About 7,000 people live on Molokini Island. There is just one hotel and a handful of restaurants across the 38-mile coral reef.
Read on for more Maui Snorkel Cruises!
Pali Coast Snorkel & Performance Sail
Another fun Maui Snorkel Cruise option that departs from Maalaea Harbor is the Pail Coast Snorkel & Performance Sail. And if you like to sleep in, this spectacular outing is an afternoon ocean jaunt from 1:30 p.m. to 4:30 p.m.
The three-hour excursion along the Pali Coastline explores Maui's lively, verdant sea turtles, manta rays, and exotic fish. The sailing venture offers hors d'oeuvres, drinks (beer and wine), superb snorkeling, and performance sailing—a spellbinding Maui afternoon. The snorkel tour includes snorkel gear and flotation devices.
Fun Fact: Reef sharks spend most of their day on the backside of the Molokini Crater. However, divers sometimes see them close to the bottom in deeper waters within the crater.
West Maui Snorkel & Performance Sail
This enchanting snorkel trip voyages along the vibrant West Maui coast flanked with picturesque ocean vistas and eclectic landmarks. The Paragon captain hosts an incredible exploration of epic sites, including Olowalu, Honolua, and Mokuleia Bay.
Equally important, all snorkeling around Maui is completed with Certified Marine Naturalists who prioritize reef safety and guidelines.
Pro Tip: It's no lie Maui has the ideal snorkeling ambiance, but you still might benefit from wearing a wetsuit. It will keep you warm and protect your skin from the blazing harmful rays. Sunburns are a surefire way to ruin your HI vacation.
Lanai Coast Snorkel
The magical five-hour Lanai Coast Snorkel Tour departs from Lahaina Harbor. It lasts from 10:00 a.m. to 3:00 p.m. Guests set sail on the 'Alihilani to explore pristine reefs, searing sea cliffs, and sweeping Lanai coast, visiting the best snorkel locations. The tour features a continental breakfast of tropical fruit, baked banana bread, and roasted coffee from Maui's Best Banana Bread & Coffee Co.
Then, enjoy a full buffet for lunch with your choice of icy beverages, including champagne, Mai tais, or beer. After snorkeling, kick back and feel the sweet, salty breeze as you watch for the famous Lanai spinner dolphins. Check-in is at 9:30 a.m., and dessert is provided on your return trip. This tour runs only on Saturdays.
Pro Tip: Sail Maui provides reef-safe sunscreen and highly recommends using a marine-friendly sunscreen, as many chemicals in conventional brands wash off and can kill coral and promote bleaching.
Lanai Snorkeling vs Molokini
Most people have a tough time deciding between snorkeling Lanai vs. Molokini. Both Maui classic charters have special features. For instance, the Lanai tour scouts the area to find the least windy, least crowded locations. Both offer the most excellent snorkeling with fantastic sea life sightings.
Lanai features the spinner dolphins, while Molokini Bay is a slice of heaven on Earth with humpback whale sightings and incomparable fish.
Fun Fact: Did you know that SNUBA is a cross between snorkeling and scuba diving? Divers breathe through an air supply regulator that floats comfortably at the water's surface. It allows snorkelers a three-dimensional world!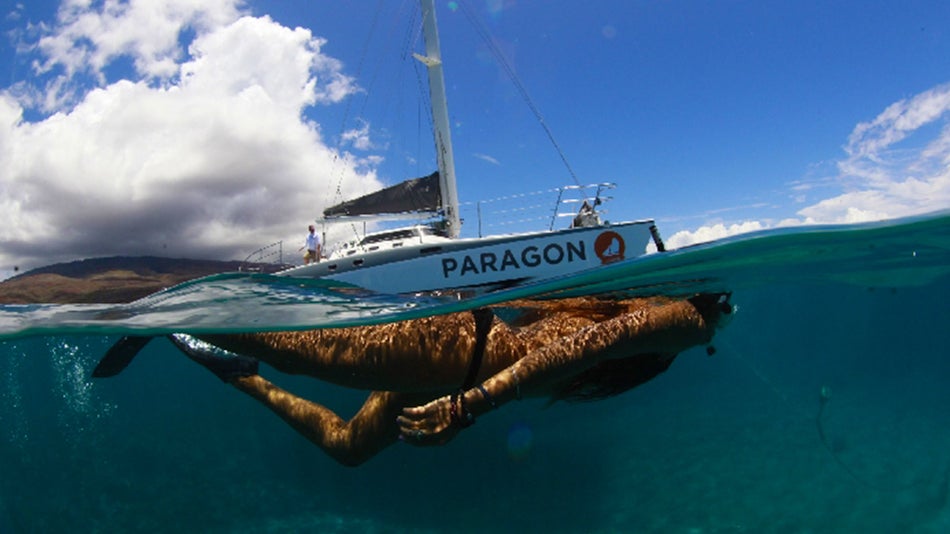 There is no question Maui has the best snorkeling in all the Hawaiian Islands. Lanai snorkeling vs. Molokini is a more common dilemma. Lanai gets higher praise for its shoreline snorkeling, while the Molokini Tour boat ride is the ideal kid-friendly afternoon adventure and is more remote. Let's face it, if deciding between two Maui snorkeling tours is your biggest problem, you've got a pretty good life!
If you're ready to dive in and scour the reefs, we have even more insider scoop with big savings in our Maui Snorkel Tours, Discount Tickets, Tips, and Reviews.
Keep scrolling for two more top Molokini Snorkel Tours from Pacific Whale Foundation:
Molokini and Lanai Snorkel Cruise:  Double your fun with this excursion. It takes you to Molokini as well as the reefs of the coast of the island of Lanai. Lanai is known for its dolphin population, so choose this cruise if dolphin watching appeals to you.
Molokini and Turtle Arches Snorkel Cruise: With this combo cruise, you'll explore the majestic sea life and reef at Molokini before experiencing Turtle Town. This unique series of underwater lava arches is home to a large resident population of green sea turtles. Swim with sea turtles? Yes, please!
Fun Fact: The Molokini Crater depth is 20 to 60 feet in most allowed dive spots. The backside of Molokini Crater bottoms at 300 feet, but most tours keep dive depths to 100 feet with an average depth of 60 feet.
Maui Scuba Diving Molokini Crater
One of the world's best scuba diving locales is Molokini Crater. This partially submerged volcanic basin is home to abundant marine animals and some of Hawaii's most pristine hard coral reefs.
The dormant Molokini Volcanic Crater was active about 230,000 years ago, and the waters surrounding the Molokini Crater are packed with sea turtles. Experts suggest you book a morning Molokini Scuba Tour so you can snorkel when the ocean is at its calmest and the water is the clearest.
Pro Tip: Maui in October is akin to Tulip watching in April, meaning it's perfect. The serene waves are inconsequential, and the blue crystal waters are pleasantly tepid.
Book Your Molokini Snorkeling Tour Now!
Molokini is ideal for snorkelers and divers of all skill levels. The crescent moon shape protects beginners against powerful currents, while the more experienced divers can head to the back of the crater, which has a depth of over 300 feet. As Molokini is home to over 250 endemic species, you don't want to miss this marvel destination. Don't delay—book your Molokini Snorkeling Tour!
Bite the bullet and make your Maui plans today. You won't regret booking your snorkel Molokini trip—it truly is one of the best places to snorkel in the world. For more sensational deals and signature attractions, check out other Maui Things to Do. Tripster also offers Maui lodgings, helicopter tours, and fabulous vacation packages.
Have you Been on a Maui Snorkel Trip?
What is the best Molokini snorkel tour? We'd love to hear about your Molokini snorkel or Molokini Crater snorkeling experience.