An iconic cultural phenomenon that features music, rhythmic beats, lights, and an explosion of color, the Blue Man Group is an epic spectacle that has dazzled audiences worldwide for over 30 years.
Ready to be an "insider" with the behind-the-scenes scoop on Blue Man Group New York?
Hard to describe, but oh so easy to enjoy, over 35 million people have entered and loved the 'Blue' world. A thrilling mashup of musical mastery, artistic license, innovation, and found objects, each Blue Man Group New York performance is unique in its own way.
Tackling universal themes such as science, technology, innocence, and following your own bliss, these action-packed 90-105 minute shows offer a little something for everyone.
Today, November 17th marks the 30th anniversary of the first Blue Man performance at the Astor Place Theater. 
History of Blue Man Group New York
Born with a love of performance art and science, three friends came together in the late 1980s to create what is now the Blue Man Group. 
Beginning simply as a labor of love and creative self-expression, Chris Wink, Matt Goldman, and Phil Stanton gathered inspiration everywhere, from Pink Floyd to Kodo drumming.
As these three Blue Men gained steam, their unique show moved from off-broadway to its current home at the Astor Place Theater.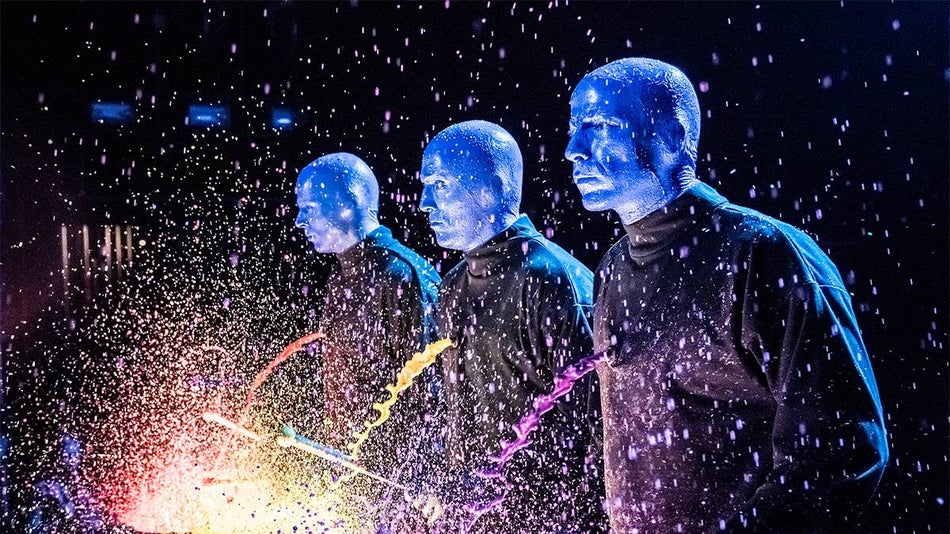 NYC Hotels Near Blue Man Group New York
We may be partial to paint drums and poncho sections, but the truth is there is so much amazing art, theater, and attractions to uncover in New York City you could easily spend an entire vacation just camped out on Broadway!
Make the most out of your time in the Big Apple by extending your stay and booking any of our countless options for New York City Hotels. Whether you want to relax in luxury in Midtown or stay in the middle of the action at Times Square, we offer up a bevy of lodging options to suit any itinerary needs.
Transportation
If there is one thing not to feel so blue about, it's the transportation options in NYC! The Astor Place Theater is easily accessible by public transit.
The closest subway stops and directions are as follows:
The six train - exit the subway at the Astor Place stop and walk approximately two minutes to the theater's entrance

The R or W train - exit the subway at the 8th St. station and walk approximately one minute to the theater's entrance

The A, B, C, E, F, or M train - exit the subway at the West 4th Street Washington Square stop and walk approximately 10 minutes to the theater's entrance.
Tickets to Blue Man Group New York
Have you been honing your Drumbone skills? If so, it's time to make your Blue toned fantasies a reality and purchase your Blue Man Group NYC tickets today. By pre-purchasing your tickets, you can save both time and money. 
To truly experience 'life in full color,' select a Blue Man Group Vacation Package for the ultimate Broadway experience.
Can't Miss NYC Blue Man Moments
The Empire State never disappoints, and the Blue Man NYC show is no exception! So prepare yourself for an epic evening of sensory overload, complete with technology, theatrics, comedy, hijinks, music, and more.
Faithful to the Blue Man's popular themes of exploring cultural norms and applying science and technology, the NYC production is chock full of iconic moments and stimulating graphics. 
Thankfully there is no intermission, so you have no excuse to miss even a moment of Blue Man fun. 
Keep your eyes, ears, and hearts open as you witness:
Three bald (and very blue) men playing the paint drums, dabbling in one-of-a-kind instruments made from pipes, and more.

The uproar of a rock concert - the NYC Blue Men are accompanied by a live rock band!

Unique physical comedy married with audience connection and participation

A joyous finale complete with an ecstatic, unforgettable dance party
Pro Tip: If you are lucky enough to sit in the famous 'poncho section,' wear the provided poncho with pride! This handy garment will protect your fancy duds from the flying wads of (washable) colors and food. 
Food & Drink Near Blue Man Group New York
While the Blue Men may have a ball playing with their food, audiences members should save their culinary cravings for before curtain call. 
If you're searching for some top tier nearby restaurant recommendations, we love grabbing a quick pre or post-show bite at:
Veselka

- for over 60 years, this legendary Ukrainian spot has been serving up their signature homemade pierogies, meatballs, and goulash.

Shake Shack

- a kid-friendly casual burger joint that's ideal for families. Go for the classic Shackburger washed down with a sinfully sweet frozen custard or black and white shake.

Ippudo

- shake off that NYC chill with a piping hot bowl of Karaka Spicy Pork Totonkotsu Ramen and follow it up with some delightfully pillowy pork buns to share.
21 and Over
Why not indulge in a yummy post-show drink and debrief at any of the following bars:
Angel's Share

- try delicious and inventive cocktails such as the 'Giraffe,' which marries Glenmorangie X Single Malt, banana, cacao, orange, lemon, and egg yolk or peruse their impressive sake and Shichu offerings.

B

arcade

- for more casual fun, channel your inner kid and down some lager, all while playing over 50 classic arcade and pinball games at this St. Marks staple.
Conclude your epically azure evening with a special treat from Manhattan's most famous bakery, a warm gooey chocolate chip cookie from Levain's Lafayette location.
Familiar yet exciting. Communicative, yet silent. The Blue Man Group performances are a study in contradictions. 
The show contains elements and influences from a wide variety of genres and subjects. Prepare yourself for rock music, absurdist art, and screwball comedy, the electrifying magic of the Blue Man Group is hard to pigeonhole.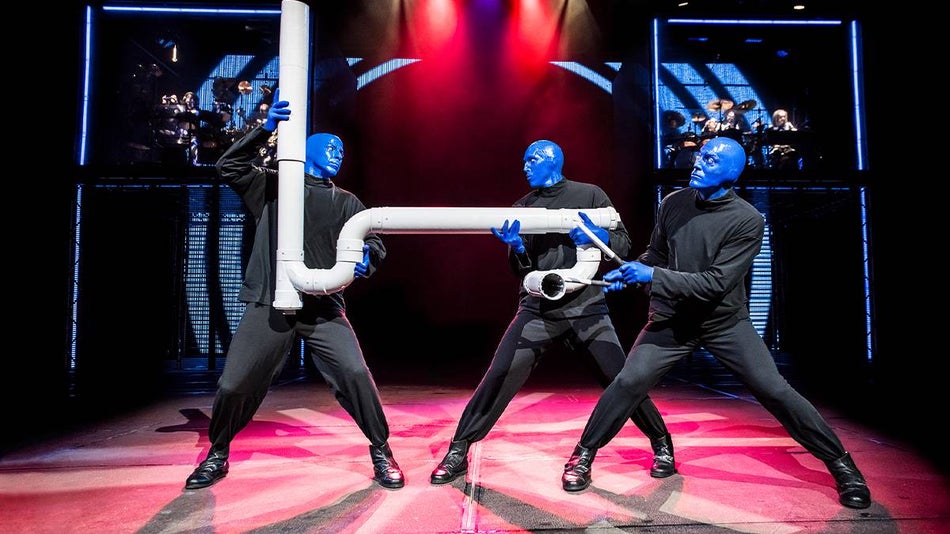 Having performed in over 25 countries and spilled approximately 18,000 buckets of paint each year, it's safe to say this interactive, audience-fueled theater attraction isn't going anywhere anytime soon.
Are you ready to get soaked by paint, hear the pulsating bass of the Big Drum? Or forge a deep connection with a very bald and very blue man?
Don't wait. Purchase your Blue Man New York City tickets today!