From magnificent museums and inspired theater performances to distinctly diverse neighborhoods with larger-than-life skyscrapers, you can never fully explore the City that Never Sleeps. This bustling hub of culture, art, and history also happens to boast some of the best nightlife in the United States.
Follow along to discover everything there is to do in New York at night.
Whether you're looking to put on those heels and step into New York City nightlife until the wee hours or are searching for the best places to walk around NYC at night, our guide will spill it all.
Savor NYC late-night city lights, catch a glimpse of real-life movie sets on a bus tour, or take in the sights from a Hudson River dinner cruise.
From singing your heart out with Elphaba to heading to the top of the Empire State Building, you'll never feel bored by NYC's creative and chaotic nature.
Ready to dive into everything there is to do in New York at night? Read on to discover the 42 top things to do in NYC in the night.
What to Do at Night in NYC
For those that come alive after 9 p.m., there's no better place to stretch your legs and your imagination than the Big Apple. New York after dark offers ample attractions, shows, and iconic sights. Yearning to cross the Brooklyn Bridge, or perhaps you've been dreaming of recreating your very own 'Night at the Museum?'
From Friday and Saturday nights spent clubbing in the east side to awe-inspiring views afforded by the Observation deck, you'll never not be tempted by all the things to do in Manhattan at night. Activities in NYC run the gamut from under-the-radar cool to classic tourist fun. So stop wondering where to go in NYC at night and schedule any of the following nocturnal adventures
Psst..pondering where you'll spend the night after hours of bar hopping and museum tours? Focus on the fun stuff, when you reserve one of our New York City Vacation Packages. This epic combination of attractions and accommodations lets you pursue your Big Apple dreams without worrying about the price. Enjoy awesome savings as you take in a Broadway performance or tour the 9/11 memorial.
Catch a Broadway Show
If you're a musical theater fan, you need to experience the majesty of a Broadway show in New York City. If you're not, you may become one once you witness the immense talent carefully composing each performance. From the musical numbers and engaging dialogue to the complex set designs and costumes, Broadway performances are truly a feast for the senses. Some notable current shows include:
WICKED
Running for over fifteen years, this international sensation features captivating musical numbers, extravagant costumes, and an intricate set. WICKED relays the untold story of the Wicked Witch of the West and the Good Witch before they claimed those titles.
Winner of more than 100 global awards, WICKED presents a magical performance. With acclaimed numbers like "Defying Gravity" and "Popular", the musical has been declared "The Best Musical of the Decade."
Based on the novel by Gregory Maguire, WICKED runs for two hours and 45 minutes with one intermission. Also, the musical is not recommended for children under the age of eight years old, and children under five years old will not be permitted.
Dear Evan Hansen
This 2017 Tony Award winner for Best Musical presents the heartbreaking story of a teenager named Evan Hansen who is forced to lie after the death of a classmate.
After reading a private letter, Evan's life is changed forever as he is given the chance to fit in for once. This profound contemporary musical poses profound questions and has moved both audiences and critics alike.
The show spans two and a half hours and includes one intermission. Further, the show is recommended for ages 12+.
Aladdin
Based on the 1992 Disney animated classic, Aladdin dazzles audiences with this new screen-to-stage adaptation. Presented at the New Amsterdam Theatre, this extravagant musical features a whole new world of entertainment for guests of all ages.
This two-and-a-half-hour show presents incredible talent, elaborate costumes, and classic numbers such as "Friend Like Me".
Enjoy a novel take on the timeless classic from the producer of The Lion King and the director and choreographer from The Book of Mormon and Something Rotten!
Note that Tripster provides incredible deals on numerous Broadway shows to meet your budget needs. No matter which show you see, attending a Broadway performance tops the list as one of the greatest things to do in NYC at night.
Look Into Off-Broadway & Off-Off Broadway Shows
Of course, off-Broadway shows exhibit just as much talent at countless theaters throughout New York City. Catch a rendition of a Shakespeare play at the Delacorte Theater in Central Park during the summer. Or see comedic and cabaret acts at The Public Theater.
Into more avant-garde performances?
St. Ann's Warehouse delivers experimental theater in the renovated 1860 Tobacco Warehouse in Brooklyn Bridge Park.
Now, off-off-Broadway productions (more experimental, avant-garde shows) also display passionate, up-and-coming talent as well.
You can see honed professionals, as well as burgeoning artists, display their skills. Check out theaters such as La Mama, 59e59, and The Flea to ensure you partake in one of the best things to do in NYC at night.
Spending a Night at the Museum
One of the best things to do in NYC at night is to visit any one of their world-class museums.
Several of them are open fairly late, so if you didn't make time during the day, no worries. Several key art and history museums to visit include:
Museum of Modern Art (MoMA)
This internationally renowned modern art museum offers stunning pieces of modern art as well as educational and entertaining experiences for guests. Gaze at works by Van Gogh, Picasso, Cezanne, Warhol, and beyond.
Also, guests can view daily film and video screenings as well as participate in gallery discussions.

Bronx Museum of the Arts
A globally-recognized museum, the Bronx Museum features contemporary artwork that attempts to connect audiences to the urban experience.
A reflection of the Bronx borough's diverse communities, the museum hosts a permanent collection, special exhibitions, and educational programs. Usually, open until 6 pm Wednesday through Sunday, you can visit the museum until 8 pm on Fridays. As an added bonus, admission is free!
Whitney Museum of Art
The Whitney's vast collection celebrates 20th-century modern and contemporary American art with a focus on living artists.
While the museum remains open until 6 pm Monday through Thursday (and on Sunday), the Whitney extends its hours until 10 pm on Fridays and Saturdays. Note that the museum is closed on Tuesdays.
Other museums with evening hours:
Attend a TV Show Taping
Are you a fan of Saturday Night Live, The Tonight Show, or Late Night?
Well, you can potentially receive rehearsal tickets in order to sit in the live audience of a show's taping.
Although SNL tickets need to be acquired long in advance, you may have an easier time obtaining same-day tickets for shows like Late Night and The Tonight Show via NBC.
Best of all, it's free to attend! Attending a live taping can be one of the best things to do in NYC at night.
Rooftop Bars
The Empire City presents countless options for bar and pub crawls. You can make your own itinerary or take advantage of the numerous tours offered. Dance the night away, try a new cocktail, or soak in the ambiance of the city's best art deco architecture. Some of our favorite places to imbibe and appreciate the New York skyline at night are:
Bar 54
Somewhere Nowhere NYC
230 5th
The Press Lounge
Westlight NYC
Catch the Staten Island Ferry
The Staten Island Ferry is one of the few remaining remnants of New York City's ferry system that once transported people between Manhattan and its future boroughs before any bridges were constructed.
Currently, the Staten Island Ferry carries 70,000 passengers each day (not including weekend days). Offering a glorious view of Lower Manhattan, the five-mile, 25-minute ride also gives views of The Statue of Liberty and Ellis Island. The ferry schedule runs late, so it's one of the top things to do in NYC at night, and service is free.
Observatories
Psst…want to know a secret? One of our favorite things to do in NYC at night has nothing to do with velvet rope-backed nightclubs or Broadway. Take in the sublime New York City skyline at night with an observation deck tour:
Empire State Building Observation Deck
Head to the 86th floor of the Empire State Building to capture magnificent views of Central Park, the Brooklyn Bridge, Times Square, the Statue of Liberty, and much more. You can also head to the 102nd floor for a complete bird's eye view.
The highest open-air observatory in NYC is open until 2 am, so it's one of the prime things to do at night in NYC. Also, you can download the Observatory Experience app to learn about your view from every direction.
Make sure to also take advantage of the deck's high-powered binoculars. Further, if you want the full Empire State experience, check out the Empire State Building Tour.
One World Trade Center
Travel 102 floors to the top of One WTC in 47 thrilling seconds via the SkyPod Elevators! The indoor observation deck offers stunning 360-degree views of the city skyline below.
Furthermore, the Sky Portal, a 14-foot wide circular glass disc, provides a unique perspective using high-definition footage of the streets 100 floors below. Although hours change based on the date, the deck remains open until 8 or 9 pm. For the best experience, we recommend the One World Observatory & World Trade Center Tour.
Also, the Top of the Rock at Rockefeller Center also gives unbelievable views of the city and remains open until 12:30 am.
Looking to switch up your sightseeing? Give your barking dogs a rest and relish views from the East and Hudson Rivers with a classic Circle Line: Liberty Midtown Cruise. Feeling particularly adventurous? Try taking to the sky with a soaring helicopter tour, or delight your favorite film fanatic with an NYC TV & Movie Tour.
Walk Across the Brooklyn Bridge
Gain beautiful views of the city skyline at night along the mile-long pedestrian walkway. We recommend you walk with a partner just for the safety in numbers factor. You can walk from the Brooklyn end or from the Manhattan end, although the Brooklyn end provides better views.
With that being said, it's easier to access the pedestrian walk from the Manhattan side, so it depends on your preferences. Make sure to stay in designated walking lanes to avoid dangerous collisions with cyclists.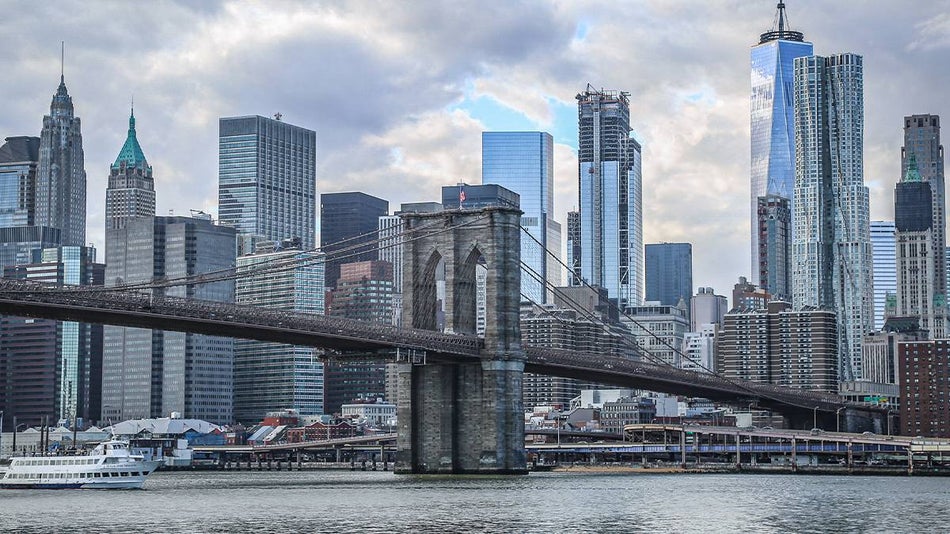 From Manhattan, the entrance begins across from the northeast corner of City Hall Park along Centre Street. Because you can walk across the bridge whenever you please, this activity sits near the top of the best things to do in NYC at night.
Related Post: Current Events and Festivals in New York City
Pro Tip: Visiting the City that Never Sleeps in balmy summer or spring? Savor a picnic or just pick up some ice cream at OddFellows or Ample Hills Creamery for a sweet evening treat to enjoy at Brooklyn Bridge Park.
To access the walkway from Brooklyn, you can either enter via the underpass on Washington Street or head to the intersection of Tillary Street and Boerum Place.
Explore Dining Options
Because of the city's diverse cultures, residents and visitors have countless kinds of cuisines to sample. You'll leave full and happy, and many of these restaurants are open fairly late. Various options include:
Chinatown Favorites
Little Italy Eateries
Greenwich Village Spots
Late Night Things to Do in NYC
Hello there, party people! For all our night owls who love a little late-night revelry, there's no city with more options than NYC. Stop your endless scrolling and googling 'what to do in NYC after 10 pm' and instead hit up the metro and get ready to mingle on the dancefloor.
Nightlife in New York City is unparalleled, and you'll find plenty to do even after the clock strikes 12.
New York Nightlife Clubs
Fantasizing about a sultry hotel lounge experience? Or perhaps your pleasure lies in sweaty Brooklyn-based dance parties. From aerial acrobatics to celebrity-frequented clubs, New York nightlife offers something for everyone.
Little Sister Lounge - dark wood paneling and layers of soft velvet set the stage for a night of sexy shenanigans. Coupled with some great tunes and scantily clad servers, this East Village hotspot is ideal for an intimate rendezvous downtown.
The Jane Hotel - this iconic west village bar and lounge boasts great Djs, sophisticated drinks, and sparkling disco balls. Dance the night away and then stumble back to your 'Captain's Cabin' after last call.
Deluxx Fluxx - in the mood for more than just dancing? Show off more than your moves when you try your hand at the many arcade games at Deluxx Fluxx. Don't forget to show up in style, as costumes and artistic expression are more than welcome here.
Tao - an oldie but a goodie, this NYC nightclub standby has been known for years as the watering hole for favored celebrities and A-listers. While a table here isn't cheap, it's well worth it for the people-watching and awesome Chinese-themed decor.
House of Yes - Bushwick-based dance parties with a welcoming inclusive nature? Yes, please! Prime yourself for boatloads of energetic, frenetic fun at this Brooklyn Institution. From crazy DJ sets to aerial and burlesque performers, there's always something to see at 'House of Yes.'
Stroll around Times Square
One of the top destinations associated with New York City is, of course, Times Square. This major commercial intersection encompasses the Midtown Manhattan section of the city at the junction of Broadway and Seventh Avenue.
Related Post: Top Attractions in New York City
Lively and vibrant, you can spend hours shopping, dining, attending a Broadway Show, visiting Madame Tussauds, and much more.
For free entertainment try strolling and observing the hundreds of pedestrians and cars that zoom by you. Due to the endless amount of activities, visiting Times Square is one of the top things to do in New York after midnight.
Admire Grand Central Terminal's Architecture
Since 1913, Grand Central has served as the main transportation hub in Midtown Manhattan. The beaux-arts landmark not only operates as the home of the MTA Metro-North Railroad but also serves multiple Subway lines. In addition, Grand Central hosts numerous retail and dining establishments for convenience.
With 750,000 visitors every day, the terminal can be quite busy, but this is less the case in the evening when trying to simply tour the facility. Make sure to look up at the four-faced opal clock above the Information Booth in the Main Concourse.
Whether you opt for a romantic evening stroll across the Brooklyn Bridge or attend an incredible themed dance party in Brooklyn, things to do in New York at night are never dull.
Inject your next Big Apple vacation with some after-dark excitement when you tackle the top things to do in NYC at night.
From Central Park to the Statue of Liberty, it's impossible not to fall for all of the after-hours glory of the City that Never Sleeps.
Tell us, What Would You Want to Do in NYC at Night?
Did we miss any of the best fun things to do at night in NYC?
Leave us a comment below!