January 31, 2023 @ 9:00 pm

-

February 16, 2023 @ 1:00 am

PST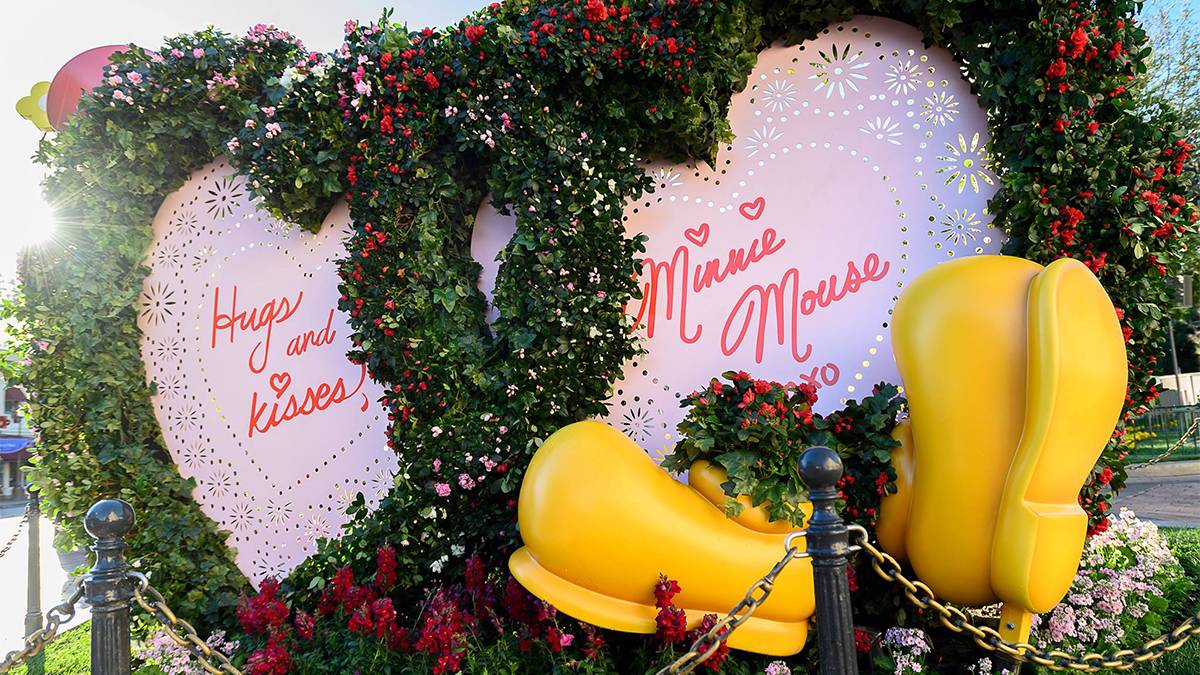 Stuck on repeat when it comes to Valentine's Day ideas? Experience that fluttering feeling of love and nostalgic fun as you embark on a romantic visit to The Happiest Place On Earth at Disneyland Valentine's Day!
Get ready to fall in love and experience Disney magic with your significant other at Sweethearts' Night. The Disneyland park transforms into the most romantic place on Earth, packed with rare characters, photo opportunities, a royal ball, a moonlight cruise, and more.
This Disneyland Valentine's Day 2023 fair is sure to take your breath away and steal your heart! Follow along to find out about all the romantic activities that will keep you swooning at Disneyland Valentine's Day.
Related Post: Ultimate Guide to Disneyland®: Coupons, Discounts, and Deals
Disneyland Sweethearts' Night Tickets
The Disneyland Valentine's Day 2023 tickets start at $129 per guest (ages 3 years old and above). The ticket to this event includes admittance to the park 3 hours before the celebration starts.
Disneyland Park Discount Tickets
Once Disney Valentine's Day is over, revel in the enchantment and magic of Disneyland. Do so without putting a hole in your wallet with these discount tickets from Tripster:
Nearby Hotels and Lodging
The Happiest Place on Earth is also the Most Convenient Place on Earth with its nearby hotels and lodging. Book any of these hotels from Tripster to limit travel time and make space for more experiences and activities.
Disneyland Sweethearts' Night Date
"When does Disneyland decorate for Valentine's Day?" you may ask. As early as January 31, 2023, you'll find lovely decorations at the park. The week-long event also starts January 31, 2023, and then returns on February 2, 5, 7, 9, 14, and 16 of 2023.
Disneyland Vacation Packages
Why settle for a day of magical adventure when you can extend the thrills without using up all your savings?
Book these vacation packages with Tripster to ramp up the fun after the Valentine's Day in Disney World extravaganza:
Sweethearts' Night Attractions and Events
The Royal Ball
Have you ever wondered what it feels like to attend a Royal Ball? It's time to find out at this beloved dance party. Waltz with Disney princes and princesses in their most elegant looks.
Moonlight Cruise
Tap your toes and nod your head to the beat of jazz music as you feel the gentle breeze on your skin aboard the special Disney Valentine's Day cruise on the Mark Twain Riverboat.
Character Experiences
Love is in the air, and the most beloved Disney couples are at Valentine's Day Disneyland to celebrate with you. Meet and take pictures with all the adorable pairings during your visit.
Strike a Pose
"When does Disney decorate for Valentine's Day?" The park will be filled with romantic decor starting in January.
One of the fan-favorite decorations is the photo spot with backdrops inspired by romantic films, such as The Little Mermaid and Cinderella. Amp up your selfie by letting Disney PhotoPass photographers snap your pics.
Scrumptious Eats
Hungry? You can snack throughout the Disneyland Valentine's celebration as the park offers an array of seasonal dining options for every taste.
There will be many vendors like Clarabelle's hand scooped ice cream, Gibson Girl Ice cream Parlor, and the Tomorrowland Churro and Pretzel stand to satisfy your cravings.
While the full menu for this year's event has not been released, we can already expect many tasty eats based on the menu from the previous years. For more ideas about the event's tasty offerings, please see last year's menu:
"Bee Mine" Cereal Treat: Bee mine cereal treat heart shaped cereal treat dipped in red chocolate and decorated in white and dark chocolate with a cute little chocolate bee
Strawberry Sweet Tea: Black tea with lemon and sweetened with strawberries
Spicy Nash Chicken Sandwich: Fried breaded chicken with bread and butter pickle
Heart Shaped Butter cookies: Heart shaped butter shortbread cookies with strawberry glaze white chocolate or glaze white chocolate drizzle
Gorgeous Grey Stuff: Red velvet cake raspberry with DOLE whip cream mousse and heart sprinkles
True Love Sundae: Scoops of vanilla and strawberry ice cream.
After-Hours Access to Attractions
Be head over heels for some of the Disneyland After Dark Sweethearts Nite attractions -- normally with shorter lines!
Dress Your Magical Best
"Does Disney decorate for Valentine's Day?" Yes, they do! In fact, the amusement park looks like it's straight out of a fairy tale, amping up the romance factor.
Hence, it's essential to dress up and soak in the lovey-dovey vibes. Take inspiration from some of your favorite Disney princesses and princes for a fashionable and dreamy look!
Related Post: 24 Disney Fun Facts and Secrets
Sweet Keepsakes
Get a guide map as well as commemorative credentials, which also serve as a souvenir. Plus, download Disney PhotoPass digital pictures taken throughout Valentine's Day at Disneyland.
Sweethearts' Night Fireworks
This is the perfect way to cap off the night on Valentine's in Disneyland! Watch colorful fireworks light up the night with your partner. The pyrotechnical show is sure to make you swoon!
Note: The attractions are still subject to change based on the weather in Disneyland in February and other factors.
Other Attractions in Disneyland Park
New Orleans Square
Step into New Orleans Square for the ultimate musical experience and culinary adventures.
Pirates of the Caribbean
Hop aboard the swashbuckling cruise and marvel throughout a shadowy bayou, where you'll tumble down a waterfall and float through the shadowy Pirates Grotto. This immersive attraction is one of the most visited places in the theme park.
Fantasyland
Drop by Fantasyland and enter fairytale worlds that are bursting with attractions, shows, and character sightings.
King Arthur Carrousel
Feel like royalty as you make your way to the castle courtyard while riding one of the hand-painted horses that look like whimsical chariots.
Related Post: Insider's Guide to Disneyland
Disneyland Sweethearts' Night Details
The event is located at Disneyland Park. For Magic Kingdom Valentine's Day and Valentine's Day at Disney World events, please visit the Disneyland Resort website.
Experience Disneyland Valentine's Day 
Forgo the typical date experiences and spend the most romantic day of the year at Disneyland during Valentine's Day. Reminisce and reconnect with your significant other by catching Disney shows, munching on tasty treats, and riding amusing attractions that you'll both love.
With a romantic ball, savory meals, and heart-pounding character sightings, Sweethearts' Night is an exciting, romantic event that goes beyond your usual date night.
So, grab your partner's hand and celebrate Valentine's Day at Disney.
Related Events