November 22, 2022

-

December 31, 2022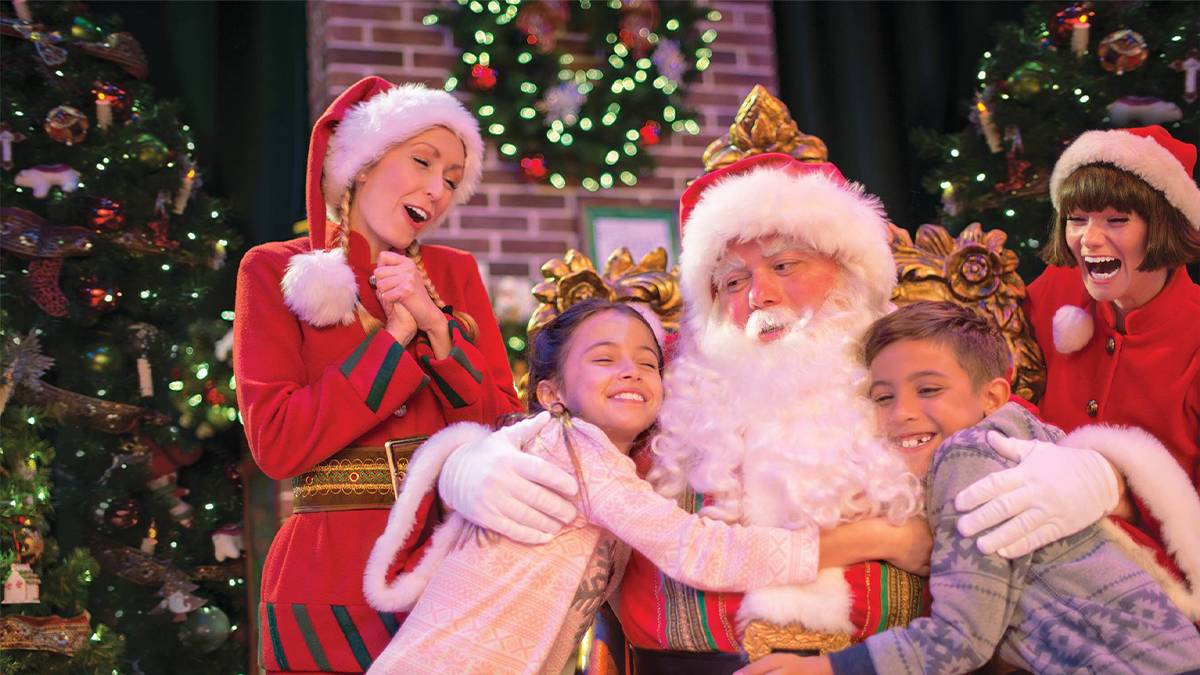 Follow along to discover all the festivities you'll only find at SeaWorld Orlando Christmas Celebration.
Hold your breath and deep dive into the ocean blue this holiday, where festive entertainment, shimmering displays, and aquatic adventures abound!
Go for a dip into the magical sea with incredible marine creatures at SeaWorld Orlando! Your favorite theme park has transformed into a watery wonderland filled with delightful treats and fun-filled family attractions that any mermaid and mermen would love.
SeaWorld Orlando Christmas Celebration Tickets
SeaWorld Orlando Christmas Celebration 2022 is included with general admission. Get your tickets from Tripster for the best deal!
SeaWorld - Single Day – SAVE up to $33.
SeaWorld Orlando Discount Tickets
It's time to discover the wonder of the sea without busting your budget! Score the greatest rates from Tripster:
SeaWorld Orlando Vacation Package
Want to complete your Orlando itinerary without breaking your wallet? Combine your SeaWorld Orlando Christmas 2022 tickets with these other fun areas for supreme savings:
SeaWorld Orlando Shows and Entertainment
Sesame Street Christmas Parade
Christmas in Orlando 2022 isn't complete without this colorful procession. From show-stopping performances to elaborately adorned floats, the Sesame Street Christmas parade will have you singing and dancing throughout the day. Join your beloved Sesame Street characters, including Abby, Elmo, Cookie Monster, Bert, and more, in this grand festivity.
Elmo's Christmas Wish Show
Not only can you help Elmo find his Christmas wish, but also witness the fascinating performance of Cookie Monster, Zoe, and Rosita at Elmo's Christmas Wish Show.
Listen as your furry friends talk about the holidays and how they preferred their gifts at this Sea World Christmas celebration show.
Related Post: Insider's Guide to SeaWorld Orlando
Snow Flurries at the Waterfront
There's something about snow flurries that warm our hearts and make the place dreamy. This holiday, gear up in your coziest sweater and take a moment to indulge in the snow powder at the Waterfront. Some of Santa's loyal helpers, a ballerina, and marching toy soldiers will be there to greet and play with you! With snow flurries and character sightings, SeaWorld in December is simply irresistible.
Sea of Trees
Thinking about SeaWorld Orlando in December? Well, the park is downright sparkling this time of the year with Sea of Trees.
SeaWorld Orlando takes holiday decorations seriously so that it can't restrict itself to a single Christmas tree. As you visit the park's lagoon, experience a forest lit aglow with sparkling lights. The annual attraction features hundreds of Christmas trees that turn into different patterns and dance to lively carols. The highlight is the stunning centerpiece that soars 70 feet above the water.
Public Ice Skating at Bayside Stadium
There's no need to leave Florida just to go ice skating. Now, you can take a spin on the ice all you want at Bayside Stadium during SeaWorld Christmas Celebration 2022. Zoom and have fun around the rink while taking in the beauty of SeaWorld's central lagoon.
So, grab your gloves now and make the most of the attraction. Forgot to bring your own pair of socks or gloves? No worries, as you can purchase them at the booth.
Note: Guests are not allowed to bring ice skates into the park. Please come early as the Public Ice Skating follows a first come, first served basis.
Winter Wonderland on Ice
From breathtaking on-ice stunts and elaborate costumes to exquisite special effects and lively soundtracks, Winter Wonderland on Ice will keep you sitting on the edge of your seat. Watch the talented and world-class dynamic skaters gracefully glide and slide into a world of jewels, lights, and magic. Your heart will be filled with delight and wonder at this awe-inspiring holiday musical ice skating show at the SeaWorld Orlando holidays.
Rudolph the Red-Nosed Reindeer
Watching Rudolph the red-nosed reindeer save Christmas day will put a smile on your face. Delight in the adventures of your favorite Santa helper while taking in the splendid decorations that makes the experience more memorable. The story of Rudolph will surely touch your heart.
Then, meet the characters of the classic tale, including Bumble and Rudolph, and get those holiday card-worthy photos of your little ones with the cast after this Sea World Christmas 2022 show.
Meet Santa at the Waterfront
Come greet Santa Claus and tell him how good you've been this year before he returns to the North Pole! Guests of all ages are welcome to take pictures and share wishes with the Jolly Old Man himself. So, come to this memorable Christmas celebration SeaWorld at Wild Arctic.
Sesame Street Breakfast at SeaFire Grill
One of the most-awaited Orlando Christmas events by locals and tourists, Sesame Street Breakfast, is back for this year's reverly.
It's not every day that you get to mingle and watch your favorite Sesame Street friends sing and dance while enjoying breakfast. Take the opportunity to meet and get hugs from Elmo, Abby, and Zoe; all dressed up in their festive clothing. What better way to start your day, right?
Related Post: 13 Most Romantic Restaurants in Orlando
Tasty Buffet Menu
Chef Carved Brow Glazed Ham
Biscuits & Gravy
Turkey Sausage Links
Bacon
Scrambled Eggs
Western Omelet Eggs
French Toast Sticks
Freshly Cut Seasonal Fruit
Assorted Cereals
Potato Tots
Yogurt with Topping Bar
Freshly Baked Pastries
Beverages
Apple Juice
Coffee
Milk
Assorted Coca-Cola Products
Orange Juice
Tea
Sesame Street Breakfast Tickets
Adults (10+): $32.99
Children (3-9): $16.99
Infant (0-2): FREE
Dinner with Santa
Before taking a trip around the world, Santa Claus is dropping by SeaWorld to have a tasty meal with you. Join this special dining experience with the entire family and grab the chance to take some snaps. Then, whisper Christmas wishes with Jolly Old St. Nick at this SeaWorld s Christmas celebration.
Related Post: 10 of the Best Things to Do in Orlando for Couples
Dinner with Santa Menu
Reserve your tickets now to savor these holiday foods.
Starters
Chef Crafted Salads
Spinach and Artichoke Dip with Corn Tortillas
Main
Traditional Sage Rubbed Turkey with Citrus Cranberry and Pan Gravy
Roasted Rosemary-Soaked Prime Rib served with Horseradish Demi
Sides
Herbed Butter Roasted Red Potatoes
Green Bean
Smoked Bacon & Maple Brussels Sprouts
Dessert
Freshly Baked Holiday Pastries
Pecan Crusted Sweet Potato Flan
2022 SeaWorld Orlando Christmas Celebration Details
SeaWorld Orlando Christmas Events schedule is still subject to change depending on the weather and other safety reasons. Always check the park's website for any changes and upcoming events Orlando, like the New Year SeaWorld bash.
SeaWorld Orlando Christmas Celebration Date
SeaWorld Orlando Christmas celebration 2022 dates run from November 22, 2022, through December 31, 2022.
Experience SeaWorld Orlando Christmas Celebration
A big wave of glitters, festivities, and entertainment will hit Sea World in December, and you're O-fish-ally invited to enjoy its Yuletide activities. Enjoy like never before this happiest time of the year at SeaWorld Orlando Christmas Celebration 2022. From character encounters at Sesame Stree Lane to jolly shows at Nautilus theater, this annual tradition will surely keep you merry throughout the season.
Related Post: Ultimate Guide to SeaWorld Orlando Tickets Discount
So, save the Sea World Christmas dates to catch spirited shows, shop at the indoor Christmas market or souvenir shops, and meet Santa and your Sesame Street friends.
Grab that discounted SeaWorld Christmas 2022 tickets now.  Also, plan your visit to join in all the SeaWorld Orlando November events like SeaWorld Praise Wave 2022. Plus, take that long-overdue vacation with your family with a SeaWorld Orlando Package package.
Related Events