January 12, 2023 @ 8:00 am

-

5:00 pm

CST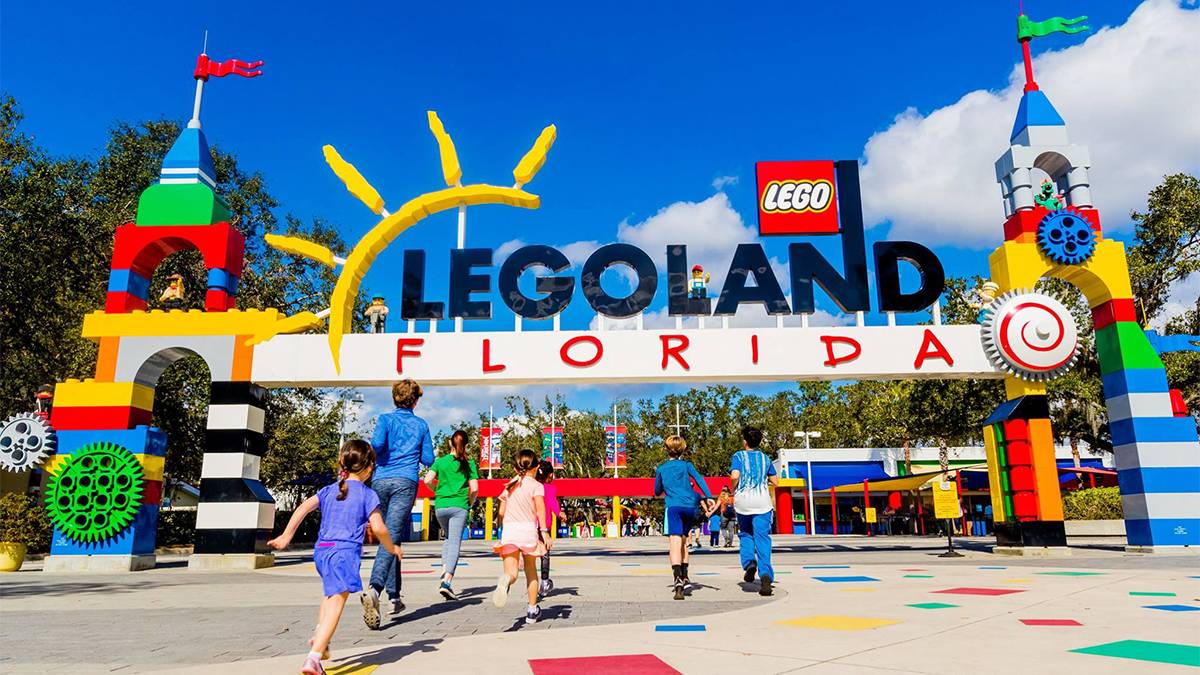 Ahoy, mateys! Get yer sea legs ready and brace yourself for a bounty of buccaneer-themed fun. Pirate River Quest will finally open on January 12, 2023! Add this to your list of must-ride LEGOLAND Florida rides. LEGOLAND Florida Resort can't wait to welcome you to its newest attraction.
As you take a ride on the captain-driven boat through the muddy waters of the famous Lake Eloise and Cypress Gardens, you'll evade troops of mischievous monkeys, be fascinated by the tale of a rowdy LEGO pirate crew, and hunt sunken treasures along the way.
Follow along as we fill you in on all the adventures at this brand new addition to the fleet of LEGOLAND Florida rides.
Related Post: Insider's Guide to LEGOLAND® Florida
LEGOLAND Pirate River Quest Tickets
The admission for the LEGOLAND Florida Resort Pirate River Quest attraction is included with your general ticket or annual pass.
LEGOLAND Discount Tickets
In addition to the newest Pirate River Quest, the park is bursting with more attractions and rides.
Play and learn with Benny or Emmet when you purchase discount tickets from Tripster:
LEGOLAND Florida Pirate River Quest Opening Date
The newest entertainment, Pirate River Quest, will open on January 12, 2023.
Nearby Hotels and Lodging
Every nook and cranny of LEGOLAND will make sure you have a bricktastic time. Haven't reserved a room at LEGOLAND Beach Retreat or LEGOLAND Pirate Island Hotel?
You can still make the most of your vacation by booking a room steps away from the park. Book these nearby hotels with Tripster:
LEGOLAND Vacation Package
Make memories on LEGOLAND rides Florida and other sought-after theme park rides with these discount vacation packages from Tripster:
Pirate Fest Weekends
With the opening of Pirate River Quest, LEGOLAND Florida celebrates with Pirate Fest Weekends, a bricktacular event that lasts for five consecutive weekends.
Exclusive Meet and Greet
Snap selfies with Emmet, Benny, Bertie, Kai, and more at this exclusive character meet-and-greet session.
Additionally, take the chance to meet the brand-new, rowdy LEGO pirates, Calico Jade and Captain Brickbeard -- and other colorful creatures. More LEGOLAND Florida Pirate River Quest characters will be there.
LEGO Rebuild
Unleash your creativity through LEGO bricks. Let your imagination shine by building and rebuilding towers, houses, or other structures. The entertainment LEGO builds brings is for everyone.
Specialty Food
LEGOLAND Florida gives you a lot of choices when it comes to bites, ranging from burgers to tacos. Fill your belly with tasty noms and drinks during the festival.
LEGOLAND Florida Other Attractions
Rides and Attractions
Battle of Bricksburg
Cool down on a hot day by playing with your family in the water aboard this ride. In addition to the guests at LEGOLAND Water Park, guests outside of the attraction can use the water cannons to spray and help riders defend Bricksburg from DUPLO alien invaders.
Before splashing, always check the high water levels and conditions.
Flying School
Get ready for take off! Reach for the clouds aboard this roller coaster that has a 6'5" height requirement. Once you've watched the movie Masters of Flight, head to this ride for the ultimate adrenaline rush.
Benny's Play Ship
Join Benny on his space exploration located at the play area during your visit. Aliens sometimes visit his out-of-this-world playground, so keep your eyes open for strange guests. This is one of the best rides at LEGOLAND Florida that's perfect for youngsters.
The Great LEGO® Race
No need to enroll in driving school to be the best racer. Experience the wonder of virtual reality and the thrills of a coaster on this great LEGO race ride.
Coastersaurus
Explore the jungle while on this wooden roller coaster. One of the iconic LEGOLAND Florida rides will have you screaming with excitement whether you're into dinosaurs or not. Guests who meet the 42-inch height requirement are in for a wild ride.
Shows and Activities
Brickbeard's Watersport Stunt Show
Be wowed by this water stunt show featuring a new LEGO® pirate character, new original music, gravity-defying wakeboarding, jump acts, barefoot skiing, and more. It's a sight to behold from start to finish.
Related Post: Ultimate Guide to Legoland Florida: Coupons, Discounts, and Deals
4D Theater
Catch 4D movies that will put you right in the center of the action. Don't forget to meet the stars right after the show! Current films LEGO Movie World offers include the following:
LEGO® City 4D - Officer in Pursuit!
THE LEGO® MOVIE™ 4D: A New Adventure
LEGO® NINJAGO®: Master of the 4th Dimension
LEGO® Mythica: Journey to Mythica
Mythica: Journey to Mythica
Go behind the scenes at LEGO® world through this 4D movie. Meet some of the most colorful creatures and enter an unbelievable parallel universe that's been made with wild imagination and LEGO® bricks. ​
Meet Kai and Nya
Drop by LEGOLAND Florida with your little ninja and let them greet the most beloved, popular LEGO® NINJAGO® stars, Kai and Nya.
Minifigure Trading
Like riding the Kid Power Towers, trading a Brick Badge for your old, new, or just-purchased Minifigure is one of the most fun activities at the park. It doesn't matter if yours came from home or the retail shops. The Minifigures must be in complete forms, such as its head, legs, and torso.
LEGOLAND Pirate River Quest Location
The new ride is located in Winter Haven, Fla, LEGOLAND, Florida.
Dining
Come with an appetite to Heartlake City! LEGOLAND can easily satisfy your cravings with its numerous offerings varying from cheeseburgers and pizza to sweet treats and tasty salads.
There are hot and cold beverages available as well. Some of the carts to visit include:
Dragon's Den
Funnel Cake Factory
Kick'n Chicken
Taco Everyday
Ultimate Sandwich Builder
Ninja Kitchen Food Truck
Fun Town Slushies
Burger Kitchen
Experience Pirate River Quest: The Newest Addition to the LEGOLAND Florida Rides
Arr, lads and lasess! The long-awaited family friendly Pirate River Quest LEGOLAND Florida is finally here. Sail into a swashbuckling adventure onboard a LEGO-themed buccaneer boat ride.
This newest attraction is brick-filled with awesomeness, including the lost treasure of Captain Redbeard, a LEGO pirate crew, a pack of mischievous monkeys, and a terrifying Kraken.
Related Post: Insider's Guide to LEGOLAND® Florida
On this newest addition, a captain-driven boat travels through the passageways of Lake Eloise and Cypress Gardens. Then, discover secrets, tales, and creatures as you make your way through the botanical garden.
So, gather your trusted crew and leave the landlubbers behind as you hop inside the pirate ship. Also, you can try the best rides LEGOLAND Florida. Reserve your tickets now!
Related Events