Do you love marine animals? If so, you have to visit SeaWorld Orlando during your next Orlando vacation. Over the past few years, the park has made great advancements with all new exhibits and attractions, including opening up their rescue and rehabilitation center to the public. Of course, the best part about your trip to SeaWorld will be seeing your favorite marine mammals and aquatic creatures.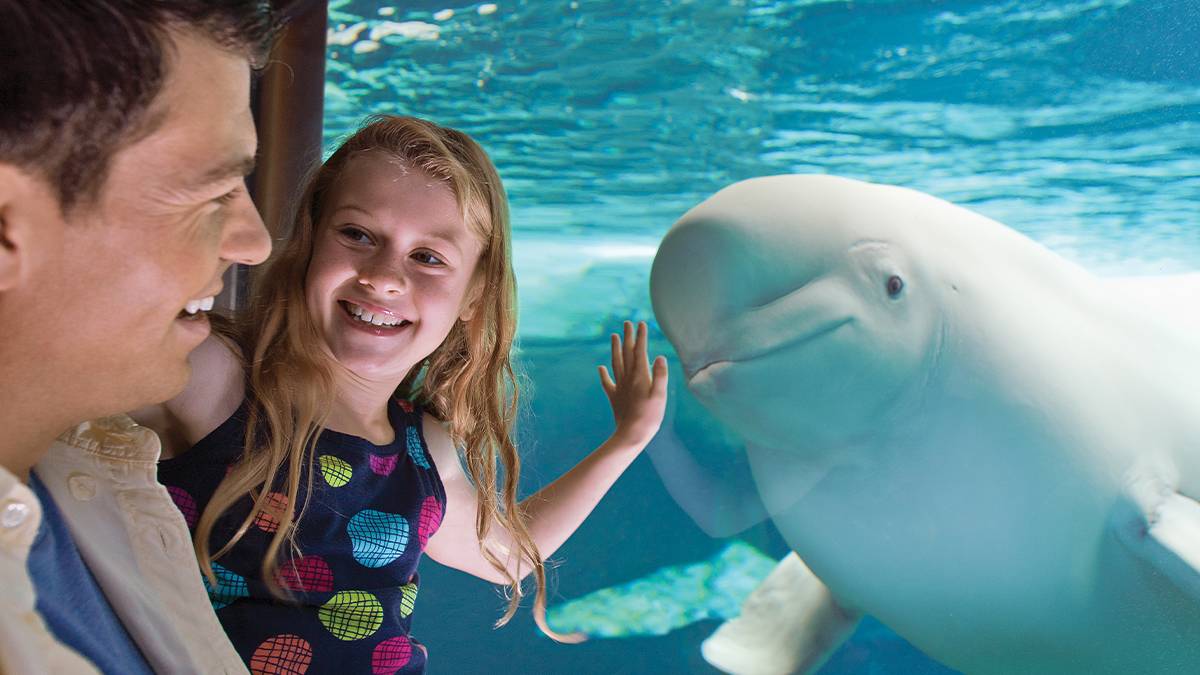 Beluga Whales
The unmistakeable beluga whales are some of the most playful marine animals you'll meet while at SeaWorld. Did you know that beluga whales are closely related to narwhals? These two sea mammals are the only members of the Monodontidae family. You can find beluga whales and other SeaWorld Orlando animals at the Wild Arctic® exhibit.
Dolphins
You can find bottlenose dolphins all over SeaWorld Orlando! Start your dolphin exploration at Dolphin Cove. This interactive area allows you to get up close to the dolphins while you learn all about their behaviors, biologic make-up, natural habitats, and more. In fact, did you know dolphins have their own individual whistles? This is how marine biologists can distinguish dolphins from one another - by looking at the whistle shapes on a sonogram device.
After, head over to the Dolphin Nursery to meet the newest members of our dolphin family! You can watch baby dolphins learn to play, jump, and whistle. Don't forget to save your seats for the Blue Horizons® show to see your favorite dolphins in action!
Killer Whales
I bet you didn't know that orcas, also known as killer whales, are the largest member of the dolphin family. These majestic animals can be found all over the world. This is due to their unique ability to adapt to almost any type of coastal environment. You can find the orcas at the Shamu Underwater Viewing Stadium and in the One Ocean® show.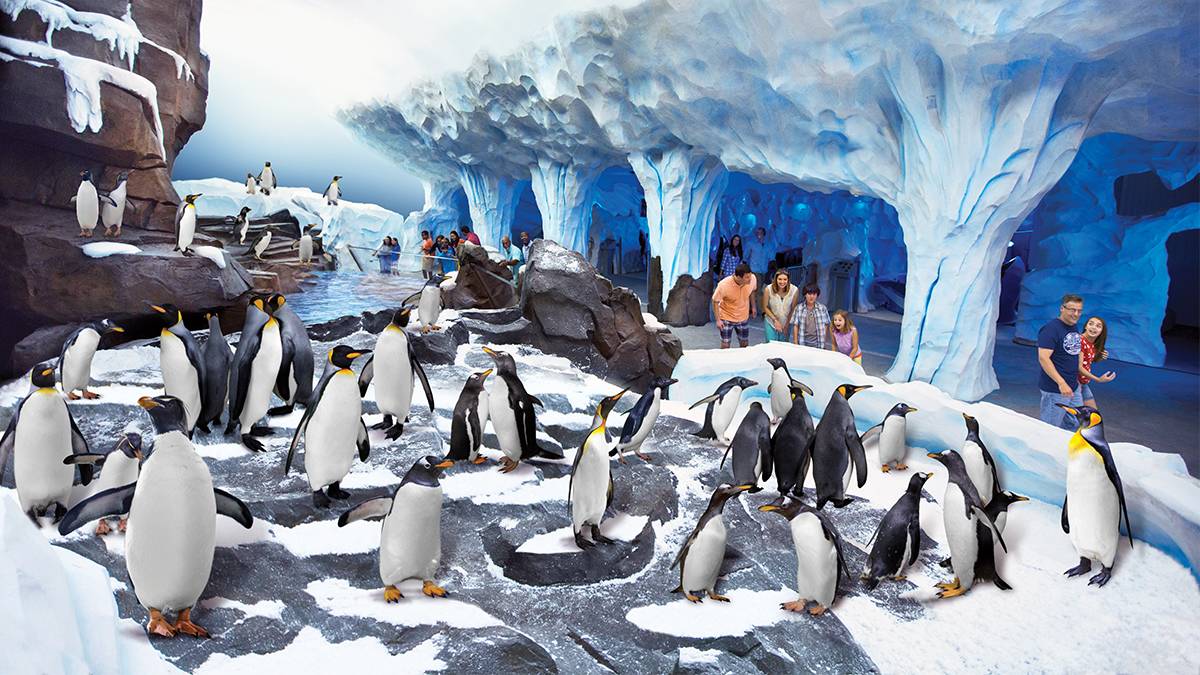 Penguins
Out of all the SeaWorld Orlando animals to see, visiting the penguins should definitely be at the top of your list! These flightless birds are fascinating to watch. Take note of their feathers - there are about 100 feathers per square inch! This keeps water away from their skin while they swim. For the best view of the penguins, ride Antarctica: Empire of the Penguin® for a great surprise.
Can't wait until your Orlando vacation to see these intriguing birds? Check out the Penguin Cam anytime!
Flamingos
Another of the feathered SeaWorld Orlando animals, the flamingos are also a must-see. These birds will quickly brighten up your day with their vibrant feathers. Did you know that flamingos aren't born with their renowned pink coloring? Baby flamingos are born with grayish colored feathers. You'll find the flamingos over by the Manta roller coaster.

Sea Turtles
Sea turtles have lived in the sea for over 200 million years. Pretty impressive, right? Plus, they can swim great lengths, sometimes crossing entire oceans to feed, reproduce, or migrate. Watch as sea turtles glide through the water at the TurtleTrek 360° theatre exhibit. This epic exhibit lets visitors step into the shoes (or shell) of a turtle and experience what life is like in the deep blue sea. Trust me, you don't want to bypass this attraction. Too impatient? Watch the Sea Turtle webcam right now.
Sharks
Did you know that sharks are made out of cartilage instead of bone? They also boast anywhere from five to seven pairs of gill slits in their neck. In comparison, fish tend to only have one or two pairs. Learn about the 400 different types of sharks at the Shark Encounter exhibit and by riding the all new Mako coaster. You can also check out the sharks at SeaWorld Orlando right now by watching the Shark Cam!
Jewel of the Sea Aquarium and Manta Aquarium
Whenever I visit an aquarium, one of my favorite things to do is sit and watch all of the tropical fish swim peacefully in the astronomically large tanks. I'm always mesmerized by their colors, patterns, and behaviors. In the Jewel of the Sea Aquarium and the Manta Aquarium, you'll find over 3,000 SeaWorld Orlando animals swimming around — from clownfish to a giant Pacific Octopus. I highly recommend visiting both aquariums to get a glimpse at the unbeatable beauty of ocean life.
Pelicans
While the majority of SeaWorld Orlando animals in the rescue, rehabilitate, and release programs are sent back to the wild, the pelicans are here to stay. Unfortunately, these Pelicans endured terrible and permanent injuries prior to being rescued by the SeaWorld Rescue Team. Due to these injuries, the pelicans would not be able to survive on their own in the wild. Threats such as discarded strong fishing line can cause irreversible damage to animals such as pelicans.
Learn all about SeaWorld's pelican population and the lengths the Rescue Team went through to ensure the safety and rehabilitation of these birds at the Pelican Reserve exhibit.
Stingrays
Have you ever wanted to touch a stingray? Stingrays are one of the many SeaWorld Orlando animals that guests are allowed to interact with. You can find stingrays in multiple places throughout the park.
Start by taking a ride on Manta® for a rush unlike any other. Then, head over to the Manta Aquarium where you'll find more than 300 stingrays swimming gracefully. Want to feed a stingray? Stingray Lagoon is where you'll want to go!
California Sea Lions and Harbor Seals
Whenever I go to SeaWorld Orlando, I immediately go see the California sea lions at Pacific Point Reserve®. California sea lions are by far my favorite marine mammal. Of course, these furry creatures aren't to be confused with a Harbor Seal, which you can also find at Pacific Point Reserve®. California sea lions boast several differences from a Harbor seal, including their ears and flipper structure.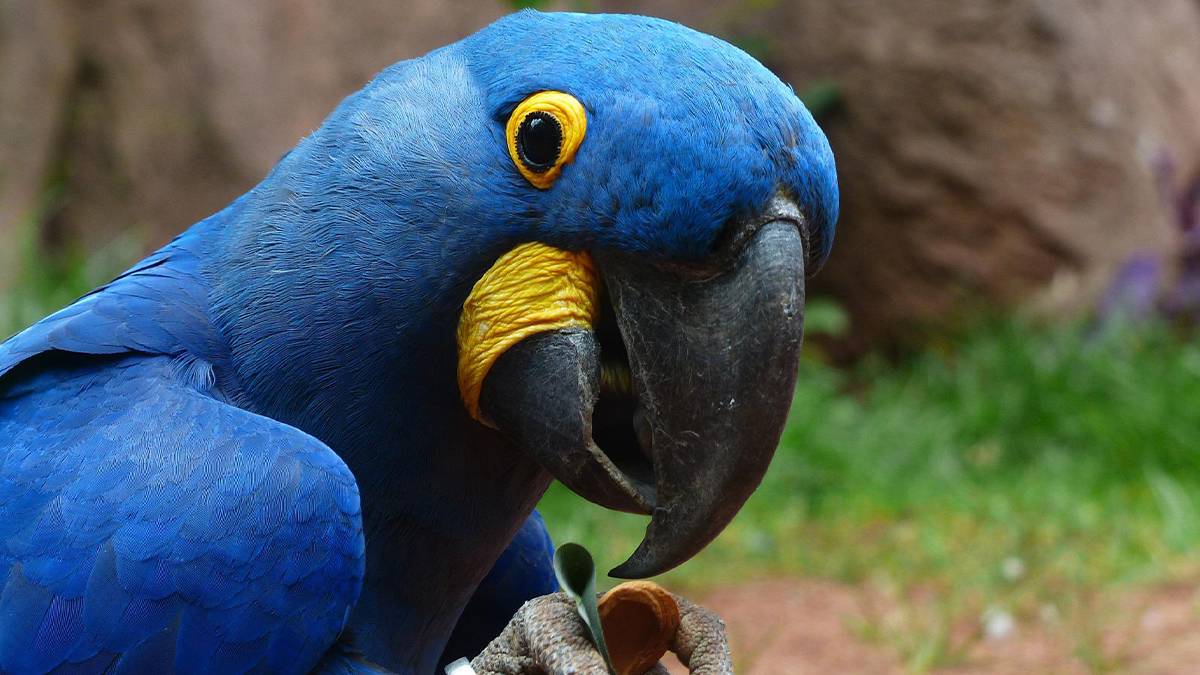 Parrots
While they might not talk back to you, you can check out the colorful parrots at SeaWorld Orlando. As part of the Blue Horizons show, these parrots boast exceptionally vibrant feathers and incredible wingspans. Don't miss watching these dazzling birds take flight!
Manatees
Manatees spend the majority of their day eating and resting. Did you know that several manatees call the Florida oceans and coasts home? Manatees enjoy tropical climates and can be found off the coasts of North America, South America, and West Africa. At SeaWorld, you can find manatees at the Manatee Rehabilitation Area.
This 5-acre rescue center helps manatees and other marine animals that have been injured, become ill, or are facing distressing factors such as being orphaned. Go behind-the-scenes and learn about the dangers manatees face in the wild and how SeaWorld's team is working endlessly to rescue and rehabilitate these gentle creatures. The facility has been part of SeaWorld's campus for decades and was previously only available through guided tours. Now, visitors can browse the Manatee Rescue Area anytime they please in the complimentary viewing area
Asian Small-Clawed Otters
When you visit SeaWorld Orlando, you have to meet the adorable otters. You'll find the Asian Small-Clawed Otters at the Sea Garden exhibit. Although these critters can be quite loud, they actually use scent as their primary method of communication. Think of each otter's scent as their fingerprint. No two are alike!
Walruses
Last but certainly not the least of the SeaWorld Orlando animals is the magnificent walrus. As the largest marine animal found at the Wild Arctic® exhibit, you literally cannot miss the walruses. Did you know each walrus has anywhere from 400 to 700 whiskers on their face? These sensitive whiskers called vibrissae help them find clams, fish, crabs, and other types of prey.
Do You Have Your Tickets to See the SeaWorld Orlando Animals?
While you can view the SeaWorld animals via webcam anytime you please, it doesn't compare to meeting them in person. Purchase your SeaWorld Orlando tickets using Tripster. Instead of standing in line to purchase your tickets at the gate, you can walk right into the park with your E-Ticket and head straight to all of the SeaWorld Orlando animals you've been waiting to meet!