May 27, 2023 @ 8:00 am

-

November 30, 2023 @ 5:00 pm

CDT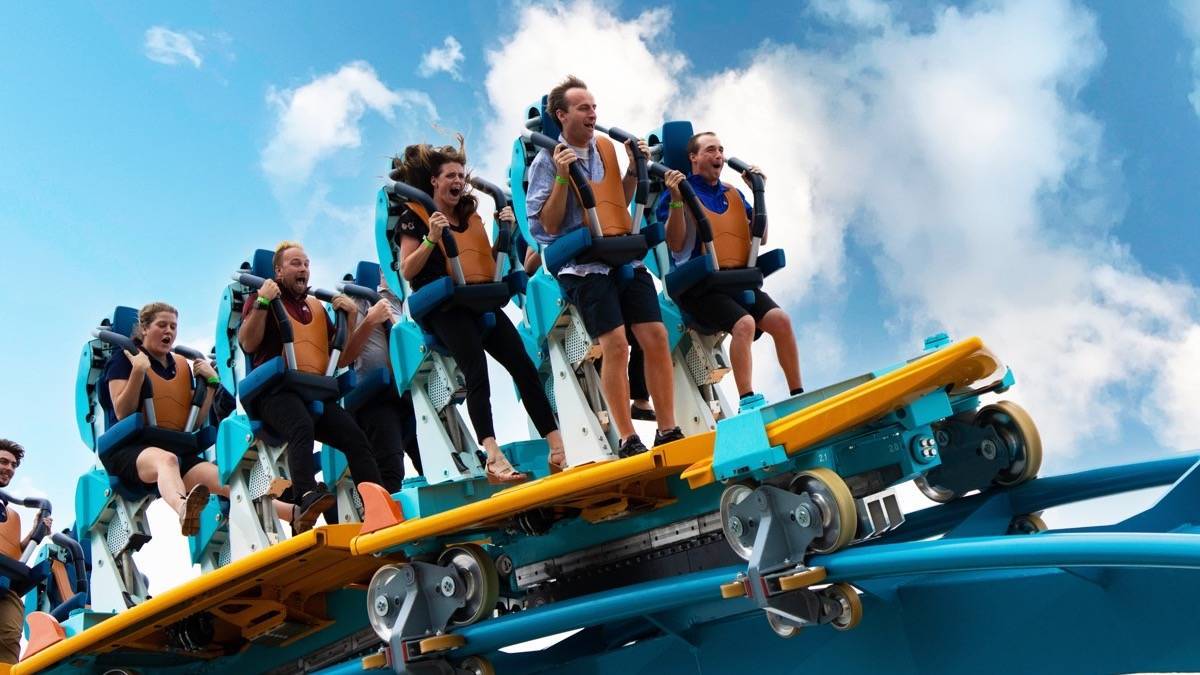 Zip up that wetsuit and prepare to ride the waves, as Pipeline Surf Coaster is finally hitting SeaWorld Orlando!
One glance off the SeaWorld Pipeline Coaster, and you can already see its adrenaline-inducing power. This first-of-its-kind surf coaster ride features 2,900 feet of track and reaches 110 feet high.
Feel as if you're surfing the moment you get on board with its banks and curves that speed up to 60 miles per hour. Joining SeaWorld's long list of thrilling rides, this new roller coaster SeaWorld Orlando offers a one-of-a-kind adventure.
Related Post: SeaWorld Orlando Tips 2023 - An Insider's Guide to the Park
Follow along and get ready to plunge into the all-new SeaWorld Orlando Pipeline Surf Coaster.
Pipeline Surf Coaster Tickets
Are you a proud Pass Member? Then, you'll be one of the first people to enjoy the SeaWorld Surf Coaster Pipeline in 2023.
All Pass Members get unlimited visits and matchless perks, such as free parking, guest tickets, discounts, or monthly rewards, so become a member of SeaWorld Parks if you haven't already.
Nearby Hotels and Lodging
Once you're ready for a break from this SeaWorld new ride Orlando, you can rest at any of these luxurious hotels. Secure your room on the cheap by booking with Tripster:
SeaWorld Orlando Discount Tickets
Nothing beats a day at SeaWorld Orlando, where thrilling rides, aquatic adventures, and marine mania abound. Splash and play at the Coaster Capital of Orlando for a day or two with these discount tickets from Tripster.
SeaWorld Orlando Vacation Packages
Before you kick off your fun-filled Orlando vacation, be sure to score these deals with Tripster for the most extraordinary and affordable trip ever.
About Pipeline the Surf Coaster SeaWorld
Catch waves and experience the rush of the Pacific Ocean with SeaWorld new ride – the Pipeline Surf Coaster. Feel the excitement of hitting the waves as you reach 110 feet in the air! The anticipated attraction is the World First Surf Coaster, which features a 2,950-foot of track and speeds up to 60 mph.
With five distinct airtime moments, the Pipeline Roller Coaster SeaWorld Orlando and other similar attractions send riders on an exhilarating ocean experience. It includes a 54" height requirement and is created by Bolliger Mabillard Consulting Engineers, Inc.
So, who's ready to get soaked, feel wave-jumping motions, and be stoked at SeaWorld Orlando new coaster? Get your Pass Membership as early as now.
Surf Lingo
Complete the experience by learning surf lingo before trying the new Roller Coaster at SeaWorld Orlando.
Barrel
A curl or hollow part of a wave when it is crashing.
Hang Loose
A gesture that complements the symbol of Shaka, or right on.
Stoked
Pumped, tremendously pleased, and enthusiastic.
Pipeline Surf Coaster Opening Date
SeaWorld Orlando new ride - Pipeline Surf Coaster and other attractions open in Spring 2023.
Experience Pipeline Surf Coaster
Surfing at SeaWorld Orlando is now possible with Pipeline Surf Coaster. This SeaWorld Orlando new roller coaster 2023 lets you experience the thrill of riding a wave in the easiest and safest way. Hold on tight to your surfboard and get ready to face curves and banks that mimic the intensity of real waves in the Pacific!
Related Post: SeaWorld Orlando Animals: A Complete Guide to the Marine Park
Become a Pass Member as early as now to enjoy the new SeaWorld ride when it debuts.
Related Events