October 9, 2022 @ 8:00 am

-

October 31, 2022 @ 5:00 pm

EDT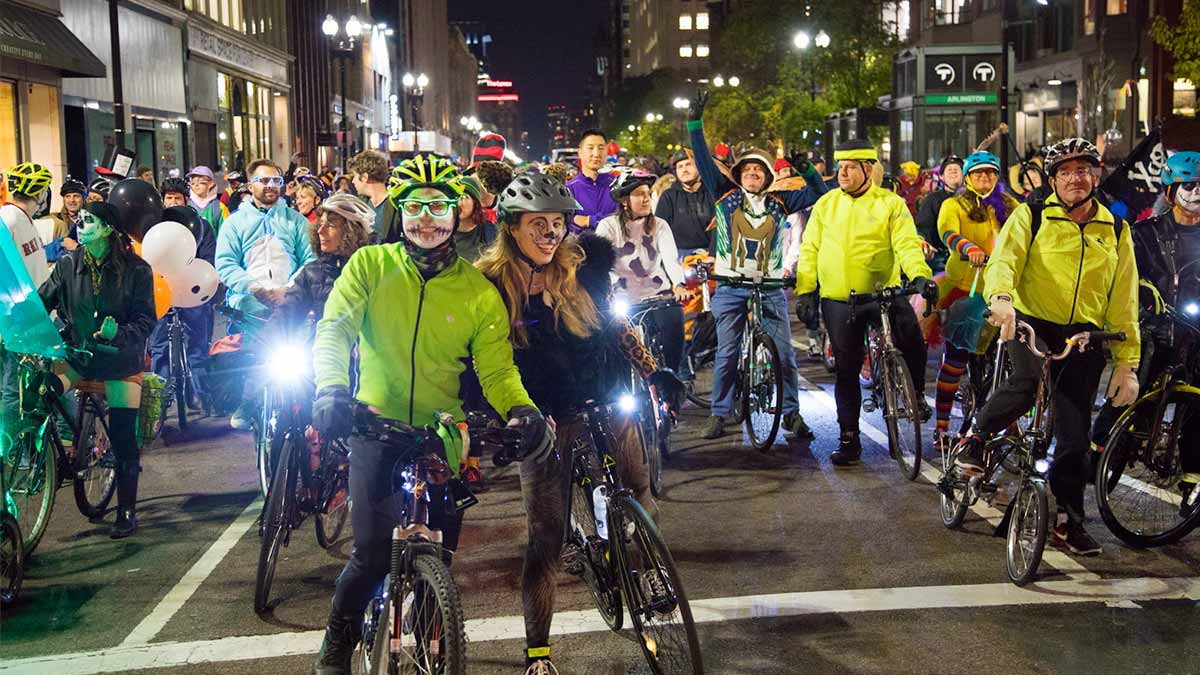 Follow along to discover all there is to do in Boston during Halloween!
With a rich history marked by tragedy and death, Boston is considered one of the most haunted cities in the country. From wandering through ancient cemeteries to ghost sightings, visitors and paranormal enthusiasts are bound to experience supernatural and strange happenings here.  
This scary season, challenge yourself to celebrate Halloween in Boston and explore The Hub's most chilling spots and attractions.
Halloween Bar Crawl Boston
When: October 29, 2022, from 4 PM to 12 AM
Join thousands of other pub crawlers in sipping on local drinks and finding answers to frightening questions buried throughout The Cradle of Liberty. On top of treating guests to locally brewed beers, Halloween Bar Crawl Boston also educates guests about Boston's history and the terrifying tales surrounding the city.
Come along and experience Boston's bars in a thrilling way. Make sure to dress up, as there will be a $1000 grand prize for the best costume entry. Plus, you'll get to enjoy a plethora of perks with your ticket, including:
Personalized Lanyard and Badge

Exclusive Drink Specials

Food Specials

Waived Cover at All Venues

Professional Photographers

Crazy After Party
Tickets range from $10 to $15. Click here to purchase your tickets.
Beacon Hill with a BOO!
When: October 31, 2022, at 6 PM, 6:15 PM, and 6:45 PM
One of the most popular Halloween events in Boston, Beacon Hill with a Boo tour, has been a part of the city's spooky celebration for over 30 years.
Every Halloween, Beacon Hill transforms from a quiet neighborhood to a ghastly place filled with eerie decorations.
Join the crowds of trick-or-treaters in costumes as they uncover the Hill's dark side. Stay at the home of the renowned Dr. George Parkman and find out what happened to his mutilated body. Then, listen to the stories and names of Boston women executed for witchcraft.
Plus, this tour highlights the gruesome tales of murder, mayhem, and paranormal activities, including apparitions of ministers and murderers.
Roam through dark alleys and experience Beacon Hill like never before. Just be careful with restless spirits and ghosts lurking just below the surface.
Click here to book your tickets.
Pumpkin & Paintings, a Fall Family Art Tour
When: October 9, 2022, from 10 AM to 11 AM
Looking for a non-frightening way to celebrate the scary season with your little ghosts? The historic Nichols House on Beacon Hill is throwing Pumpkin & Paintings, a Fall Family Art Tour. One of the Halloween events for kids in Boston, this educational yet entertaining celebration promises a good time.
Marvel at the different types of art pieces, from sculpture to paintings. Pay attention to their colors, designs, or stories, then take inspiration to create your pumpkin decoration. Tickets start at $7.
Boston Zombie Crawl
When: October 29, 2022
Soak up the spine-tingling past of the city through Boston Zombie Crawl, one of the Halloween parties in Boston 2022. Party and sip drinks with dozens of costumed pub crawlers in some of the most historic bars in Boston Faneuil Hall. Enjoy Boston's infamous beer, listen to chilling ghost stories, and meet new friends along the way. But, be warned; you never know where you'll encounter ghoulish creatures.
Admission ranges from $15 to $35. So get your tickets now for the best Halloween night out to (or not) remember. 
Tricks and Treats: Spooky Science at the Waterworks Museum
When: October 30, 2022, from 11 AM to 3 PM
Stop in the Waterworks Museum for loads of ghostly fun! Collect candy, play engaging seasonal games and win prizes, or immerse yourself in crafts and art activities.
Be sure to check out the awaited "Spooky Science of Magic" presentation at 12:30 PM to learn the science behind some witchcraft.
Plus, get a special access tour to the Allis Pumps, where you'll be able to see the massive pumps that supplied 30 million gallons of drinking water. This Halloween in Boston 2022 event is free, with a suggested $5 donation.
Other Attractions in Boston
With an abundance of incredible sites and attractions to showcase, Boston is for every type of visitor. Discover the nation's roots while in the city with these other fun areas:
Experience Halloween in Boston
Keen to experience all the chills and thrills this Halloween? There's no better destination than Boston! The Hub's history is filled with mystery, tragedy, and death, so it's no wonder it goes above and beyond when it comes to Halloween celebrations.
From the Salem witch trials to historic cemeteries, the city is brimming with a frightening vibe.
Related Post: What are the Most Unique Things to Do in Boston?
Wind your way through Boston if you dare, whether you're into wholesome fun or absolute terror. Come face-to-face with ghosts and ghouls or experience enchanting entertainment with the entire family by taking advantage of Halloween events in Boston 2022.  
Like to visit all the top landmarks and make the most out of this trip? Then, head to Tripster and book a Boston vacation package.