January 1, 2023 @ 11:00 am

-

1:00 pm

CST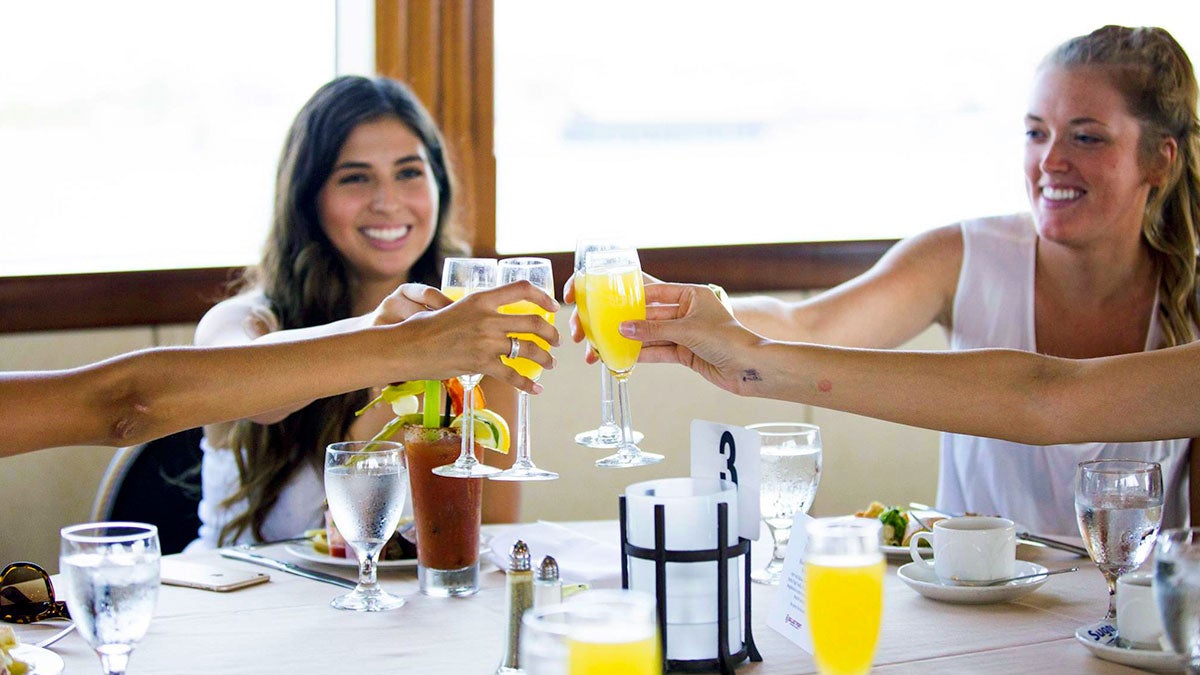 Morning sunshine, calm waves, and soft ocean breezes. This New Year's Day, sit back and unwind while basking in scenic sights, listening to mellow music, and sipping mimosas on a Flagship brunch cruise!
When it comes to brunch, Flagship Cruises is ahead of the rest. This San Diego darling abounds with a delicious gourmet meal prepared on board and complimentary bubbly.
Satisfy your appetite with great food, sail past stunning spots along the waterfront, or breathe in fresh air while singing along to relaxing tunes. A wonderful New Year starts on a Flagship Cruises brunch!
Follow along as we share all the secrets you'll need to make this breezy trip on a Flagship brunch cruise.
Flagship New Year's Day Brunch Cruise Tickets
Adult: $109.19
Children (Ages 4 to 12): $65.51
Click here to purchase your tickets.
Related Post: Insider's Guide to Flagship Harbor Cruises San Diego
Flagship New Year's Day Brunch Cruise Brunch Menu
Brunch Buffet
Includes Complimentary Tea, Mimosas, and Coffee
Made-To-Order Omelet Station
Order omelets with Farm Fresh Eggs, Egg-Whites, and Vegan Tofu
American Breakfast Station
Scrambled Eggs with Fresh Parsley and Chives
Breakfast Sausage and Sliced Ham, Applewood Smoked Bacon
Oven Roasted Home Fries
Sautéed with Tri-Color Bell Peppers and Onion
Bistro Breakfast Station
Freshly Baked Bread, Pastries, and Muffins
Belgian Waffles and French Toast with Fresh Berries, Fruit Preserves, Whipped Cream, and Maple Syrup
Farm Fresh Salad Station
Traditional Caesar with Shaved Parmesan and Garlic Croutons
Mixed Baby Greens with Housemade Vinaigrette
Pesto Pasta Salad
Bowtie Pasta Tossed with Pesto, Red Onion, and Bell Pepper
Chef's Choice Lunch Special
Rotates Weekly
California Seafood Station
Salmon En Croute
Brunch Caviar with Creme Fraiche, Chopped Egg, and Toast Points
Baja Style Ceviche with Corn Tortilla Chips
Nova Lox with Bagels, Cream Cheese, Capers, and Red Onion
Locally Made Sushi And Nigiri
Chef-Attended Carving Station
Fresh Rolls Served with Creamery Butter
Herb Roasted Pork Loin with Pan Reduction
Honey-Herb Roasted Turkey Breast with Cranberry Chutney
Bakery Fresh Desserts
Brownies, Bars, Cookies, Fruit, and Chef's Choice
Specialty Drinks
Bubbly Fuzzy Navel
Grapefruit Sunrise
The Bloody Mary
Hibiscus Tea
Paloma
Bloody Beer
Other Must-Try Flagship Cruises
Flagship Cruises is a yacht charter cruise and events company that is a San Diego staple.
Escape the ordinary with Flagship Cruises and enjoy a special day! Whether you're celebrating a special occasion or just trying to impress your date, these Flagship Cruises events from Tripster will elevate your nautical experience.
Plus, save some cash while you're at it:
Other Attractions in San Diego
America's Finest City proves that it's definitely the finest among others with an array of attractions. Book these vacation packages from Tripster to indulge in numerous fun areas, take in views of the city, and save some serious dough.
Know Before You Go
No matter which cruise you choose to celebrate with your loved ones, it pays to be prepared every time. To keep your vacation smooth sailing, be sure to remember this information:
Please arrive 30 minutes before the boarding time.
Tickets are non-refundable. However, you can reschedule your cruise with a 24-hour notice if you're not available during your chosen date and time.
The water in the Bay is calm, but seasick incidents can happen if you are inclined to motion sickness. Bring medicine before hopping aboard.
The boats are 100% safe and checked regularly.
Guests don't need to follow a dress code. Still, most people tend to dress formally.
Bring sunglasses, sunblock, hats, and a poncho.
Please check the Flagship Brunch Cruise review page or reach out to the Flagship Cruises and Events if you have more questions.
Experience Flagship Cruise New New Year's Brunch
A huge fan of brunch? Put a Flagship Brunch Cruise San Diego at the top of your vacation list! Start the new year with a relaxing nautical voyage complete with a buffet menu, live entertainment, and scenic sights of the Bay.
Related Post: Ultimate Guide to Flagship Cruises San Diego Coupons, Discounts, and Deals
Of course, the tour features mimosas, champagne, and cocktails. Taste and sip to your heart's content while chatting and taking a breather with your family. The two-hour attraction also covers the full Bay route, making the getaway more worthwhile.
Reserve your spot now before the cruise sells out! You can book Saturday and Sunday-only brunch for a smaller crowd.
Also, make sure to tour the town either on foot, by trolley, or by another vessel to experience its many attractions from Balboa Park to San Diego Bay with a vacation package.
Related Events