Of course, it is!
The magic of Disney doesn't fade just because you didn't spend extra on a Character breakfast or a souvenir. There are several ways to plan a Disney vacation that doesn't send you into debt or wipe out your savings.
Table of Contents:

Planning Your Disney World Trip
Being strategic when planning your trip to Disney World on a budget is of the utmost importance. This is how you will discover more ways to save and what expenses you can eliminate. To begin organizing your vacation, start with these tips:
Have Flexible Travel Dates
It's no secret that Walt Disney World resort is a madhouse during the summer months and school breaks. With this in mind, do your best to travel during an off-peak season and have a flexible schedule. For instance, between arranging flights and hotel rooms, you may find cheaper rates if you plan a trip in the middle of the week.
Off-peak seasons and times for Disney World are typically:
Mid-January through the beginning of March
May (up until Memorial Day weekend)
Late August through the beginning of October
Mid-November through Mid-December (with the exception of holidays)
If curious, check out a Disney World crowd calendar for peak and off-peak times to visit.
Research Travel Packages
There are a myriad of Disney World vacation packages out there with incredible savings. Researching these package deals helps you find huge savings and even possible freebies!
Plus, with Bundle it! from Tripster, you can combine your Disney World theme park tickets with your choice of Orlando lodging or Disney hotel for a greater discount.
Consider Staying for Several Days
With the way Disney tickets are set-up, the more days you stay, the better savings you receive!
For instance, on Reserve Orlando, if you purchase 3-day theme park tickets, you will enjoy a savings of $35 off per person. Or, if you purchase more than 5 days worth of tickets, you receive extra days at the park free of charge.
Be sure to review your budget and travel plans to decide if you can take advantage of these ticket savings.
Do You Really Need Park Hopper Tickets?
Warning: some of our Disney World on a budget tips require serious deliberation! Some planning decisions will have an effect on the rest of your trip and budget.
Park Hopper tickets allow you to visit any of the theme parks within a single day. You could start your day at Magic Kingdom and end in Animal Kingdom, if you'd like. However, these ticket types are more expensive than general admission.
Now, if you're only visiting Disney World for one or two days, the Park Hopper tickets can help you see all of the parks within this short time span. Of course, you'll need to do a bit of extra planning to make sure you make the most out of each park visit. On the other hand, if you're staying for three or more days, you can save money by visiting one park per day and forgoing the Park Hopper passes.
The choice is yours!
How Will You Get to Disney World?
If you scour the Internet looking for the best way to travel to Disney World, many will suggest you drive. However, for families from the West Coast or in other countries, this isn't an ideal option.
Yes, driving will be advantageous for several families looking to save money, but you also need to factor in gas and parking costs into your budget. If after these additional expenses, driving is still affordable, go for it!
However, flying doesn't have to derail your Disney World vacation budget. Use these tips to find cheap flights for your trip:
Look for flights in an "Incognito" browser for unbiased results.
Have flexible travel dates, once again.
See if you can apply credit card or travel points/miles towards your flight.
Airlines typically offer sales and low fares on Tuesdays.
Try to book between 104 and 29 days before your intended flight for the best rates.
Also, if you need to book a flight to Orlando, there are other ways to save on your Disney World vacation, so your budget will remain intact.
Book a Room at a Disney World Value Hotel
Although Disney is known for lavish resorts, they also offer value resorts for budget-conscious travelers like you and me. These resorts can average around $150 per night after taxes and fees (depending on the season). While they are considered "value" resorts, they still offer a wealth of amenities including:
On-site dining options
Pools
Walt Disney World Resort transportation
Complimentary WiFi access
Playgrounds
Arcades
And Much More
And, if you decide to fly to Orlando, you can use Disney's Magical Express free of charge! You won't need to add the extra cost of a rental car.
Do know that if you decide to drive to Disney World and stay at an on-property hotel, a parking charge applies per night, per car.
Or, Stay at an Offsite Hotel
If you're looking to spend less on Orlando lodging, stay at an off-property hotel or resort. Benefits of doing so include cheaper rates, theme park shuttles (at select hotels), and other amenities such as a continental breakfast.
Keep in mind that by not staying at a Disney World resort, you will not have access to certain perks such as the Disney World bus system. Instead, you will have to either take a theme park shuttle from your hotel or drive and pay for parking.
Again, do your research before making the choice to stay on or off Disney World property.
Skip the Dining Plan
Unless your sole purpose of visiting Disney World is to eat and drink until you burst (which is completely possible at Epcot), I recommend skipping the dining plan. You end up with far more food than you can stomach and spend more money in the long run.
Fortunately, there are multiple ways to save money on food and drinks while visiting Disney World on a budget.
First, be strategic about your in-park food and drink purchases. While a Mickey Mouse ice cream or turkey leg is a novelty item, do you really need it? And, you don't need to go to a sit-down restaurant for every meal. Disney World theme parks have plenty of quick service food options that are convenient, cheap, and even healthy!
Or, go to a grocery store and stock up. Disney World allows guests to bring food and beverages into the park, so long as it complies with their rules and regulations. Coolers are not allowed in, but you can pack a lunch (that doesn't need to be heated up) and carry in a backpack. Bring plenty of snacks plus a refillable water bottle and voila! Instant savings without diminishing the magic.
In fact, you'll have more time to create magical moments with all the time you save by not eating at a sit-down restaurant!
Disney Magic Bands
Although Disney Magic Bands are not required, I would recommend spending the extra money to get them. The Disney Magic Bands can be used as your park admission, your FastPass+, your room key, and so much more. This added convenience means you don't have to worry about carrying key cards, tickets, and a bunch of unnecessary items throughout your day at the theme park.
Learn how to set-up your Disney Magic bands:
Avoid Added Costs and Upsells
Walt Disney World Resort goes above and beyond to make sure guests have a magical time during their vacation. With this in mind, there are several add-ons you can include in your vacation such as a Photo Pass, extra celebrations, and more.
While these are super magical experiences, you can probably live without them—especially if you're planning a trip to Disney World on a budget. If you're trying to be super frugal, skip all of the upsells and focus on your transportation, tickets, hotel, and food expenses
Be Strategic with Character Meals
Since you have to book character meals prior to your trip, it is best to be as strategic as possible with them. Many Disney fans recommend you book your meal in the morning for extra ride times. However, these meals are crowded and the most expensive option.
Instead, try to book a brunch, lunchtime, or off-peak character meal time. Not only are they less expensive and far less crowded, your kids will have extra time with their favorite Disney characters. Talk about a win-win situation!
Know What to Pack
Arguably the worst part about traveling is packing. Who actually likes to pack? (I sure don't.)
With the excitement of going to Disney World, it is easy to over pack. If flying to Orlando, overpacking can result in extra airline charges when checking a bag.
Know exactly what to bring and try to pack as light as possible by using our ultimate Disney World packing list.

Saving Money While Exploring the Theme Parks
Once you've planned your Disney World vacation, the saving isn't over. In fact, there are a ton of ways to stay on or below budget while exploring the theme parks.
Take note of these tips for experiencing the theme parks at Disney World on a budget.
Watch Those Purchases!
There's a golden rule among theme park pros: Never buy items at a theme park that you could have brought with you.
It pays (literally) to be prepared when visiting Disney World. Bring a backpack and cut down on unnecessary or sudden purchases by packing items such as band-aids, sunglasses, sunscreen, snacks, and more. Remember to check out our Disney packing list for more ideas of what to bring to the parks.
Also, before you go, double check Disney's list of prohibited items. The last thing you want is for your precious selfie-stick to be confiscated.
Get to the Park Before it Opens
You've spent quite a bit of money on your Disney World tickets, so you're going to make the most of it! To do so, get to the theme parks before they open. This enables you to head straight to the best rides and avoid long wait times.
Plus, by getting to the park early, you avoid crowds and even have the opportunity to take a break and come back later in the day if you so choose.
Take Advantage of FastPass+
Another way to maximize your time in the parks is by using your FastPass+ opportunities. FastPass+ allows you to reserve a spot for Disney World theme park rides, Character greetings, and experiences, rather than waiting in the never-ending lines.
Best of all, FastPass+ is included in your Disney World admission! If you've booked a room at a Disney World resort or hotel, you can start making your FastPass+ selections up to 60 days prior to your stay. Those staying off-site can make their selections up to 30 days in advance.
Also, use the My Disney Experience app to organize your FastPass+ reservations and other vacation information.
Do You Really Need a Souvenir?
I'm not big on souvenirs. Photos are priceless, after all! If you're trying to be as frugal as possible with your trip, it is in your best interest to forgo buying a souvenir.
However, if you absolutely must have a memento of your trip (don't worry, I understand), there are numerous affordable gifts for sale. From pins to journals, plush toys to stickers, what doesn't Disney World have for purchase? Just be sure to check the price tag before you head to the register!
Bring a Stroller or Wheelchair, If Needed
Should you need a stroller or wheelchair during your vacation, it is in your best interest to bring one with you. Disney World theme parks do have strollers and wheelchairs available for rent, but the fees are a bit high. In addition, you'll want to rent these ASAP as they are offered on a first come, first served basis.
Stay at the Park if it Rains
It's Florida. Rain is bound to happen during your vacation. Unfortunately (well, fortunately for you), many visitors leave the park once it starts to rain.
Instead of wasting your money by leaving the park, put on a poncho and head to your favorite rides. The wait times will surely have decreased thanks to the rain!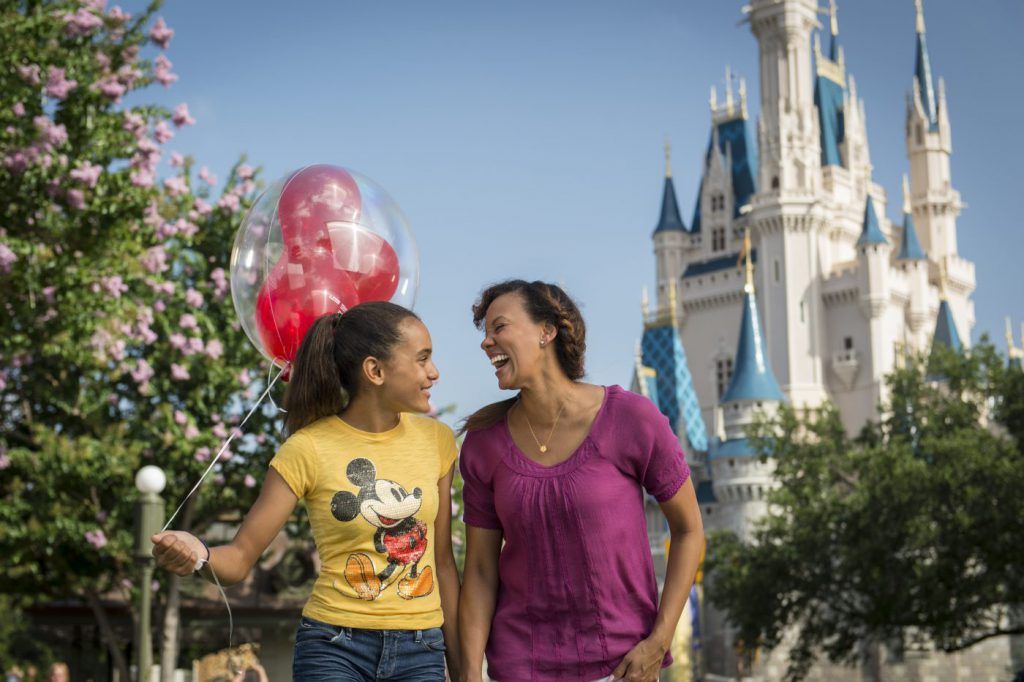 Creative Ways to Save and Other Miscellaneous Tips
Wondering how you can save up for your Disney World trip and still stay on a budget? These creative ideas and tips will help you do exactly that.
Keep a Jar for Loose Change
When I was a little kid, my Mom brought home a jar labeled "Disney Vacation Fund." My family was instructed to put all our loose change in this jar until it filled up. When it filled up, we could start planning a trip to Disney World.
Not only does this tactic help you pay for a trip to Disney World on a budget, it teaches your family the value of saving along the way!
Start a Travel Savings Account
If you'd rather have a more modern way of budgeting, open a savings account just for your travel expenses. Consider automating small monthly payments into the account, as well. Watch as the account slowly grows and do not touch the money until it's time to book your vacation!
Ship Items to Your Disney Hotel
Did you know you can ship items to your Walt Disney World resort? You can send everything from toiletries to snacks to your hotel and it will be ready to pick up when you arrive. Many Disney World regulars use Amazon to keep costs low and ship everything they need to their hotel.
There's no need to pack everything for your trip. It'll all be waiting for you in Orlando, FL!
Take Advantage of Free Disney World Activities
Believe it or not, not everything at Disney World has a price tag attached. There is an abundance of free activities for your family to do when traveling to Disney World on a budget.
Consider adding these activities to your Disney itinerary for free fun:
Finding Hidden Mickeys throughout the resort.
Taking a stroll through Disney Springs and Disney's Boardwalk.
Watching a movie by the campfire at Ft. Wilderness.
Hiking at the Disney Wilderness Preserve (20 miles away from Walt Disney World Resort).
Watching the nightly fireworks from the Polynesian Village, Grand Floridian Resorts, and the bridge between Bay Lake Tower and Disney's Contemporary Resort.
Free walking tours at select Disney resorts.
Kidcot Fun Stops in Epcot.
No matter what free activities you choose to do, you'll stay well within your budget and have a magical time at Disney.
Ready to Book Your Trip to Disney World on a Budget?
But our tips to use and book your Disney World tickets today.
Have you visited Disney World on a budget? Share your secrets to saving with fellow travelers by commenting below.