Just like the savory seafood dish, it's famous for, New Orleans is a steaming hot musical gumbo, bursting with tantalizing creole flavor, voodoo, and bayou charm. From walking tours to the historic garden district, there's no shortage of main attractions in New Orleans.
Follow along to learn how to see every inch of NOLA, with your New Orleans Go City Pass.
Like no other city on Earth, the Big Easy has a unique spirit all its own. Find yourself dancing for beads on Bourbon Street, dusting the sweet Beignet sugar off your lips as you sway to the music of the booming Jazz bands.
From exploring the intoxicating history of the French Quarter to venturing into the gator-filled swamps of the Louisiana wetlands, your City Pass New Orleans is your new BFF.
Don't miss a moment of New Orleans landmarks or cajun-filled fun when you plan your getaway on a budget with Go City® Pass New Orleans!
New Orleans CityPass: Your Secret Weapon
Sublime Spanish-style architecture mixed with French influence, world-class jazz clubs, and heaps of southern history steeped in a sassy stew of cultures that are unique to itself, is it any wonder New Orleans is a perennially popular tourist destination?
Everyone from Tennessee Willimas to Anthony Bourdain has waxed poetic about this epicenter of decadence, debauchery, and southern history.
Whether you explore Treme, dive into the history of Mardi Gras, or enjoy a peaceful po'boy-filled picnic on Lake Pontchartrain, the New Orleans Sightseeing Pass can help you stick to your budget and make the most of your time in N'awlins.
What's the Best City Pass for New Orleans?
Just like your hurricane-fueled bachelorette party, New Orleans is more fun if you go 'all In' and stick to a budget. So do everything and more on your Big Easy bucket list when you purchase a 1, 2, 3, or 5-Day Pass.
Your City Pass New Orleans Pass includes access to unlimited attractions and tours for however many days you select. 
Go crazy, and conquer tons of New Orleans tourist activities at your own pace. 
New Orleans sightseeing day passes are the ideal solution for the savvy and budget-conscious traveler. Your All-Inclusive Pass allows you the utmost freedom and flexibility to achieve your New Orleans travel dreams.
Other Important New Orleans All-Inclusive Pass Facts:
Your pass offers you discounts of up to 42% off retail rates.

Passes are valid for up to 60 days after activation.

Choose from over 25 exclusive attractions in New Orleans

Stay breezy; choose from a mix of pre-booked New Orleans attractions and flexible experiences.

No travel snafus here; use the Go City® App for seamless attraction entry.
Psst..wondering what free things there are to do in New Orleans today? Get the inside scoop on free things to do in New Orleans when you purchase your All Inclusive pass. As an added 'thank you,' you'll receive a free New Orleans Travel Guide, which will teach you all about the city's top attractions and tours. 
Pro Tip: Lucky enough to be a NOLA resident? For even more New Orleans free things to do, why not swing by the Audubon Zoo for an afternoon of animal entertainment? On the third Thursday of every month, Orleans Parish residents can receive free admission to the Zoo. Please have a government-issued ID available for check-in. Residents can reserve tickets for up to five guests in total.
The New Orleans Go City Pass App
Wondering how you will tackle your never-ending list of New Orleans tourist attractions? Now that's hard! Setting up your All-Inclusive Pass via the Go City® App = as easy as can be!
Using your smartphone or mobile device simply:
Download the App to your mobile device (

Apple

|

Google Play

)

Use your order confirmation number to add your pass to your phone.

Double-check if any of your desired attractions need a reservation and book.

Show your pass at each attraction for easy entry.
New Orleans City Pass: Top Attractions
Tantalizing cocktails, swamps teeming with gators, and an immersive cinematic experience that puts you on the frontlines of WWIII. Attractions of New Orleans offer up a little something for everyone:
Mardi Gras World
Never been lucky enough to catch some beads or sling back a Hurricane at Mardi Gras? If you can't make it to the Big Easy during February, Mardi Gras World is the next best thing. Scope out hundreds of vibrant costumes of purple, green, and gold. Or learn all about how Mardi Gras masks are designed. Take a moment to marvel at the many professionally crafted floats, including the beloved Boeuf Gras (the fatted bull).
Get closer than ever to these artistic creations, many crafted by famed designer Roy Kern. Snap photo after photo of floats from the 1950s through today as you tour the artist's studio and see the current works on display. Feel the magic of Mardi Gras wash over you as you try on your own krewe-approved costume and devour a slice of tasty King Cake. 
National WWII Museum 
The largest war ever fought deserves all of our attention and respect. Brush up on your history and reflect on the sacrifices of the Greatest Generation when you pay a visit to the National WWII Museum. A must-visit for any Saving Private Ryan fan, this six-acre edifice is a tribute to the courage and loyalty of the American soldiers who so valiantly defended our freedoms.
Wander through seven permanent exhibition halls, all stuffed full of artifacts, photos, and video histories. Uncover what life was like on the home front as you dive into life in 1940s America or stroll down the Road to Berlin. Through audio stories, military uniforms, and macro-artifacts, you'll follow a timeline of the war.
From the D-Day Invasion of Normandy to a Tom Hanks narrated 4D cinematic experience, the WWII Museum brings the brutal story of this bloody conflict to life. 
Ultimate Swamp Adventures 
What creeping creatures lie in the murky waters of the Louisiana swamp? Marvel at the beauty of the Bayou Segnette on one of the most iconic tours of New Orleans. Experience gorgeous marsh scenery and exotic wildlife on your Ultimate Swamp Adventure Tour.
Be on the lookout for American alligators, snapping turtles, egrets, and even wild hogs as you push deeper into the thick wetland waters of Westwego.
As you speed past the marsh, your friendly swamp captain will point out the endemic cypress trees, moss, and the best wildlife spotting zones, all while offering up nuggets of NOLA history and fun trivia regarding the swamp's most well-known creatures. 
Fun Fact: Your swampy adventure takes place in Westwego's quaint historic fishing village, whose extensive waterways run down into the Gulf of Mexico.
Paddlewheeler Creole Queen Cruise
Ready to meet the queen of the Mississippi? Climb aboard the Paddlewheeler Creole Queen Cruise for an epic afternoon of history, sightseeing, and scenic Mississippi views.
Your stately old-timey ship, powered by a giant 24 ft paddlewheel, will be your guide through over 300 years of New Orleans' history.
As you sail downriver, you'll learn all about the founding of the 'Paris of the South' by the LeMoyne brothers, the city's expansion into the "French Quarters" of the Treme and Marigny, the Louisiana Purchase, and the critical Battle of New Orleans. 
Upon arriving at the famous Chalmette Battlefield, your crew will disembark from the Creole Queen for a comprehensive one-hour guided tour and talk by a National Park Ranger. 
More marvelous Mississippi River highlights and tour stops include:
Adventures in New Orleans Bus Tour
Get the lay of the voodoo-filled land when you set forth to tour Crescent city's most famous sights and spots on the Adventures in New Orleans Bus Tour. 
Conquer every inch of this vibrant city, from Lake Pontchartrain to the French Quarter, when you embark on your expertly narrated adventure. 
Your knowledgeable guide will provide swathes of local color, historical tidbits, and insider knowledge to complement your journey through the city's architecture, blended culture, and jazz institutions.
Snap photos of the colorful characters and charming buildings that pepper Bourbon Street, or imagine living in a colonial mansion on St. Charles Ave.
Additional amazing stops on your luxury shuttle bus tour are:
Tulane University

Loyola University

Psst...Looking for even more autonomous sightseeing? For a bus-bound adventure as exciting as the Crescent City itself, why not try the Hop-On Hop-Off City Sightseeing Tour?

Treme Tour by French Quarter Phantoms
Hear that sweet bay of the trumpet as you let the sounds (and sights) of Treme wash over you. 
A departure from your garden variety walking tour, the Treme experience by French Quarter Phantoms provides deep cultural knowledge and background on the oldest African American neighborhood in the United States.
More than just a locale, Treme is its people, music, and historical legacy. This enclave derives its character from the Caribbean, West African, and Creole influences.
Your award-winning two-hour tour will be led by a master storyteller who will provide valuable insight and spark enlightened discussions regarding the area's architecture, music, Mardi Gras history, and slavery. 
Fans of the HBO series, Treme, might recognize a number of filming locations. In addition, you'll be setting eyes on Saint Augustine Catholic Church, one of the oldest Black churches in the nation.
Visit the Tomb of the Unknown Slave and take a somber moment to remember the lives of those who passed far from home, remaining unnamed and unaccounted for.
Additional Treme Tour Highlights are:
The Congo Square - a park where both slaves and free African Americans congregated throughout the 19th century

Rock and Roll Laundromat - the hallowed halls of the J&M recording studios where rock and roll legends like F

ats Domino, Little Richard, and Roy Brown laid down their tracks (now a coin laundromat)
The New Orleans Jazz Museum in the Old U.S. Mint
Pay some respect to the 'birthplace of Jazz' when you visit the New Orleans Jazz Museum in the Old U.S. Mint. 
Jazz is the official soundtrack of NOLA, so prime your ears (and your eyes) for an invigorating afternoon of dynamic exhibits, musical education, and of course, performances!
Housed in the Old U.S. Mint, this stunning Greek revival-style building served as our country's money-making machine from 1838 to 1909.
The museum itself is home to over 25,000 artifacts. In addition, it covers everything from New Orleans Jazz and Newcomb Pottery to the Mississippi River and the history of Louisiana. 
Cut a rug on the dance floor as you learn all about the evolution of New Orleans' beat with Drumsville.  Or gaze at the vibrant paintings of James Michalopoulos, New Orlean's most recognized living artist.
Don't forget to head on up to the third-floor Performance Center. Here the museum is known to host a wide variety of live music and theatrical performances, lectures, symposia, oral histories, video interviews, and curatorial panels.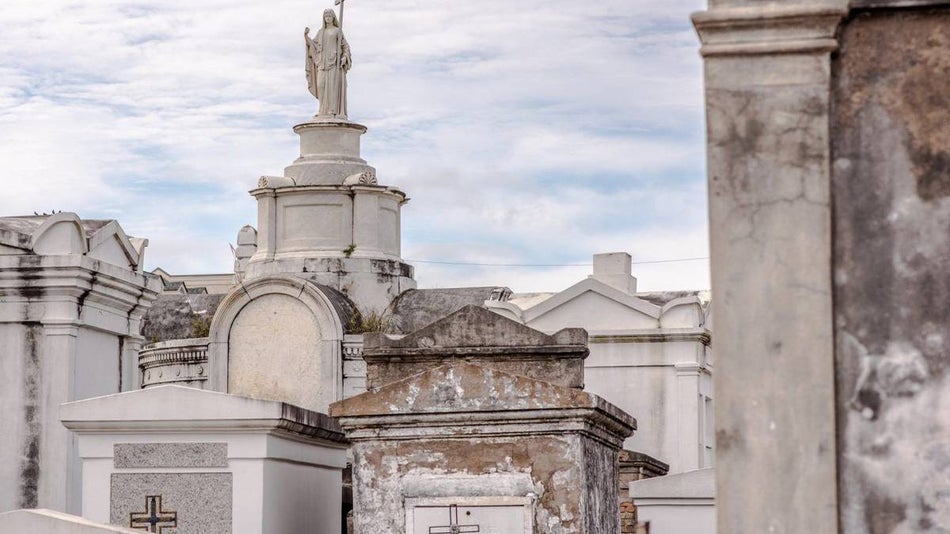 French Quarter Ghosts & Legends by Haunted History Tours
Grave robbers, ghost stories, and Voodoo, oh my! Rooted in history, with just a splash of the paranormal, the French Quarter Ghosts + Legends Haunted History Tour will show you a spooky good time.
Your attraction tickets include a fully guided two-hour French Quarter walking tour. Listen up, as you won't want to miss a spine-tingling supernatural sighting or historically haunted sight. 
Your curator of creepy will be guiding you along with the French Quarter's most ghostly landmarks, including a petrifying possessed bar. The oldest neighborhood in the Big Easy has an untold number of streets and sights that are said to be vexed by the undead.
Unlike many ghost tours, Ghosts + Legends derives its inspiration from actual historical events, people, and stories. 
Discover why they can't bury bodies in N'awlins and why this led to a rash of grave robberies. Uncover how Voodoo was born and the dastardly deeds of slave owners.
This family-friendly ghost tour will have you seeing the Vieux Carré (French Quarter) in an entirely new sinister light.
Southern Food & Beverage Museum
While it may not be the best for our waistline, no one can deny the appeal of some good old southern cooking. From that first mouth-wateringly crispy bite of fried chicken to the smoky savoriness of BBQ brisket, the cuisine of the South is simply above reproach.
Foodies of all backgrounds will flip for the Southern Food & Beverage Museum. Exhibits cover everything from the history of Popeyes Chicken, to old-school Creole recipes, to a permanent collection dedicated to the history of the cocktail.
Learn all about America's first proper drink, the Sazerac. This beverage was birthed right here in the great state of Louisiana. In addition, browse the Gallery of the South - States of Taste, to uncover each locale's dish of notoriety. 
Looking to take your kitchen talents to a new level? The museum also offers an impressive amount of Cajun and Creole cooking classes. Here you can glean first-hand knowledge on how to make anything from gumbo to spice cake.
Fun Fact: Did you know that New Orleans is the birthplace of Brunch? Madame Begue invented the meal back in 1870 as a meal for working-class folk.
New Orleans School of Cooking Demo
Strap on your aprons, and keep those creole spices handy, as it's time for you to master the secret recipes and traditions of New Orleans cooking. 
Pour yourself a stiff cocktail and learn to cook like a local with your New Orleans School of Cooking Demo. 
A culinary adventure like no other, your chef-led class will walk you through the preparation of such native dishes as gumbo, jambalaya, pralines, crab bisque, crawfish etouffee, and shrimp creole*. 
Traditional recipes and complicated techniques will be made simple through live educational demonstrations of technique, method, and history.
Come with a hearty appetite. You will sample everything from the perfect 'holy trinity' aka bell peppers, onion, and celery, to sweet, crunchy calas. 
Your skilled chef will explain the global inspiration that has funneled into southern cooking and hospitality. In addition, they will share the history of far-flung flavors from Portugal, France, and West Africa.
Enjoy unlimited drinks as you learn how each of these traditional dishes has earned its iconic place in culinary culture.
*Dishes prepared in each class will depend on the Chef hosting
French Quarter History/ Voodoo Tour
There's a tropical storm brewing, and it looks like it's going to pour! So brace yourself for some (tasty) hurricanes when you embark on the French Quarter History/Voodoo Tour.
This hour and the 40-minute tour is the perfect primer course on all things Voodoo. It combines a yummy mix of cocktails and French Quarter History.
Voodoo was born in Haiti but has played an essential role in New Orleans' history and past. Dive into how this eclectic pairing of Roman Catholic rituals and traditional African magic came to be. Meanwhile, visit such landmarks as Congo Square and the home of the infamous Voodoo priestess Marie Laveau.
Close your eyes as you traverse the famous Congo Square. Also, see if you can feel the rhythmic beating of the many drums accompanying the spiritual ceremonies here. Then, listen as your professional guide and storyteller seamlessly weave tales of history, tradition, culture, literature, and Voodoo magic together.
Snap some photos of the stately Supreme Court building where Louisiana's splashiest political battles and trials have played out. Afterward, begin hydrating with a buy-one-get-one-free Hurricane cocktail from the Voodoo lounge.
Ready To Do It All With Your New Orleans City Pass?
While the pace of life is more leisurely in the Big Easy, New Orleans attractions are not. 
Discover everything from how to mix the perfect Sazerac, to the mysteries of the French Quarter with CityPass New Orleans. 
From the soothing notes of Louis Armstrong crowing 'Do you know what it means to miss New Orleans,' to the spiritual ceremonies of Congo Square, it's almost impossible not to fall in love with the 'Paris of the South.'
Sticking to a budget and taking in every NOLA nook and cranny can be difficult. But Go City Passes make it easy to craft the New Orleans trip of a lifetime.
Whether you choose to board a classic Paddlewheeler Creole boat for a real-life Mississippi cruise or try your hand at preparing the most scrumptious jambalaya or shrimp etouffee, the New Orleans All-Inclusive pass is here to help your budget while you "Laissez Les Bon temps rouler*" with you!
*let the good times roll
Have You Used the New Orleans City Pass?
Share with us what you loved about it!