It's pretty frustrating to plan a vacation and then have the weather surprise you out of nowhere!
Well, Seattle is typically known for its rainy weather, but no worries! There are countless indoor activities to take advantage of during your trip. So don't stay at home or pack up and leave--read on to discover the best things to do in Seattle when it rains!
Seattle Underground Tour
Why not head underground when the weather above is dismal? Explore Seattle's history with the Seattle Underground Tour. A local expert guide takes guests through the passageways of underground Seattle. Discover how Seattle rebuilt itself after the Seattle Fire of 1889 that essentially destroyed the business district. Uncover remnants of storefronts, basements, sidewalks, and more with preserved 1890's architectural facets during this 75-minute tour.
Further, learn about the vibrant past of the city's landscape and culture, strolling through three city blocks of Pioneer Square's underground. Also, guides provide greater insight into the history of Skid Row, the Klondike Gold Rush, the Coast Salish people that first settled the area, and more. The tour begins at Doc Maynard's Public House and ends in Rogues Gallery. With tour times available every day, there are plenty of opportunities to check off one of the top things to do in Seattle when it rains.
Ye Olde Curiosity Shop
Since 1899, Ye Olde Curiosity Shop has been spooking residents of Emerald City with its weird wonders. Established by Joseph Edward Standley on Seattle's waterfront after the Great Fire, this shop remains older than the Space Needle, the Seattle Aquarium, and more Seattle foundations. Moreover, Standley's family still runs the establishment generations later, inviting visitors to peruse aisles of shrunken heads, mummies, taxidermy oddities, and beyond from around the globe. More than a million guests visit this free museum of sorts each year. With a variety of items for sale and on display, you can't find yourself bored at Ye Olde Curiosity Shop.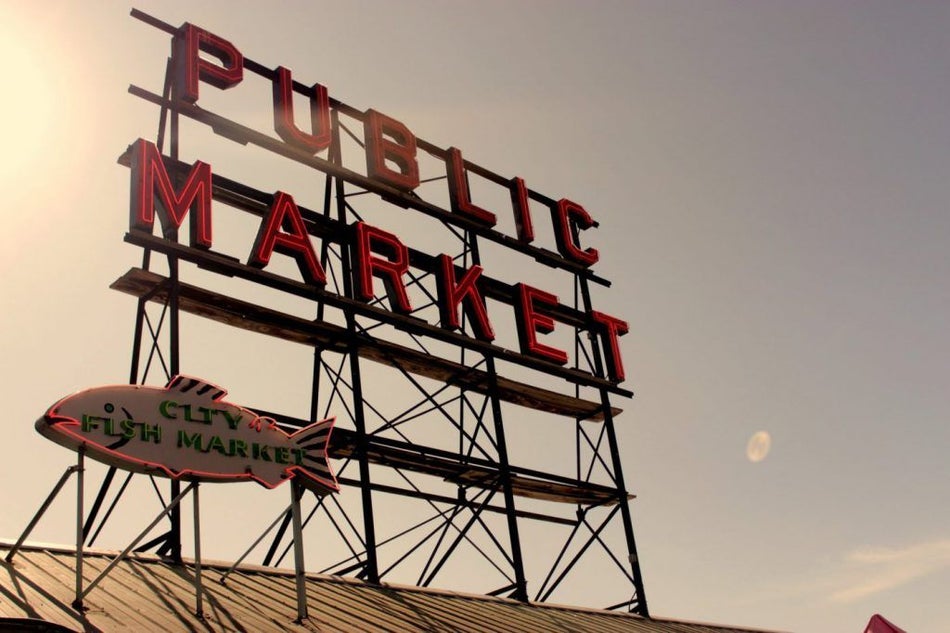 Stroll around the Marketplaces
Melrose Market
While everyone else heads to Pike Place Market, explore the lesser-known Melrose Market. Standing at Pike-Pine's west end on Capitol Hill, Melrose Market occupies an indoor space housing multiple food and retail businesses. As a totally indoor market, it's one of the optimal things to do in Seattle when it rains. Constructed from historic early twentieth-century automotive buildings, the indoor market opened in 2010. Just up the road from the city's downtown shopping district, guests can find award-winning fine dining such as Sitka & Spruce and Terra Plata, or upscale retailers such as Glasswing and Green Fire Products. Further, the market encloses a massive event space and catering business, Melrose Market Studios.
Pike Place Market
Considered to be Seattle's original farmer's market established in 1907, Pike Place Market has grown into a staple community for farmers, craftsmen, local business owners, and residents of the city. This nine-acre historic downtown area features five downtown markets, 225 artisans, and dozens of specialty food shops with local and imported goods. You're sure to find a treat or two somewhere.
Admire Great Works of Art
Seattle Art Museum
You can't overlook Seattle's first-rate museums, rain or shine. The Seattle Art Museum operates as more of an institution comprised of three art museums and installation areas: The Seattle Art Museum, the Asian Art Museum, and the Olympic Sculpture Park (located outdoors). Centered downtown, the Seattle Art Museum hosts domestic and international artwork, revolving installations, and esteemed global exhibitions.
Chihuly Garden & Glass
Chihuly Garden & Glass hosts ethereal works of glass art conceived by artist Dale Chihuly. With eight galleries, a stunning centerpiece glasshouse, and a garden straight out of a fairy tale, there is plenty of artwork to admire. You can even do yoga or listen to concerts at the center. Although some of the pieces are outdoors, you can definitely wander around the exhibit halls inside as one of the premium things to do in Seattle when it rains.
Asian Art Museum
The Asian Art Museum is currently under renovation but will anticipate reopening in fall 2019. The original SAM home, this gorgeous Art Deco building possessing an impressive Asian art collection sits in beautiful Volunteer Park. To visit for free, check out SAM museums and installations on the first Thursday and Friday of each month.
More Museum Adventures
Museum of Flight
With more than 175 aircraft and spacecraft, thousands of artifacts, numerous exhibits, millions of exclusive photographs, a spectacular library, the Museum of Flight is a must-see in Seattle. It's considered the most expansive individual, nonprofit air and space museum worldwide. Visitors can see preserved aircraft and spacecraft parts, entire planes, old uniforms, medals, instruments, and more. The library contains an extensive collection of reports, manuals, and journals. Also, guests can pay tribute to Vietnam veterans and fallen soldiers at the Vietnam Veterans Memorial Park.
Museum of Pop Culture
Geek out at the Museum of Pop Culture with memorabilia from pop culture icons and media like Indiana Jones, outfits worn by megastar Prince, and unique photographs taken of Nirvana bandmembers. Moreover, the museum hosts numerous festivals like the Science Fiction + Fantasy Short Film Festival, Movies at MoPOP, and Sound Off! where emerging artists 21-and-under can showcase their talent.
Breweries & Wine Tours
Savor premium Washington State wines with your love on a winery tour right outside of the city. With more than a dozen wineries to visit such as the acclaimed Chateau Ste. Michelle Winery, there are numerous options to treat yourselves. Visit your favorite winery or take advantage of offered local tours that provide transportation
Seattle also houses many renowned breweries to share a few cold ones. Some breweries even have pubs and restaurants to have a full dining experience while you sample local, craft, and imported beers. You can enjoy the best of the Northwest with a guided tour of Pike Place Market or take your own pub crawl of sorts through the Seattle's best brewery institutions such as Elysian Brewing Company.
Theater Performances
Enjoy top-rated performances at the Seattle Opera with captions in English so you can laugh and cry along with the music. Catch a pre-broadway show at the 5th Avenue Theatre, complete with gorgeous Chinese-inspired furnishing. Additionally, the Paramount Seattle hosts headlining musicals, comedy acts, concerts, and plays.
Seattle Public Library
The Seattle Public Library system has multiple branches, but the downtown Central Branch location stuns guests with its gorgeous glass windows. Of course, guests can peruse through different literary and media sections, but the architecture alone is worth seeing. There are also multiple special collections that display what life was like in Seattle in its earlier days.
Pacific Science Center
Both kids and adults are in for a treat the Pacific Science Center. Featuring exhibits like live animals, a tropical butterfly house, VR gaming experiences, and a hands-on tinkering area, the center will not disappoint. As an institution committed to education, there is so much more to do, including daily planetarium shows and dynamic, large-scale animated images. Because of the multitude of fun and interesting activities, this is one of the best things to do in Seattle when it rains.
Seattle Aquarium
The Seattle Aquarium hosts numerous species of birds, fish, otters, plankton, invertebrates, cephalopods, and more. Watch the river otters play or gaze in awe at the colors of the yellow tang and red lionfish. Kids can learn about wildlife conservation and how to protect the local endangered orca population. As such, it's easily one of the best things to do for visitors of all ages.
Check out the Local Comedy Scene
Who doesn't like to laugh? Seattle's comedy scene is sure to make you cry tears of laughter in the city's comedy clubs and improv theaters. See everything from seasoned veterans to newcomers looking to hone their talent on stage. Some local clubs and theaters include:
Check Out the Best Things to Do in Seattle When It Rains
With so many things to do in Seattle when it rains, don't worry about the weather dampening your trip! In fact, Tripster Seattle offers multiple tours to keep you sheltered while having fun throughout your vacation.