Coffee enthusiasts, nature lovers, city explorers, and traveling families all love Seattle. And for good reason!
There's so much to do, see, and experience in this Northwest city. However, when you only have one day in Seattle, you have to be strategic about your itinerary.
Do you make time to experience the Seattle Space Needle? Or, should you stroll around Pike Place Market instead? Decisions, decisions…
Fortunately, we've put together the perfect itinerary for those who only have 24 hours to spend in Seattle, Washington.
Start Your Day with Coffee
Since your day will be spent frolicking around Seattle, it's only right to start your morning with a cup of the best coffee around. After all, you're in one of the coffee meccas of the United States!
While you may be tempted to visit the first Starbucks in Pike Place, skip it. The lines are crazy and it's only slightly different than every other Starbucks you've ever been to. Instead, visit a local coffee shop focused on providing an excellent cup of specialty coffee paired perfectly with baked goods or a breakfast menu.
A few of the city's top coffee shops include:
Start a conversation with the baristas (assuming the line isn't out the door) and learn more about the Seattle-made coffee you're about to drink!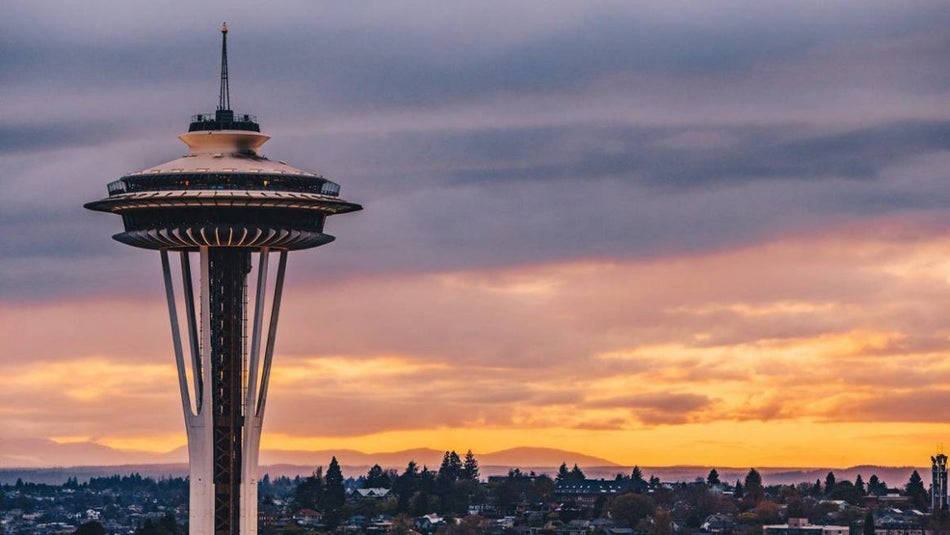 To the Space Needle!
When you only have one day in Seattle and it's your first time in the city, you have to witness the Seattle Space Needle.
Thanks to a recent multi-million dollar renovation, the Seattle Space Needle is more interactive and breathtaking than ever before. Lean into the view on the glass skyrisers, walk along the world's first and only rotating glass floor, take part in a virtual reality experience, and so much more.
And if you're hungry, go ahead and grab a bite to eat at the Atmos Café in the upper observation level!
Optional: Museum of Pop Culture
If you've finished your time at the Seattle Space Needle and it's still before lunch, consider strolling through the Museum of Pop Culture for a few hours. From music to movies and everything in between, this museum explores our culture's fascination with the arts, celebrities, and more.
Grab Lunch at Pike Place Market
Of course, your one day in Seattle must include a trip to the iconic Pike Place Market. With so many delicious artisan foods to choose from, your stomach and palate will be in heaven.
Among the top restaurants in the market are:
Il Bistro
Chan
The Pink Door
Sushi Kashiba
Steelhead Diner
Honest Biscuits
Browse through all of Pike Place's dining options and choose where you'd like to grab lunch!
Optional: Browse Public Art at Olympic Sculpture Park
At this point, you're probably stuffed from lunch. Now's the ideal opportunity to walk it off with a trip to the Olympic Sculpture Park. The 9-acre park is located along the Seattle waterfront, making it the largest downtown green space.
Take the time to explore all of the park's green space and take pictures of the mesmerizing artwork along the way.
Explore the Seattle Waterfront
Although parts of the Waterfront may seem touristy, it's still a great way to spend one day in Seattle. At the Waterfront, visitors can sample local seafood, people watch, find the perfect souvenir, or take a ride on the Great Wheel for epic city views.
Take time to stroll along the waterfront and experience the sights and the sounds of the city. After all, your time in Seattle is almost up!
Optional: Seattle Aquarium
Are you interested in our underwater friends? If so, make a trip to the Seattle Aquarium while you're exploring the Waterfront. Visitors have the chance to learn about marine mammals, underwater environments, biodiversity, and so much more all in one aquarium. Be sure to watch the Diver Show and watch feeding times!
End Your One Day in Seattle with Dinner Reservations
Sadly, my friends, your one day in Seattle is almost up. But not before you indulge at some of the city's best-rated restaurants! Treat yourself to a night out at Seattle top dining establishments, such as:
Be sure to make your dinner reservations as far in advance as possible. Due to the popularity and notoriety of Seattle's dining scene, restaurants book up fast for dinner!
Optional: Bar Hopping Around Seattle
For those who dined early and/or don't have an early flight to catch the next morning, enjoy a nightcap at Seattle's top bars, speakeasies, and breweries. Order a flight or a quick drink at watering holes such as:
Beer enthusiasts should consider signing up for a Seattle brewery tour, too!
Plus, Seattle is always filled with live music, comedy shows, events, and more. Check out what events are happening during your stay!
Experience One Memorable Day in Seattle
With our itinerary, you'll have an extraordinary day in Seattle. Be sure to book your tours and hotel soon!