Are you longing to visit Colonial Williamsburg? Pack up the car and go! This historic city is a must-see for history buffs, children, and families alike.
Colonial Williamsburg immerses visitors into 18th century life in Williamsburg VA. From re-enactments of pivotal events in history to tours of restored buildings, there is so much to see and learn in this iconic city.
Wondering what to do in Williamsburg VA? Throughout your day, you'll discover more about the daily lives of citizens, run into notable politicians and figures, and hear the stories of Native Americans and African Americans during this time period.
Don't be surprised if you have a conversation with Thomas Jefferson or talk to Patrick Henry about the battle for the United States independence during the American Revolution!
It is easy to be overwhelmed when you first arrive at Colonial Williamsburg Virginia. However, with these 13 tips and tricks in your back pocket, you'll be ready to visit Colonial Williamsburg, VA like a pro.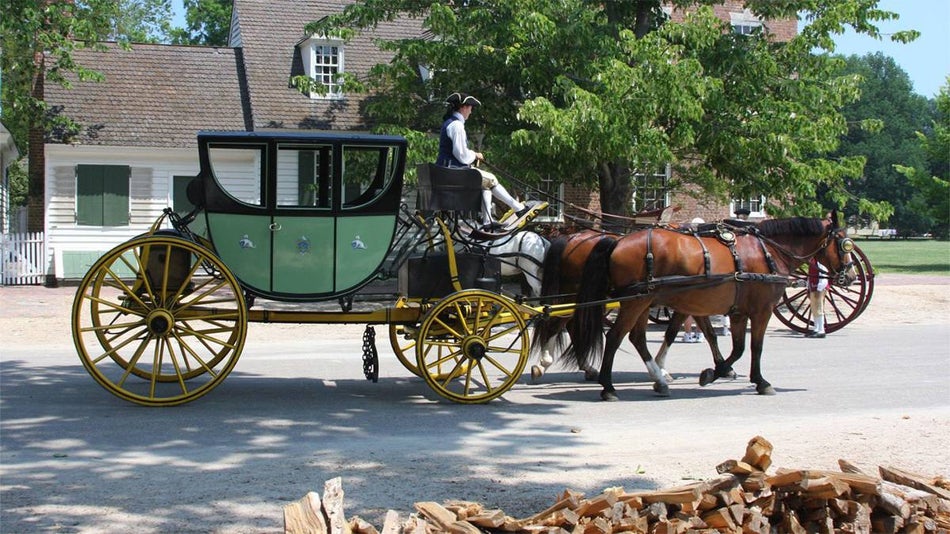 Colonial Williamsburg Discount Tickets
While you do not need a ticket to walk around the city, guests must purchase a ticket to enter buildings, participate in events, go on tours, and explore other areas of the historic Williamsburg grounds.
Tripster allows you to combine your already discounted Colonial Williamsburg tickets with a hotel room for additional savings. Simply choose the number of tickets you need, find the hotel that suits your travel preferences, and save. It's really that easy.
Plus, who doesn't want to visit Colonial Williamsburg, experience all of the things to do in Williamsburg VA, and save money at the same time?
Plan Your Visit Ahead of Time
One of our best tips for visiting Colonial Williamsburg is to plan ahead! The non-profit organization that runs Colonial Williamsburg has expertly leveraged the area's history, people, and events to create a one-of-a-kind experience for guests. As a result, it's difficult to see it all without a plan.
Before your visit, check out Colonial Williamsburg's website for tour times, landmark locations, and the schedule of events for the day.
This will help you create a loose itinerary that you can follow throughout your day. Don't try to over-schedule yourself or you'll be worn out halfway through your visit!
Must-see landmarks and activities include:
The Governor's Mansion
Tavern Ghost Walk tour
DeWitt Wallace Decorative Arts Museum
Abby Aldrich Rockefeller Folk Art Museum
Governor's Palace Kitchen
The Capitol Building
Raleigh Tavern

Bruton Parish Episcopal Church

The Courthouse

The College of William & Mary
Of course, these are only a handful of the things to do in Colonial Williamsburg!
Make Dinner Reservations in Advance
If you're interested in dining in a tavern or at one of Colonial Williamsburg's renowned dinner events, you'll want to place your reservations as soon as possible.
These particular events and historic taverns in downtown Williamsburg are a popular choice among visitors, and walk-in seating isn't always available.
For an authentic Colonial Williamsburg experience, a tavern meal is a must. Virginia is for lovers. So for the love birds, you might want to check out some of these romantic restaurants in Williamsburg or plan something special with this list of romantic things to do in Williamsburg.
For those who would rather not plan their day around dinner reservations, Colonial Williamsburg also has a multitude of dining options including:
Museum Cafe
Raleigh Tavern Bakery
Traditions
Rockefeller Room
Huzzah's Eatery
The Terrace & Goodwin Rooms
Study Williamsburg's History Before You Go
Want to enhance your visit to Colonial Williamsburg? Study up on Williamsburg's history before your trip.
While you don't have to go back to high school history class, just browse through a few articles or documentaries to familiarize yourself with the content. With this information in mind, you'll be able to explore the city and understand the events that took place.
If you're looking to visit Colonial Williamsburg with kids, a quick lesson in our nation's history will improve their overall experience too.
Colonial Williamsburg's online resources make it easy for kids and adults to get a history lesson before, during, and after their visit.
Give Yourself Plenty of Time
Colonial Williamsburg is massive. On top of the sheer size of the city, there is so much to do and see in a single day.
With this in mind, you'll want to make sure your Williamsburg, VA vacation offers enough time to truly explore this historic area.
To see all that the area has to offer, you'll want to split your visit up into two days. This allows you to thoroughly immerse yourself in all of the history and stories of Williamsburg VA things to do without rushing through.
Also, if you're traveling with children, visiting Colonial Williamsburg over the course of two days is ideal.
Colonial Williamsburg Hours
In the spirit of allowing yourself enough time to experience all of Colonial Williamsburg, you should arrive as early as possible.
The majority of Colonial Williamsburg buildings, activities, and landmarks are open from 9:00 am to 5:00 pm. Several evening programs also run late into the night.
Plus, if you arrive right at or before 9:00 am, you can take advantage of excellent parking spots at the Colonial Williamsburg Visitor Center.
A shuttle will transport you from the Colonial Williamsburg Visitor Center to the city.
Wear Comfortable Attire and Footwear
Did you know that Colonial Williamsburg is one mile long and a half-mile wide?
With this in mind, it is in your best interest to wear comfortable walking shoes when walking around Old Town Williamsburg.
Unless attending a formal event at Colonial Williamsburg, leave the high heels and fancy loafers at home.
Don't forget to check the weather forecast, too! Wearing weather-appropriate clothing will help make your visit a pleasant one. It is advised that guests wear layers or bring a light jacket.
Know Your Way Around
It's easy to get lost in Colonial Williamsburg! Before you begin your day of exploration, be sure to grab a map.
Or, you can download the Colonial Williamsburg mobile app for directions and an interactive map. You can also use this app as a resource when planning out your visit the day before.
Colonial Williamsburg Tours
To help get you acquainted with the city, orientation tours run daily from 9:30 am to 1:00 pm.
These tours show you around the historic area and offer advice on activities, demonstrations, food stops, and more. Special family-focused tours are available as well.
If you did not have a chance to plan your day at Colonial Williamsburg in advance, this tour is a great way to help form an itinerary on the spot.
Feel Free to Explore
While planning ahead of time can be advantageous, sometimes the most memorable vacations don't have a set itinerary.
If you are only able to visit Colonial Williamsburg for a short amount of time, feel free to wander around the city!
Even if you do not enter the historic buildings or participate in a tour, you can still discover so much about the area, the history, and the people of Williamsburg just by walking around.
Talk to the Interpreters
During your visit, you'll find expert interpreters scattered throughout the area. These interpreters represent iconic Williamsburg figures such as:
Thomas Jefferson
George Washington
Martha Washington
The Randolph Family
Patrick Henry
Benedict Arnold
Richard Henry Lee
Marquis de Lafayette
James Monroe
You'll also be able to meet and talk with townspeople, businessmen, farmers, and more. Each person has a story to tell!
Don't miss out on the opportunity to have a conversation with an interpreter. You can ask them any question you may have about the time period, their life, or the city.
These interpreters have extensive knowledge of life in Colonial Williamsburg and about the particular individual they represent.
Know Which Buildings are Open to the Public
Did you know that the actors, interpreters, and other Colonial Williamsburg employees can live in the city's restored buildings and homes?
With this in mind, Colonial Williamsburg has a clever way of indicating which buildings are open to the public and which are private residences or offices.
Aside from the door marker clearly stating that a building is a private residence, look for the Grand Union flag flying outside a building.
If you see this flag, you are free to enter the building at your leisure (assuming you have purchased Colonial Williamsburg tickets).
Take Advantage of Kid-Friendly Activities
Convincing a kid that a trip back in time to the 18th-century will be fun may be a challenge for some parents. Fortunately, Colonial Williamsburg is filled with kid-friendly activities, tours, and attractions. While you visit Colonial Williamsburg, your children can:
Rent a Colonial Costume
Tour Great Hopes Plantation
Ride in a Carriage
Embark on the Tavern Ghost Walk
Speak with Interpreters
Play Colonial Games
Your kids will have so much fun, they'll completely forget this is an educational experience! After their first visit, you won't need to convince them to go a second time.
Williamsburg Attractions
After a full day, or two in Colonial Williamsburg you might be ready to switch gears and try a few of Williamsburg's other great attractions. You're in luck! Williamsburg is chalked-full of a variety of activities.
From thrilling rides at Busch Gardens Williamsburg, to a day in the water at Water Country USA, to a ghost tour and guided tour, to visiting nearby Jamestown Settlement there is something for everyone!
Are You Ready to Visit Colonial Williamsburg?
Colonial Williamsburg is a living history museum and a beautiful National Historic Park (Colonial NHP) with miles to explore. With these tips and tricks in hand, you're on your way to a revolutionary time at Colonial Williamsburg. Get your tickets and immerse yourself in our nation's past!
What Did We Miss?
Do you have any Colonial Williamsburg tips to share? Let us know in the comments below!