Colonial history, world-class theme parks, and acres of natural area to explore. Williamsburg, VA is a haven for families seeking experiences the whole family will enjoy.
Follow along to discover the most fun things to do in Williamsburg VA with toddlers!
The Williamsburg, VA area features a multitude of activities and amusements for people of all ages. Enjoy places such as the famous Colonial Williamsburg. Known for its abundance of historical sites. Go wild at Bush Gardens Theme Park or splash out when you visit Water Country USA.
When traveling with toddlers, however, you'll need to adjust your vacation itineraries to include attractions that entertain and engage the youngest members of your family. Finding activities that interest toddlers will make your visit more enjoyable for everyone.
Keep reading as we spill the tea on things to do with toddlers in Williamsburg VA.
Things to Do in Williamsburg VA With Toddlers
The Virginia Living Museum
The Virginia Living Museum is simply one of the best and most unique museums in the area. It's full of animals and plants that your kids may have seen only in storybooks. Toddlers will love looking at all the different animals outdoors. On a nice, sunny day, stroll along the boardwalk for great views of coastal birds, butterflies, playful river otters, foxes, coyotes, a skunk, bald eagles, red wolves, and other animals in natural habitats.
With a children's garden full of different plants, and a nature playground featuring activities for kids to enjoy such as climbing, crawling, rolling, hopping on mushroom shapes and whispering through talking tubes, the museum will keep even the most active toddlers busy.
This delightful indoor-outdoor museum is a treasure trove of fun, hands-on adventures, including a steamy cypress swamp that is home to an alligator, all kinds of songbirds nestled in the trees around a cascading mountain waterfall, plus trout and paddlefish in a cool mountain stream that will captivate toddlers.
Young curious kids will find plenty to explore in the Science and Planetarium areas, including some cool shows and interesting programs.
Get a peek at life beneath the surface of Chesapeake Bay in an underwater gallery. Young kids especially enjoy the Touch Tank where they'll get up close with several aquatic animals native to the area, including a loggerhead turtle.
In addition to touching live horseshoe crabs, seeing frogs that change colors and putting their hands in fossilized dinosaur tracks, kids enjoy hands on activities and educational programs at four discovery centers that foster childhood creativity in addition to exposing kids to nature.
With so much to do, it's easy to see why The Virginia Living Museum is one of the best things to do in Williamsburg VA for toddlers.
Busch Gardens Williamsburg
Roller coasters, funnel cakes, and Sesame Street, oh my! At first thought, Busch Gardens Williamsburg toddlers may not come to mind when hammering out your Williamsburg toddler-friendly itinerary. But you would be missing out on a slice of pint-sized paradise.
Tiny tykes will love taking a spin, sometimes literally, on one of several family-friendly rides at Busch Gardens, such as:
Kinder Karussel - Pick a pony and prepare to be merry as you go 'round this fully restored antique Herschend carousel.
Bert & Ernie's Loch Adventure - Beat the heat when your little minnow splashes through this fun-sized flume adventure.
Grover's Alpine Express - Snow-capped mountains surround your adventurous little one as they soar through the alpine terrain with Grover.
Busch Gardens Williamsburg for toddlers is a family-friendly oasis just waiting to be explored. Spend hours climbing through nets in the Tree hours, clinging to the wings of a ladybug weaving in and out of a whimsical land. Then sail on the kiddie-boat "Chug-a-tug, all in Land of the Dragons.
Has your little one had enough adrenaline for the day? Busch Gardens also houses many different species of animals. Say "Hay" to a Scottish Highland Cow and a Clysdale. Howl "Hellooo" at sleek Gray Wolves and Red Fox. Then, chirp your chipper-est greetings to the birds in the aviary.
However you decide to spend your time, Busch Gardens Williamsburg will have your toddler entertained for hours. Plus, when you purchase your discounted tickets from Tripster, you'll skip the line and get to the fun faster!
Hit the Beach
The little one's new knowledge of different types of fish and other sea creatures will make your beach trip more exciting. For most toddlers, the lure of the shore is irresistible. That's why hitting the beach is one of the ideal things to do in Williamsburg VA for toddlers.
Take the rural Colonial Parkway and head east towards Yorktown. This 23-mile National Scenic Highway is protected from commercial development and the views are awesome. After seven miles, the highway will begin to run alongside the York River.
There are many no-name beaches along the way. Introduce your little ones to the magic of one of the many unspoiled beaches along the way. Your toddler will love making sandcastles and playing in the sun.
My Place Playground
A visit with a young child to a playground will make their day! My Place Playground is no ordinary playground, though. Many of the structures were custom designed to welcome everyone-- including those with disabilities.
Toddlers will simply love the playground. The musical drums are a delight for kids, and fun for parents as well. Young children will enjoy the fantastic climbing, spinning and bouncing structures. Although this playground is almost always crowded, that adds to the energy of the park.
Virginia Aquarium & Marine Science Center 
This center features activities for toddlers to enjoy such as the "Just for Toddlers" program that offers stories and songs for preschoolers and a puppet show on the third Tuesday of the month. The 30-minute programs that take place are just right for toddler attention spans.
Take a sea adventure and see whales, dolphins, and other marine life in their natural habitat. The Virginia Aquarium & Marine Science Center is the perfect place for a young child to learn about marine life and have a fun experience.
The center also features an awesome dinosaur exhibit that allows you to get up close to these incredible creatures. More than just a dinosaur exhibit -- though your kids will certainly be entertained --this exhibit features eight dinosaur species that conquered the earth by land, air, and sea during the Jurassic and the Cretaceous periods.
Scenes of their natural environment surround the dinosaurs, but even more impressive is the realistic animatronic movements and sounds they produce.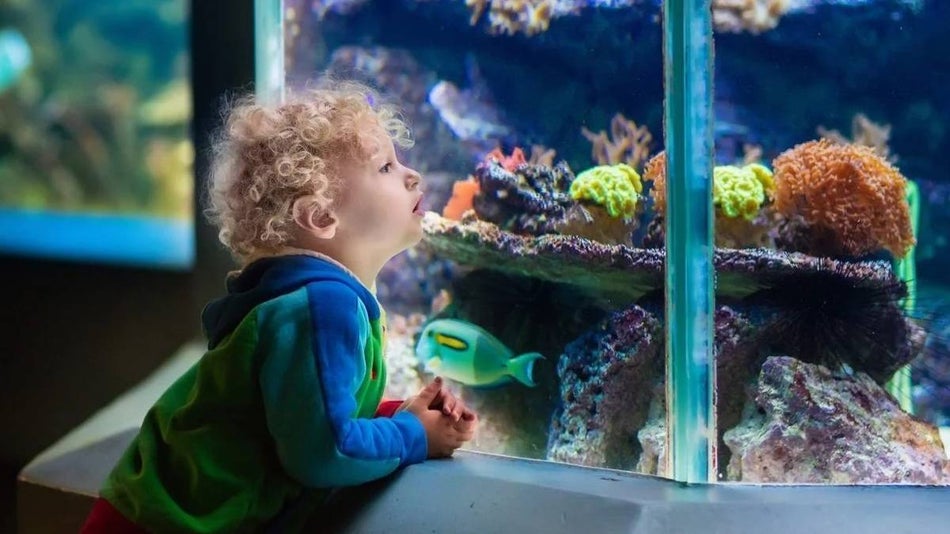 As you can see, it's easy to have fun with toddlers in Williamsburg. The historic town offers not only educational but totally engaging attractions for your little ones.
Complete your Williamsburg itinerary for less with Tripster! From hotels to attractions and waterparks, save time and money when you bundle your Williamsburg tickets and room nights through Tripster!
What is Your Go-To Activity in Williamsburg with Toddlers?
Have any additional things to do with toddlers in Williamsburg VA to share?
Leave us a comment below!