Fiery foliage of white oak, birch, and willow trees, abundant 18th-century charm, and some of the United States' best living history museums. Colonial Williamsburg in the fall is always an excellent idea.
Follow along to find out why fall is the best time to visit to Williamsburg, VA.
From historic Jamestown forts and settlements to adrenaline-pumping theme parks, Williamsburg is hard to beat in the fall. 
Listen up for the sound of pounding fife and drums as you time travel back to our Nation's inception. Break out those hiking boots as you tackle Virginia's lush woodlands, or get your fill of spooky stories with a spirited ghost tour.
Whether you are seeking pumpkin patches, revolutionary war history, or roller coaster thrills, there's no doubt that the best time to visit Williamsburg is in the fall!
Best Time to Visit Williamsburg VA
Wondering when is the best time of year to visit Williamsburg, VA? While summer may bring about sizzling temperatures and lots of splashtastic water park escapes, the Colonial Capital truly shines in autumn. Visitors from all over know that the best time to go to Williamsburg, VA is during the harvest season.
Pristine weather, vivid leaves of vermillion, rust, ochre, and plenty of seasonal treats make the Burg a can't-miss Virginia destination. From world-class golf courses to rousing Yorktown visits, there's no end to the fall activities.
Craving some more antiquated merry-making? Fall is also the best time of year to visit beloved Colonial Williamsburg. Don your bonnet, fire a Flintlock Musket, or participate in a Virginia witch trial. 
Williamsburg VA in the Fall
Another reason people flock to Williamsburg in the fall is the weather! The autumn season ushers in mild temperatures and low humidity. You can expect the weather in Williamsburg, VA, in September* to be supremely comfortable, with an average temperature of around 70 degrees. Williamsburg, VA, September weather can hit highs of 81 degrees during the day, with lows of 61 at night.
For slightly cooler days, Williamsburg in October is ideal. Prepare yourself for daily highs of 71 degrees and lows of 50 at night. Lastly, take advantage of plenty of late fall festivities when you experience the pleasantries of Williamsburg in November. The weather in Williamsburg, VA, in November** is still not too chilly, with highs of 62 degrees and lows of 42. 
*Please note that September weather in Williamsburg, VA, can vary.
**Please note that these are approximations of Williamsburg, VA weather for November and Williamsburg, VA weather in September, and we cannot guarantee exact temperatures or forecasts. 
Williamsburg Hotels
Ready to soak in those crisp fall days for yourself? Take on the heart-pounding drops of the Pantheon, or raise a stein at an authentic Beerfest when you explore the Williamsburg area during this cheery time of year. Whatever your travel budget or tastes, we provide a wide array of options regarding Williamsburg Hotels and Resorts.
Choose from sophisticated lodgings featuring saunas, fitness centers, and spas to cozy inns with complimentary shuttle service. Stay minutes from Busch Gardens, Colonial Williamsburg, and even the international airport. As always, book stress-free knowing you are always guaranteed our lowest rates online.
Fall in Williamsburg, VA
Historic Jamestown Bike Trail
Want to squeeze in your scenery while on two wheels? Grab that bike and prime yourself for some unparalleled fall foliage, island views, and interpretive paintings.
Historic Jamestown's Island Loop Drive is a three or 5-mile one-way loop around the Island featuring marshlands, regenerating forests, and wildlife. Open to pedestrians, bikes, and motor vehicles, this is an ideal way to interact with the same natural environment that the English colonists encountered.
Powhatan Creek Trail
Looking for outdoor activities while traveling with Fido in tow? Inhale that fresh Virginia air and get in those steps when you tackle the sublime Powhatan Creek Trail. Take your time covering this 2-mile paved trail, as you'll want to revel in the sounds of gurgling streams and the scenery of an authentic timber bridge.
This dog-friendly trail also allows cyclists and connects to the Greensprings Interpretive Trail. The historic site is considered the oldest continuously cultivated farm in America's first English settlement.  
College of William and Mary
Embrace the vivid colors of the harvest season when you get your fill of leaf peeping and epic photo ops at the College of William and Mary. This picturesque campus is transformed into a wonderland of red, orange, and golden leaves come fall. Capture the majesty of mother nature and classically designed landmarks, such as the Wren building, as you stroll through campus.
Planning further ahead into the year? Then, check out our guide to a Colonial Christmas at Colonial Williamsburg!
For an even more romantic overture, stop by the Crim Dell Bridge. This wooden bridge simply stuns in autumn and is widely considered one of the College's most amorous areas. Campus legend has it that if two lovers walk across the bridge together and kiss at the crest, they will be together for all time. 
Historic Activities and Seasonal Events
Colonial Williamsburg
Cannons firing, horse-drawn carriages, and blacksmiths, oh my! Step back in time to the era of Revolution and rabble-rousing when you experience Colonial Williamsburg this fall. Walk among costumed colonial townspeople, participate in a witch trial, or explore the buildings where Thomas Jefferson and George Washington birthed our nation's opus.
From historic art museums to traditional tavern food, Colonial Williamsburg serves up one-of-a-kind interactions. Wander through more than 300 acres of lovingly reconstructed homes, shops, gardens, and more. Enjoy antiques, folk art, and stunning fall foliage all day, then stay put after nightfall for some spirited ghost tours.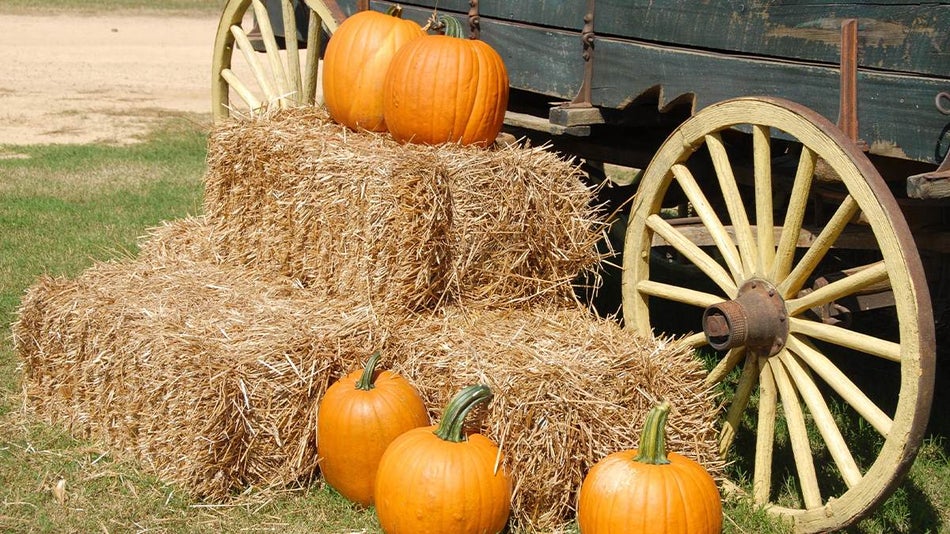 America's Historic Triangle Pass
Calling all history buffs! Make your 8th-grade teacher proud when you conquer Williamsburg's Historic Triangle. America's Historic Triangle Pass is one of the most convenient and cost-effective ways to see some of our Nation's most significant sites. Take your time soaking in the best of Williamsburg, VA.
Your handy pass provides seven consecutive days of unlimited admission to Colonial Williamsburg, Historic Jamestowne, Jamestown Settlement, Yorktown Battlefield, and the American Revolution Museum at Yorktown. Gaze upon colonists' forts, colonial-era ships, and a Powhatan Indian Village from the 1600s.
Play with hoops and sticks like a colonial child, or explore the wealthy archeological discoveries at Jamestowne. Dive into daily life during the Revolution at the battle of Yorktown, or stop for a scenic snapshot at the James River. 
Pumpkin Patch
Need a delicious reminder to level up that fall cheer? Escape the city limits of Williamsburg for a fun-filled farm day at Holly Fork Farm. This seasonal establishment is just a 20-minute drive from Williamsburg and features giant pumpkins, gourds, hayrides, and more.
Operated and owned by the same family for over a century, Holly Fork is a cornucopia of fall festivities. Get close to cuddly farm animals, pose with a scarecrow, or tackle the corn maze. Pick a prize-winning pumpkin, and for a taste of something sweet, don't forget to reserve a fire pit and s'mores kit. 
Yorktoberfest
Lederhosen, kettle corn, and plenty of beer are on Yorktown's menu this October 23rd.  Usher in autumn with plenty of ale when you raise a glass at the annual Yorktoberfest. Located in charming Yorktown, VA, at the Riverwalk Landing, this event promises unlimited beer tastings.
Scoop up your tickets fast, as you'll want to bring the whole family to this celebration of beer, cider, and german culture. Get down to live music, pursue dozens of local vendors, and more.  
Spooky Williamsburg Tours
Ghosts, Witches & Pirates Tour
Poltergeists, witches, and pirates take center stage as you dare to dive into the darker side of Williamsburg. Discover the most haunted corners of the Burg when you complete the Ghosts, Witches, and Pirates Tour. Then, under the cover of night, your loquacious guide will regale you with stories, legends, and lore from the 1600s and beyond.
Learn about the brutal witch trials, hear the stories of Blackbeard's crew, and search for Ida Jones. This almost 2-hour walking tour will cover half a mile of ground and lead you from eerie jails to Jones Graveyard. As you walk down Williamsburg's hallowed streets, Marvel at conspiracy theories, ghostly tales, and historical trivia. 
The Colonial Conspiracy Tour
Secret societies, harrowing history, and cemetery visits come together to create the riveting Colonial Conspiracy Tour. This guided 1.75-hour walking tour contains an intriguing mix of history, trivia, and tall tales. Lovers of the occult will be on edge as they learn the ins and outs of Williamsburg's secret societies and spooky rituals.
Follow your costumed guide as they introduce you to the secret history of the Colonial Capital. Find out what Thomas Jefferson has in common with the Illuminati, who were the Rockefellers of Williamsburg, and more.
Williamsburg Theme Parks
Busch Gardens Williamsburg
World-class roller coasters, idyllic European villages, and up-close animal encounters make Busch Gardens Williamsburg a must-visit. Adrenaline junkies of all ages will be in heaven as they scream on Apollo's Chariot or feel the full throttle of the brand new Pantheon.
Tiny tots will have a blast catching up with Big Bird, Elmo, and the whole gang at Sesame Street's Forest of Fun. While, worldly gourmands will relish getting their foodie passports stamped by Germany, Ireland, and France. Say hello to giant Clydesdales at the Highland Stables, or seek out Bald Eagles at the Birds of Prey.
Wondering about Busch Gardens water parks? Unfortunately, if you want to explore the slides and rides of Water Country USA, you'll need to visit before September 11th. 
However, for a sneaky scary surprise, you can always visit during Howl O' Scream. Virginia's premier Halloween event returns on September 9th and promises even more ghoulish thrills, nightmares, and horrific games. Let your fear run wild as you immerse your selves in five haunted houses, five terror-tories™, four sinister shows, two-party zones, and plenty of unsuspecting scares. Fuel up for more nighttime antics at six onside BOOse bars, and enjoy yummy themed treats. 
SeaQuest 
Need a break from all of the tri-corner hats, muskets, and turkey legs? SeaQuest in Lynchburg, VA, delivers a dazzling underwater escape. Delight in a sparkling array of aquatic animals, tropical species, mystic mermaids, and more. Travel all around the globe as you visit the rainforests of Africa, the aquamarine waters of the Caribbean, and the Mayan Jungles.
Observe over 300 species spread over 20,000 square feet of adventure. Snorkel with stingrays, interact with otters, or take a social media-worthy selfie with Marian the Mermaid. From adorable sloths to porcupine puffers, SeaQuest cultivates an unforgettable underwater experience. 
Lush masterpieces of Red Cedar, Juniper, and Oak leaves, historic college campuses, and a plethora of Revolutionary war heritage. Williamsburg, Virginia, was once the very lifeblood of our nation, and it's not hard to see why.
Resplendent foliage, authentic Oktoberfests, and spooky festivals make fall one of the best times to visit the Colonial Capital.
Marvel at the marshlands in Jamestown, or discover the significance of the Battle of Yorktown. Feel a tingle down your spine as you witness the lore of Blackbeard's skull or dive into the depths of the Illuminati.
From ghost stories to rides on the Griffon, there's no more opportune time to witness the enchantment of Williamsburg than autumn, 
Tell us, What Are Your Favorite Fall Things to Do in Williamsburg?
When would you say is the best time to visit Williamsburg? 
Leave us a comment below!