The addition of Disney Magic Bands has made vacationing at the most magical place on earth even better. However, you probably have a lot of questions about how it works and the benefits Magic Bands offer. Find out what exactly a Disney Magic Band is, how to get one, how to set it up, and how to use it at Disney World. Our step by step video shows you everything you need to know about Disney Magic Bands.
Learn more about MyMagic+ & FastPass+ with Bianca, one of our travel experts: 
Pretty easy, right? For even more information regarding Disney Magic Bands and their benefits, put these tried and true FastPass+ tips to use. They'll help you make the most of your time at Disney World Theme Parks, all while letting you plan a personalized vacation for your family.
For Disney World ticket deals that include MyMagic+, visit Reserve Orlando.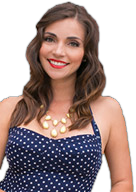 Bianca is a travel professional, and prides herself on her knowledge of vacation destinations big and small. With 8 years in the tourism industry, she brings you updates on how to make the most out of your time, money and energy in her favorite cities throughout America.