When visiting San Francisco, the best way to see the Coastal Redwoods is by booking one of the many tours to Muir Woods.
Stepping into the presence of Coastal Redwood trees for the first time is an awe-inspiring encounter. You can't help but be mesmerized by their majestic beauty and sheer size. To truly grasp how incredible the view is, you have to witness it with your own eyes.
So, don't miss the chance to see and discover the wonders of the forest and its lush landscape by joining the Muir Woods tours. Before visiting San Francisco, secure your spot on a trip that best fits your travel plans, allowing you a seamless and enriching experience.
Follow along as we delve into the enchanting realm of Muir Woods and reveal the most budget-friendly ways to make the most of your chosen tour.
Muir Woods Tours Discount Tickets
Don't leave your Muir Woods adventure to chance - score your tickets in advance with Tripster! By booking online, you can easily compare prices, find the biggest deals, and secure your access at a discounted rate.
Purchase any of these tours and enjoy exclusive discounts with Tripster:
Muir Woods Tour of California Coastal Redwoods
Did you know that the Redwood trees are more than 1,000 years old? You'll learn this and more on the Muir Woods Tour of California Coastal Redwoods. Just like the Muir Woods National Monument Tours, this experience operates three times daily, meaning you'll have plenty of time to see the towering trees and still explore San Francisco during the day.
For 1.5 hours, you'll explore the Muir Woods National Monument (entrance fee included) where you'll marvel at the trees, come across the wildlife of Northern California, and make lifelong memories.
Related Post: San Francisco Tour - Guide to Discounts & Reviews
On your way back to San Francisco, your tour bus will drive through the beautiful little seaside town of Sausalito. If you'd like, hop-off the bus and spend the rest of your day discovering the magic of this tiny city. Should you choose to explore San Francisco Sausalito, you can ride the ferry to return to San Francisco.
Of all the tours to Muir Woods, this particular tour is ideal for two types of travelers: those who are on a tight sightseeing schedule and those who want to relax and take in the beauty of the Redwood's tallest trees.
Muir Woods & Golden Gate Bay Cruise Sail
Looking for the one of best way to see Muir Woods? Join this one-of-a-kind journey that combines the natural beauty of Muir Woods with the excitement of the Golden Gate Bay Cruise. Step into the ancient coastal forest, where you'll be entranced by the soaring trees that have stood the test of time. Take a moment to enjoy the serene atmosphere as you wander along the tranquil trails.
This tour treats you to a one-hour scenic sail across the iconic waters of the Bay. However, the time getting to Muir Woods from San Francisco may also change due to many factors.
Related Post: Hop On Hop Off Bus San Francisco Discount - Your In-Depth Guide
Cruise under the world-famous Golden Gate Bridge, and admire the fantastic panoramic views of the city's skyline, Alcatraz Island, and more.
Let the sights, sounds, and scents of San Francisco captivate your senses and create a truly rejuvenating trip by booking this deal. The entrace fees to the forest is included with your package.
Super Saver by Day Tour - City Tour & Redwoods Visit
There's so much to see in San Francisco and often, visitors have so little time. The Super Saver by Day Tour - City Tour & Redwoods Visit offers the opportunity to see everything San Francisco Bay has to offer in one day. While the other tours focus on the park and wineries near Muir Woods, this unique sightseeing tour is perfect for those who want to see it all!
Your tour begins with the city of San Francisco, where you'll discover iconic sites such as:
Chinatown
North Beach
Palace of Fine Arts
Union Square
Nob Hill
Pacific Ocean
Presidio National Park
Once out of the city, you'll drive over the Golden Gate Bridge and head to Muir Woods National Monument. Guests then spend up to 1.5 hours exploring the park's trails, wildlife, and notorious Redwood trees. Remember to bring your camera to relive the magic of the Giant Redwoods once you're back home!
To conclude your tour, you'll venture to the little town of Sausalito where you have the choice to continue on a sightseeing experience or explore the town. Those who choose to wander around Sausalito can join the Muir Woods and Sausalito tour or will have to catch a ferry back to San Francisco later in the day.
With so much to see and experience, it should come as no surprise that this tour is approximately 7 to 9 hours long depending on traffic and the size of the group. Get ready to spend your whole day on one of the most fun-filled tours to Muir Woods National Park!
Other tours to Muir Woods National Forest skip over the greater San Francisco area. If you want to experience everything in a short amount of time, this is the one for you.
Muir Woods Tours Coupons and Discounts
Military Discount
Unfortunately, there is no active Muir Woods tours military discount at this moment. Score discounts with Tripster instead.
Muir Woods Tours AAA Discount
While there is no available AAA discount, that doesn't mean you can't enjoy exclusive discounts. Lock in your tickets at a lower price by booking from Tripster.
Muir Woods Tours Senior Discount
Age is just a number when it comes to adventure - share the magic of Muir Woods with your grandma and grandpa. However, please know the Muir Woods Tour from San Francisco doesn't offer a senior discount at this time.
Muir Woods San Francisco Resident Discount  
We regret to inform you that there is no active resident discount offered by the tours.
Muir Woods San Francisco Tours Group Travel Deals
Round up the squad for an epic trip to Muir Woods. While group travel discounts are unavailable, you can save some extra dollars when you book from Tripster.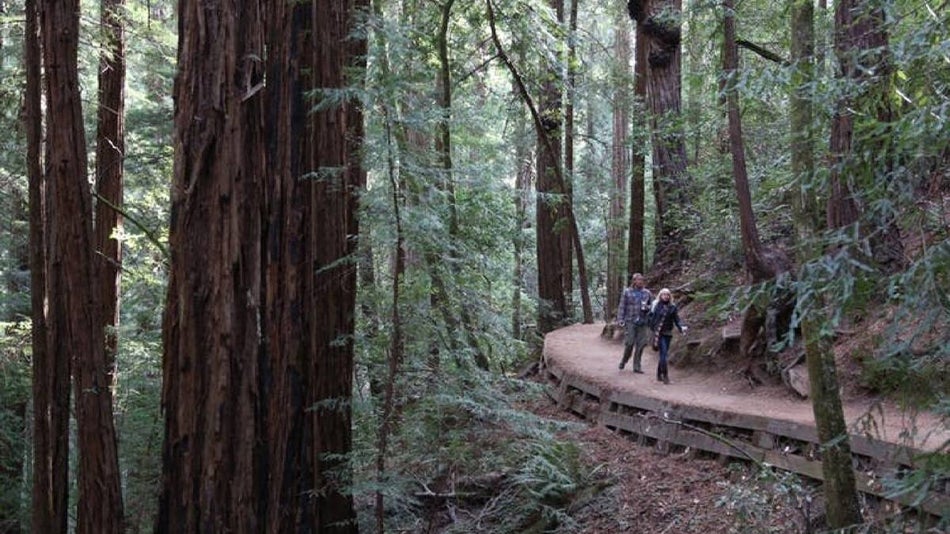 Hotels Near Muir Woods Tours
Indulge in a peaceful getaway at hotels minutes away from Muir Woods, allowing you to recharge and rejuvenate while still being within reach of the nearby attractions.
Book from any of these best hotels near Muir Woods from Tripster:
Muir Woods Tours Vacation Package
Make your trip to San Francisco even more memorable and affordable by booking the Muir Woods Tour + Alcatraz Cruises Combo Tickets.
Start your adventure by having a peaceful stroll at Muir Woods, where you'll get to connect with nature and witness majestic faunas and floras that have stood for centuries.
Related Post: 5 Best Horseback Riding Trails in San Francisco
Then, make your way to Alcatraz Island and delve into its intriguing history. Explore the cellblocks, widen your knowledge about the prison's dark past, and hear extreme stories of notorious inmates.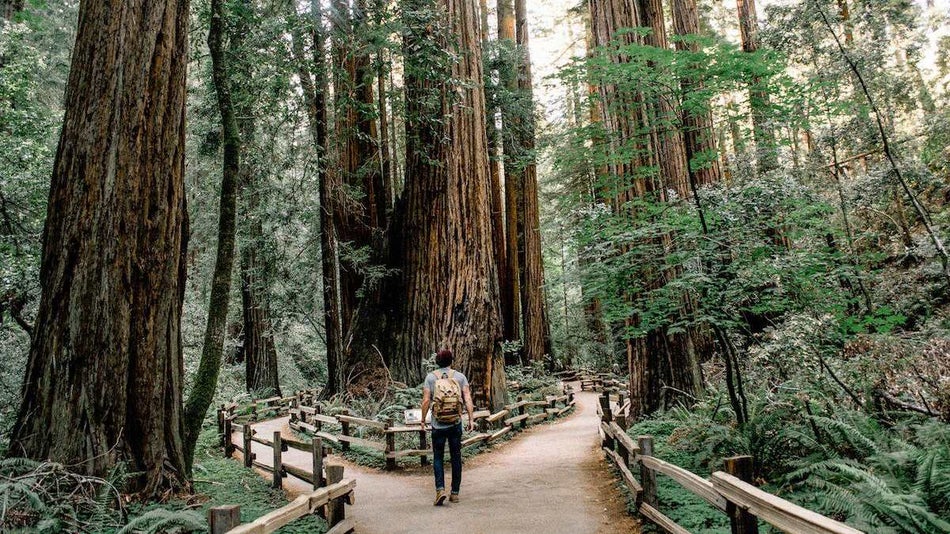 San Francisco Attractions
Aquarium of the Bay
After a visit Muir Woods Shuttles and Tours experience, explore the depths of the ocean during your San Francisco getaway by visiting the Aquarium of the Bay. Get up close and personal with the extraordinary marine life that inhabits the waters of the Bay Area, drop by the interactive exhibits that promote ocean conservation, and more.
There are over 20,000 aquatic animal creatures to see and discover, so take time for an underwater adventure while in the city.
San Francisco Skyline Sightseeing Hop On Hop Off
Hop aboard the Skyline Sightseeing Hop-On Hop-Off tour and get an elevated perspective of San Fran's busy streets. As you ride through the city, bask in the breathtaking skyline, journey through its neighborhoods, and experience its culture and charm.
Whether it's the iconic Golden Gate Bridge or the scenic waters of the Bay, every destination on this tour promises to give you the best experience. So, sit back, relax, and feel the vibrant energy of San Francisco.
Escape From the Rock Cruise
Feel the excitement building as you set sail towards the infamous Alcatraz Island. This tour gives you a glimpse of the time of high-security prisons and criminals.
As you explore the area, hear tales of the prison's notorious inmates and the secrets that surround this iconic landmark.
Insider Tips
What to Bring
Muir Woods of California Coastal Redwood
Food and drink (not provided during the tour)
Sunscreen
Sun Hat
Sunglasses
Comfortable Shoes
Extra Clothes
IDs
Super Saver by Day Tour – City Tour & RedWoods Visit
Extra cash (for shopping in Sausalito)
Food and beverages (not included in the tour)
Cameras
Sunglasses
IDs
Raincoat
Extra clothes
Sun hat
What Should I Wear
Come in comfortable or hiking clothing. Sturdy shoes are recommended for exploration within the area.
Hong Long is the Tour?
It lasts approximately 3.5 hours depending on the weather and other similar factors.
Muir Woods Tours Parking
Public parking is available at the following locations.
NorthPoint Shopping Centre
350 Beach Street Garage
Pier 39 Garade
The parking spots are easily filled, so come early.
Muir Woods Tours Reviews
Still thinking if you should join the ranks of satisfied adventurers who have marveled at the towering redwoods and the peaceful atmosphere at Muir Woods? Read reviews and let their stories inspire you. By doing so, you'll also widen your knowledge and learn the answer to simple questions like "How Far is Muir Woods from Napa", "Is there a winery near Muir Woods", or "How long is the travel time from San Francisco to Muir woods".
Related Post: San Francisco Bucket List: 13 Things to Do in the City by the Bay
From the abundance of trails that wind through the enchanting forest to the awe-inspiring presence of the massive Coastal Redwood trees, Muir Woods offers travelers an incredible experience. With our incredible deals, you can now experience the serenity of the forest and be one with nature for a steal!
Which Tours to Muir Woods are Right for You?
Leave a comment below!