Old Town, San Diego is a fun area to walk around in, shop, and soak up some history, but it's impossible to ignore the fresh made tortillas and margaritas at the restaurants scattered throughout the neighborhood. The food here is amazing, and even though most of the restaurants are Mexican, you can find some great alternatives in case you've had your fair share of burritos on your visit to Southern California. Here is a list of my favorite five restaurants in Old Town, San Diego. Please keep in mind these are not listed in any particular order.[soliloquy id="738"]
El Agave – This restaurant is at the very south edge of Old Town, and offers guests a fine-dining Mexican experience. The dishes are traditionally prepared, and they offer unique flavors such as tamarind, cacao, and mole. Tequila plays a huge role here, too. With their very own tequila museum and tequila brand, it's no wonder why their margaritas are amongst the best in the county!
Café Coyote – It's hard to miss this restaurant when walking down San Diego Ave. If you're not tempted to eat here by the sight of women flipping fresh tortillas on the grill, then perhaps the fun ambiance of the Mexican band and fish bowl-sized margaritas will entice you to stop in. Café Coyote is known for its carnitas, but their menu is packed with Mexican favorites, all of which are prepared to perfection. The large venue is perfect for large party dining without making a reservation.
The Alamo – This restaurant has recently moved from its taco shop kitchen into a larger space equipped with flat screen TVs, plenty of seating space, and a fire pit. They did, however, manager to keep the taco shop prices making all meals available for under $10! Their cheese sauce as a starter will change your life, and the wet burritos are huge and sinfully delicious. They also serve great Mexican breakfast dishes for the perfect Sunday Football Brunch experience.
Harney Sushi – I remember coming to this restaurant when I was a teenager and feeling super cool on Thursday nights where Tribe of Kings would play nice roots reggae jams. This is an "old school" local favorite when it comes to sushi. Their rolls are outrageous, and the fish is both fresh and sustainable. They've got a great selection of traditional rolls and designer rolls to choose from, and the sashimi melts in your mouth. On Wed-Sat, you'll dine to fresh beats played by a local DJ for a fun and tasty experience.
The Cosmopolitan Hotel and Restaurant – Architecturally, this place is my absolute favorite in Old Town. The historic, Greek Revival style hotel has been recently restored and reopened to accommodate hotel guests and hungry patrons. The courtyard is quaint, and the food is all-American with slight tweaks to the traditional favorites like the Fried Chicken and Churro dish with jalapeno infused maple syrup, and espresso-braised short ribs. Their cocktails are all made the old-fashioned way with fresh juices and infused liquors. A true delight!
All of these San Diego restaurants not only have great food, but they are also all locally owned, which makes a difference with the customer service. You will feel a sense of belonging at each one, so be sure to speak to your server about the specials and best options for you. They would be delighted to chat with you about their unique dishes so that you're getting an experience different than any other you've ever had at a restaurant. Enjoy, and provecho!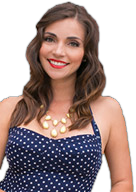 Bianca is a San Diego native, and prides herself on her knowledge of her city. As a professional tour guide, she offers food and drink tasting tours through her company: So Diego Tours. With 8 years in the tourism industry, she brings you updates on how to make the most out of your time, money and energy in her city.