September 16, 2022 @ 8:00 am

-

October 31, 2022 @ 10:00 pm

PDT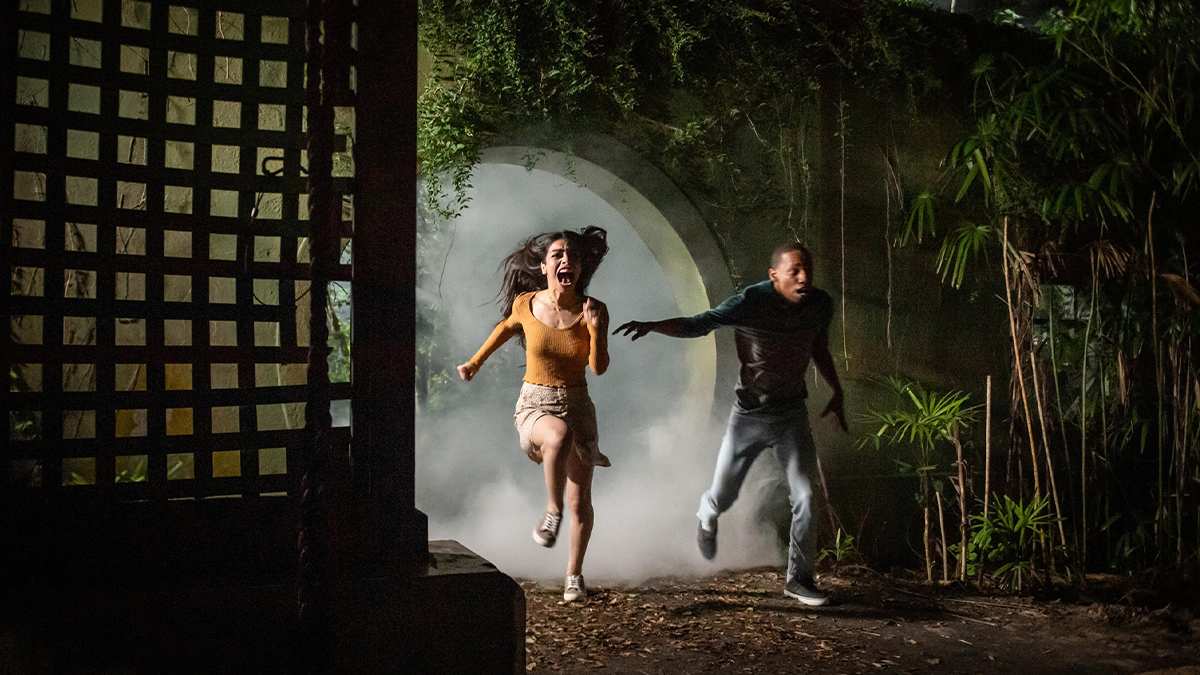 Dying to be frightened to your wits end without the horror of overspending this Halloween? Revel in the bone-chilling attractions and devilish frights at Howl O Scream SeaWorld San Diego!
A horrible fever sweeps your beloved aquatic theme park this spooky season, so brace yourself for hair-raising terror and creepy shrieks. Make your way through horrifying haunted houses, face spirits and ghouls when you enter scare zones, and see your biggest nightmare coming to life as you watch terrifying shows.
Up for the sinister challenge? Then, follow along to uncover the other hearts racing scares at SeaWorld Howl O Scream San Diego.
SeaWorld San Diego Howl O' Scream Discount Tickets
This event is not included with your SeaWorld San Diego park admission. Fortunately, Tripster offers SeaWorld Howl O Scream San Diego discount tickets, so you don't need to worry about your budget.
SeaWorld - Howl O Scream Single Night to "Any Night" Ticket -

 

SAVE up to $24.99

per person

SeaWorld - Howl O Scream Single Night Ticket (Excludes Saturday) –

 

SAVE up to $34.99

per person.
SeaWorld San Diego Discount Tickets
Embrace all that fun SeaWorld park has to offer by bundling your SeaWorld Howl O Scream San Diego coupon with these choices:
Howl O Scream Attractions
Haunted Houses
New! Circus of the Damned
The Circus of the Damned is now open, but the ringmaster is still looking for new performers to add to his crew. Be sure to steer clear of him and his followers if you don't want to be trapped in the circus forever.    
New! Area 64: Alien Outbreak
You've now reached Area 64: Alien Outbreak. Before alien haunting, make sure to escape mad scientists and dodge dangerous security.   
Nightmare Experiment
This is no ordinary laboratory. You've just walked into a terrifying facility of creepy studies and deadly trials. Flee from The Doctor before you find yourself as the subject of the experiment.   
Death Water Bayou
Something is moving in the water. Perhaps it's nothing…or the Swamp Witch waiting for her next victim.
Simon's Slaughterhouse
Dare to take a trip to an abandoned slaughterhouse, where you'll meet Simon himself who's excited about your arrival. Just don't expect a friendly greeting from the infamous butcher.
scAREAs
New! Carnival of Chaos
You might think you're safe from all the frights until you step into the Carnival of Chaos. Be careful of the sideshow clowns and eerie performers who'd do anything to steal the spotlight.   
New! Vampire Underground
Find out if humans and vampires can co-exist in the Vampire Underground. Sip a refreshing drink at the Blood Moon Bar and discover if the place is really peaceful as it seems.
Scare Zones
New! Clown Gauntlet
A new circus operated by eerie clowns is looking for its new entertainers. Beware and do your best to get out before the cruel clowns find you.
New! Sea of Souls
Creatures of the sea have resurfaced to meet you. Stay alert and look for safety, before they drag you down underwater.
Deadly Toys
You're here to relive your childhood and play with toys…but you'll hope that you hadn't.
Graveyard
Feeling extra brave? Then, don't forget to drop by the graveyard and meet some of the cemetery's long-term residents and guests.
La Llorona
When you pass through the watery grave, try to ignore La Llorona, the ruthless beauty who drowned her own children and herself.
The Hauntings
Ghouls and spirits have gathered in the woods. Stay vigilant as you stroll through the depth of this mysterious forest.
Darkness Falls
Keep your eyes peeled on the hauntingly good performers and musicians at this theatrical spectacle. You'll be captivated by their music and choreography all throughout the live show.  
Rides in the Dark
No visit to SeaWorld San Diego Howl-O-Scream would be complete without thrilling rides. Summon your courage and try these suspenseful daredevil attractions, including the Emperor, Electric Eel, and Journey to Atlantis in the DARK.
Sinister Cocktail Bars
New! Big Top Drinks
Need a little liquid courage before braving all the scares? Head to this newest bar and sip all the drinks you need.
New! Toys N' Tonic
Soothe those frayed nerves and refuel with quick snacks at Toys N' Tonic.
New! Blood Moon Bar
Blood Moon Bar might be the vampires' hangout place, but it's also open to everyone. Try not to get caught in the middle when the vampires and humans collide.
AmBARlance
Take a break from all the 'make you jump' scares and just take in the fang-tastic ambiance of this bar.
Simon's Screamatorium
Simon says there's no better place to drink and rest than this spot.
SeaWorld San Diego Howl O Scream Date and Time
SeaWorld Howl O Scream 2022 San Diego haunts select nights from September 16, 2022, through October 31, 2022.
Attraction Hours
September 16, 2022, through October 9, 2022
Fridays and Saturdays: 7:00 PM to 11:00 PM
Sundays: 7:00 PM to 10:00 PM
October 13, 2022, through October 30, 2022
Fridays and Saturdays: 7:00 PM to 11:00 PM
Thursdays and Sundays: 7:00 PM to 10:00 PM
October 31, 2022
Monday: 7:00 PM to 10:00 PM
SeaWorld San Diego Howl O Scream Evil Upgrades
For added savings, you can also get these Howl O Scream SeaWorld San Diego coupon upgrades:
For more information regarding these upgrades, please reach out to SeaWorld through email call or chat. In terms of cancellation, please note that the tickets are not redeemable for cash.
Event Details
This sinister event is held at 2022 Seaworld San Diego 500 Seaworld Drive San Diego CA 92109. Depending on the weather and other health conditions, some details are subject to change. You'll receive prior notice about any updates.
SeaWorld San Diego Vacation Package
Just can't have enough of the sunny San Diego? Then, bundle your Howl O Scream SeaWorld San Diego discount tickets with these other great attractions and hotels:
Other Spooky Celebrations in SeaWorld
Howl O' Scream is an all-adult event. Coming with your little tots? Don't worry as the park offers family-friendly attractions by day, including the SeaWorld Spooktacular. Youngsters can indulge in wholesome fun activities like trick-or-treating or paying a visit to the ™ 2022 Sesame Workshop.  
Experience SeaWorld Howl O' Scream
Step into a forbidding world of terror and hope you get back to the world of the living at Howl O Scream. From themed haunted houses to frightful scare zones, this SeaWorld parks entertainment Halloween special will keep you up for so many nights.
Gather your terror crew and get your fill of lingering spirits and bloodthirsty monsters in your favorite theme park. Get your tickets now and enjoy all the spine-tingling jumps.
Related Events