To score the casual/beachy/chic look that many San Diegans pull off year-round, it's important to know where we shop for the best fashion finds. From malls, to outlet centers, and shopping neighborhoods, San Diego shopping has got a wide variety for visitors of all types. You can forget the beach for now, because you're going to have your work cut out for you once you get to know these popular San Diego shopping locations![soliloquy id="756"]
Fashion Valley Mall
What budget? Ha! Fashion Valley is considered the best mall in San Diego with high-end boutiques and department stores that will have any woman or man wanting so badly to not have a budget of any sort. You can spend the entire day here, take a sushi break for lunch, and keep going until 9pm. You've got the big stores such as Neiman Marcus and Bloomingdales, the smaller stores such as Zara and All Saints, and the luxury brands like Louis Vuitton and Gucci all in one location!
Horton Plaza
If you're staying in the Downtown area, this is a fun mall to check out not only because shopping is inevitable, but also because of the loud and colorful design of this mall.  Horton Plaza was designed to keep shoppers in the mall by including many levels and steps, which may take you a while to figure out how to get back to your car in the parking lot, so make sure to remember which fruit/vegetable you parked in. You can find some great deals on fashion women's clothing at some of the boutiques as well as some core pieces to add to your wardrobe.
University Town Center (UTC)
This newly renovated mall has beautiful outdoor places to relax and hang out in between shopping sessions at your favorite retailers. They have unlikely stores such as pre-teen clothing at Justice, as well as your staple favorites like Nordstrom and Guess. University Town Center is great for shopping with your kids because once they've had enough shopping, they can be entertained at the ice skating rink connected to the mall.
Carlsbad Premium Outlets
In North County, you can spend quite a bit of time browsing through the outlet stores at Carlsbad Premium Outlets. Get 30%-60% off retail prices at stores such as BCBG, Coach, Bose, and Barney's New York. You can shop for the entire family after visiting Legoland or the beach, since both are only about a mile away from the mall.
Las Americas Premium Outlet Mall
You can take the trolley to the Las Americas Premium Outlet Mall, which is situated just on the other side of the international border. With about 125 outlet stores, you'll save money and get a wardrobe revamp in just one visit! I've had groups visit this mall and come back with new suitcases to carry all of their new purchases!
Now that you're equipped to take on the shopping world of San Diego, make sure to pack light because you're going to need all of the extra space for your fun fashion finds!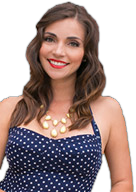 Bianca is a San Diego native, and prides herself on her knowledge of her city. As a professional tour guide, she offers food and drink tasting tours through her company: So Diego Tours. With 8 years in the tourism industry, she brings you updates on how to make the most out of your time, money and energy in her city.