When you picture your Williamsburg vacation, chances are it involves sunshine and not a cloud in the sky. I hate to be a bummer, but it is almost impossible to guarantee picture-perfect weather during your trip. That said, there are several things to do in Williamsburg VA when it rains.
No need to cancel your trip or pout when the rain starts falling. Instead, add these 9 rainy day activities and attractions to your Williamsburg vacation itinerary.
1. American Revolution Museum at Yorktown
Even the rainiest of days in Williamsburg, VA are filled with history. At the American Revolution Museum at Yorktown, you'll learn all about our nation's history and foundation, from the colonial days to the signing of the Constitution.
The museum's indoor galleries include interactive exhibits, videos, perfectly preserved artifacts, and immersive environments. If the rain isn't too bad, check out the outdoor living exhibits during your visit, too.
2. Ripley's Believe It or Not! Museum and 4D Theater
Among the things to do in Williamsburg VA when it rains is Ripley's Believe It or Not! Museum and 4D Theater. At this indoor attraction, you'll discover intriguing oddities such as a shrunken head and a two-headed cow—and that's only the beginning.
Plus, the museum also boasts an exciting 4D Theater. Put on your 3D glasses and watch an exhilarating movie complete with a wealth of sensory experiences. You'll feel like you've been transported right into the film!
3. Busch Gardens Williamsburg
Visiting Busch Gardens in the rain is one of Williamsburg's best-kept secrets. Unless it is downpouring or storming outside, you shouldn't cancel your trip to the theme park. A little rain won't get in the way of the fun with your Busch Gardens Williamsburg tickets! In fact, the park has several indoor attractions including Battle for Eire and Curse of DarKastle.
Busch Gardens Williamsburg is also home to multiple world-class shows. The park boasts award-winning shows such as All for One, Celtic Fyre, and Britmania along with shows just for kids including Elmo Rocks! and Sunny Days Celebration.
4. Virginia Living Museum
From an aquarium to a planetarium, the Virginia Living Museum has it all! This indoor and outdoor museum has a wide variety of captivating exhibits and galleries focusing on Virginia's native plants, animals, and more. Exhibits include:
Coastal Plain
Piedmont and Mountains
Cypress Swamp
Mountain Cove
Virginia Underground
After Dark
Abbitt Planetarium
The museum is home to 250 species of animals and 450 species of plants found in and native to the state of Virginia. Children and adults alike will love getting to see and interact with these animals up close. Be sure to check the feeding and tour schedule to add more fun to your rainy day visit!
5. Movie Tavern
What's better than watching a movie on a rainy day? Watching a movie on a rainy day in luxury.
One of the most intriguing things to do in Williamsburg VA when it rains is seeing a movie at the Movie Tavern. Movie Tavern is a film and dining experience featuring chef-inspired menus, a vast array of beverages, and ultra-comfy seating. You'll feel like royalty as you kick back and enjoy the show!
The movie theater welcomes all ages before 5:30 pm. After this time, guests under the age of 16 must be accompanied by an adult 21 or older.
6. Colonial Williamsburg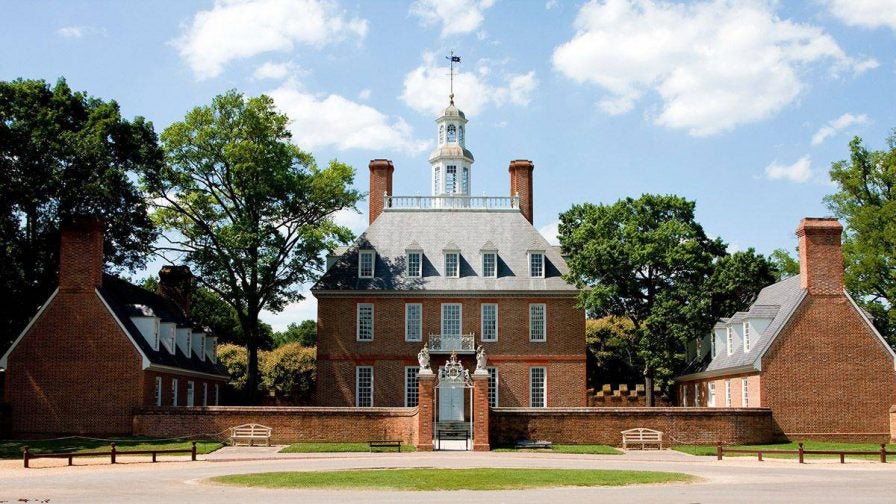 While Colonial Williamsburg transports visitors back to colonial times through interactive outdoor displays, live interpreters, and engaging activities, they also have a wealth of indoor museums to explore. The following Colonial Williamsburg buildings and museums are all great for a rainy day:
The Williamsburg home of John D. Rockefeller, Jr.
Basset Hall
DeWitt Wallace Decorative Arts Museum
The Abby Aldrich Rockefeller Folk Art Museum
Assuming it is not a torrential downpour or thunderstorm, many of the outdoor exhibits and areas will also be open during a rainy day. Grab an umbrella, rain jacket, and maybe some rain boots, and splash around in the puddles at Colonial Williamsburg!
7. Shop Until You Drop
Are you the type of traveler who loves buying souvenirs? If so, a rainy day is the best time to go on the hunt for a gift (or two.) Head to Williamsburg Premium Outlets or Merchants Square to find the stores that spark your fancy.
Located in Colonial Williamsburg, Merchants Square also offers premier dining and entertainment. You're guaranteed to find the perfect souvenir or gift when browsing these adorable shops.
8. Colonial Escape Room
Just because it's a rainy day doesn't mean you have to lock yourself in a room all day. Well, actually… you could… at Colonial Escape Room, that is!
Escape rooms are the newest entertainment trend sweeping the nation and Williamsburg is no exception. Who knew locking yourself in a room was one of the most thrilling things to do in Williamsburg VA when it rains? Bring your friends and family to this interactive attraction and solve puzzles, find clues, and work together to escape from the themed rooms.
But, there's a catch. You only have one hour to get out! Think you're up to the challenge?
9. Virginia Aquarium and Marine Science Center
Another great rainy day attraction is located a quick 1-hour drive away in Virginia Beach. The Virginia Aquarium and Marine Science Center has so much to do in one place. Guests can check out over 300 different species of marine life, see a show at the Virginia Aquarium Giant Screen Theater, and even take a boat trip out on the ocean.
While many of the activities are included with aquarium admission, others require a separate ticket and fee.
What Will You Do on a Rainy Day in Williamsburg?
With so many things to do in Williamsburg VA when it rains, the fun never ends. What do you like to do when it rains during your vacation? Let us know in the comments section below!