Disclaimer: As an Amazon associate we earn from qualifying purchases.

The time has finally arrived—you're going to Disney World!
You've scrimped. You've saved. You've planned. And, probably planned some more! Your resort reservations are made, FastPass+ times secured, and dining plans booked. As a result, you're thinking "I've got this—I'm totally ready to go to Disney World." Not so fast! While you're making your lists and checking them twice be sure to use our list of things to buy before you visit Disney World to maximize your savings and minimize expenses. Trust me, a little preparation can go a long way in ensuring your pocketbook isn't empty when you return home.
18 Things to Buy Before You Visit Disney World: The Essential List
1) Hand Sanitizer
Disney World Theme Parks might pride themselves on being a super clean park (and it is). Nevertheless, germs are still everywhere. And, if your kids are anything like mine they'll pick up those germs as an unwanted souvenir. Instead, purchase hand sanitizer before you go so you can easily wipe those hands when they start touching everything. It's also a wise move to bring a disposable pack of Lysol wipes. With these in tow, you can wipe down strollers and dining tables to ensure cleanliness.
2) Ponchos
Picture this: you're having a magical time at Disney World. Then, it starts to rain. (In Orlando, pop-up showers happen all the time.) In order to avoid your family becoming a soggy mess, you shill out $10 a pop for ponchos that'll most likely end up in the trash before you get home. Don't do this! Instead, invest in a few cheap ponchos before you go. Stow them in your backpack (you should definitely bring a bag to the park) and you'll avoid an expensive mistake. This is one of the things to buy before you visit Disney World that's a huge money-saver.
3) Mouse Ears
You might not think you want Mouse Ears when you visit Disney World. However, once you get to the park and the magic takes over you'll be jealous of everyone rocking their Ears. As such, your kids (and you!) will probably break down and spend the money to join the magic masses of Mouse Ear wearers. But, if you purchase your Mouse Ears in advance you'll not only save money but can start wearing those ears as soon as you enter the park.
4) Disney Costumes and Clothes
The same sentiment about Mouse Ears holds true when it comes to Disney costumes and clothes. Once you enter the park, it seems like everyone is in Disney gear. And, all of the shops selling outfits will beckon to your children. Without a doubt, they will see something they must have. However, you can avoid shilling out premium dollars for in-park t-shirts and princess dresses with a little bit of planning and pre-purchasing. Some of the best things to buy before you visit Disney World are family t-shirts and costumes for your little ones. Typically, they're about half the price so you'll save a ton of money by doing so.
5) Autograph Books
Any visit to Disney World isn't complete until you've experienced a character meet and greet. For kids, this is a magical moment made even better when they get their favorite characters autograph. As such, buy an autograph book before you go. That way, your kids can have their memory making moment and you can rest assured you didn't spend top dollar on an autograph book. Tip: Purchase clickable sharpies before you go, too. Characters don't have pens with them at the ready and these clickable sharpies mean you don't have to fiddle with caps.
6) Sunscreen
You're visiting the Sunny State so it seems like packing sunscreen would be a no-brainer. However, with everything else you have to pack the basics can sometimes slip through the cracks. Don't let this happen, though, or you'll end up paying theme park prices when your skin starts to fry.
7) Disney Pins
Pin trading at Disney World is a big deal. It's also a really fun way for your kids to engage with Disney Cast Members and they make for a fun souvenir. Purchasing pins at the park can get expensive fast, though. With that in mind, purchase a pin starter pack before you go. That way, your kid can start trading once they enter the park.
8) Lanyard
A lanyard is one of the things to buy before you visit Disney World if you plan on pin trading. Lanyards make it easy for you to store your pins. In addition, they make a good holding spot for other items like tickets and printed FastPasses. Just be sure you don't put any tickets or FastPasses in your kids' lanyard if they're prone to losing things.
9) External Battery Pack/Phone Charger
When you're at Disney World, you'll be using your phone a lot. Between using the My Disney Experience App, taking pictures, and keeping kids entertained in ride lines, that battery power can quickly go from 100% to 10%. Avoid this by bringing a portable battery charger with you. This way, you can keep your phone charged on-the-go. Trust me, this is a must-have item when visiting Disney World. A dead phone can quickly ruin the day.
10) Water Bottles
Did you know you can fill up your water bottle free of charge at any Disney concession? It's a free and easy way to stay hydrated throughout the day. In addition, you won't have to spend $3 on a bottle of water every time one of your kids is "so thirsty!" I recommend collapsible water bottles as they take up less space in your daypack.
11) Cooling Towels and Misting Fans
Walt Disney World is in Central Florida. As a result, it can get hot and sticky—especially if you visit during the summer months. With that in mind, it's a good idea to bring items that help you beat the heat. Cooling towels and misting fans will be your best friends when that Florida heat starts to make you melt.
12) Pack Snacks
Yes, Disney World does have some delicious snacks you should definitely try (Dole Whip…yum!). However, you'll also want to pack some healthy snacks for your family so you're not forking over a fortune every time someone is starving (which seems to happen every hour!).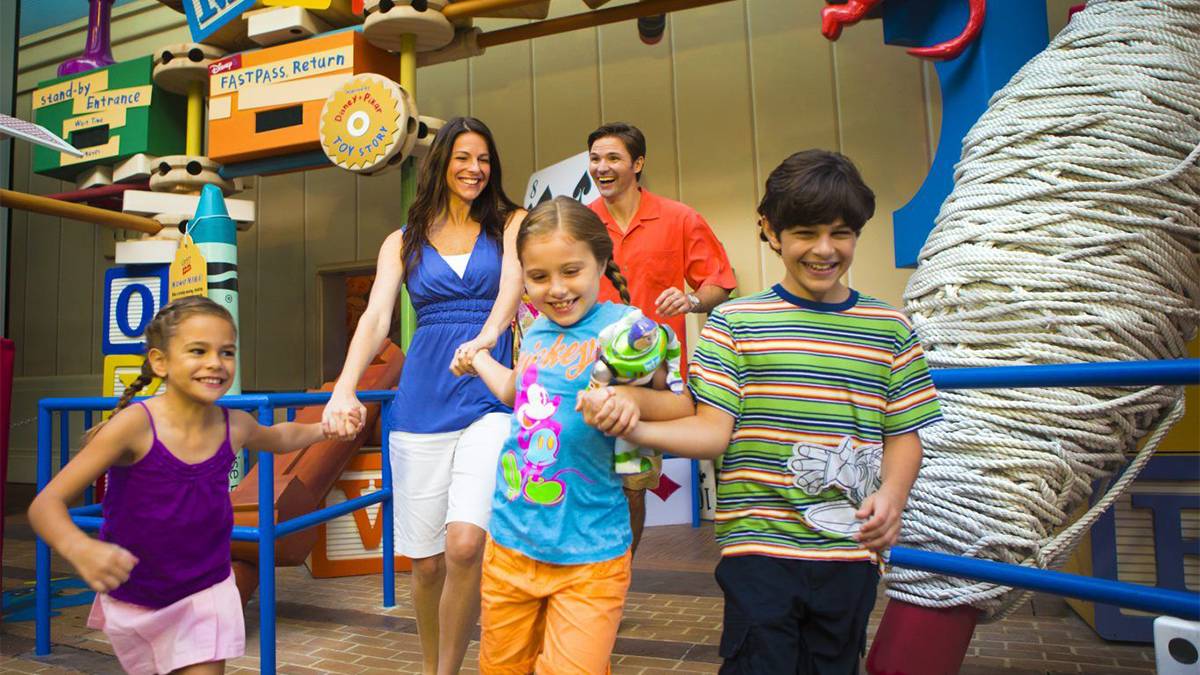 13) Glow Sticks and Light Up Toys
Once night descends on Disney World, a whole new variety of things to buy pop up. And, once your kid sees those glow sticks and spinning light toys they'll simply have to have one. Create your own magic by making these items some of the things to buy before you visit Disney World. You can easily, and cheaply, pre-purchase glow stick bracelets, wands, and necklaces that'll make your kids feel like a part of the magic.
14) Ear Muffs
Parades and shows at Disney World are seriously magical. They're also seriously loud. Depending on the age of your little one, you might need ear protection to save them from the high volume of the shows and parades. Purchase ear muffs before you go and you can rest easy knowing your tiny tyke won't suffer any hearing damage at the most magical place on earth.
15) First Aid Kit
Traveling with kids undoubtedly means someone will experience a boo-boo. (And, if you're like me, it may just be mom!) Come prepared with a small first aid kit so you can easily nurse those small scrapes and bruises back to health.
16) Foldable Blanket
This is an item I wouldn't have thought to purchase until I saw someone using one. Then, I had blanket envy! It's a wise item to pack for watching parades and fireworks as it gives you something cushy to rest on. It beats concrete any day of the week.
17) ID Tattoos for Children
Disney World is a safe place. That said, kids can go a bit looney upon seeing their favorite characters in person. As a result, they might run ahead and easily get lost in the crowd. Be sure to have their contact information on their person so Disney cast members can contact and reconnect you ASAP.
18) Bubble Wands
I dare you to blow bubbles with a frown. It's simply impossible! With that in mind, bubble wands are one of the things to buy before you visit Disney World that'll keep your kids preoccupied while waiting in line or waiting for shows/parades to start.
Make the Most of Your Magical Visit
With this list, you can pre-purchase items that'll not only save you money but time. Make a checklist before you go, too, so you're sure to not miss packing any essential item. Do you an item you recommend buying before visiting Disney World? If so, tell us about it in the comments.
Reserve Direct is a participant in the Amazon Services LLC Associates Program, an affiliate advertising program designed to provide a means for sites to earn advertising fees by advertising and linking to Amazon.com