From theme park celebrations to hidden bars, there's something for everyone to enjoy once the sun goes down. For an unforgettable vacation, add these 10 ways to have fun after dark to your Orlando plans.
1. Theme Parks
Arguably the best time to enjoy Orlando's expansive amount of theme parks is at night. With special events, concerts, fireworks celebrations, and so much more, these theme parks truly come to life at night.
Plus, some theme parks also offer late night hours for extended fun! Take advantage of these opportunities for shorter wait times for Orlando's biggest thrill rides and exclusive entertainment.
Be sure to spend the night at the top theme parks in Orlando, including:
2. Disney Springs
In addition to the renowned theme parks, Walt Disney World® Resort also boasts the premier entertainment district, Disney Springs. When trying to figure out what to do in Orlando at night, take a stroll around this entertainment venue and see what sparks your interest.
When exploring Disney Springs, you'll discover a wealth of dining, shopping, entertainment, and activity options such as:
The Marketplace Carousel
Star Wars™: Secrets of the Empire
Exposition Park
House of Blues
Paradiso 37 Entertainment
AMC Disney Springs 24 Dine-In Theaters
And More
With entertainment tailored to kids and adults alike, you're in for a memorable night out at Disney Springs.
3. Universal CityWalk
While Walt Disney World® Resort has Disney Springs, Universal Orlando® Resort has the Universal CityWalk entertainment complex. From devouring chocolatey goodness at Toothsome Chocolate Emporium & Savory Feast Kitchen to participating in special celebrations such as the St. Patrick's Day event at Pat O'Brien's, there is always something to do at the "Epicenter of Awesome."
Top destinations at Universal CityWalk include:
Bob Marley - A Tribute to Freedom
CityWalk's Rising Star
the groove
Hollywood Drive-In Golf
VIVO Italian Kitchen
Hot Dog Hall of Fame
And More
Also, Universal CityWalk offers several shops ranging from souvenirs to designer goods! There's no better way to spend the night than with world-class entertainment, shopping, and cuisine.
4. Check Out Orlando's Brewery Scene
When deciding what to do in Orlando at night, make sure touring the area's craft breweries is on your list.
Many of the local breweries offer facility tours where you can spend the night learning about the brewing process and science behind it all. Plus, if you're not much of a beer drinker, the knowledgeable staff at each brewery would be more than happy to help you find one you like.
Be sure to check out top Orlando breweries including:
5. Catch a Show
As an entertainment powerhouse, it should come as no surprise that some of the world's top shows call Orlando home. When searching for a way to spend your night, look no further than one of Orlando's shows, concerts, and performances, including:
Do keep in mind that certain Orlando shows may not be suitable for children. Also, do your best to get tickets in advance as several of these shows sell out night after night.
6. Go Bowling
After a long day of running around the theme parks, why not wind down with a few rounds of bowling with your friends and family? Kings Bowl in Orlando is a retro-chic bowling alley conveniently located on International Drive. On top of state-of-the-art bowling lanes and equipment, the venue also includes a full-service restaurant, two bars, billiards tables, and so much more.
A few tips to know before you go:
Remember to wear comfortable socks.
Shoe rentals are included in your price.
Take advantage of the wealth of entertainment onsite.
Be sure to order food. It's delicious!
There's no need to debate what to do in Orlando at night when King's Bowl has it all!
7. Visit a Speakeasy
Did you know Orlando has a speakeasy or two located somewhere in the city? For a night of mystery, intrigue, and a whole lot of fun, you'll want to add these speakeasies to your list:
Each themed speakeasy offers craft cocktails, upscale decor, and a lively atmosphere. Of course, you'll need to figure out where they are located and what the password is to get in!
Hint: Check their website and social media daily for clues.
8. Go to a Game at Amway Center
Sports fans know exactly what to do in Orlando at night: cheer on the teams playing at Amway Center! The Orlando Magic (NBA) and Orlando Solar Bears (ECHL) both host their respective seasons at the Amway Center their home. Be sure to get your tickets in advance for the best seats! Plus, the Amway Center also hosts concerts from top performing and touring artists.
If planning to visit the Amway Center, keep these tips in mind:
Pre-paid parking is available at the GEICO Garage located at 400 West South Street.
Traffic in Orlando at night can be busy. Leave early enough to arrive to the game or concert on time.
The venue houses several bars and restaurants for your convenience.
Certain camera equipment and items are prohibited from entering Amway Center.
9. See if You Can Escape
Escape rooms are all the rage, especially in Orlando! Put your problem-solving skills and luck to the test at Escape Room Entertainment. You, your friends, and family will all have to work together to solve puzzles, find clues, and ultimately, escape before the time runs out.
Escape Room Entertainment boasts a multitude of exciting themed escape rooms including:
Outlawed
The Hidden Temple
Legend of the Silent Tide
Suburban Serial Killer
Think your group can beat the clock?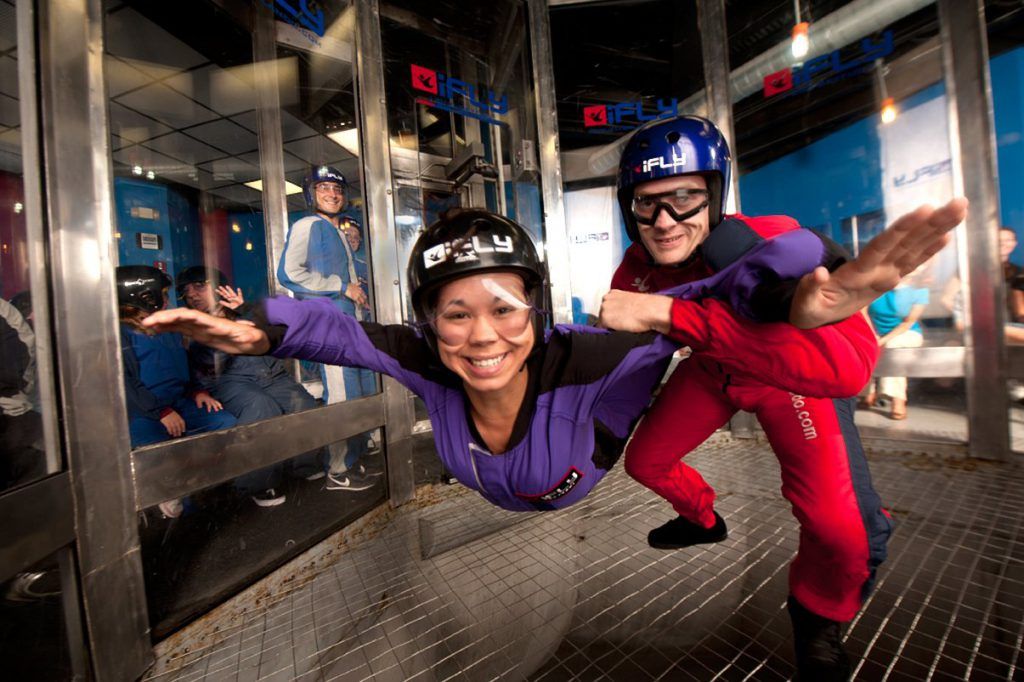 10. Go Skydiving at Night
Well, indoor skydiving, that is!
While thrill-seekers flock to Orlando from all over the world for the extreme roller coasters, another thrill awaits you at iFly Indoor Skydiving. Adrenaline junkies have no questions about what to do in Orlando at night once they discover the rush of indoor skydiving!
In addition to the "jump" in the flight tunnel, your indoor skydiving experience includes:
Expert training from skydiving professionals
Indoor skydiving equipment
A personalized flight certificate
Who said it had to be sunny outside to go skydiving?
What Will You Do in Orlando at Night?
With so much to do and see 24/7, you're in for a non-stop vacation. Have you decided what to do in Orlando at night? Share your plans in the comments!