From strolling through the San Diego Zoo hand-in-hand to relaxing together on the beach, there's never a boring moment when you visit San Diego with your sweetheart. For an exciting trip filled with love, add these 10 romantic things to do in San Diego for couples to your vacation.
1. Hiking
San Diego is home to numerous hiking trails, providing you and your loved one the option to go for a leisurely stroll or a full-day adventure. Some of our favorite easy hikes include Sunset Cliffs and Torrey Pines. They are both situated on the coastline and offer miles of picturesque views of the horizon.Couples interested in a more difficult hike with picturesque views will enjoy Mount Woodson aka Potato Chip Rock. Due to its steep trail, the Potato Chip Rock hike is only recommended for active couples ready to spend at least 3 hours hiking. But, the Instagram-worthy picture at the end is worth the effort!
No matter which trail you choose, go early in the day. On top of beating the crowds, you'll also take advantage of cooler temperatures, especially in the summer.
2. Cooking Class
At a San Diego cooking class, students receive hands-on instruction by a chef from one of the area's top restaurants. All cooking materials are provided in addition to the ingredients, and at some, you can bring your own wine and drink while you learn.
Wine + cooking? No wonder it's one of the best things to do in San Diego for couples!
The easiest, most accessible class is at Sur la Table in the popular San Diego mall, Fashion Valley. Classes are inexpensive and are always scheduled. Other great options are Café Merlot in Rancho Bernardo (North County), and Bice (Gaslamp Quarter).
Before you go, check the respective cooking class schedule and determine if there is an entrance fee, if reservations are required, and what you should bring (if anything.)
Searching for things to do in San Diego for couples that are out of the ordinary?
Paddleboarding is a favorite water sport for many. Up the ante by taking your sweetheart on a night tour of the San Diego Bay on a stand-up paddleboard equipped with LED lights that illuminate the water and the bay floor.
Your guide will lead the group around the bay and tell you interesting stories and facts about the area. On clear nights, you may even see small fish and/or stingrays in the water!
Or, if you're not interested in a nighttime tour, you can always rent stand-up paddleboard gear during the daytime. Paddle out into the bay together and take in the sights.
4. Salsa Dancing/Classes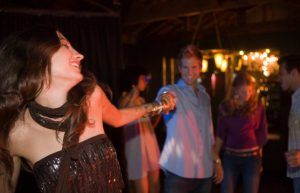 In the heart of the Gaslamp Quarter, you'll find one of the many favorite restaurants among locals, Café Sevilla. Here you'll devour amazing Spanish-style tapas such as paella, empanadas, and my favorite – the bacon-wrapped, cheese-stuffed dates.
Grab some appetizers and/or dinner before heading downstairs to their mini dance club for salsa dance classes led by professional dancers. Classes start at 8:30 pm, and then the dance floor opens up to Latin dance lovers so you can practice your new moves. Even if you're not typically one for dancing, you won't be able to help yourself from hitting the dance floor here!
5. San Diego Beaches
This wouldn't be a list of things to do in San Diego for couples if we didn't mention the picture-worthy beaches! From dog-friendly beaches to sprawling oceanside escapes, spending a day at the top San Diego beaches is a must. When packing for your trip, don't forget a beach towel and your bathing suit. Plus, you'll want to bring sunscreen, a hat, and sunglasses, too.
And, to make your beach day a little more romantic, pack a picnic and a bottle of wine. What screams "romantic getaway" more than a picnic on the beach as the sun sets? Of course, double check the food policy for your beach of choice before going!
6. San Diego Museums
Perhaps you and your sweetheart love learning new things. If so, San Diego's expansive list of museums is exactly what you're both searching for. From the USS Midway Museum to the San Diego Museum of Art, you're bound to find a museum that fits your respective interests.
And, San Diego's wealth of museums often host immersive festivals and events throughout the year for further fun during your visit. See what events are happening at the San Diego museums you intend to visit on your couples getaway.
7. Balboa Park
Speaking of museums, Balboa Park is home to the majority of them! On top of edutainment, the park also houses a multitude of walking trails, restaurants, activities, and the iconic San Diego Zoo. If you two are fans of live music and theater, take a look at what performances are lined up at one of the park's many theaters during your trip.
But, for those interested in romantic things to do in San Diego for couples, you can't beat Balboa Park's gardens. Stroll hand-in-hand through the Japanese Friendship Garden, Inez Grant Parker Memorial Rose Garden, or Palm Canyon for a sweet day together.
8. San Diego Zoo
Of course, while you're at Balboa Park, you have to experience the San Diego Zoo. This 100-acre zoo is home to more than 4,000 rare and endangered creatures from all over the world. Plus, you'll get to see over 700,000 wild plants. Throughout the zoo, you'll find interactive exhibits, opportunities to meet and greet the animals, and a variety of shows.
Plus, if you and your significant other are interested, sign-up for a tour! The zoo offers private and public tours featuring behind-the-scenes experiences and education, along with a more in-depth look at the animals at the zoo.
9. Dinner Cruises
With the romantic ambiance and cityscape views, it's no surprise a dinner cruise is one of the top things to do in San Diego for couples. Aboard your cruise, you'll be treated to fine dining, entertainment, drinks, and unparalleled views of San Diego.
Certain San Diego dining cruises require guests to dress up. If you plan on attending a dinner cruise, make your reservations prior to your trip and know what the dress code is before you go. The last thing you want is to both show up in the wrong attire!
10. Craft Brewery Tours
You may be curious as to why craft brewery tours are among the best things to do in San Diego for couples. That is, until you try it! You and your sweetheart will embark on a bubbly tour filled with stops and samples at San Diego's top craft breweries.
Along the way, you'll learn more about the industry, San Diego's history, and so much more. Choose the brewery tour that suits your travel schedule and enjoy!
Quick Tips for a Sweet San Diego Getaway
To ensure you make the most of your couples vacation in San Diego, keep our tips in mind.
Book Experiences in Advance
Experiences such as behind-the-scenes tours at the San Diego Zoo or harbor dining cruises fill up fast. With this in mind, book your reservations as far in advance as possible to ensure you have a spot and take advantage of the best prices.
Save by Bundling
You can save even more on your couples getaway by bundling your tickets and tour reservations with a hotel. San Diego has everything from luxury hotels to budget accommodations to suit your travel style. And, let's be real. Who wouldn't want to take advantage of huge discounts on a vacation for two?
Know When to Go
When planning your couples vacation, you'll need to know when the best time to visit San Diego is. Hint: go in the shoulder seasons!
Experience the Best Things to Do in San Diego for Couples
No matter if you elect to soak up the sun on the beach or go on a tour together, the most romantic things to do in San Diego for couples are sure to be the highlight of your trip.