Imagine tying the knot in the shadow of the Great Smoky Mountains National Park, surrounded by your closest friends and family in nature's majesty. Intrepid love birds from all over flock to the 'official honeymoon capital of the South,' for an inspired Smoky Mountain Wedding location.
Follow along to discover the 5 best wedding chapels in Gatlinburg TN.
From rustic cozy cabin weddings to quaint Gatlinburg wedding chapels complete with waterfalls and charming gardens, enamored partners will have their pick of places to get married in Gatlinburg.
Whether you are in the mood for platinum Gatlinburg Chapel wedding packages, including spa treatments and wedding cake, or wish to say 'I DO' fuss-free you can craft your dream wedding ceremony in Tennessee.
Gatlinburg Weddings
Crisp mountain air, towering Spruce fir forests, and a central location makes Gatlinburg an inspired choice for outdoor weddings. Nature-loving couples will be in heaven as they peruse the wide variety of wedding venues and wedding chapels in Tennessee. However, with so much to tackle before the big day, it can easily get overwhelming.
First things first, you will need to obtain a marriage license at the County Clerk's office. Keep in mind you can do this in Gatlinburg, Pigeon Forge, and Sevierville. Ready to choose the perfect Gatlinburg wedding chapel? Read on…
Psst..need to blow off some steam before the big day? Work out any pre-wedding jitters with our wide array of Gatlinburg attractions and activities.
Wedding Chapels Gatlinburg
No matter if you have your eye on woodland scenery or a rugged mountain aesthetic, our list of the top wedding chapel options in Gatlinburg, TN delivers. Choose from a plethora of romantic wedding package choices with helpful additions such as photography, video, food, and more:
Chapel in the Glen Gatlinburg
For over 27 years, serene seclusion and a charming log cabin ambiance have come together to make the Chapel in the Glen a beloved wedding venue. Nestled in the breathtaking foothills of the Great Smoky Mountains, this award-winning Chapel has married more than ten thousand couples to date.
Let nature's bounty provide the most stunning backdrop for your nuptials as you choose from Gatlinburg waterfall wedding packages, fragrant floral arrangements, candlelight options, and more. Spend the night slow dancing with your sweetheart under the stunning skylights, or enjoy the warmth from a crackling fireplace during a winter wedding.
This cozy chapel can accommodate up to 45 guests including the wedding party. Every Chapel in the Gen wedding package option includes photography services, and they are proud to offer discounts to active military personnel.
Chapel in the Glades
Is your little turtle dove a fan of enchanted forests, chirping birds, and fairytale-like stained glass windows? Start the rest of your lives in the welcome reprieve of the Chapel in the Glades. Owned by the same proprietors as Chapel in the Glen, this lovely log chapel provides charming and affordable nuptial options.
Recognized by the city for its outstanding architecture and landscaping, couples can opt to rent the Glades as a venue, or spring for a number of all-inclusive packages which feature professional wedding coordination, a candlelight ceremony, and a photo session with a skilled wedding photographer. Customize your package to suit your specific taste when you tack on unique additions such as a unity sand ceremony, or a romantic dinner for two.
Gatlinburg Little Log Wedding Chapel
Fields of lush greenery, artfully landscaped grounds, and a timeless wood-paneled cabin set the stage for a day (or night) your lover will never forget. Embrace the holy bonds of matrimony with simplicity or lavish accouterments, when you reserve the  Gatlinburg Little Log Wedding Chapel.
From simple elopements to elaborate Southern Splendor packages, this Smoky Mountain nirvana can cater to every fantasy. Enjoy floral packages, hi-definition video, and a three-tiered wedding cake for up to 100 guests. Or, sneak away for a romantic ceremony just for two.
Lodging is available for both the couple and guests. The Little Log will even work with you to build a unique custom wedding package creation.
Chapel in the Hollow
The rustle of leaves, dappling sunlight, and untamed mystery of our Nation's most beloved National Park. Adventurous paramours seeking an unforgettable Gatlinburg outdoor wedding will be in heaven when they plan their big day at Chapel in the Hollow. This tranquil wedding and elopement venue is pure Instagram bait, and perfectly executes whimsical mountain flair for a small audience.
Chapel in the Hollow can accommodate parties of up to 35 and serves up a variety of woodland-inspired backdrops that make for breathtaking photos. Select from a number of outdoor ceremony options such as the forest path, the Chapel, and the Scottish Highlands. Relish your matrimonial memories for years to come with special touches and accessories like vintage chairs, faux florals, candles, lanterns, and more.
Gatlinburg Chapel at Honeymoon Hills
A beautiful mountain-top wedding deserves an equally swoon-worthy honeymoon. Gatlinburg Chapel at Honeymoon Hills has been planning perfect 'I do's for over 20 years. Winner of Best of the Knot, Wedding Wire Couple's Choice Award, and TripAdvisor Certificate of Excellence, this highly coveted venue provides professionalism, stunning scenery, and more.
Say your vows creekside over a mountain stream, or beneath an ivory gazebo. Their gorgeously intimate chapel features wooden pews, white columns, and classic floral arrangements. Depending on your budget and taste, select from classic to ultimate wedding packages. Or bundle your wedding, ceremony, reception, and honeymoon for one full-out Smoky Mountain affair.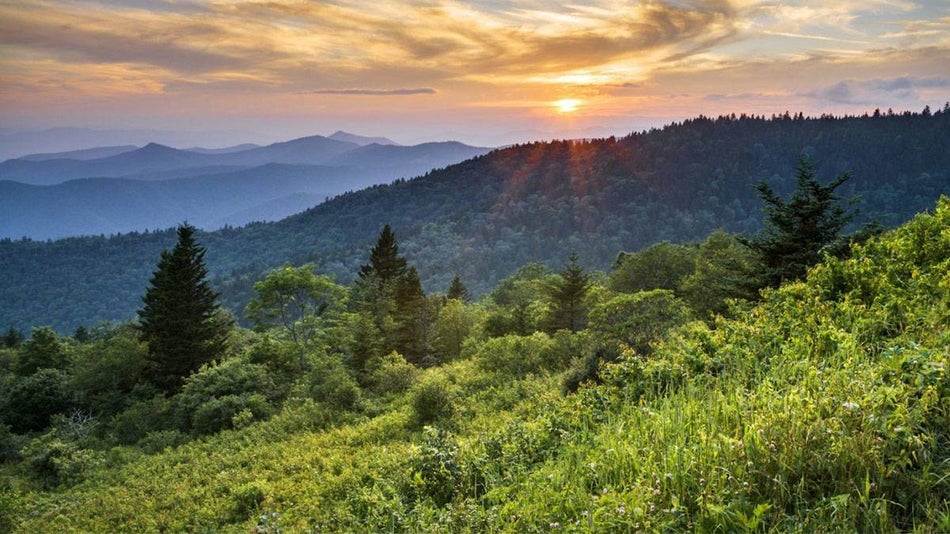 Vivid leaves, tumbling mountain streams, and the stark beauty of acres of hardwood forest. Whether you plan your wedding for fall, summer, spring, or winter a Smoky Mountain Wedding Chapel serves up awe-inspiring scenery.
Cut into a naked three-tier wedding cake in the shadow of the Great Smoky Mountains. Or embrace your amour in front of a vine-covered tree for a truly wild photo. Walk down the aisle illuminated by the soft glow of candles. Or exchange handwritten vows on top of a vintage mountain bridge.
From intimate affairs that feature only family, to lush celebrations at a log wedding chapel. Every ceremony in the Gateway to the Smoky Mountains is overflowing with Appalachian charm, passion, and romance.
Were You Married in a Wedding Chapel in Gatlinburg?
Did we miss any of the best chapels in Gatlinburg TN?
Tell us your love story in the comments below.