Before you start planning your trip, use this guide for a spectacular Pigeon Forge cabin vacation.
Every other year, my family gets together in Pigeon Forge for a family reunion. With 50 of us and counting, we found that hotels are not ideal for a group of our size. Instead, a Pigeon Forge cabin vacation is the perfect solution.
Pigeon Forge offers many types of cabins, from cozy a cabin for a couple on their honeymoon to massive cabins able to host 50 or more people.
Research Your Cabin Options
In life, a little research can go a long way. The last thing you want is to blindly reserve a cabin, only to find it doesn't meet your expectations.
Consider the following factors before making your cabin reservation:

The Season — Pigeon Forge experiences a surge of tourist traffic during the spring, summer, and fall seasons. If you plan to visit the area during these busy months, book your cabin well in advance. Otherwise, you'll have a limited selection of cabins to choose from.
Necessary Amenities — Does your cabin need to have specific accommodations? Many Pigeon Forge cabins are wheelchair accessible, pet-friendly, offer Wi-Fi, and include other amenities. If you have questions about cabin amenities, a quick call to the company or owners will provide your answer.
Your Budget — Establishing a budget is the best way to find a cost-effective cabin. Shop around for cabins that fit your budget and offer the necessary amenities you need for a wonderful vacation.
Cabin Location — Some cabins are tucked back into the serene and calm woods of Pigeon Forge with long travel times to attractions. Families looking for quick access to Dollywood and other attractions should consider the location of their cabin before making a reservation.
Your Car — During one Pigeon Forge cabin vacation, our cabin was at the top of a steep hill with a long gravel driveway. The larger, more powerful vehicles made it up the driveway just fine. My little sedan, however, did not. Before booking, consider the type of car you own and the terrain traveled to access the cabin. The cabin company can provide this information if is not online.
Cabin Reviews — Before booking your Pigeon Forge cabin, hear what others have to say about the cleanliness of the cabin, the customer service provided by the company, and any other opinions from previous travelers. Remember to take reviews with a grain of salt. What may have been an awful experience for one traveler, may be completely fine for you. By booking your cabin through Tripster, you can read reviews from travelers who have recently stayed in one of Pigeon Forge's many cabins.
Once you've found a great cabin for you and your family, it's time to decide if cabin vacations are best for you.
The Advantages of Vacationing in a Pigeon Forge Cabin
Staying in a cabin can provide a wealth of benefits for your family or group.
Cost — Whether you're traveling with your significant other or a large group of people, youwill find that cabin vacations are a cost-effective option. Many travelers prefer cabins to hotels because of the low cost for luxury amenities.
Included Amenities – All Pigeon Forge cabins include incredible amenities. The cabins I've stayed in have included full kitchens, hot tubs, stocked game rooms, indoor movie theaters (seriously), complimentary Wi-Fi, Jacuzzi tubs, and more. You won't find all this in a similarly priced hotel room.
Privacy —By renting a cabin, you now have an entire house to yourself. The only people who can bother you are the people you chose to vacation with. Say goodbye to hearing the TV from the hotel room next door or little children running up and down the hotel hallways.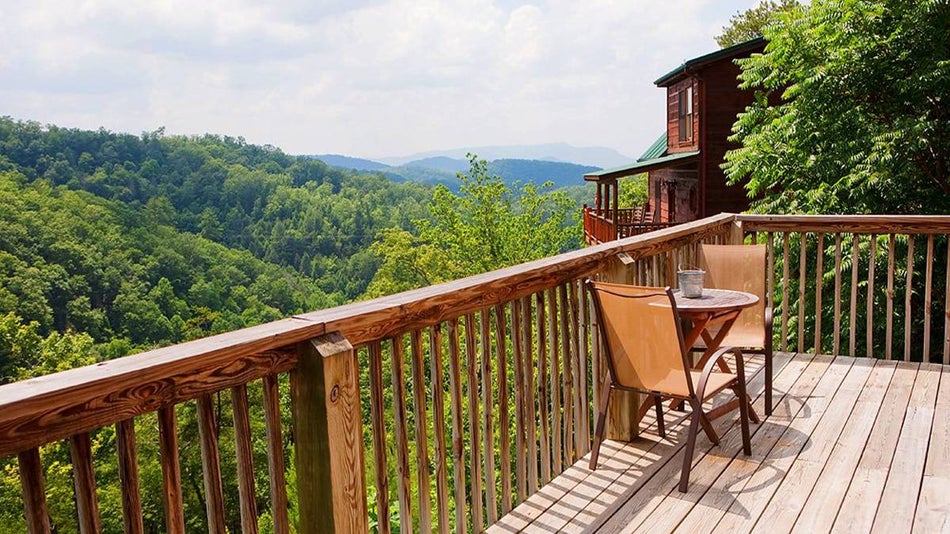 Downtime — When you have downtime in a hotel, you might watch TV, go for a swim if a pool is onsite, or buy an overpriced drink at the bar. When you reserve a cabin, there's so much to enjoy inside and outside of the cabin. I've found that I enjoy the time inside the cabin just as much as I enjoy exploring Pigeon Forge.   

Quiet Time — Where else can you drink a freshly made cup of coffee while watching the sunrise over the mountains from the comfort of your rocking chair? Some of my favorite Pigeon Forge memories involve a cabin porch, a cup of coffee, and long conversations with family and friends. A hotel continental breakfast or bar doesn't have the same allure.
The Disadvantages of a Pigeon Forge Cabin Vacation
As with any vacation lodging option, cabins do have their downfalls.
Cooking Meals — Pigeon Forge cabins offer full kitchens complete with many cookingappliances. While the majority of travelers find this appealing, others find it to be a nuisance. If you would rather have meals prepared for you by professionals, you will be better off in a hotel.

Made a Mess? Clean It Up. — In a hotel, your towels and bed sheets are replaced daily. Cabins provide guests with washers and dryers, but a cleaning service won't take care of your messes every day. It's up to you and your guests to ensure the cabin is clean and tidy.

Limited Main Road Access to Attractions — If you prefer in the middle of the action, a hotel would be better suited for your Pigeon Forge vacation. Cabins take advantage of the quiet Smoky Mountain nature and tend to be away from the main roads.

Limited Cell Service — Depending on your cell phone provider, you may or may not have service at your cabin. While cabin companies and owners cannot control this, it's good to be aware.
A Few Tips for the Road
Once you've booked your cabin, it's time to hit the road and enjoy your vacation. Over the course of my many Pigeon Forge vacations, I've picked up a few tips that will make your cabin visit worthwhile.
Plan Your Meals — Personally, I love to take advantage of the cabin kitchens. By planning your meals ahead of time, you can make a quick grocery shopping trip upon arriving to Pigeon Forge. Trust me, there's nothing better than a home-cooked meal in a comfy cabin overlooking the Smoky Mountains. Plus, you'll save money by not relying on a restaurant for every meal and snack.
Stock Up on Cleaning Supplies — While many cabin companies and owners generously provide enough supplies for your stay, it's in your best interest to be prepared. Supplies can be depleted fast when vacationing with a big group of people.
Bring Games and Activities — If you're traveling with friends or a large group of people, game nights in the cabin are the best. Bring outdoor activities such as a soccer ball or lawn game to keep the fun going.
Remember Your Cabin Address — In the off chance that you become lost, it's good to always remember your cabin address.
No matter the cabin size you reserve, you'll thoroughly enjoy your Pigeon Forge cabin vacation if you follow this guide.