When you're visiting The Big Easy, it's way too easy to spend money here, there and everywhere.
Luckily, though, there are also plenty of free things to do in New Orleans. These activities range from parades to museums to tours and more. As a result, there's always a way for you to enjoy the spirit of the New Orleans without blowing your budget.
1) Stroll the French Quarter
What—you're going to visit New Orleans and not spend time at the French Quarter? Big mistake. Huge.
As the oldest New Orleans neighborhood, this beautiful section of the city boasts distinct period architecture highlighted by colorful buildings with cast-iron balconies. In addition, this area of the city features a vibrant nightlife (Bourbon Street, anyone?).
You can enjoy a quieter pace here, too. Head to the French Market for culinary delights and homespun crafts. Then, venture over to Jackson Square to enjoy a free live performance or explore the stunning St. Louis Cathedral. No matter what you choose to do, you're sure to be enthralled by all the French Quarter has to offer.
2) Spend Time in Jackson Square
The aforementioned Jackson Square is an ideal place to explore free things to do in New Orleans. This historic spot features the soaring St. Louis Cathedral, perhaps the most photographed spot in all of New Orleans, as well as three bronze statues of Andrew Jackson for whom the park is named. Another reason to visit Jackson Square is the open-air artist colony, which has been thriving for over a half-century. Street performers are also a staple of Jackson Square. Of course, Café du Monde is also located in Jackson Square. As a result, you might want to fork over a little bit of money to indulge in a classic beignet and coffee.
3) Visit the New Orleans Museum of Art
To view a collection of fine paintings, sculptures, and historical artifacts, be sure to visit the New Orleans Museum of Art. The 100-year-old museum has a gorgeous location inside the 1,300-acre City Park which also makes it an ideal location for their outdoor sculpture garden.
Keep in mind, you'll need to visit on Wednesday to receive free admission. Otherwise, there is a charge of $10/adults and $6/children.
4) Ride the Algiers Ferry
Passengers can ride the Algiers Ferry for free, making it one of the best sightseeing deals in all of New Orleans. (Note—there is a charge for cars.) Once aboard, you're treated to famous sights such as:
The New Orleans Skyline
An up-close view of the Mississippi River, including the bend that gives the "Crescent City" its nickname
Original and oldest tracts of the city
Once you complete the 5-minute ferry ride, you can explore Algiers Point. This 19th-century neighborhood is one of the oldest on the Westbank of New Orleans. Here you can tour historic homes or stop into an English-themed pub for a drink.
The Algiers Ferry departs from Canal Street at 15 and 45-minutes past the hour. Return trips leave at half past the hour. The first ride of the day at is 6 am and the last ferry from Algiers departs at 12:15 am.
5) Marvel at a New Orleans Parade
No city hosts a parade quite like New Orleans. These festive, colorful events happen multiple times a year but the best time catch a classic New Orleans parade is during Mardi Gras. The official Mardi Gras season (also known as Carnival season) starts on January 6th and culminates at Easter. During this time, there are outlandish and over-the-top parades nearly every night with the biggest happening on Fat Tuesday.
Each parade is hosted by a krewe and has its own special theme. As a result, you never know what you're in for when you attend one of these unique New Orleans events.
6) Tour the City's Cemeteries
This might sound like one of the more macabre free things to do in New Orleans. However, touring the cemeteries here really is a history lesson in the culture of the city. Characterized by above-ground vaults, these resting places resemble small cities. As such, they're also known as the Cities of the Dead.
The Saint Louis Cemetery No. 1 in the French Quarter and the Lafayette Cemetery No. 1 in the Garden District are two of the most iconic New Orleans cemeteries. Keep in mind, you can visit these cemeteries for free but if guided tours are available for a small fee.
7) Listen to Live Music at Lafayette Square
New Orleans, a town known for its strong musical roots, is a wonderful place to listen to live music. If you'd like to catch a free performance, attend the 12-week concert series held at Lafayette Square. Known as Wednesday at the Square, these concerts take place starting in early March through late May. Each performance features a line-up of different bands, so you're always guaranteed a good show.
Be sure to bring a light blanket or folding chair, then get comfortable and enjoy the free music. Plenty of vendors are on hand too, serving up delicious food and drink.
8) Explore City Park
The 1,300-acre City Park is an oh-so-inviting outdoor retreat. It boasts the largest collection of live oak trees in the world, some of which date back more than 600 years. There are also beautiful lagoons, water fountains, walking trails, a sculpture garden, and small lakes to explore in addition to plenty of playgrounds. You can even go for a boat or gondola ride here. (Note—these activities do charge a small fee.)
9) Shop & Stroll the French Market
Okay, so it might cost something to actually shop at the French Market. But, it doesn't cost a thing to stroll through this charming riverfront market. Spanning six blocks in the French Quarter, there's a lot to see at the numerous stalls and buildings. From specialty art to handmade crafts, retail shopping and more, one can really see and buy it all at the French Market.
Fun fact: Many people who browse here have no idea it was founded as a Native American trading post in 1791 or that it's the oldest of its kind in the United States.Fun fact: Many people who browse here have no idea it was founded as a Native American trading post in 1791 or that it's the oldest of its kind in the United States.
10) Get Familiar with the Garden District
New Orleans has several enchanting neighborhoods and you can count the Garden District among them. Located in what many consider to be "Uptown" New Orleans, visitors here will find immaculate homes and yards. One notable section, St. Charles Street, is lined with huge oak trees and large mansions that exude southern charm you'll only find in the Crescent City. For a small fee, you can hop aboard the St. Charles streetcar line to easily get from one section of Garden District to the next.
Of course, there's more to the Garden District than just St. Charles Street. Visit Prytania Street to view Greek Revival architecture. Then, head to Camp Street to see a beautiful collection of statues.
11) Check Out the Crescent City Farmer's Market
If you're a foodie at heart, don't miss the Crescent City Farmer's Market in Downtown New Orleans. Everyone knows this city is famous as a melting pot of cultures. This pertains to its culinary scene, too, which blends French, Spanish, African, Cajun and Creole flavors, all of which are on display at this market.
Held each Saturday morning from 8 am – 12 pm, there is an incredible line-up of foods and homemade goods. In addition, local chefs give free cooking demonstrations at the market.
12) Attend a Free Festival
You can't create a list of the free things to do in New Orleans without mentioning the city's incredible festivals. With events happening all year long and many of them free, you'll want to make sure to check the schedule to see what's occurring during your visit. Some of the best festivals include:
Crescent City Blues & BBQ Festival
Treme Creole Gumbo Festival
13) Magazine Street Window Shopping
If you're looking for unique, one-of-a-kind shopping, be sure you visit Magazine Street. Window shopping here won't cost a thing. However, you will be (very) tempted to buy something. (That's your warning!)
Stretching from the Lower Garden District to Audubon Park, the shops, galleries, bars and restaurants here are primarily locally owned. Plus, the buildings are largely historic which adds an extra charm to your window shopping stroll.
14) Laugh for Free at the House of Blues
The House of Blues offers a free comedy show, Comedy Gold, each Wednesday night. This show features up-and-coming New Orleans comedians who are honing their comedic chops. You never know what the line-up will be but you can always expect to have a good time!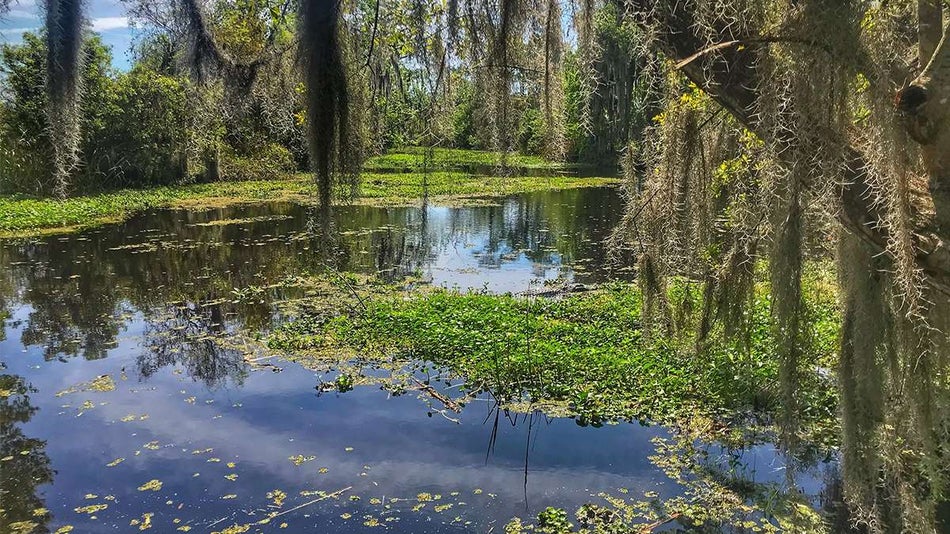 15) Visit the Barataria Preserve Visitor Center
If you get the chance to venture outside the city, visiting the Barataria Preserve is a free and fun thing to do. Sprawling over 23,000 acres, this preserve is home to more than 300 species of birds, alligators, swamps, bayous, and forests. Trek through boardwalk-style trails and discover the natural beauty of Louisiana—all for free!
Have Fun Without Spending a Dime
As you can see, it's easy to find free things to do in New Orleans. As a result, you'll have plenty of money left over to spend on the city's other amazing attractions!