You don't have to break the bank when traveling, even if you're visiting a destination city like New Orleans!
While you can definitely live it up in the Big Easy with countless high-end hotel, dining, and attraction options, you can cut costs if you need to and still have a wonderful time. Read below to see how you can visit New Orleans on a budget and make lasting memories.
When is the Best Time to Visit New Orleans?
Planning on a budget? While New Orleans can be more expensive during Mardi Gras season, summer through winter provides more affordability while traveling since this time period is considered the offseason. This results in discount rates at hotels and restaurants, as well as on flights.
The city known for partying is relatively calmer during this time, so guests are bound to save money. There are a multitude of ways to visit New Orleans on a budget and still have a great time. In addition, you won't have to make room reservations months in advance. However, summer and fall do bring humidity and high temperatures, as well as hurricane season. For detailed advice on planning and packing, check out Tripster's planning guide.
Where to Stay in the Big Easy
You can find affordable New Orleans hotels if you look for deals and stay on the outskirts of popular sections of the city such as the Garden District or the French Quarter. However, that is not to say you can't locate reasonably-priced hotels in those areas--it may just require research and advanced budgeting.
Keep in mind that you need to add up room rates per evening with potential parking costs based on your transportation preferences. Also, once again, if you visit during peak tourist season, you may have to book months to a year in advance to party with the other Mardi Gras revelers.
For more information, check out Tripster's deals on select hotels in New Orleans.
New Orleans City Pass
To maximize your savings, check out the New Orleans Pass, which allows visitors to see over 25 first-rate attractions, tours, and experiences throughout the city! Rather than handling cash or waiting in line to purchase tickets, you can simply purchase your pass online, activate it, scan the card, and head to the attraction.
Whether you're looking to stroll through the Audubon Aquarium or hop on a Swamp Tour, there is an attraction to meet anyone's interests. We recommend that you activate the pass early in the day before you head out to get the most out of your pass, and please note that the pass is valid at each attraction once. Additionally, you can buy 1, 2, 3, or 5-Day passes depending on your traveling needs.
Navigating the City
As a major city, New Orleans offers multiple transportation options so you don't have to rent a car at the airport. Of course, visitors can take advantage of local taxis as well as ridesharing alternatives such as Uber and Lyft. However, we recommend taking advantage of the city's public transportation as well as bike sharing. Choices include:
Jazzy Pass
Visitors can purchase Jazzy Pass cards, which allow you to ride RTA buses and streetcars by dipping your card into the fare machine when you board. You can purchase a 1-Day, 3-Day, 5-Day, or 31-Day pass for your convenience, but note that these cards can't be used on Jefferson Transit (JeT) buses.
Buses & Streetcar Lines
RTA buses serve most neighborhoods throughout the city with nearly 40 routes so you can get around easily. If you care to take the local street car lines, there are four streetcar lines that trail through New Orleans' most historic areas: the St. Charles Avenue line, the Canal Street line, the Riverfront line, and the Rampart-St. Claude Avenue line.
Paratransit
New Orleans offers a Paratransit option, which provides a ridesharing service for guests who are unable to use regular transit services due to a disability or health condition.
Ferry
The Algiers Point/Canal Street and Lower Algiers/Chalmette ferries enable passengers to travel back and forth to top sightseeing spots on either side of the river.

Where to Eat
Known as a culinary paradise, you can't go wrong when dining in the Big Easy. Whether you're in search of the best po'boy sandwich, muffaletta sub, cajun fare, or beignets, you don't have to worry about saving money. Still, try to plan and budget in advance. While it's fantastic to splurge here and there on top choice restaurants such as Commander's Palace or Brennan's, we have a few recommendations:
Po'Boy Sandwiches
Cajun & Creole
Muffaletta Subs
Breakfast Pastries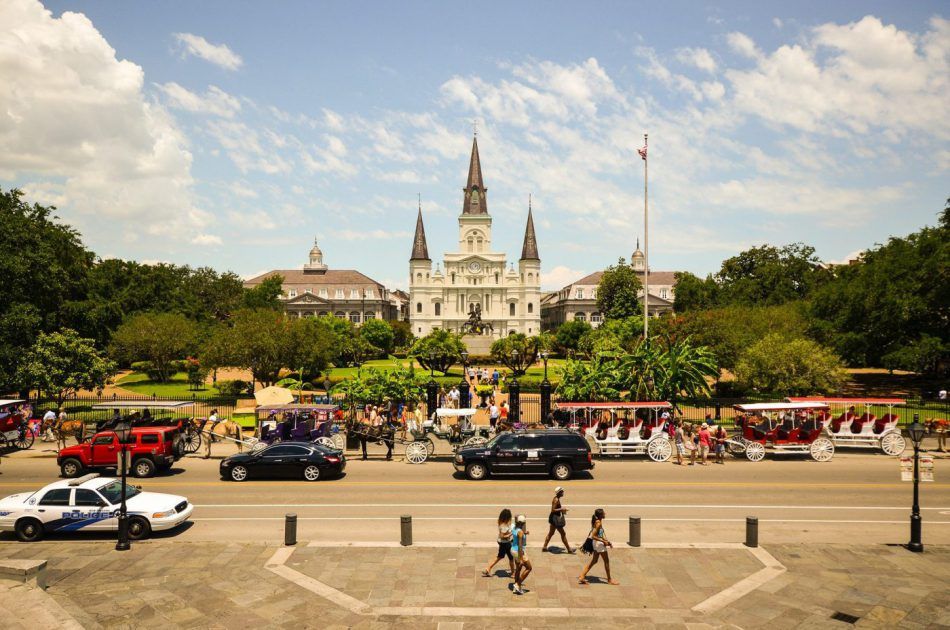 Top Low Cost and Free Attractions
New Orleans boasts beautiful, historic neighborhoods with numerous free and low cost attractions to satisfy your travel budget. From museums and live music to touring cemeteries, everyone in your group can look forward to an interesting itinerary. We have compiled some of the best neighborhood destinations when you visit New Orleans on a budget:
French Quarter
The historic French Quarter is New Orleans' oldest neighborhood, rife with gorgeous 18th and 19th-century architecture. Cast-iron buildings line the "Crown Jewel of New Orleans", melding the old with the new as crowds make their way to vibrant Bourbon Street and Royal Street. Guests can enjoy plenty of live jazz, cajun food, and local brews on the cheap, or wander into a reimagined French Market where one can shop for antiques and then head to brunch. Further, visitors can stroll to iconic St. Louis Cathedral, the oldest cathedral in North America, in Jackson Square.
Faubourg Marigny & Bywater
Looking for greener spaces? Check out Crescent Park and Washington Square Park for respite from the urban streets. Stroll, run, or bike along the Mississippi River's edge for lovely views. On the other hand, these neighborhoods are also popular for their theater performances. For instance, you can check out the Marigny Opera House, which showcases quality theatrical talent in an intimate 1853 church. Additionally, guests can view and participate in creating artwork at The Art Garage on St. Claude Avenue.
Garden District/Uptown
The picturesque Garden District (or Uptown) displays all of those scenic mansions on St. Charles Street we associate with New Orleans from TV shows and films (American Horror Story: Coven, anyone?). These stunning mansions exhibit huge oak trees, perfect lawns, and peak Southern charm with Greek Revival architecture, great for sightseeing and photo opportunities. Moreover, visitors can head to the Audubon Zoo and Audubon Park to experience family fun and outdoor adventures. Moreso into the macabre? Take a self-guided or expert-led tour in Lafayette Cemetery No. 1, one of the city's oldest resting places.
Lower Garden District
Not to be confused with the Upper Garden District, the Lower Garden District contains classic flare complete with street names like Melpomene, Dryades, and Terpsichore. Positioned around Coliseum Square, the historic houses here predate those of the Garden District. Architecture buffs will enjoy the hidden gems and rich culture lurking around each street.
Mid-City
Mid-City encompasses several beautiful green spaces as well as museums, theaters, and cemeteries. For scenic oak trees and tumbling Spanish moss, visit New Orleans City Park. Dating back to 1854, this green space brings millions of guests each year with walk and bike paths, trails, and an amusement park. Further, the New Orleans Botanical Garden within City Park presents 2,000 species of plants, a historic replica of the city, and a simulated tropical rainforest. Moreover, the NOMA (New Orleans Museum of Art) nearby hosts nearly 40,000 global art objects in various mediums, including a five-acre sculpture garden. For spookier visits, head to the Masonic Cemetery and St. Patrick's Cemetery No. 3.
Central Business District/Downtown
The CBD is known for its dining and shopping options as well as its incredible display of theater venues and, of course, Saints games at the Mercedes-Benz Superdome. Close to both the French Quarter and the Garden District, visitors can catch stunning Broadway shows and top acts at theaters such as the Orpheum, the Saenger, and the Joy Theater. Further, Lafayette Square and the Spanish Plaza are central locations for dining, shopping, concerts, and more.
Algiers Point
To get to Algiers Point, take a $2 ferry ride from Canal Street in the French Quarter. Founded in 1719, this coastal area has a complex history and diverse population due to the slave trade and 19th century immigration. When you visit, there are multiple historic theaters, churches, and government buildings with varying architecture styles.
Get the Best Deals When You Visit New Orleans on a Budget
With so many ways to visit New Orleans on a budget, you don't have to sacrifice thrills and comfort when traveling to Crescent City. With some research and budgeting, you'll be ready to go in no time. For more attraction and tour deals, head to Tripster New Orleans.