Nostalgic beach boardwalk fun, world-class musical entertainment, and plenty of ocean-bound adventure come together to make Myrtle Beach an enviable destination year-round.
While many associate a Grand Strand vacation with the sweltering summer months, come March and April, the pleasant temperatures and waning crowds draw many spring breakers to the shores of Myrtle Beach. Come along and discover the best of Myrtle Beach Spring Break 2023.
Whether you are on the lookout for sizzling spring break ideas and excursions for families or wondering what March Myrtle Beach weather is, we've got you covered.
Shake off the last of your winter chill when you scurry away for a Myrtle Beach spring break. This time of year is ideal for long walks down Apache Pier, escapes to Pawley's Island, mini-golf escapades, and more.
As the sun slips away, be sure to enjoy languid evenings of Intracoastal waterway sunsets, ice-cold cocktails, and rocking good live music.
Read on to uncover everything you need to know about Spring Break in Myrtle Beach.
When is the best time to visit Myrtle Beach?
Travelers working around the school calendar may not have the luxury of deciding when exactly to visit this standout spring break destination. However, for all of those Googling 'is March a good time to go to Myrtle Beach' you are in luck.
March marks the beginning of tourist season in the Grand Strand and is a magnificent time to dip your toe into all of this coastal city's offerings. Myrtle Beach March 2023 promises fewer crowds, festive events, and epic attractions.
In addition, visitors will be able to eek out even more boardwalk thrills or sublime seafood dinners, as this is the time of year many establishments extend their hours and offerings.
Weather in Myrtle Beach SC
Stressing over that spring break packing? Stuff that suitcase like a pro, when you get the low down on the weather in Myrtle Beach in March*. March and April are known as the 'shoulder season' in the Palmetto State. Springtime here means warm temperatures and lower humidity.
Temperatures in Myrtle Beach in March include highs of 65 degrees and lows of 47 degrees. We suggest packing a light jacket and still stocking up on some SPF. The weather in April in Myrtle Beach is even more pleasant, with highs in the low 70s and lows of 55 degrees at night.
*Please note that the weather in Myrtle Beach South Carolina is subject to change. As with all spring break locales, we suggest checking the exact forecast 1-2 weeks before your trip departure for the most accurate predictions.
Myrtle Beach Hotels
Luxurious resorts complete with a lazy river, beachfront condos with ocean views, and budget-friendly hotels just minutes from the water. Let the kids run wild at their own seasonal club or splash around multiple pools while mom and dad enjoy premium amenities like a sauna, spa, and fitness center.
Kick back in homey lodgings in North Myrtle Beach, or relish easy access to shopping plazas and local vineyards. Whatever spring break vacation accommodations you are seeking, we offer a diverse array of Myrtle Beach Hotels and Resorts to choose from.
Wherever you decide to relax and recharge, make your Myrtle Beach area reservations without hesitation, knowing you are always guaranteed our lowest rates.
Things to do for Myrtle Beach Spring Break
Dial in that putt-putt game, explore acres of marshland or make friends with a ray at Ripley's Aquarium. From beachy volleyball games to go-kart races, many of the best things to do in Myrtle Beach with kids are tons of fun for adults too. Dive into tons of natural wonder and exhilarating activities when you abscond to Myrtle Beach this spring:
Beaches
Home to over 60 miles of coastline, Myrtle Beach is a true ocean lovers paradise. And while the water may carry somewhat of a chill, come March and April, there is still plenty of sand and sun-based activities to partake.
Long walks down North Myrtle Beach or Surfside, complete with hours of beachcombing, volleyball, and frisbee, all make for a fun-filled day.
Ropes Course
Kids can't stop monkeying around? Help them burn off all their excess energy when you spend a day tackling any of the Grand Strand's exhilarating rope courses.
From the tropical free-fall exit at Lulu's at Barefoot Landing to the thrilling glow-in-the-dark indoor ropes challenge at Broadway at the Beach, there are so many ways to swing, climb, and zip your way to adventure. 
Murrell's Inlet Marshwalk
Awe-inspiring sunsets, a bounty of natural marsh beauty, nightly live music, and the freshest seafood awaits you at the Murrell's Inlet Marshwalk. Nestled into the heart of the historic fishing village of Murrell, this ½ mile wooden boardwalk borders the natural saltwater estuary making it the ideal locale for kayaking, water sports, sightseeing, and more. 
Myrtle Beach Boardwalk
For a healthy dose of beach-scented nostalgia, wrangle up the family and spend an afternoon strolling down the 1.2 mile Myrtle Beach Boardwalk and Promenade. Revel in the pristine oceanfront views and ample shopping, eating, and drinking opportunities. Grab a burger at Moe Moon's, take a spin on the Skywheel, or scare yourself silly at the Nightmare Haunted House. 
Intracoastal Waterway
Jet skiing, boating, fishing, oh my! Strap on that lifevest and prepare for a boatload of water-bound fun when you take to the Intercoastal Waterway. Feel the spray of saltwater on your skin as you paddleboard or pontoon your way through the azure waters.
For unforgettable maritime memories, head out on a dolphin excursion, or attempt to reel in your dinner when you charter a fishing expedition. 
Myrtle Beach Mini-Golf
Hit the links and attempt to get that hole-in-one when you trade the beach for the putting green.
Myrtle Beach is the mini-golf capital of the world, and families of all ages will have a blast teeing up everywhere from Jurassic Park to the banks of Neverland with Captain Hook!
Family-Friendly Entertainment
Broadway at the Beach
You might be far from the glittering lights of Broadway, but that doesn't mean you need to miss out on first-rate entertainment. So take a trip to Myrtle Beach's most popular tourist destination when you head to Broadway at the Beach.
Wander through 350 acres of restaurants, attractions, and theaters as you debate your spring break plans. Sing your heart out with Elton at Legends in Concert, head under the sea with Ripley's Aquarium, or load up on Duff beer with the Simpsons in 4D. 
Barefoot Landing
Southern charm, sugary treats, and live theatrics all set along the scenic Intracoastal Waterway make Barefoot Landing one of the most sought-after spring break entertainment destinations.
Watch the mesmerizing dancing and vocal stylings of the One Show at the Alabama Theater, sample homemade fudge at the Fudgery, or enjoy an ice-cold beer and rock and roll at the House of Blues.
Fun Warehouse
Don't let a cloudy day rain on your Grand Strand plans! Instead, keep the good times rolling when you enter a world of arcade escapades and virtual reality wonder at the Fun Warehouse.
Channel your inner speed demon with go-karts, go ham on laser tag, or roller skate the day away at this indoor oasis of play. 
Broadway Grand Prix
Speed racer, is that you? Fire up that competitive spirit at Myrtle Beach's iconic Grand Prix. Drivers of all ages can zoom around seven go-kart tracks, take down two miniature golf courses, an indoor arcade, an exciting Skycoaster ride, and more.
So put your pedal to the metal on the Speed Racer loop, or test out your Nascar-level turning skills on the Grand Prix Pro Track. 
Dinner & A Show
Medieval Times Dinner & Tournament
Travel back in time to the days of white knights, jousting, and chivalry when you enjoy the spectacle of North America's longest-running dinner attraction.
Watch in awe as brave knights battle it out over swordplay, jousting, and more, all astride magnificent Andalusian stallions. Then, savor your banquet-style dinner of garlic bread, tomato bisque soup, roasted chicken, and sweet buttered corn as you cheer on the champion of your choice. 
Pirates Voyage
Shiver me timbers! Brace yourself for the swashbuckling excitement of a Pirate Battle Royale when you set sail for the famous Pirate's Voyage dinner show.
Gasp in awe as you feast your eyes on the 15-foot deep indoor hideaway lagoon. Meanwhile, gaze at the full-size pirate ship that provides the perfect backdrop for Blackbeard and his crew.
Sea lions, aerial stunts, and mermaids will capture your attention. Meanwhile, munch on a four-course feast of roasted chicken, creamy vegetable soup, and herb-basted baked potato. 
Myrtle Beach Nightlife
House of Blues
When the sun sets on the Grand Strand, it's time to put on those dancing shoes and jam out to the best rock, gospel, country, and live jazz music at the House of Blues. Settle in for an evening of unparalleled musical magic when you catch a show. Or just down some succulent southern dishes at this renowned chain. Savor gumbo, jambalaya, shrimp and grits, and more as you cheer with a giant Crossroads Cadillac Margarita. 
Crocodile Rocks
Dueling pianos, loads of laughs, and plenty of crowd-pleasing covers make Crocodile Rocks a can't-miss evening haunt. Borrowing from the New Orleans tradition of audience participation and piano serenades, Crocodile Rocks is an adults-only experience that is sure to entertain. 
Comedy Cabana 
Side-splitting laughs plus the biggest names in comedy? Yes, please! Book in that babysitter and hightail it to Myrtle Beach's only five-star comedy club for premier weekly performances featuring professional comics such as Lewis Black, Bob Nelson, Josh Blue, Tim Wilson, Jimmy "JJ" Walker, Jon Reep, and more.
Food and beverages are available during the show. Be sure to sample some of their mouthwatering burgers or made-to-order pizzas. 
Waterfront Cocktails & Views
Ocean Annie's Beach Bar
A Myrtle Beach favorite that has been enticing locals and visitors alike for over 30 years, Ocean Annies is a go-to spot for oceanfront views, refreshing cocktails, bikini-clad servers, and live music. So, sunbathe on their pool deck and order your next pina colada without ever leaving your beach chair.
Tin Roof
Raise the roof for a night of world-class music and spring break fun when you tie one on at Tin Roof. Sporting views from their open-air bar and patio, along with an intriguing mix of acoustic, regional, and touring acts. The party is always pumping at Tin.
Besides their delectable signature cocktails, such as the Painkiller or Southern Mule. In addition, they also provide a finger-licking good menu of "better than bar food."
Notable highlights include the Nashville Hot Chicken and a Chonky Donky Cali style burrito. 
Oceanfront Bar & Grill
Located in the heart of the boardwalk, this waterfront bar and eatery is always bustling full of hungry beachbound patrons. Enjoy the sweet ocean breeze, or grab a seat under a green umbrella to seek shelter from the sun.
Sample their trademark po'boy sandwiches, or treat your table to a succulent seafood platter. 
8th Ave Tiki Bar & Grill
Tiki, tropical, with just a touch of tacky the 8th Ave Tiki Bar & Grill, delivers picture-perfect beach views, an extensive craft beer selection, creative tiki cocktail creations, and homemade Mediterranean fare.
For a night of feisty fun, sample the Freaky Tiki Mai Tai. Or, if you are feeling extremely bold, opt for the 'Jeffrey Shot,' which combines 18 different liquors. 
Coconuts
We can't help that we are totally nuts about Coconuts! Located in North Myrtle Beach, this watering hole is a summertime standby. Meanwhile, also caters to the spring break crowd with their tiki decor, a bevy of frozen drinks.
Along with tasty burgers, sandwiches, and seafood. So order their Coconut Naked Punch, catch some rays, and listen to the sound of the softly crashing waves.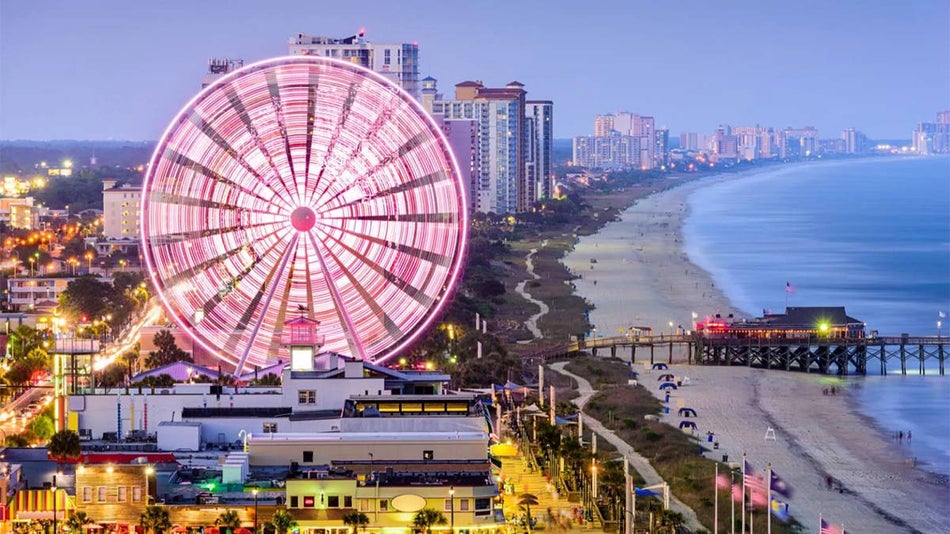 The Atlantic Coast of South Carolina might genuinely be heaven on earth. Miles of sugar sand beaches, deep-sea fishing, and live entertainment make for a perfect getaway any time of year.
But, for those seeking refuge from the crowds and sweltering temperatures of summer, we can think of no better locale for a kid-friendly Spring Break escapade.
Explore enchanting estuaries, play a round of 18 holes. Or, prepare to be spellbound by Medieval madness and magic. Then, after bedtime, adults can indulge in some over 21 fun as they knock back pina coladas and sing along to the blues at the Grand Strand's best nightclubs.
However you choose to spend your Myrtle Beach spring break. You can't help but fall head over heels for the natural beauty. Meanwhile, enjoy the iconic entertainment, and nostalgic beach fun of this Palmetto Paradise. 
How Will You Spend Your Spring Break in Myrtle Beach?
Have You Ever Done Spring Break in South Carolina Before?
Let us know in the comments below!