As it turns out, this classic, exotic vacation spot is more than just a tropical paradise and carefree luas. It may seem like a stereotypically dreamy destination from the outside, but it boasts some unique traits that make it anything but ordinary.
Before you write it off as a commonplace tourist haven, hang tight (or loose… or ten). We bet you didn't know these eleven most interesting facts about Hawaii.
Hawaii is the Only State that Grows Coffee Commercially
A long beach stroll… and a nice cup of joe? It might not be the first beverage of choice you think of sipping along the sandy shore, but homegrown Hawaiian coffee is hard to resist.
While you're there, be sure to grab a cup or two at three of the islands of Hawaii. The Big Island (in Kona), Maui, and Oahu all have coffee farms that tourists are welcome to visit.
California is beginning to experiment with coffee growing in some regions of the state, but Hawaii is leading the charge. So, stock up while you're on the islands to ensure the farmers receive their fair share of the profits.
If you opt to purchase Kona coffee in your home state, make sure that it's 100% Kona Coffee! Some brand-name companies claim to sell purely Kona-grown coffee, when actually, the beans are from other origins.
The Dole Plantation is Home to the Largest Maze in the World
Who lives in a pineapple under the sea? That would be SpongeBob, and we can't help but wonder if he bought his home at the Dole Plantation. Not only is it the world's largest pineapple plantation at 12,746 square miles -- it's home to the world's largest maze!
The Pineapple Garden Maze consists of three acres with two and a half miles of twists and turns. In addition, visitors can download the Dole Plantation app for an enhanced labyrinth experience.
Along the way, you'll see more than 14,000 native Hawaiian plants and, of course, pineapples. But, unfortunately, we just can't guarantee you'll come across any sponges.
The Plantation may be the best attraction in Oahu, but it's by far not the only one. Read on to discover 10 Things to Do in Honolulu Every Visitor Should Know About. Also, for a patriot family activity, the USS Arizona Memorial seeks to honor and remember those who sacrificed their lives for our country.
Hawaii Was the First State to Ban Plastic Bags
Do you ever feel like a plastic bag drifting through the wind? Katy Perry said it best. And Hawaii? It's taking care of the problems that plastic bags can create best. Many laws have changed since the ruling of King Kamehameha.
Although the rest of the United States is finally catching on, Hawaii was ahead of the game in banning plastic bags and other plastic items. Back in 2015, Hawaii banned all grocery stores from selling plastic bags to customers.
This ruling shouldn't come as a surprise, though, as the Hawaiian Islands have a firsthand view of how plastics and other harmful materials affect our oceans and marine life.
Hawaii is the Backdrop of Multiple Hollywood Blockbusters
Between the lush, rugged mountain terrains, picture-perfect beaches, and representations of 10 out of 14 climate zones throughout the islands, it's easy to see why film studios choose Hawaii again and again as a choice destination for movie shoots.
Several attractions like Mount Waialeale were used backdrops for Hollywood films. Mauna Loa and Kilauea Volcano, two active volcanos, and Mauna Kea, the second tallest mountain peak of an island on Earth, are also popular film backdrops.
One of the really cool facts about Hawaii is that so many of the movies and TV series we've come to love have been filmed in the Aloha state!
Check out these interesting facts about which movies and TV shows were filmed in Hawaii, including:
LOST

Indiana Jones: Raiders of the Lost Ark

Jumanji

The Hunger Games: Catching Fire

Jurassic Park

Jurassic World

Pirates of the Caribbean: On Stranger Tides

South Pacific

50 First Dates

Forgetting Sarah Marshall

Kong: Skull Island

Hawaii Five-0 (used the actual Iolani Palace!)
Forget Hollywood -- movie buffs will want to head to Hawaii! We assume most movie buffs have abandoned this article to book their ticket by now, but if you're still here, there are more interesting facts ahead.
Hawaii Played a Big Role in Popularizing Surfing
Want more fun facts about Hawaii? This one may not be a huge surprise, but would it really be an article about Hawaii if we didn't mention surfing? While Polynesians initially brought the sport to the Hawaiian Islands Pacific Ocean, it was in Hawaii that the sport took off. 
Originally known as "wave sliding," surfing was introduced to the contiguous United States by three Hawaiian princes.
Related Post: Hawaii for First Time Visitors: 8 Tips to Know Before You Go
There's no better way to get a taste of Hawaiian culture (and a taste of saltwater) than catching some waves. Cowabunga!
Never surfed? Have no fear, the Royal Hawaiian Surf Academy is here. No trip to the Aloha state is complete without adding this sport to your itinerary. With surf classes geared toward beginners, the Academy promises you'll stand and catch a big one or the lesson is on them!
Billboards are Outlawed in Hawaii
No place can be as scenic as Hawaii without a little intention. Drive along any road or highway on the Hawaiian Islands, and you'll notice something out of the ordinary -- there aren't any billboards! This nice departure from the norm of the mainland is the result of a ban dating back to the 1920s. 
Instead, you'll often see individuals waving signs for their supported political candidate, advertisement, or promotion on the side of the road. Stop and say, "Aloha"!
Snakes are also Outlawed in Hawaii
While some businesses may complain about the billboard ban, we can't imagine anyone complaining about this ban. In all the major islands of Hawaii, it's illegal to own a pet snake unless it's safely contained in a zoo.
Related Post: 10 Absolutely Free Things to Do in Poipu, Kauai
As if this wasn't enough, there are no native snake species on the islands. Carefree nature hikes through tropical forests? Sign us up!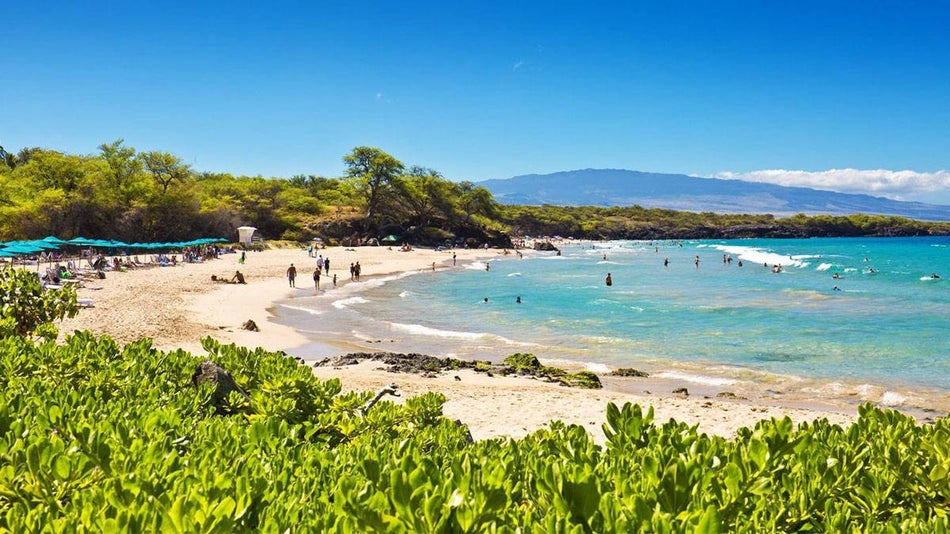 Hawaii Does Not Observe Daylight Savings Time Zone
This is an interesting fact about Hawaii we can get behind! No one knows how to live life on island time better than the Hawaiians. You can forget switching your clock an hour ahead or behind when visiting the islands, as Hawaii doesn't observe daylight savings time. 
Why? The logic is simple. Back in 1967, Hawaii's local government didn't see a reason to alter schedules based on the amount of sunlight.
Related Post: Which is the Best Hawaiian Island for Kids?
In addition, Hawaii's geographic location near the equator means they receive plenty of sunshine year-round. No clock changing for these islands in the sun!
Hawaii is a Melting Pot of Cuisines
Visions of grilled pineapple, pork, and poke may come to mind when broaching the topic of Hawaiian cuisine, but there's a lot more to it than that. With influences from Europe and Asia, mixed with its own native flair, you'll find a lot of diversity demonstrated in the dishes of Hawaii.
Related Post: 12 Most Underrated Places in Hawaii Totally Worth Visiting
Two notable staples include spam and shaved ice. These may not be traditional fare for a beach bum, but in Hawaii, they know how to let their cravings and the waves take them where they will.
If you happen to be on your Honeymoon, or just hanging with your main squeeze, we have listed the Top 12 Most Romantic Restaurants to add to your itinerary.
Gambling is Banned in Hawaii
If you're looking to try your luck on your Hawaiian vacation… well, you're out of luck. Gambling and casinos are outlawed on the Islands. Even bingo, sports betting, and horse races are illegal, too.
You'll have to stick to other activities to fill your free time. In a place as pristine as Hawaii, though, we doubt you'll have any trouble finding alternatives. 
You Can Mail a Coconut from Hawaii
If you're going to travel all the way to Hawaii, don't settle for average souvenirs. Postcards are so cliche -- why not send a coconut to friends and family on the mainland? You'll be the talk of the town as soon as you set foot off the plane. Yep, that's one fun fact about Hawaii that could be useful if you're looking for a unique souvenir! Try to use one of two of the Aloha state's official languages if you're sending a mail.
Follow these instructions from Hawaii Magazine to properly ship a coconut from your Hawaii vacation. Nothing says "Greetings from Hawaii" like a fresh coconut delivered to your doorstep. 
Planning a trip to the islands of aloha? Our Complete Hawaiian Islands Guide can help you sort through what each one has to offer! And remember Tripster has incredible deals on everything from can't-miss activities to hotels to help plan your Hawaiin dream vacation.
What Interesting Facts About Hawaii Did We Miss?
Do you know other interesting facts about Hawaii? Share them with us!