From modern and minimalistic decor to a no-frills clean room just a couple minutes' walk from downtown Long Beach, hotels near the Aquarium run from trendy to thrifty.
Follow along to discover the 11 best cheap hotels near the Aquarium of the Pacific. 
Relax in an old luxury ocean liner, or savor a hot breakfast and 24-hour front desk services just steps from Seal Beach.
Wherever you decide to recharge during your Long Beach stay. A hotel near the Aquarium of the Pacific Long Beach offers the optimal blend of comfort, style, and convenience.
Hotels Near the Aquarium of the Pacific Long Beach, CA
Comfort Inn & Suites Huntington Beach
Whether you're planning a family vacation, work trip, or romantic getaway, the Comfort Inn & Suites Huntington Beach offers classic accommodations at a modest price. Located not too far from the Aquarium's underwater residents and just off of I-405, the Comfort Inn has become a premier Orange County refuge.
Lucky guests can appreciate being just minutes away from the area's stellar attractions, including the Huntington Beach Pier, Disneyland Downtown, Disney's Garden Walk, Knott's Berry Farm, The Queen Mary, and Universal Studios Hollywood. You and your family will feel at home in any of the hotel's elegantly designed suites featuring balconies, sofa beds, massage shower heads, and more.
Feast on fresh fruit, coffee, and pastries, with their ever-popular SAVORY STARTS complimentary breakfast. Don't forget to pack those running shoes as you'll want to log some 'me time' in their fully-equipped fitness center.
Minne, Goofy, and Moana all want to say hi! Don't forget to answer the call of Disney when you hightail it to Long Beach. From the lowest ticket prices to Disneyland Vacation Packages, Tripster has got your Disney getaway covered.
Sonesta Irvine
Looking to splash out with your Aquarium of the Pacific accommodations? Treat yourself to some premium lodgings with a stay at the Sonesta Irvine. This recently reimagined property now contains renovated guest rooms, a modern lobby, an upgraded fitness studio, and a new onsite restaurant.
Situated right off the I-405, the Sonesta is just a quick drive from the area's sparkling beaches and iconic amusement parks. Refined furnishings, tasteful art, and ironing facilities accompany every room. Visitors from all over will relish relaxing in their room or suite containing a 40-inch TV with extended cable channels, a coffee machine, and free WiFi access.
Grab some afternoon sun on the spacious outdoor patio deck, or squeeze in an effective Peloton class with the fitness center's bikes. The Ocean obsessed will be in heaven as they swim laps in the saltwater pool. Don't fret over a late check-in, as the hotel's friendly staff and the 24-hour reception are always on call to greet guests and serve up local recommendations.
Thankfully, you won't have to travel far for a sublime supper. Instead, simply snag a reservation at the onsite Haven Point restaurant, and savor a dinner of Wagyu beef sliders, crispy shishito peppers, and housemade guacamole. 
Psst..on the search for even more SoCal flavor? Experience the gastronomic delights of La La land with a four-star Los Angeles food tour. 
Days Inn by Wyndham Buena Park
Calling all ye lords and ladies! Prime yourself for a stay of Medieval proportions when you lay to rest at Days Inn by Wyndham Buena Park. Sitting just .6 miles from Medieval Times, this kid-friendly inn is the perfect choice for families on a budget. Preserve your pennies when you stay just minutes from Knott's Berry Farm, Pirates Dinner Adventure, and more.
Little ones will love cooling off in one of the property's 131 air-conditioned rooms. While mom and dad can sneak in quick work calls with the help of complimentary wifi. Soak off the day in the outdoor pool or spa tub, or munch away on a complimentary continental breakfast of juice, fruit, cereal, and more.
Travel plans hit a small snafu? Days Inn offers mobile check-in allowing you to not waste a moment of sun-soaked SoCal fun. 
The Pacific Inn
Whatever your SoCal plans, the Pacific Inn delivers incomparable comfort at a convenient price. This is one of the most affordable on our list of hotels near Aquarium of the Pacific Relish the quaint community of Seal Beach as you prepare for your day of Aquarium or Disneyland festivities. Tuck into a hot continental breakfast, catch up on work emails via the free WiFi or enjoy a refreshing dunk in the pool.
Take advantage of free shuttle services and the onsite fitness center, or simply rest up for a day of Mickey madness at nearby Disney California Adventure or Knotts Berry Farm. 
Keep an eye out for paparazzi and perhaps even score some A-lister selfies when you rub shoulders with Oscar winners and divas alike on a Celebrity Tour of Los Angeles. 
Queen Mary
Have your sights set on a one-of-a-kind hotel room? Anchors away for an unforgettable night of sea-worthy adventure when you reserve a stay at the Queen Mary. This hulking hunk of a ship was once a glamorous ocean liner that ferried around celebrities and dignitaries such as Bob Hope, Fred Astair, Winston Churchill, and Elizabeth Taylor.
Today, tourists looking for a slice of old Hollywood glamor can sleep in an original art deco room on the water. Less than 30 miles from downtown Los Angeles, but worlds apart, history lovers will be in heaven as they admire the ship's original artwork, operable portholes, and more.
Each stateroom is a testament to the charm and style of transatlantic travel. Curious sailors can participate in an officer meet and greet, work out in the fitness center, or treat themselves to a pampering massage or pedicure at the spa. Even Fido can get in on the 1930s fun, as the Queen Mary is a pet-friendly hotel for dogs under 25lbs.

Hyatt Regency John Wayne Airport
Aquamarine waters, Balboa Pier, and Disney! After your incredible aquarium visit hightail it back to Newport Beach to enjoy the splendors of this picturesque beach town. The Hyatt Regency John Wayne Airport is the ideal hotel for travelers on the go. Skip out on uber with the free local airport shuttle, or check out the waves at Huntington Beach.
Hit that snooze button, and lean into vacation mode as you sprawl out in your chic room with a balcony view. Fuel up for a day of Los Angeles attractions with Baja poke or street tacos at the onsite WAVE Newport Beach restaurant, or sip on many craft beer offerings at the BLVD bar. Need to cook up a snack during your California sojourn? All guest suites include a kitchenette for convenience. 
Hilton Long Beach Hotel
Just .5 miles from the Aquarium and less than a mile from the Long Beach Entertainment District and the Civic Center lies the Hilton Long Beach Hotel. Sleep soundly in well-appointed rooms styled by the Hilton Serenity Collection as you plan your Long Beach day.
Easily walk to dozens of downtown eateries, or catch some rays at the spacious elevated pool. Sip Starbucks coffee in the lobby, or treat yourself to an Ethos premium upgrade.
Guests will relish this curated collection of wellness products and amenities, including powerful air purifying facilities, feather-free bedding, and an aromatherapy pillow spray. Work up a sweat in the fitness center, or grab an after-work glass of vino in the Enclave Lobby Bar and Kitchen.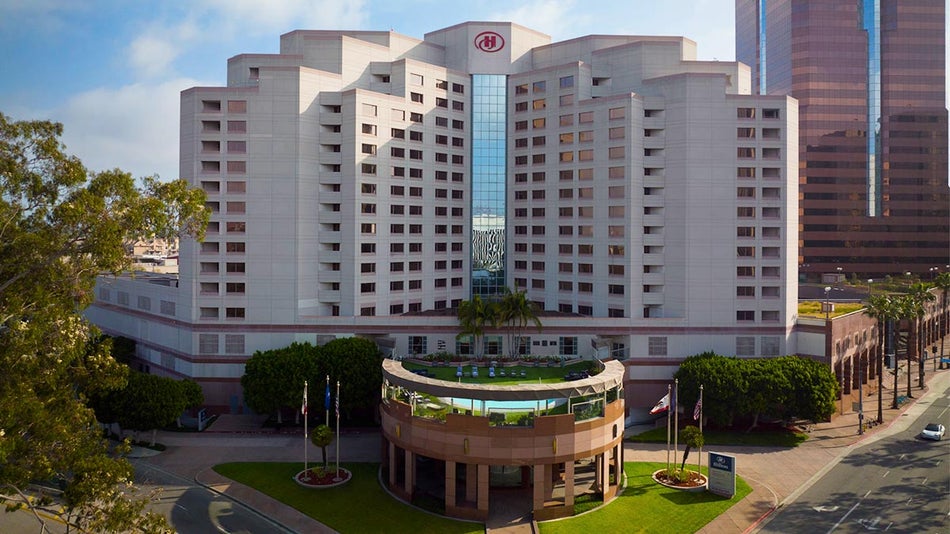 Best Western Plus Hotel At The Convention Center
Warm customer service, outstanding reviews, and a name you trust. The Best Western Plus Hotel at the Convention Center is an outstanding choice for travelers in the Long Beach area. Make the most out of your otter-rific Aquarium visit when you spend a night or two enjoying the Entertainment Center.
Savor the warm furnishings and amenities of your suite or balcony room before exploring the Convention Center, downtown, or the Pike at Rainbow Harbor. Embrace a few more minutes of blissful sleep with a late 11:00 a.m. checkout. Or use your extra time to sneak in a sweat-inducing workout in their fitness center. 
Harry Potter World, intergalactic Guardian hijinks, and It's a Small World. There's no denying the eternal appeal of a Los Angeles theme park. Discover roller coasters, live shows, and more from Universal, Disney, and Sesame Place. 
Hyatt Regency Long Beach
Modern, stylish, and sleek. All of the amenities and customer service of a Hyatt establishment come together to create a VIP-worthy Long Beach stay at the Regency Long Beach. Located in the middle of the marvelous waterfront, just moments away from downtown, the Hyatt Regency Long Beach holds the distinct honor of being the only 4 Diamond Award-winning Long Beach, CA hotel. Looking for luxury in your search for hotels near Aquarium of the Pacific?
Guests from all over flock here to unwind after hours of Aquarium education and entertainment. Take in sweeping ocean or harbor views, as you appreciate the chic, understated decor of your Royal Suite or King Bedroom. Snuggle into crispy sheets, plush pillows, and down duvets, or jam out to tunes played by your iHome stereo.
Stop the endless rifling through your purse for your room keys, as the Hyatt allows you to embrace a keyless existence. Simply use your iPhone or Apple watch to enter your room or other hotel common areas. 
Why mess around with tons of separate bookings when you can combine your LA accommodations and activities and save? Dial in your thriftiness when you combine top-tier attractions like Disneyland and Universal with your hotel stay. Scroll through our entire inventory of awesome Los Angeles Vacation Packages.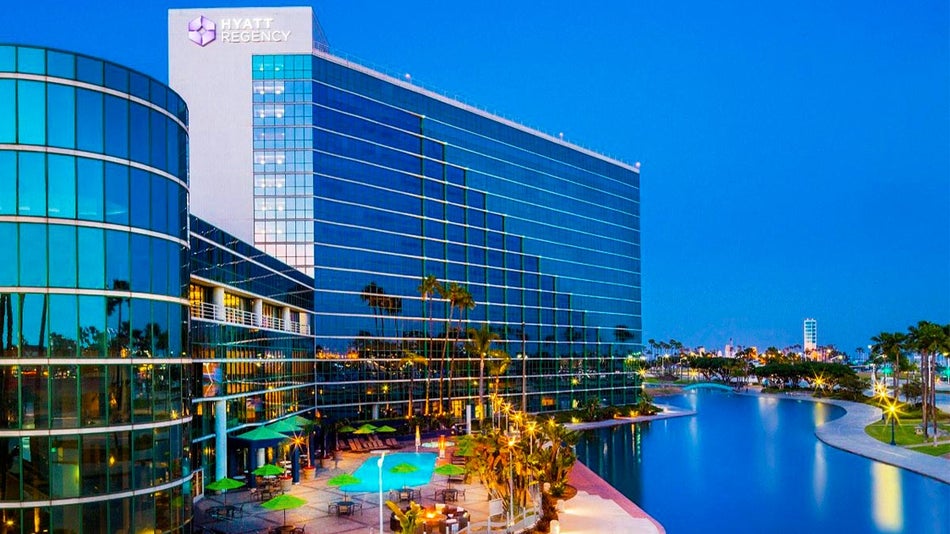 The Westin Long Beach
Lush tropical plants, gorgeous floor-to-ceiling windows, and on-trend interior design effortlessly intermingle to create an oasis for body, mind, and soul at the Westin Long Beach. Sublimely situated in the city's buzzing downtown district, just moments from the convention center, the Westin was created for beachside pampering.
After a day of tropical fish, sharks, and rays at the Aquarium, make time to traverse the area's diverse offerings. Stop by the Queen Mary or take part in a tour via the Catalina Express. Next, hit the Pike Outlets for retail therapy, or grab fresh seafood by the waterfront. Then, return to the hotel's stunning property to take in some vitamin D by the outdoor pool. Or maintain your fitness with a quick Peloton or elliptical workout in the studio.
Snap photo after photo of the ocean views as you carve out some work-from-home time from your suite's spacious office area. Then, assuage your hunger with a standout meal from Navy Proof Food and Spirits. Or caffeinate in the a.m. with a delicious Bluestone Lane cold brew. Dog lovers are in luck as this Westin property welcomes pooches with a maxim weight of 40 lb.
Golden Sails Hotel
Who says value and comfort are mutually exclusive? Soak in plenty of palm trees, ocean breezes, and pool views when you schedule a stay at the Golden Sails Hotel. Located along the coast of eastern Long Beach, this beloved hotel creates an ocean-accented nirvana for guests young and old.
Marvel at marina views, expertly landscaped grounds, and a spacious swimming pool. Stroll through 7 acres of amenities, including a heated pool, spa, gym, and business center. Explore Catalina Island, pick up a game of volleyball at Seal Beach, or set sail for a whale-watching adventure. Conclude your day of Long Beach activities and attractions with a refreshing cocktail at the PCH club. 
Dinner, drama, and giant turkey legs! Admire jousting or have a swashbuckling supper with Blackbeard's crew when you dine and witness the drama of a Los Angeles show. 
About Aquarium of the Pacific
Sea jellies, frogs, and Magellanic Penguins, oh my! Get to know the majestic creatures of the Pacific Ocean when you spend a day or two discovering the Aquarium of the Pacific. Designed to cultivate a lifelong curiosity and love of the ocean, the Aquarium displays over 12,000 animals and 500 species.
The Aquarium contains 19 major habitats and 32 focus exhibits, from cute and cuddly otter babies to zebra sharks. Visitors, young and old, can delight in the diverse habitats and ecosystems of Northern and Southern California, Baja, the Tropics, and more.
Aquarium of the Pacific Habitats
Swing by the shark lagoon and touch an Epaulette or Bamboo shark in the touch pool. Or witness the vivid residents and predators of the Coral Reef. Listen up for the charming chirp of the colorful Lorikeet, or learn about Sea Jelly reproduction.
Mini conservationists will love the Aquarium's newest expansion, the Pacific Visions wing. This 29,000-square-foot structure is dedicated to tackling our most pressing environmental issues. It houses a state-of-the-art immersive theater, an art gallery, and a culmination gallery with interactives, game tables, and live animal exhibits. Don't forget to sneak in a screening. As you won't want to miss the multisensory effects of the theater's massive 180-degree curved screen and floor projection disc.
Looking to flesh out your Los Angeles escape? From movie studio tours to wax museums, the City of Angels is a prime destination for more than just saltwater fun. Check out our full list of Los Angeles attractions here. 
Deep, expansive, and unyielding. The waters of the Pacific Ocean hold endless enchantment and mystery. From the exquisite habitats of the Northern Pacific to animal shows starring opossum and red-footed boobies, the Aquarium of the Pacific is an epicenter of marine conservation and curiosity.
Animal-obsessed visitors of all ages will flip tail over fin to participate in touch tanks, lorikeet encounters, and engaging education about the amphibian life cycle.
Make the most of your Long Beach Aquarium getaway when you secure the most stellar hotel room reservation.
Do you have your eye on a sizzling beach view? Want to stay on top of your fitness goals with free weights or a Peloton cycle? There are endless options for accommodations near the Aquarium.
Spoil yourself with magazine-worthy digs at the Westin or swoon over fresh salsa and tortilla chips at the Sonesta Irvine.
No matter if you're planning a Long Beach getaway for a party of two or ten. You'll never be let down by the stunning hotels, inns, and resorts alongside the Aquarium of the Pacific. 
Tell us, Which are Your Favorite Hotels Near the Aquarium of the Pacific?
Did we miss any of the best Long Beach hotels near the Aquarium of the Pacific?
Leave us a comment below!