For panoramic views of the Great Smoky Mountains, a hike up Charlies Bunion Trail is a must.
Along the way to the stone outcropping known as Charlies Bunion, you'll traverse part of the famous Appalachian Trail and enjoy breathtaking mountain views.
Important trail information:
Difficulty: Strenuous
Length: 8 miles roundtrip
Location: Newfound Gap
What to Expect along Charlies Bunion Trail
To reach the trailhead from Gatlinburg, drive 13 miles south of the Sugarlands Visitor Center on Newfound Gap Road. The trailhead is left of the overlook, at the end of the parking lot. The Appalachian Trail heads out in two directions from this point. To reach Charlies Bunion, head eastbound.
The first two miles of the trail steadily climbs uphill, rewarding you with views of the Smokies. At mile 1.7, stop and take the spectacular views of Mt. LeConte and Myrtle Points towards the northwest. Elevation gains during the hike reach 6,000 feet at several areas. The hike, which largely follows a mountain ridge, offers continuous views of a sprawling mountain range. It's one of the biggest rewards of the Charlies Bunion hike.
About a further mile down the trail, at mile 2.7, the Boulevard Trail forks to the left. Continue going straight on the trail to reach Charlies Bunion. You'll soon pass the Icewater Spring Shelter, then about a mile more you'll reach a short spur trail to left. Follow this trail to reach Charlies Bunion. Once there, you'll see the rock cropping for which the trail is named as well as panoramic vistas of the mountains. It's a truly pristine sight to take in, transporting you to a time where the wilderness was wild.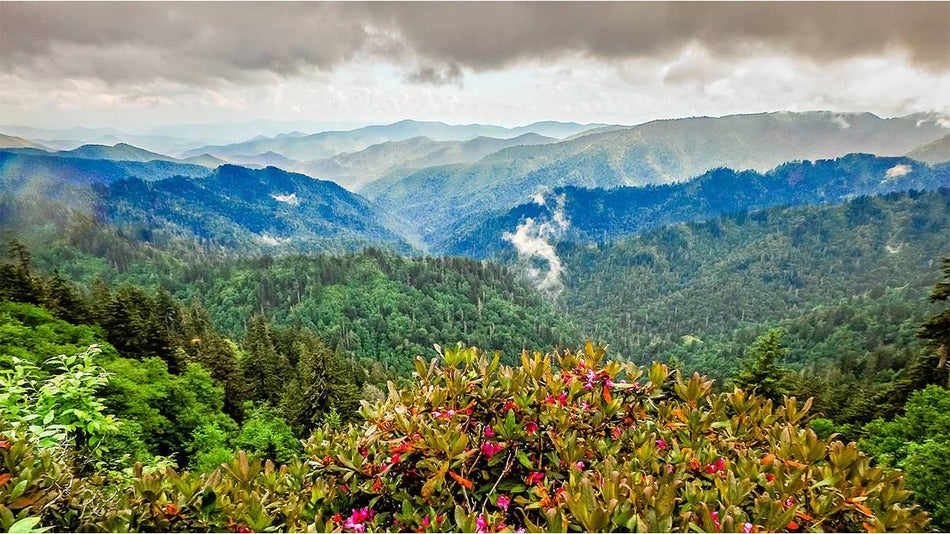 The rock outcropping known as Charlies Bunion was once known as Fodderstack. It received its current name when Charlie Connor hiked to the location with Horace Kephart, an early proponent of the Great Smoky Mountains National Park. They stopped at the outcropping to enjoying the views. While resting, Connor took his boots and socks off and remarked how the rocks looked like a bunion on his feet. The rest, as they say, is history.
Ready to Hike Charlies Bunion Trail?
Before you set off on your hike, be prepared by reading our Great Smoky Mountains National Park Guide!