Pack the passport because it's time to discover the Great White North. From natural wonders like Niagra Falls to world-class museums and art galleries, Toronto is a metropolitan city like no other.
While airfare and international travel can often make a dent in our travel plans, the Six offers loads of free museums, attractions, and landmarks. Follow along to uncover the best free things to do in Toronto.
The city of Toronto may have earned a reputation for its renowned restaurants and theater district, but travelers looking to save will be surprised by the sizzling deals available in the Big Smoke.
Whether you are savoring sparkling views from the shores of Lake Ontario or enjoying the impressionist masters at the AGO, there is plenty to do for free.
Snap selfie after selfie in front of the charming lock wall in the Distillery District, or ogle the cute farm animals at the High Park Zoo.
No matter if you're craving outdoor adventure or a contemporary cultural experience, our neighbors to the North roll out the red carpet.
Toronto Hotels
Before you get started on all of the incredible things to do in Toronto for free, it's high time you secure those TO lodgings. Regrettably, we have yet to find a way to reserve a luxurious hotel suite for free. However, we can provide a wide array of budget-friendly inns, suites, and hotels.
From accommodations right by Niagara Falls to spacious and modernly appointed rooms in North York, we deliver options for every type of Toronto vacation. Best of all, you can always book our Toronto Hotels worry-free as we guarantee the lowest rates online.
Free Things to Do in Toronto Canada
Mouthwatering markets hawking international treats and greasy peameal sandwiches coupled with free concert series in the Four Seasons Centre. Intrepid visitors from all backgrounds will find their niche in Toronto. Visit during winter to enjoy free activities such as ice skating and curling or swing by in summer to appreciate the glory of cherry blossoms in High Park.
Toronto Sign
No trip to Queen City is complete without an obligatory selfie in front of this landmark sign. Hightail it to Nathan Phillips Square to see the new 3D version of this iconic installation which was refurbished in 2020.
Originally erected in front of the Toronto City Hall for the Toronto Pan American and Parapan American Games in 2015, the new illuminated sign stands ten feet tall and features a more durably designed vinyl wrap.
Psst…looking to make some heartwarming holiday memories? If your Toronto getaway coincides with the cozier months be sure to stop by Nathan Phillips Square for some outdoor ice skating.
Free Concert Series
Elite musicians from all over the world come together to share their passion and talent with the Free Concert Series by the Canadian Opera Company. Hosted in the Richard Bradshaw Amphitheatre at the Four Seasons Centre, visitors flock here throughout the 2023 season to appreciate jazz, hip-hop, and classical works.
From a selection of Chopin's preludes from Opus 28 to highlights of full-length ballets such as Cinderella and Anne of Green Gables, guests will be moved by the masterful melodies of these artists. Missed a free performance? Don't fret as you can still view the concerts digitally.
Eaton Centre
Ready to shop till you drop? While hitting the department stores at Toronto's most famous mall will certainly cost you, there's still lots to do at the Eaton Centre.
Besides seeing their glittering Christmas tree aglow with lights during the holiday season, you can make a date to capture selfies and autographs with famous Canadian artists during a meet and greet.
Check out their event schedule and stay abreast of the mall's parades, free concerts, and other low-cost activities such as chocolate painting.
St Lawrence Market
Nothing connects people more than food. From the simple pleasures of sharing a sweet butter tart to gathering together over a home-cooked meal, it's no wonder that for over 200 years the St Lawrence Market has served as the beating heart of the Toronto community.
While the market and food hall are free to visit, we can't guarantee that you won't be tempted to come home with a sack of maple syrup treats or sample a famous peameal bacon sandwich. Take your time browsing the various stalls filled with merchant vendors and artisans, as you share stories and hear about their life's work.
From flavorful samples of blackened Sakastawan pork to chef demonstrations, you'll never know what you'll uncover in this authentic melting pot of ideas, culture, and flavor.
Distillery District
A mesmerizing amalgam of art, music, dance, and food, locals and visitors alike congregate in the winding alleyways of the pedestrian-only Distillery District. What was once a large whiskey distillery is now known as a charming residential area filled with hip restaurants, bars, boutique shops, and galleries.
Enjoy the free outdoor art space, as you soak in the sculptures or pause for a moment to groove along to the music of the buskers. Snap a photo in front of the famous lock wall with your honey, or peek your head into the Beauchamp Art Gallery to spot colorful works from artists across Canada.
If you are lucky enough to be staying in the Six for Christmas you must make a sojourn to the district's annual Christmas Market which transforms the area into a veritable winter wonderland complete with trees, rides, and twinkling lights.
High Park Zoo
What the High Park Zoo lacks in diversity it more than makes up for in cost (free). Wrangle up your kiddies or ragtag group of animal lovers for a visit. Originally constructed in 1893 as a simple paddock for deer, this beloved Toronto establishment now contains eleven paddocks filled with all manner of furry creatures.
Get up close to animals from around the world including bison, llamas, peacocks, reindeer, highland cattle, wallabies, emus, and sheep. A special treat for little ones, kids will be over the moon when they discover they can pet the wooly llamas and super soft rabbits.
Royal Ontario Museum
Instantly recognizable due to its glinting multi-faceted Michael Lee-Chin Crystal exterior, the Royal Ontario Museum has been educating and entertaining inquisitive minds for over a hundred years. This Yorkville edifice is full of artwork, cultural objects, and natural history specimens.
Let your curiosity take over, as you make your way through 40 gallery and exhibition spaces featuring wildlife photography, T Rexes, Stag Mooses, and more. Admire Chinese sculptures, or take it back to the time of gladiators and emperors in the Eaton Gallery of Rome.
Between live coral reefs and the ancient Ming Tomb, there's tons to uncover. Budget-conscious visitors can score complimentary admission on the third Tuesday of every month from 4:30 p.m. - 8:30 p.m.
Art Gallery of Ontario
Founded in 1900 and located in downtown Toronto, this towering structure of glass and steel is home to more than 120,000 works of art. The Art Gallery of Ontario is one of the largest art museums in North America. Consequently, it is home to a vast array of diverse works ranging from European masterpieces to Indigenous and Canadian acquisitions.
Museum guests can easily spend a full day roaming the halls. Revel in modern works by:
Marc Chagall
Henri Matisse
Amadeo Modigliani
Claude Monet
Pablo Picasso
Dive into the history of the First Nations, with the museum's selection of argillite poles, or spot real Aboriginal boomerangs.
Savor impressionist paintings, studio photography from West and Central Africa, and more. All without spending a cent, thanks to the AGOs' new initiative. This guarantees free admission for visitors 25 and under. Additionally, the museum also provides complimentary entry to the collection galleries every Wednesday from 6-9 p.m. Please note that these tickets must be booked in advance online.
Explore Downtown on the Path
Brr! If you happen to be visiting Hogtown during the frigid winter months why not take your sightseeing and strolling underground? The PATH is a network of underground pedestrian tunnels, elevated walkways, and at-grade walkways that contain more than 18 miles of tunnels, walkways, and shopping.
Defrost your fingers and explore everywhere from Roy Thomson Hall to Union Station.
Window Shop and People Watch on Queen Street West
Artsy, funky, and fun, Queen Street West is the ideal locale for an afternoon of window shopping and people-watching. This dynamic area is buzzing with trendy cafes, restaurants, hotels, and retail. Named one of Vogue's coolest 'hoods, it's not hard to see why artists and tastemakers congregate here.
Enjoy the vibrant murals and portraits in Graffiti Alley. Or pack a picnic and soak in some sun in tree-lined Trinity Bellwoods Park. Check out the trendy Drake or Gladstone Hotel buildings. Or pause for a coffee pick me up at the White Squirrel or Cafe 23.
Feeling photogenic? Snap a selfie in front of the giant thimble on the northwest corner of Richmond Street West and Spadina Avenue. This symbol of sewing was constructed to honor the area's past legacy as a garment district.
Visit Niagara Falls
These powerful cascades are believed to have been formed around 12,000 years ago from glacier activity. Feel the awesome power of these falls for yourself when you visit one of the natural wonders of the world.
While boat tours and transportation may cost you, seeing the world-famous Niagara Falls is completely free! Prime your peepers as you witness what is thought to be the world's fastest-moving waterfall. Can't get enough mist? Use all of that leftover Toronto cash to splurge for a Niagara Falls Boat Cruise tour.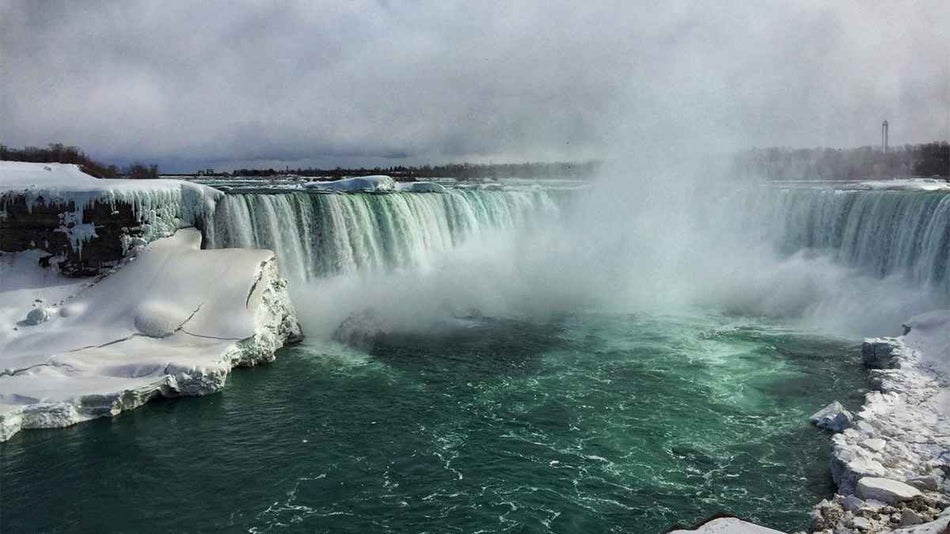 O'Canada! Just a quick border crossing will endear visitors to the world of Tim Horton's Maple Leafs, and more.
Boasting a population of over six million, this North American mecca of art, finance, and fashion may seem like a perfect fit for the jet set.
Nevertheless, thanks to numerous museum initiatives, free attractions, and low-cost activities, the Big Smoke is more affordable than ever.
Get your Jurrasic Park on when you clock the impressive Barosaurus skeletons on display at the ROM. Or pretend you're a local when you sample award-winning cheeses and pierogies at the St Lawrence Market.
Toss around a frisbee in the verdant pastures of Trinity Bellwoods. Or ham it up in front of the iconic Toronto sign in Nathan Phillips Square.
From yummy eats to explorations of Aboriginal boomerangs, the Queen City will always treat you like royalty.
Tell us, Did We Miss Any of the Best Free Things to Do in Toronto?
What are your top fun things to do for free in Toronto?
Leave a comment below!