If so, you'll want to add the most romantic things to do in Toronto to your trip itinerary.
From strolls in rose gardens to sweet surprises from high in the sky, there's something for every couple in Toronto.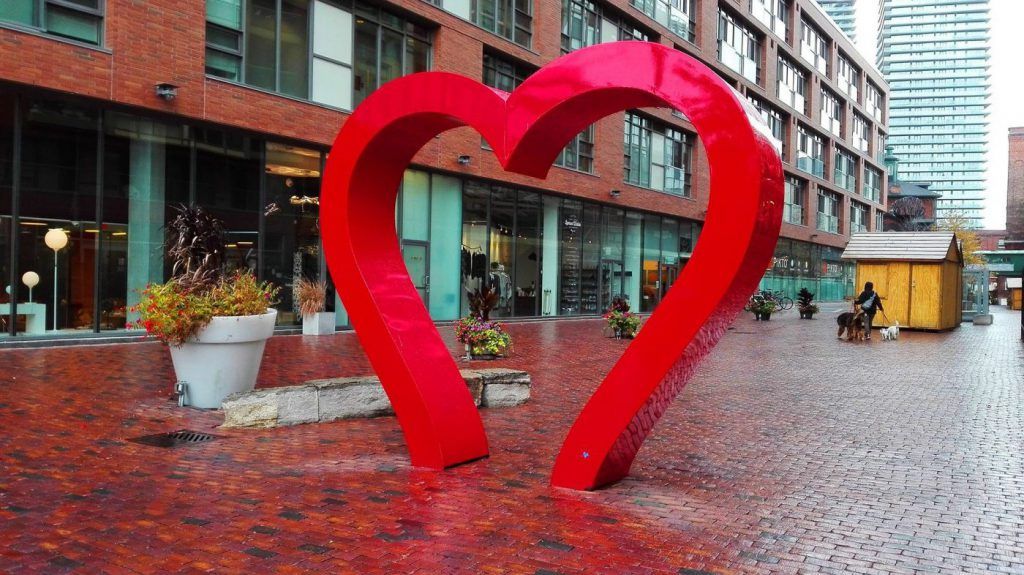 Romantic Things to Do in Toronto: 10 Ideas for Couples
1. Take Pictures at the Distillery District Heart
You have to get at least one good photo together while traveling. Why not take it in the most romantic spot in the city?
In the Distillery District, you'll find the Heart art installation. Though you may have to wait in line or battle a crowd to take a picture with it, it's worth it to capture a lifelong memory with you and your significant other.
2. See the City from CN Tower
It's difficult to miss the iconic CN Tower when strolling around Toronto. With incredible city views, heart-stopping heights, and an award-winning restaurant, it's hard to beat a date night here!
Surprise your loved one with reservations to 360 Restaurant before heading up to the LookOut Level, SkyPod, or Glass Floor observation areas. Or, if you're both a bit daring (and trusting of one another), secure your spot for the EdgeWalk and literally walk around the outside edge of the building from 1168 ft off the ground!
With so much to do in one spot, it's not hard to see why a trip to CN Tower is among the top romantic things to do in Toronto.
3. Visit Casa Loma
Did you know there is a castle in Toronto? Built in 1914, Casa Loma is a historic landmark now used for a variety of events and occasions such as weddings, conferences, and parties.
However, tourists can feel like royalty as they tour the castle and learn more about its history, notable tenants, and more. Plus, with the picture-perfect grounds, you'll feel transported to another time period together.
While at Casa Loma, tour the various exhibits, grab a coffee at the onsite cafe, and make reservations for dinner at the BlueBlood Steakhouse for a romantic day at the castle.
4. Embark on a Delicious Tour of Toronto
What's more romantic than sampling the best food, wine, and snacks Toronto has to offer? For some tasty couples fun, consider adding a food or wine tour to your plans.
A few of the top food and drink tours in the area include:
No matter what type of food and drinks you both enjoy, there's a tour for that in Toronto!
A word of advice, place your tour reservations as soon as possible. Certain tours fill up far in advance.
5. Stroll through the Toronto Botanical Gardens
It wouldn't be a list of romantic things to do in Toronto without mentioning the Toronto Botanical Gardens! Browse the numerous gardens and outdoor art installations hand-in-hand for a day you both will never forget.
Best of all, the Toronto Botanical Gardens are among the many free things to do in Toronto, too. No one said a romantic day together in Toronto had to be expensive!
6. See a Show
If you and your honey love live entertainment, Toronto has that too. From touring Broadway productions to live music venues, you're bound to find a performance you'll rave about. A few of the city's top theaters and venues include:
Be sure to check the listings for upcoming performances to ensure you get great seats for the show!
7. Browse the AGO
Or perhaps you and your significant other are interested in another medium of art. At the AGO (Art Gallery of Ontario), you'll find a myriad of art installations and exhibits displaying all types of artwork.
While strolling hand-in-hand through the galleries, strike up a conversation about the artists or how you each interpret the respective pieces of art. The AGO also hosts a full calendar of workshops, programs, and events. See which events or workshops are happening during your Toronto trip and sign up for two spots!

8. Indulge at SOMA Chocolatemaker
Of course a trip to the chocolate factory is among the best romantic things to do in Toronto!
SOMA Chocolatemaker is located in Toronto's Distillery District and is home to some of the world's most delectable chocolates, cookies, candies, and more. Watch as the artisan chocolatiers craft mouthwatering treats and more. Oh, and did I mention the gelato lab?!
Bring your sweetheart to the sweetest place in Toronto for a day filled with sweets and tasty treats. But beware—you just might walk away with a box or two (or three… okay, four…) of chocolate!
9. Cheer on Toronto's Teams
Are you both super competitive? If so, get tickets to cheer on Toronto's sports teams! Whether you like hockey, baseball, basketball, or another sport, there's a team for you to root for including:
Toronto Maple Leafs (NHL)
Toronto Blue Jays (MLB)
Toronto Raptors (NBA)
Toronto FC (MLS)
Due to the popularity of each team, you'll want to get tickets as far in advance as possible for the best seats.
10. Hike the Scarborough Bluffs
The last recommendation on our list of romantic things to do in Toronto is for the outdoorsy couple. Scarborough Bluffs boasts nine different parks, including one with a beach. Each park offers a variety of outdoor activities for couples to enjoy including:
Hiking Trails
Biking
Overlooks
Swimming at Bluffer's Beach
Picnicking
Wildlife Spotting
Sailing
Paddleboarding
The list is virtually endless! If you and your loved one enjoy spending time in the great outdoors, exploring this series of parks is among the most romantic activities in city limits.
Explore Toronto Together
Whether you devour the city's culinary scene or roam through art galleries, one of the most romantic things to do in Toronto is simply spending time together.