Known for rich history, the best BBQ, and taking up plenty of American space, Texan cities can seem larger than life… and possibly out of your travel budget.
However, San Antonio offers a rich blend of Mexican and Tex-Mex cultures with plenty of family-friendly attractions and activities, even for the budget-conscious. In San Antonio free things to do are everywhere.
Whether you choose to study the ruins of historic sites like the infamous Alamo or walk along the bustling River Walk to the beat of mariachi music, there are numerous free things to do in San Antonio.
We've rounded up all the best free things to do in the Alamo City just for you!
San Antonio River Walk
The River Walk, or Paso del Río, boasts a host of lively stores and restaurants lining the San Antonio River in the heart of downtown. Visitors can stroll along the stone path and survey local artwork and vendors to the tune of mariachi players as they also think of the free things to do in San Antonio Riverwalk.
Related Post: San Antonio on a Budget: How to Save BIG With a Go City Pass
Furthermore, this gorgeous 2.5-mile-long city park connects to several attractions such as lovely Marriage Island, the Arneson River Theater, and the city's historic missions. 
Pro Tip: If you visit the city right after New Year's Day, you'll get a chance to catch the San Antonio Mud Festival, including the Mud Parade and Mud Pie Ball. This event takes place each year when the San Antonio River is drained and cleaned out. Lost treasures from unfortunate tourists are often found lying at the bottom, like jewelry, cameras, and toys. This event encapsulates all of the cool things to do for free in San Antonio.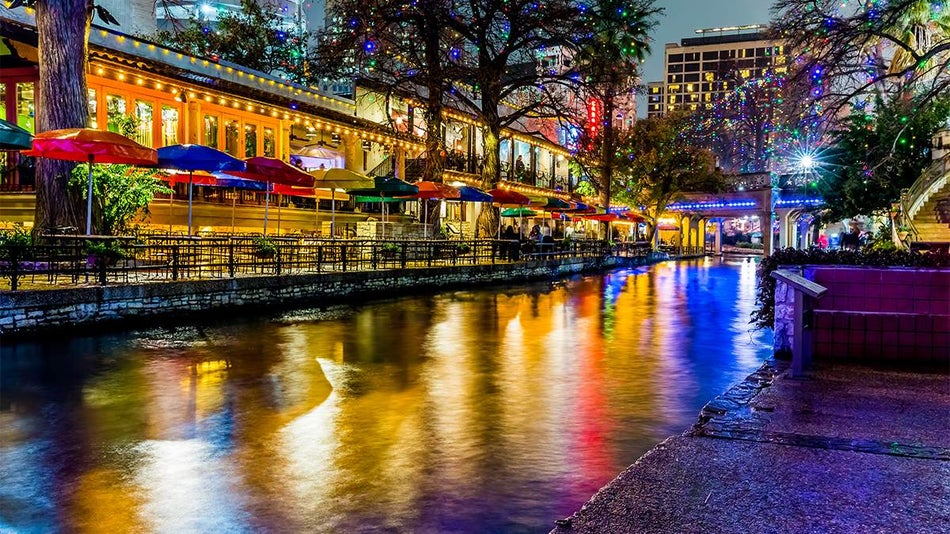 The Alamo
A trip to San Antonio isn't complete without remembering the Alamo. Fortunately, this excursion is free to the public! The Alamo Mission once stood as a converted fortress that fell in 1836 during the Texas Revolution at the Battle of the Alamo.
While many of the original structures were destroyed, visitors can view preserved remnants, such as the old chapel as well as an impressive collection of weapons and artifacts
Brackenridge Park
Displaying the beauty of the Texas Hill Country, Brackenridge Park is a public park north of downtown San Antonio with multiple attractions located in the 349-acre area.
This 19th-century San Antonio staple houses one of the Japanese Tea Gardens, the San Antonio Zoo, several museums, and more. Guests can also enjoy using its many trails, pavilions, playgrounds, and baseball fields. 
The Japanese Tea Garden
This stunning, peaceful garden is open and free to the public every day. The Japanese Tea Garden once operated as a rock quarry but was transformed into a fairytale scene in 1919. 
Complete with stone walkways, a Japanese pagoda, a waterfall, a lily pond, and exotic plants, this San Antonio treasure is not to be missed. Also, guests can dine at the Jingu House Cafe for a variety of teas, salads, sandwiches, and Asian cuisine.
Photo Alert: No permit is required to take photos in this gorgeous location reminiscent of the Secret Garden. Pose in the pagoda or by the lily pond to capture the botanical wonder. No one can say no to doing this free stuff in San Antonio. 
San Pedro Creek Culture Park
Although the park is expanding, the first phase of San Pedro Creek Culture Park is complete and features interactive art installations to celebrate the creek's culture and history.
Skip along the path to find respite from the sun in the San Pedro Creek and sit on the steps of the 12 Generational Benches of the Plaza de Fundación. Additionally, visitors can take in the stunning mural titled "Rain from the Heavens," along with multiple other impressive art installations.
Related Post: 12-Day Trips from San Antonio Worth the Drive
Pro Tip: Looking for an in-depth tour of the park as you mull over the things to do in San Antonio free? There's an app for that! Download the San Pedro Creek Culture Park mobile app, select the topic you're interested in, and follow your audio guide through the park at your own pace.
San Antonio TX Missions National Historical Park
Encompassing over 300 years of layered history, this historical park hosts four distinct Spanish missions: Mission San Jose, Mission Concepcion, Mission San Juan, and Mission Espada. 
Each mission still contains active Catholic parishes and holds regular services. The San Antonio Missions National Historical Park stand as a representation of South Texas Tejano culture and provide learning experiences for the whole family.
Market Square
Market Square, or El Mercado, is the largest Mexican marketplace in the United States, with over 100 local restaurants, shops, and vendor stalls. It's free to walk around in the space and enjoy authentic Mexican and Tejano culture.
Catch one of the Farmer's Market Food Court live performances or admire the traditional pottery, clothing, artwork, and cuisine. Everyone will surely enjoy these free activities in San Antonio.
Pro Tip: If you do decide to sample some noms, we suggest Mi Tierra's pastries.
Yanaguana Garden at Hemisfair Park
With multiple unique art installations, playgrounds, a splash pad, and over 500 events per year, Yanaguana Garden presents a perfect spot to let loose with your family. 
Related Post: 19 Things to Do with Kids in San Antonio That Won't Disappoint
Guests can take advantage of free access to games such as chess, checkers, cornhole, and ping pong tables or simply relax on one of the tiled benches. Afterward, indulge in one of the many converted restaurants nearby.
Artpace
Artpace San Antonio is one of the contemporary art galleries and nonprofit residency programs for domestic and international artists open to the public seven days a week. Visit this is one of the free things to do San Antonio. Visitors can do self-guided or guided tours in English and Spanish in this downtown space. Distinctive performances, film screenings, workshops, and summer classes are also available.
King William Historic District
Named in honor of King Wilhelm I of Prussia (Germany), this 19th-century picturesque neighborhood once belonged to German immigrants who settled in the Texas Hill Country. Enjoy breakfast or brunch at the lavish Guenther House, surrounded by preserved Victorian decor. Afterward, tour the San Antonio Art League and Museum or the Blue Star Arts Complex.
San Antonio Art League and Museum
One of the cool things to do in San Antonio for free is to visit this museum. Located in the charming King William Historic District, the SAALM serves as one of the converted art museums and galleries. Focusing on Texas artists, this 19th-century carriage house possesses over 600 works in varying mediums in its permanent collection. Roaming exhibitions feature local and regional Texas artists. Although you can donate to the museum, admission is free.
The Main Plaza
Once the commercial hub and spiritual center of San Antonio, the Main Plaza or Plaza De Las Islas still stand as a historic marker with 30 significant historical pavers throughout the plaza. Try to find them all while enjoying free things in San Antonio! Take in the monumental architecture of the San Fernando Cathedral and view "The Saga," a dazzling light show projected onto the Cathedral during the evening.
The Quadrangle and Fort Sam Houston Museum
Constructed in 1876, the Quadrangle at Fort Sam Houston stood as the original limestone fort structure that hosted housing supplies before the U.S. Army used it as an arsenal. Apache leader Geronimo was once imprisoned here, and it's rumored that the deer and other wildlife roaming the property were brought for the Apaches.
Furthermore, visitors can walk around the Fort Sam Houston Museum on base showcasing the history of the fort dating back to 1845. This important walk back in history is free in San Antonio. The fort is still an active military base, and animals such as deer and peacocks roam freely. Even though both sites are free, visitors must present a valid driver's license.
Headwaters Sanctuary 
Tucked away within the grounds of the University of the Incarnate Word, this 53-acre nature sanctuary is cared for by the Sisters of Charity of the Incarnate Word. The sanctuary works to restore native wildlife and provide refuge in an urban landscape with educational programs for children and adults.
Fun Fact: Visitors can also see the source of the San Antonio River here, tagged the "Blue Hole." It's also known as "Yanaguana," meaning "spirit waters."
Phil Hardberger Park
As one of the many natural landscapes in the city, Phil Hardberger Park is filled with outdoor fun for families searching for fun free things to do in San Antonio. This 330-acre park is home to a nature center, 7.5 miles of trails for hiking, walking, and biking, along with play areas and outdoor classrooms.
The park connects to the Howard W. Peak Greenway and is divided by Wurzbach Parkway.  The Robert L.B. Tobin Land Bridge unites both sides of the park.
Holocaust Memorial Museum of San Antonio
The Holocaust Memorial Museum aims to memorialize victims of the Holocaust by educating guests on the significant historical impact and generational trauma. Guests can take self-guided tours or schedule a guided tour of the four exhibits. In addition, visitors can participate in workshops and seminars. Although the museum is free to tour, donations are encouraged.
Witte Museum
The Witte Museum celebrates Texan history, culture, and wildlife. The permanent collection features historic photographs, artifacts, art, prehistoric cave drawings, dinosaur remains, and more.
Additionally, there are revolving exhibits as well as several interactive spaces for students, such as the H-E-B Body Adventure Center. Note that visitors can tour the museum for free on Tuesdays from 3 p.m. until 6 p.m.
The DoSeum
The DoSeum seeks to spark kids' interest in STEM subjects, literacy, and the arts through its interactive exhibits and programs. Bring your kids to play, explore, and expand their minds!
Pro Tip: Admission is free for DoSeum members, ASTC members, and AAM members. Bank of America, Merrill Lynch, and U.S. Trust cardholders receive free admission the first full weekend of every month if they have their card and photo ID on them.
The Briscoe Western Art Museum
Western fanatics will enjoy the museum's collection of art, film memorabilia, and historical artifacts representative of the American West. Through paintings and sculptures, as well as artifacts from Native Americans and Western settlers, visitors can gain more insight into the lives of earlier generations of Americans.
Locals can access the museum for free on Locals Days, which is listed on the website. Active military members receive free admission at any time!
McNay Art Museum
The McNay Art Museum boasts an incredible collection of American and international art from different time periods. The permanent collection features over 22,000 works from all over the world, including paintings, sculptures, and glasswork. There are also numerous revolving exhibits.
The museum is free on Thursdays from 4 p.m. to 9 p.m. and on the first Sunday of each month from noon to 5 p.m. In general, admission is free for guests 12 years old and younger.
San Antonio Museum of Art
The San Antonio Museum of Art's permanent collection displays domestic and international artwork dating from the Bronze Age to contemporary times. There are also revolving exhibits and events for visitors of all ages.
Bexar County residents can tour the museum for free on Tuesdays from 4 p.m. to 7 p.m. and on Sundays from 10 a.m. to 12 p.m.
Please Note: This free admission doesn't include exhibitions. Children 12 and under can tour for free anytime.
Pearl Brewery
Don't be fooled by the name! The Pearl operated as a brewery on its 23-acre site from 1883 to 2001 and was then re-made into a multipurpose space. Located north of downtown, the Pearl showcases shops, restaurants, the Paseos River Amphitheater, and Hotel Emma.
In addition, the third campus of the Culinary Institute of America, as well as many notable institutions such as the San Antonio Business Journal, are located within the area. Be sure to check out the farmers' market on weekends! With these activities, no one will surely get tired of free fun things to do in San Antonio.
Related Post: Where are the Best Places to Eat in San Antonio?
Photo Alert: The lobby of Hotel Emma, a stylish boutique hotel, is a fashionista's dream. Dress in your favorite frock and use the tasteful interior design as your backdrop!
The Institute of Texan Cultures
This museum serves as a multicultural education center to celebrate the many cultures that have sought a home in Texas. Exhibits, educational programs, and cultural events seek to educate and inspire local residents and tourists alike. If you are on the lookout for fun things to do in San Antonio for free, then fret no more! 
The museum typically offers free admission every second Sunday of the month from 12 p.m. to 5 p.m., but be sure to check the website or call ahead in case of changes due to COVID-19 precautions.
Murals
The San Antonio Street Art Initiative's mission is to encourage local artists to make street art to beautify the city. The initiative also spreads awareness of the cultural significance of street art overall. San Antonio has countless vibrant mural reflecting local culture.
Check out permanent art spots like St. Mary's Street under the highway or the Essex Modern City Murals on Essex Street.
Photo Alert: Add a colorful pop to your Instagram feed when you snap some photos in front of your favorite street art! 
Live Music
While the official soundtrack of San Antonio is probably mariachi music, thanks to its cultural roots. The live music scene in the city is nothing short of brilliantly eclectic.
Come to Sam's Burger Joint for a burger and stay for the live music. Each night is something new, so grab a ticket for your favorite act. The 502 Bar, the Tobin Center for the Performing Arts, and the Aztec Theater are just a few of the other choices to immerse yourself in San Antonio's music scene.
Explore the Free Gems of San Antonio
San Antonio, TX, offers a variety of activities for outdoor lovers, history buffs, and art enthusiasts. These are only some of the San Antonio free attractions everyone can engage in. Locals and tourists alike are right at home in the Alamo City. With what we have listed above, Tuesday Friday Saturday and Sunday, and every day in between, there is so much incredible free stuff to do in San Antonio.

Which of These Free Things Will You Check Out on Your Next Trip to San Antonio?
Now that you know the best free things to do in San Antonio, which of these will you try? Do you have any free activities or experiences in San Antonio to add to our list?
Let us know in the comments below!