Between lavish resorts and casinos, drink specials, and exquisite food, it's easy to spend a lot of money in Las Vegas. But, Vegas is also an excellent budget travel destination!
If you're smart about your hotel reservation and flights, and take advantage of these free things to do in Las Vegas, you're in for one wild and affordable trip.
1. Walk the Vegas Strip
Walking down the Strip is a must for any Vegas vacation, especially if it's your first time visiting. Along the Las Vegas Strip, you'll find notable landmarks and destinations such as:
New York New York
Mandalay Bay
The Eiffel Tower at Paris Las Vegas
The Freemont Street Experience
MGM Grand
The High Roller Observation Wheel
And More
While it may cost money to visit attractions, grab a meal at a restaurant, or watch a show, you won't pay a cent to walk along the Strip.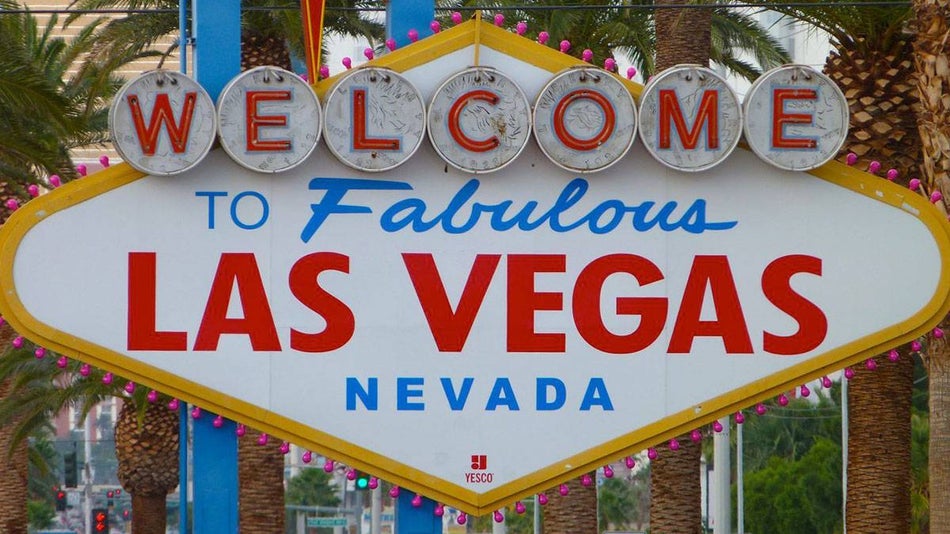 2. Take Your Picture with the Sign
All first time visitors should get a picture with the "Welcome to Las Vegas" sign. It's a tourist rite of passage! And, it's free.
Just know it's not as massive as you may think. A few photography tricks can make the sign look far larger than it is in real life. But, it's still worth the picture!
3. Bellagio Fountains
After the Vegas sign, one of the most iconic landmarks is the Bellagio Fountains. Found at the renowned Bellagio resort, watching this fountain show is arguably one of the most popular free things to do in Las Vegas.
Set to a moving soundtrack, this fountain show may be the highlight of your trip. Fountain show times run either every 15 or 30 minutes depending on the day and time of year.
4. Bellagio Conservatory & Botanical Gardens
While you're at the resort for the fountain show, check out the Bellagio's Conservatory and Botanical Gardens. The 14,000 square foot facility is managed and tended to by 120+ professional horticulturists who bring each season's themed display to life.
The gardens are free to explore and are open 24 hours a day for visitors' enjoyment.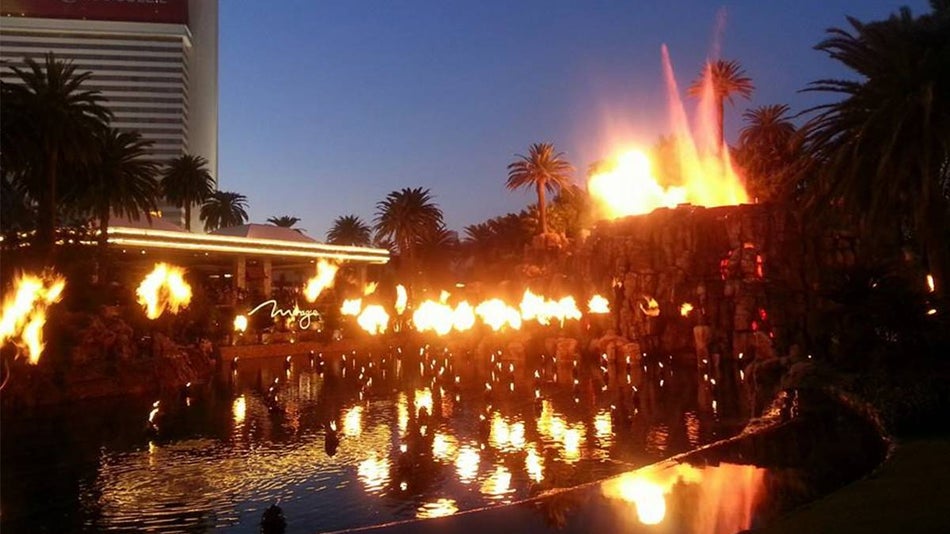 5. Watch a Volcano Explode
At the Las Vegas Boulevard entrance of the Mirage hotel and resort, you'll notice a giant volcano. If you time your visit right, you'll get to see it explode—for free.
Every day at 8:00 pm, 9:00 pm, and 10:00 pm, the Mirage's volcano erupts into a rocking show backed by a soundtrack from The Grateful Dead's Mickey Hart and Indian tabla sensation Zakir Hussain.
6. Catch a Movie with Red and Yellow
One of the coolest free things to do in Las Vegas is tucked inside the M&M's World store. Grab a bag of M&M's and watch an exhilarating 3D movie featuring the Red and Yellow M&Ms!
Of course, you'll have to fight off the urge to buy personalized candy if you want to stay on budget. Or… you can always treat yourself! The Hershey's store is across the street too if you can't get enough of the chocolatey goodness.
7. See Wallworks at the Cosmopolitan
Those who appreciate the fine arts will love the collection at the Cosmopolitan, especially Wallworks. This free art installation is a collection of murals and graffiti which transform the resort's public spaces such as a parking garage or stairwell into a work of art.
While you're at the Cosmopolitan, take time to view the other art collections found throughout the resort.
8. Experience Pawn Stars in Real Life
Gold and Silver Pawn Shop in downtown Las Vegas is the center of the hit TV show, Pawn Stars. The show has a massive following, many of whom line up bright and early each day to get a glimpse of the store and show in the making.
As you can imagine, visiting the store is among the top free things to do in Las Vegas. But, get there as early as possible. A line forms quickly each morning.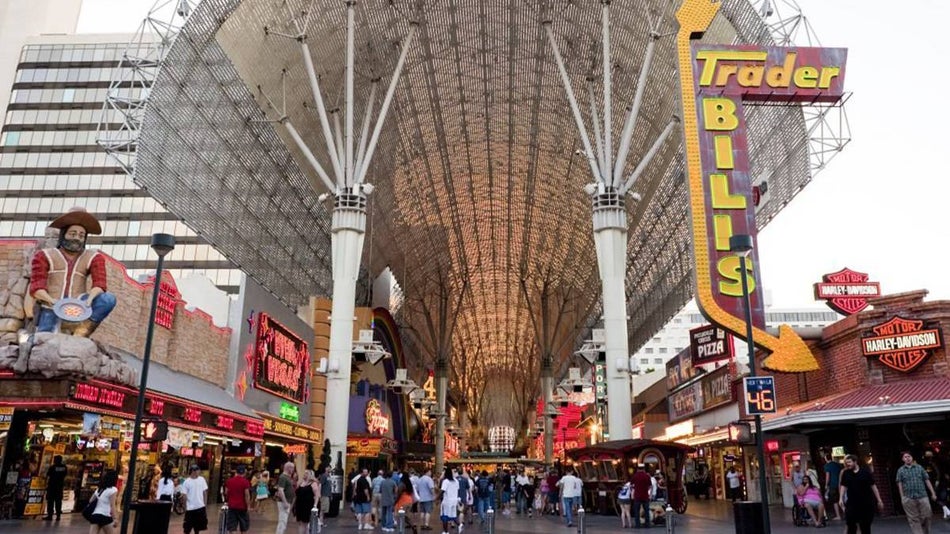 9. Check Out the Fremont Street Experience
The Fremont Street Experience is a gigantic pedestrian mall engulfed by neon lights, marquees, and endless things to do. Inside, the 1,400-foot canopy is lined with LED screens playing different shows, music, and movies.
Throughout the mall, you'll find an abundance of free concerts, entertainment, and performers. It's easy to spend hours upon hours exploring all the Fremont Street Experience has to offer like the SlotZilla 12-story zipline or the Neon Museum.
10. Catch Free Performances at Circus Circus
As the name might suggest, Circus Circus is a circus-themed resort in Las Vegas. Each day at 11:30 am, the resort holds free performances at the Carnival Midway stage.
You'll have the opportunity to watch everything from high-flying trapeze to aerial acrobatics and hilarious clowns to talented jugglers. Best of all, you won't spend anything on admission to this tiny circus!
11. Explore Red Rock Canyon
Not all of the free things to do in Las Vegas are inside or on the Strip. In fact, many visitors don't take advantage of the area's abundance of outdoor adventures. Lace up your hiking boots and head to Red Rock Canyon for free outdoor fun. Other activities at the park include biking, scenic drives, and camping.
Do know a small car fee applies if driving into or parking at the national recreation area.
12. Watch the Fall of Atlantis
Did you know there's a free animatronic show at the Forum Shops at Caesars? As you're strolling the shops, it's hard not to notice the nine-foot-tall talking statues. This show features fire, water, and special effects for a captivating show set in the kingdom of Atlantis. And did we mention there's a giant dragon involved, too?
Shows begin every hour on the hour starting at 11:00 am daily.
13. Indulge Your Sweet Tooth
Located in nearby Henderson, Nevada, the self-guided tour at the Ethel M Chocolate Factory is perfect for any one with a sweet tooth or a chocolate craving. As you walk through the tour, you'll get a glimpse at how your favorite chocolate treats are made.
If you're looking to indulge a little bit more, sign up for a chocolate tasting class! You won't mind spending some of your travel budget on this sweet opportunity.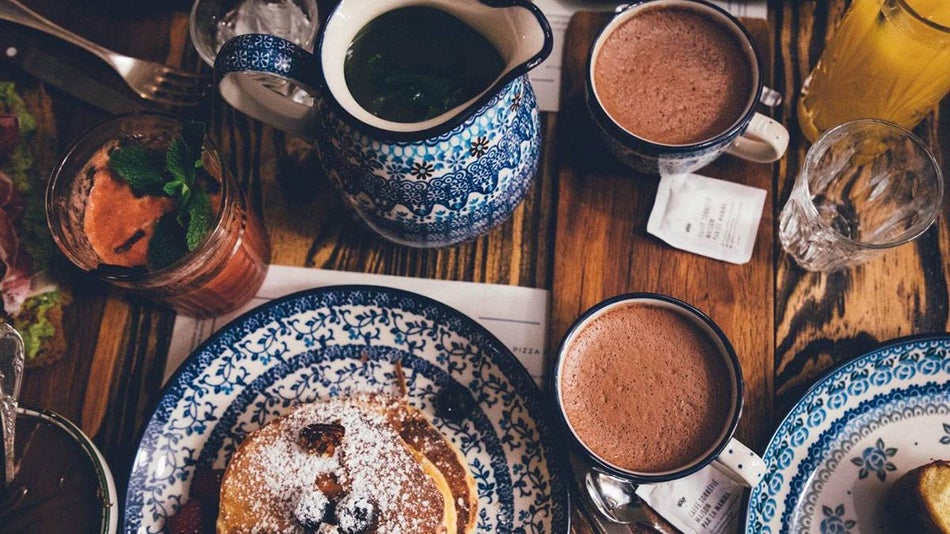 Don't Miss the 11 Best Free Things to Do in Las Vegas
Keep your vacation budget in tact with these exciting free things to do in Las Vegas!